Chocolate Caramel Twix Cheesecake
Chocolate Caramel Twix Cheesecake combines 3 of my favorite dessert foods: Cheesecake, Chocolate, and Caramel! This decadent homemade cheesecake recipe does not disappoint!
As a cheesecake fanatic, I couldn't resist this candy bar-inspired dessert with a thick creamy cheesecake layer, a generous ganache topping, and a luscious drizzle of caramel sauce. Pure bliss!!!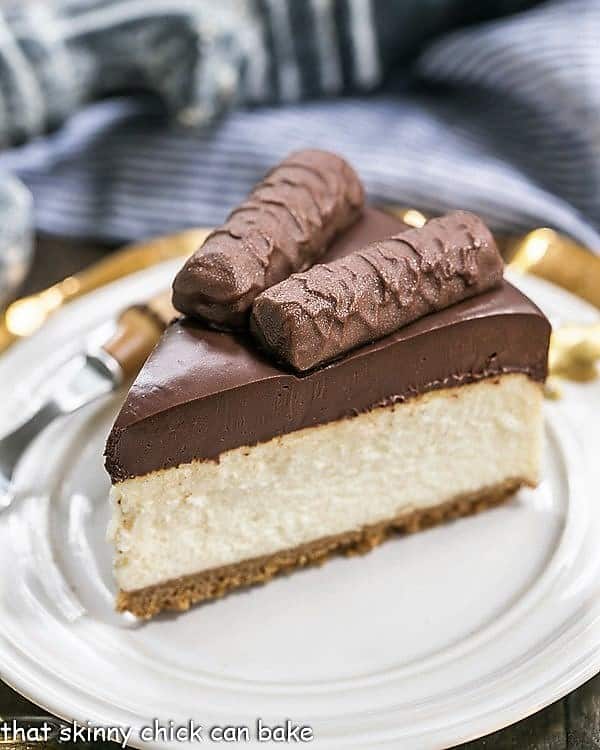 Why You Must Make
We were entertaining Bill's partners and their wives. I knew I needed a showstopper of a dessert. This Twix Cheesecake, sliced and doused with homemade caramel sauce, was the perfect solution!
Bringing this out of the fridge during the dinner hour allowed the cheesecake to get the chill off and become ultra-creamy. It got rave reviews!
Only a sliver is needed to satisfy your sweet tooth, so this is the perfect dessert for a party!
I was inspired by Hugs & Cookies XOXO by this amazing recipe which started with the famous Junior's cheesecake recipe. Danielle made an easy 3-minute caramel sauce and I turned to my microwave caramel sauce. Both are fabulous and add that necessary caramel component of the Twix Bar to this dessert. A thick layer of ganache provided the requisite chocolate. Are you swooning yet??? Our guests certainly did!
Ingredient Notes
Kitchen Staples – Sugar, Butter (salted is fine)
Graham Cracker Crumbs – Or make your own in a food processor using graham crackers
Cream Cheese – Bring out of the refrigerator at least 2 hours before blending so it will mix up smoothly.
Eggs – Large eggs are standard for baking. Also have them at room temperature for easier incorporation into the batter.
Cornstarch – Helps the cheesecake set while baking and keeps it stable after it's baked.
Vanilla – Pure vanilla extract. Never use artificially flavored.
Heavy Whipping Cream – At least 36% Butterfat
Semisweet Chocolate – Use good quality chocolate for the tastiest results. I used Ghirardelli semisweet chocolate bars and chopped them before melting them. Chocolate chips have additives that help them keep their shape. They can be used if that's all you have available.
Caramel Sauce – Use a good quality jarred caramel sauce, melt together 40 Kraft caramels with a can of sweetened condensed milk and 5 tablespoons of butter, or use my microwave caramel sauce recipe linked above.
Fun-sized Twix Bars – Optional, to garnish.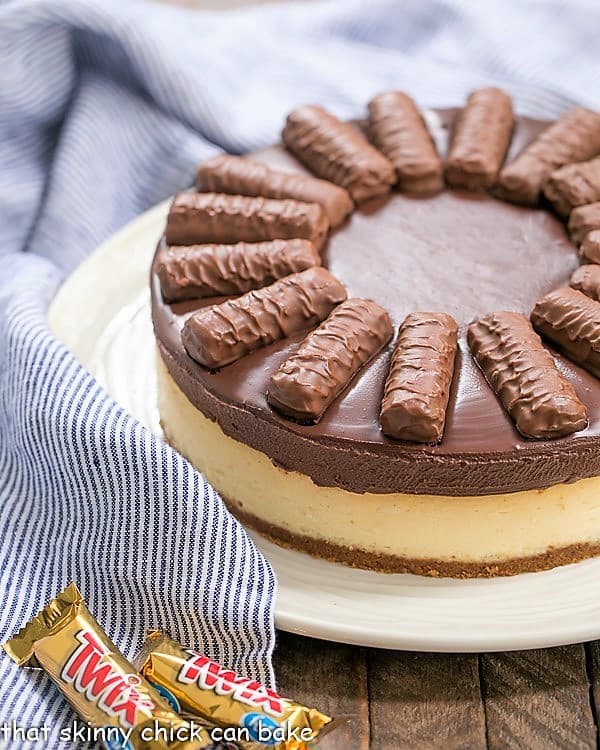 Expert Tips
This impressive dessert will get raves from everyone who takes a bite! Dreamy cheesecake, a thick layer of silky ganache, and a generous drizzle of caramel sauce are a trio of deliciousness. Here are some hints for making this recipe perfectly!
Don't feel you need to make this whole dessert in one day. Cheesecakes taste best after being refrigerated overnight and they also freeze wonderfully.
You can make the cheesecake a couple of days or even a month before you plan to serve this dessert. The crust and cheesecake layer will keep for up to 3 months in the freezer if wrapped well. I like to keep it in the pan, wrap it in plastic wrap, then foil.
PLEASE NOTE: Danielle added a layer of caramel between the cheesecake and ganache, but I prefer using the caramel to top each slice as I serve dessert.
PRO-Tips: Cheesecakes are easy to make once you know a few basic rules: Have all your ingredients at room temperature, especially the cream cheese and eggs and use the paddle attachment when mixing. Check out all my tips for baking a perfect cheesecake!
I love my easy microwave caramel sauce to garnish the slices (link listed above) and Danielle uses packaged caramels melted with sweetened condensed milk for a simple shortcut. If you have your own favorite caramel sauce recipe, you can definitely use that, and a premium jarred brand works well, too.
For a simple, yet impressive, garnish, place a ring of Twix bars around the perimeter of the cheesecake. It gives your guest a clue to the flavor of the cheesecake.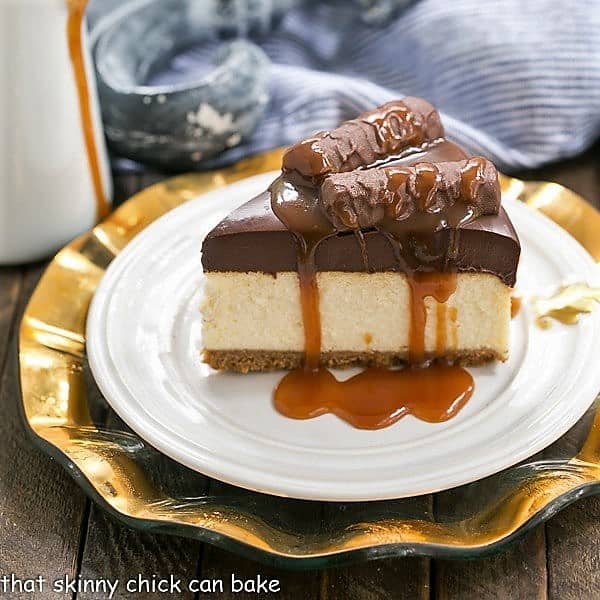 Frequently Asked Questions
What's the Best Way to Ensure a Creamy Cheesecake?
Have your eggs and cream cheese at room temperature, use the paddle attachment of your stand mixer, and bake your cheesecake in a bain marie or water bath.
Why Did My Cheesecake Crack?
It could have been overbaked, so make sure to remove the cheesecake when the very center still has a little jiggle. The residual heat of the pan and surrounding cheesecake will continue baking the center when it's out of the oven. Also, make sure not to overmix and use the paddle attachment so no excess air is beaten into the batter.
Use a water bath or bain marie to bake the cheesecake. This will help stabilize the baking temperature.
You May Also Like:
Love this recipe? Please consider rating it in the comments below. You can also follow me on FACEBOOK, PINTEREST and INSTAGRAM.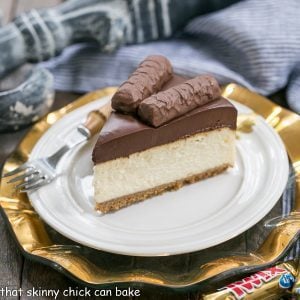 The Recipe:
Chocolate Caramel Twix Cheesecake Recipe
Prep Time 45 minutes
Cook Time 1 hour 15 minutes
Total Time 2 hours
Yield 16 servings
A decadent combination of cheesecake, chocolate and caramel!
Ingredients
Crust:
1 ½ cups graham cracker crumbs
1 tablespoon sugar
6 tablespoons melted butter
Cheesecake:
32 ounces cream cheese, at room temperature
1 ⅔ cups sugar
¼ cup cornstarch
1 tablespoon pure vanilla
2 eggs
¾ cup heavy whipping cream
Caramel Sauce*:
40 Kraft caramels, unwrapped
1 can sweetened condensed milk
5 Tablespoons butter
Ganache:
1 ½ cups heavy cream* See note below.
12 - 16 ounces semisweet chocolate, chopped (I used three 4-ounce Ghirardelli semisweet chocolate bars)*
Garnish:
Fun-sized Twix bars, optional
Instructions
To make the crust, combine all ingredients and press into a 9-inch springform pan. Bake at 350º for 8 minutes. Let cool. Keep the oven on to bake the cheesecake.
To make cheesecake, using a stand mixer fitted with a paddle attachment, beat 1 package of the cream cheese, ⅓ cup of the sugar, and the cornstarch together on low until creamy, about 3 minutes, scraping down the sides of the bowl as needed.
Blend in the remaining cream cheese, one package at a time, beating well and scraping down the bowl after each.
Increase the mixer speed to medium and beat in the remaining sugar, then the vanilla. Mix in the eggs, one at a time, beating well after each. Beat in the cream just until completely blended.
The filling will look light, creamy, airy, and almost like billowy clouds. Be careful not to over-mix.
Gently scrape out the batter onto the crust. Wrap the sides of the pan in aluminum foil.
Place the cake pan in a large shallow pan containing hot water that comes halfway (about 1 inch) up the side of the springform pan. Bake until the top is a very light golden brown and the center barely jiggles for about 1¼ hours. Remove the cheesecake from the water bath, transfer it to a wire rack, and let cool for 2 hours. Chill until cold.
To make the caramel, combine all in a heatproof bowl and microwave in 1-minute intervals until completely smooth and blended. Stir after each minute. Let cool a bit. You will only need about half of the caramel for this cheesecake.
To make the ganache, heat the cream just to a boil and pour over the chopped chocolate in a heatproof bowl. Let sit for 2 minutes. Stir until the chocolate is melted.
To assemble the cheesecake, pour about half the caramel into the center where the center has deflated down a bit. Chill just to firm up the caramel. (Note: I did not add a caramel layer, but instead drizzled each slice with caramel as I served).
Pour on the chocolate ganache and chill for several hours or overnight before unmolding from the pan. Top with fun-sized Twix bars if desired.
To serve, carefully remove the springform pan sides. Cut into slices and serve with caramel sauce.
Notes
Making my microwave caramel sauce is an alternative to this caramel recipe, but it won't be as thick.
You may add a layer of caramel sauce before the ganache. If you do add a caramel layer, it will ooze out a bit when you slice this cheesecake. I prefer leaving the caramel as a topping instead of a layer, but both ways will be delicious.
*I've used this ganache topping on another cheesecake successfully as did my videographer, so it works for me. I've had 2 comments mentioning that their ganache wasn't thick enough so you may want to add another 4 ounces of chopped chocolate to ensure it sets properly.
Make sure your 9-inch springform pan has an interior depth of at least 2½-inches so there is room for all the batter. If you don't use the paddle attachment, you may have excess batter.
Recommended Products
As an Amazon Associate and member of other affiliate programs, I earn from qualifying purchases.
Nutrition Information:
Yield:
16
Serving Size:
1 slice
Amount Per Serving:
Calories: 780
Total Fat: 53g
Saturated Fat: 31g
Trans Fat: 1g
Unsaturated Fat: 18g
Cholesterol: 151mg
Sodium: 384mg
Carbohydrates: 73g
Fiber: 2g
Sugar: 59g
Protein: 9g
Note: This post may contain affiliate links; view
my Disclosure Policy
for details. I earn a small percentage from any purchase you make by clicking on these links at no extra cost to you.