Double Chocolate Twix Cookies
Double Chocolate Twix Cookies are loaded with chopped Twix bars along with some cocoa powder and chocolate chips for the ultimate chocolate lover's cookie!
Candy filled chocolate cookies are wonderful for a special after school treat or dessert.
Double Chocolate Twix Cookies
Danielle, my partner in #TwoSweetiePies, is a constant source of inspiration, especially since we are both chocolate and caramel fans. I never, ever eat candy, but I have no qualms about adding candies or chopped candy bars to cookies. And how about Twix Bars? Caramel, chocolate, crunchy cookie? Heck, yes. I knew I'd fall head first in love with Hugs & Cookies XOXO's Twix Cookies.
A Few Baking Tips for Making These Twix Cookies
These cookies started out with your ordinary ingredients: butter, sugar, an egg, vanilla, flour. But a few tablespoons of cocoa powder, chopped, caramelly Twix bars and chocolate chips pushed these over the top. Thank goodness this batch only made a dozen cookies or I might need to break out my stretchy pants this week. Remember, you've been warned.
A couple of tips for you, though. I popped my dough balls into the freezer for a few minutes while I tidied the kitchen. My dough was very soft, so even though I used a cookie disher to scoop out the portions, I wanted an even rounder ball of dough. Once chilled for a bit, I could shape them into better spheres by rolling between my palms.
Make sure to used non-stick foil (my preference) or a Silpat or parchment to line your baking sheet as there is bound to be some oozy caramel that escapes during baking. Once the cookies came out of the oven, I quickly used my spatula to press any caramel back towards the cookie. This also works to reshape any crazy amoeba looking cookies. Those happen to us all but can be fixed only while the Twix cookies are still piping hot.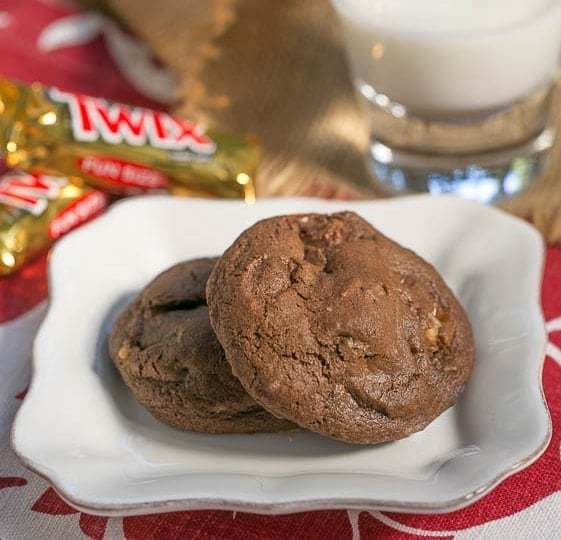 The Recipe:
Double Chocolate Twix Cookies
Prep Time 20 minutes
Cook Time 12 minutes
Total Time 32 minutes
Yield 12 servings
Double Chocolate Twix Cookies - rich, chocolate cookies filled with chunks of decadent Twix bars!
Ingredients
Recipe from Hugs and Cookies XOXO
1/2 cup packed brown sugar
1/4 cup butter, at room temperature
1/2 tsp. vanilla
1 egg
3/4c. cup all-purpose flour
3 tbsp. unsweetened baking cocoa
1/2 tsp. baking soda
Dash salt
1/2 cup semisweet chocolate chips
10 snack size Twix bars, chopped
Instructions
Heat oven to 375°F. In large bowl, beat brown sugar and butter with electric mixer on medium speed until light and fluffy, or mix by hand with a wooden spoon. Beat in vanilla and egg.
Stir in flour, cocoa, baking soda and salt. Stir in chocolate chips and Twix. Onto a nonstick foil lined cookie sheet, drop dough using a medium size ice cream scoop.
Bake 10-12 minutes. Use sharp knife or spatula to quickly push any oozing caramel back into the cookie. Let cool on sheet.
Yield: About 12 cookies
Total time: About 30 minutes
Nutrition Information:
Yield:
12
Amount Per Serving:
Calories: 0
Total Fat: 0g
A Few More of Danielle's Recipes I've Made: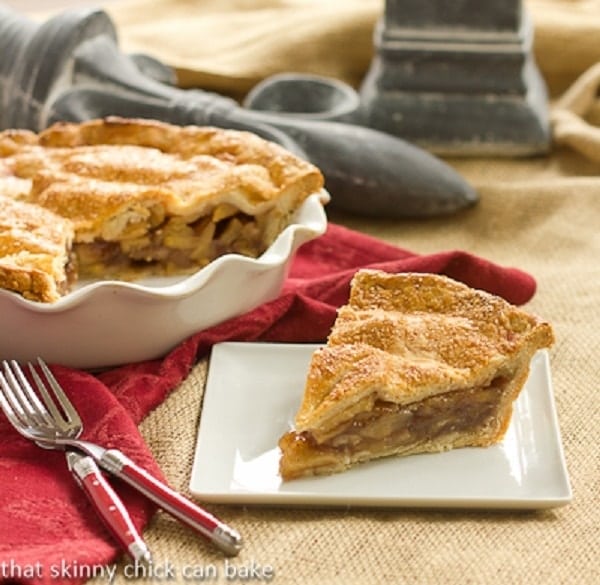 Classic Apple Pie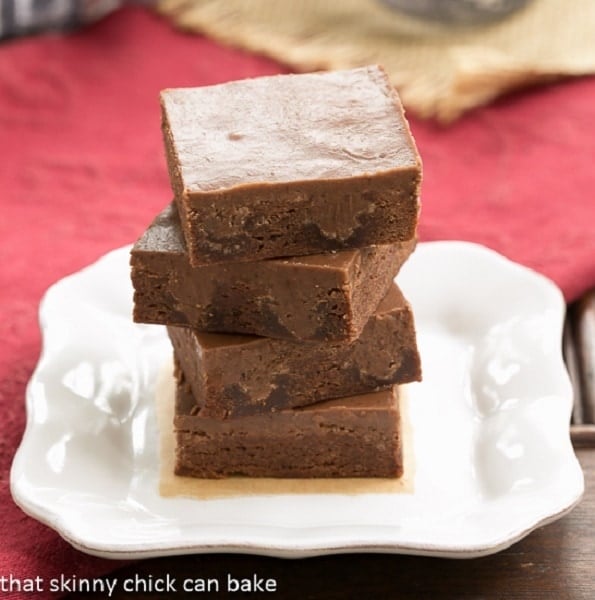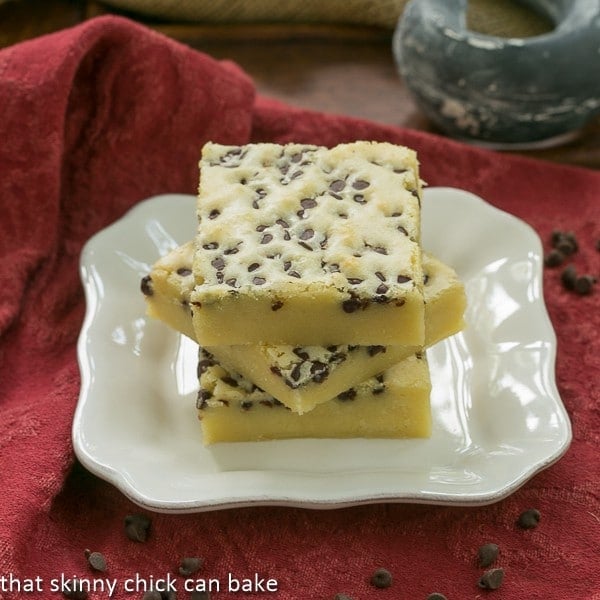 Check out Danielle's take on this recipe as well as her social media sites!
Note: This post may contain affiliate links; view
my Disclosure Policy
for details. I earn a small percentage from any purchase you make by clicking on these links at no extra cost to you.