Apple Ginger Coffee Cake
Chock full of fruit and spice, this apple ginger coffee cake will dazzle your friends and family.
Apples, two layers of streusel and a double dose of ginger make for a scrumptious, memorable breakfast treat! Plus, leftovers are wonderful for dessert!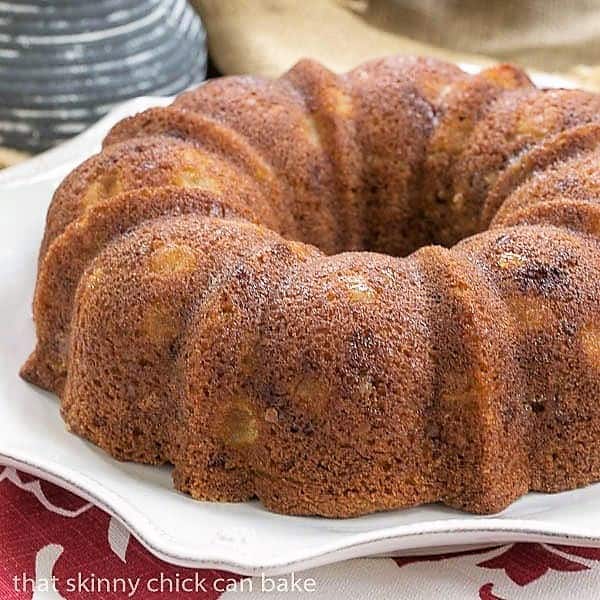 The Hit of the Party: Apple Ginger Coffee Cake
My sister, Maddy, flew in from Denver to have an art show at my house. She left her paintings behind and set up a display of her repurposed jewelry, plates, coasters, note cards, and bags. I, of course, cooked up a storm.
This apple ginger coffee cake drew the most recipe requests of all the brunch treats I served, a sure sign of a winner. With chunks of apples, crystallized ginger and two (yes, TWO) layers of streusel, it will be a winner at your house, too.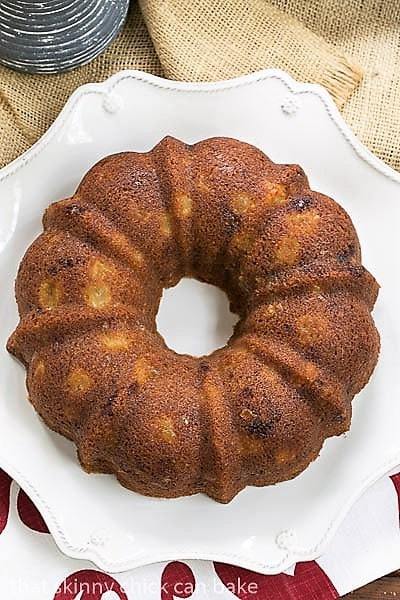 Tips for Making this Apple Coffee Cake Recipe
Moist, and chock full of apples, ginger, and spices, this shouts Autumn Has Arrived! It's perfect for Thanksgiving morning or any fall weekend company.
Don't go overboard with the apples. One medium apple is perfect. Any more and the cake will be too wet; still tasty, but not as perfect as it could be.
This fall breakfast treat is perfect with just a dusting of powdered sugar, but this coffee cake could also be served for dessert with a drizzle of caramel sauce. Mmmm…that is making me hungry. It might be time to bake another.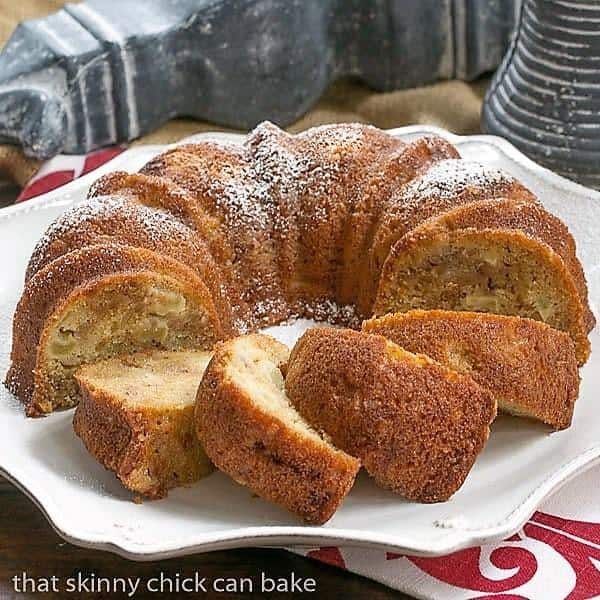 A Few More Recipes from the Brunch/Party Menu: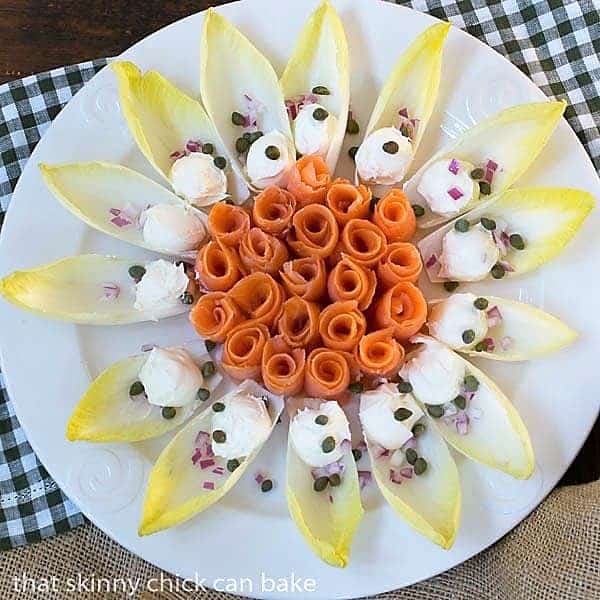 It's ALL about the plating! Using endive leaves to hold the accompaniments, and rolling the smoked salmon into roses to serve with bagels is an elegant brunch offering.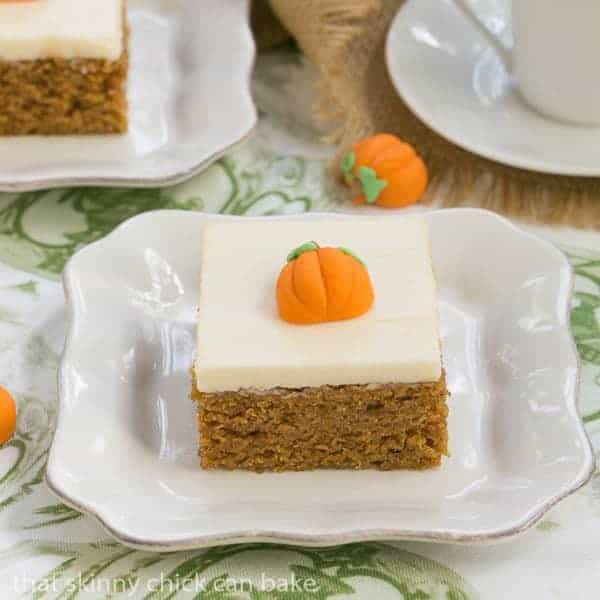 Always a winner, these moist, flavorful pumpkin bars are topped with a decadent cream cheese frosting and a fun pumpkin garnish!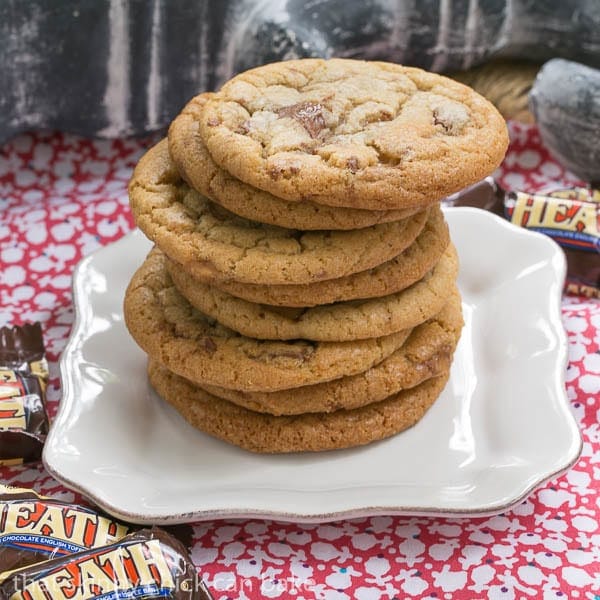 Adding toffee, in my opinion, takes cookies to the next level! These brown butter toffee cookies are addicting!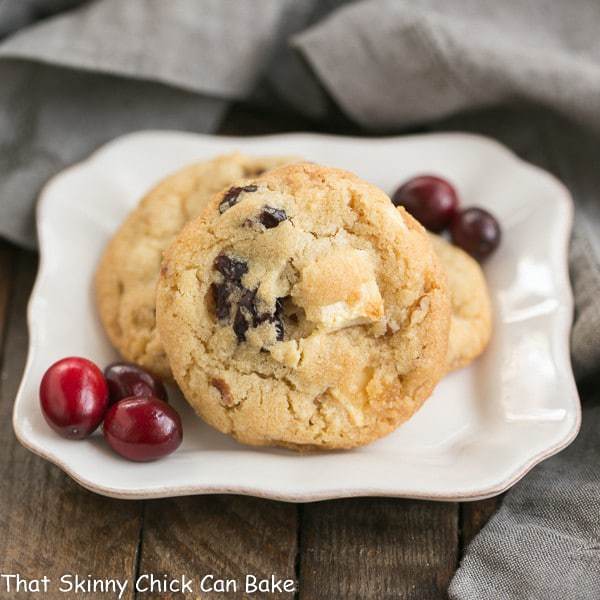 One of my absolute favorite holiday cookies, these gems are chock full of scrumptious ingredients and the texture is also out of this world!!!
Plus check out more coffee cakes and brunch inspiration among these Easy Breakfast Recipes and Brunch Food Recipes! You might also enjoy this Italian Apple Tart, AKA Apple Crostata.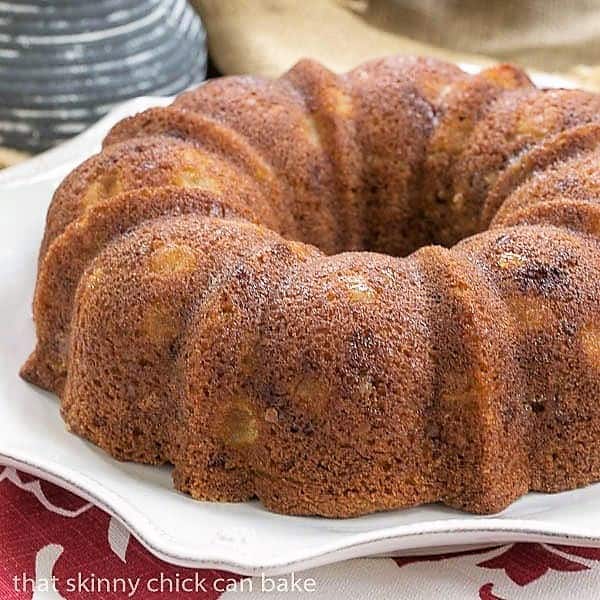 The Recipe:
Apple Ginger Coffee Cake
Prep Time 30 minutes
Cook Time 45 minutes
Total Time 1 hour 15 minutes
Yield 12 servings
A fabulous apple streusel coffee cake chock full of autumn spices. Adapted from Fine Cooking.
Ingredients
For the streusel:
1/3 cup brown sugar
3/4 teaspoon ground ginger
1/4 teaspoon ground cinnamon
3 tablespoons flour
1/4 cup butter
1/3 cup finely chopped walnuts
For the cake:
2-1/4 cups flour
1/2 teaspoon ground ginger
Pinch ground nutmeg
1 teaspoon baking powder
1 teaspoon baking soda
1/2 teaspoon salt
1/4 cup finely chopped crystallized ginger
6 tablespoons butter, at room temperature
3/4 cup dark brown sugar
1/2 cup sugar
2 teaspoons vanilla extract
3 eggs
1-1/4 cups buttermilk
1 medium Granny Smith or Golden Delicious apple, peeled, cored and coarsely chopped
Powdered sugar for dusting
Instructions
Heat the oven to 350°F. Butter and flour a 10-cup bundt pan and set aside.
For the streusel, mix together the brown sugar, ginger, cinnamon, flour, and butter with your fingers to make large crumbs. Mix in the walnuts and refrigerate until ready to use.
To make the cake, whisk together the flour, ground ginger, nutmeg, baking powder, baking soda, and salt into a large bowl. Stir in the crystallized ginger and set aside. In a large mixing bowl, beat the butter with an electric mixer until light and fluffy.
Gradually add the sugars, continuing to beat until very light. Add the vanilla and then the eggs one at a time, beating each one in well before adding the next. Alternately stir in the flour and the buttermilk, until the batter is just mixed. Do not over mix. Gently stir in the chopped apple.
Pour half the batter into the prepared pan. Sprinkle with a third of the streusel. Pour in the remaining batter and top with the remaining streusel.
Bake until the top of the cake is firm (a skewer inserted in the center should come out clean), about 40 to 45 minutes. Cool for 15 minutes in the pan, then invert the cake onto a serving platter, dust with powdered sugar, and serve slightly warm or at room temperature.
Nutrition Information:
Yield:
12
Serving Size:
1 slice
Amount Per Serving:
Calories: 481
Total Fat: 14g
Saturated Fat: 7g
Trans Fat: 0g
Unsaturated Fat: 6g
Cholesterol: 75mg
Sodium: 489mg
Carbohydrates: 80g
Fiber: 2g
Sugar: 44g
Protein: 10g
Note: This post may contain affiliate links; view
my Disclosure Policy
for details. I earn a small percentage from any purchase you make by clicking on these links at no extra cost to you.