Smoked Salmon Roses with Endive and Creme Fraiche
This elegant display of smoked salmon roses is perfect for any upcoming holiday breakfast, brunch, or cocktail party. Healthy, low carb, and scrumptious!
These Smoked Salmon Rolls are a beautiful addition to a Smoked Salmon Platter!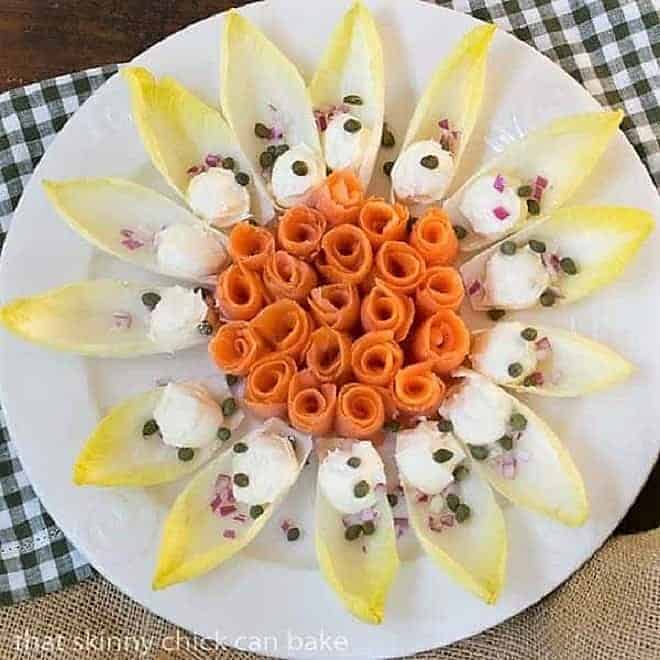 Why You Must Make
It's an easy, yet impressive, way to serve smoked salmon.
A salmon platter is a tasty low-carb option for breakfast, brunch, and cocktail parties.
Smoked salmon rolls or roses are compact and easy to add to an endive cup, cocktail bread, or crackers.
You will nearly always find smoked salmon in my fridge. But I only do these fancy, schmancy smoked salmon roses when I have girlfriends over for breakfast or brunch. For a full-fledged party, I go whole hog and serve these smoked salmon roses with endive and creme fraiche for a truly sophisticated presentation.
When I hosted a coffee recently, one of my friends decided this was something she could do (and you could, too!). She's definitely capable of creating a smoked salmon platter for her guests. This is also a terrific low-carb appetizer for a cocktail party. It's certainly one platter I'd gravitate towards when sipping on a chilled glass of wine.
Expert Tips
Often I make a smoked salmon platter for coffees, breakfasts, brunches, and especially when I have company or overnight guests. Years ago, while having breakfast at the Woodstock Inn in Vermont, I was served smoked salmon with cream cheese and accouterments displayed in endive leaves. I thought it was so elegant, and tucked away the idea to use at home.
To make the salmon roses, use thin slices of lox or the brined, cold smoked salmon that you'd buy for bagels.
PRO-Tip: Slice the salmon pieces lengthwise to get two roses from every slice. If the slice is super short, as the last slices tend to be, use two per rose.
Roll each slice into a cylinder, from one of the short sides to the other, keeping the flat edge level to form the base of the "rose."
Once all the roses are rolled, arrange them in the middle of a round serving plate.
Then place endive cups around the salmon rolls, fill with a dollop of creme fraiche and sprinkle with drained capers and minced red onion. Fresh dill is another beautiful addition to your platter.
PRO-Tip: To make your endive cups sit flat, you may need to cut a thin slice off the bottom so it's level.
Feel free to use softened cream cheese instead of creme fraiche if it's easier for you to locate, that's what I did for years.
Provide baguette slices or mini bagels for those who want a more substantial nibble with your smoked salmon platter.
How to Host a Brunch
Decide on a guest list. Will you invite neighbors or work friends? How many will fit comfortably in your home? Do you have enough plates and glasses for that number?
Choose a date. Make sure you have time the day before for some prep work. Check with a few of your guests about their availability.
Next, decide on your menu. Will you need a breakfast cocktail or just coffee, tea, and juice? A breakfast casserole? Fruit salad?
Send out invitations. They can be mailed, emailed, or for small gatherings, phone calls will work, too.
Frequently Asked Questions
What Do You Eat with Smoked Salmon?
Smoked salmon is delicious with bagels and cream cheese, but other accouterments work well, too. Having diced red onion, capers, lemon wedges, cucumber slices, and fresh dill available are some other tasty options.
What's the Difference Between Smoked Salmon and Lox?
According to Epicurious.com, Smoked salmon is cured or brined, then smoked. Lox is cured, but not smoked. Since smoked salmon is cooked as it smokes, it's firm and flaky. Lox is moist and silky since it's not cooked.
You May Also Like:
Here is more menu inspiration if hosting a holiday or family brunch.
Small Bites
Beverages
Savory Bites
Desserts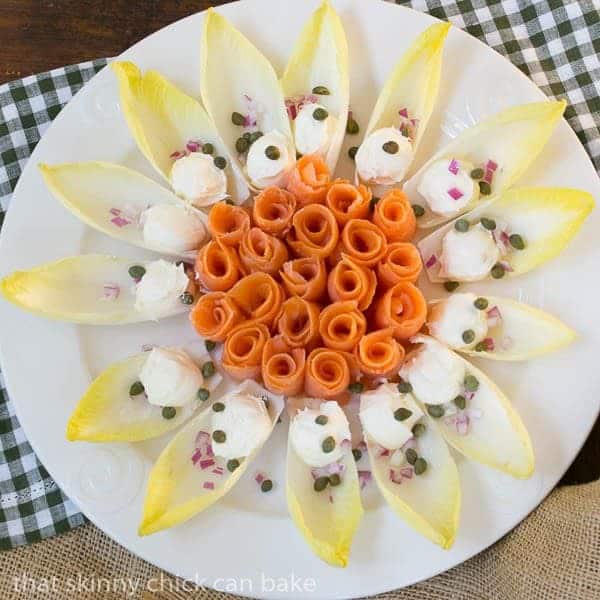 The Recipe:
Smoked Salmon Roses with Endive and Creme Fraiche
Prep Time 15 minutes
Total Time 15 minutes
Yield 10 servings
This elegant platter of smoked salmon roses is perfect for any upcoming holiday breakfast, brunch or cocktail party. Healthy, low carb and, most importantly, scrumptious!
Ingredients
16 ounces thinly sliced smoked salmon, 2-3 small packages
8 ounces creme fraiche
3 heads endive
1/4 small red onion, diced
2 tablespoons capers
Instructions
Cut strips of salmon lengthwise and roll into rosettes. Place in center of round serving platter. Surround salmon with leaves of endive…like petals of a sunflower. Using a one teaspoon cookie disher or measuring spoon, scoop out rounds of cream cheese and place on endive leaves. Sprinkle arrangement with diced onion and capers. Serve with bagels or sliced baguettes.
Nutrition Information:
Yield:
10
Serving Size:
2 endive cups
Amount Per Serving:
Calories: 147
Total Fat: 12g
Saturated Fat: 7g
Trans Fat: 0g
Unsaturated Fat: 4g
Cholesterol: 39mg
Sodium: 983mg
Carbohydrates: 1g
Fiber: 1g
Sugar: 1g
Protein: 9g
Note: This post may contain affiliate links; view
my Disclosure Policy
for details. I earn a small percentage from any purchase you make by clicking on these links at no extra cost to you.