Smoked salmon is an elegant appetizer. If you're expecting company for breakfast or a holiday brunch, this spectacular smoked salmon platter is easy, impressive and utterly delicious!
Learn my tips for making a a beautiful smoked salmon platter!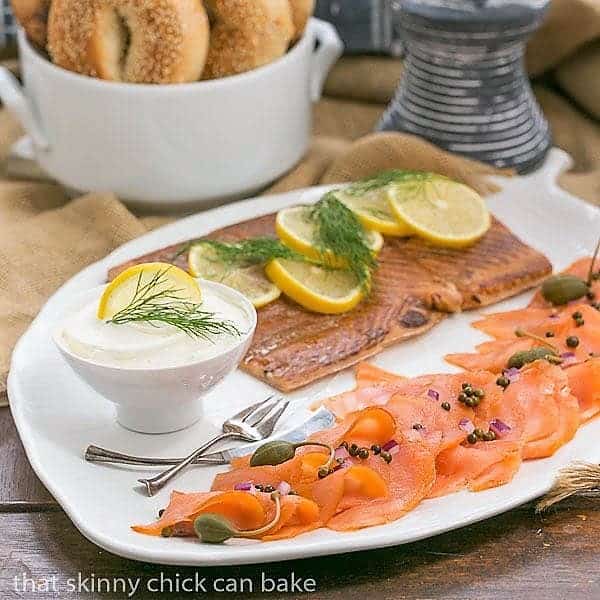 Smoked Salmon Platter for a Crowd
With the holidays approaching (very quickly, in fact!), it's nice to have an easy elegant breakfast or brunch idea in your back pocket. I'm a huge salmon lover and have made homemade gravlax more than once. But during this crazy season, I head to the market and pick up some roasted as well as smoked salmon to make this morning feast.
Along with the salmon, there are a few accouterments that are imperative. Capers, minced red onion, lemons, dill and either cream cheese or creme fraiche. Artfully arrange the salmon on a platter and make sure to pick up a variety of bagels and dark breads.

Smoked Salmon Garnishes
I have to let you in on a little secret. I put this smoked salmon platter together the night before I had a group of volunteers coming to my house for a coffee. I took the photos and parked it in the fridge. It was only after my company was departing that I took a taste.
I had accidentally pulled out the jar of green peppercorns in brine instead of capers. Uh, oh. My mouth started burning after my first bite. Not the pickled caper berries I expected! Those suckers look A LOT alike! But lesson learned.
I should read the labels. Of course, my lovely guests didn't say a word. I promise this will delight any guests as long as you use the correct accompaniments! Provide whatever you love to eat with smoked salmon….and make sure to go out of your comfort zone and give some new ideas a try!
Here are a couple of items that will help you put together your smoked salmon platter: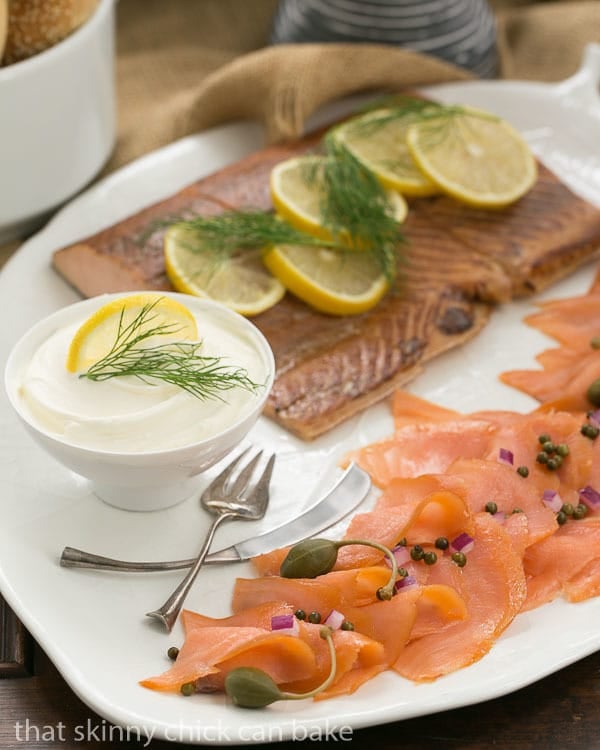 More Recipes Using Smoked Salmon
I adore salmon. Besides tasting wonderful, it is an amazing source of protein and healthy fats. I served salmon fillets for dinner frequently, but I also love using smoked salmon in appetizers, sandwiches and more. This Smoked Salmon Dip with Capers is definitely addictive, and this Smoked Salmon Reuben was created after seeing a tempting version in Alaska. I'd love a bowl of this Smoked Salmon Chowder for lunch on a chilly day and this terrific Smoked Salmon Guacamole definitely has my attention!
Market District in Carmel, Indiana
I was lucky enough to be invited to the grand opening of Market District in Carmel. A subsidiary of Giant Eagle, this is more than just another grocery store. A glance at the produce section revealed a wide array of fruits and vegetables I'd never had access to before in Indiana, including durian, the world's smelliest fruit from Southeast Asia.
Before heading to their massive seafood case for the smoked salmon, I spied a container of the elusive preserved lemons in the olive bar. This would save me from mail ordering a stash from Amazon every time I needed some for a recipe.
When reaching the seafood, I looked to the case of packaged smoked salmon and grabbed a couple large packages for my upcoming coffee. Market District also has the regular inventory that you'd find at your typical market—those same brands you've grown to love at reasonable prices. There is so much more: a top-notch restaurant, a beauty bar, a candy shop and on and on. You'll have to stop in to explore.

Located at 11505 N. Illinois Street, the 120,000-square-foot Carmel Market District offers a culinary, dining and shopping experience not typically found in supermarkets. The store features an array of gourmet prepared foods, a sweets shop with hand-dipped chocolate novelties and other confections, an artisan cheese shop, a chef demonstration kitchen, an expanded assortment of international foods, a bulk food section and more, all alongside all of the popular national brand items and everyday needs customers expect from a traditional shopping experience.
Print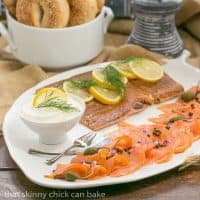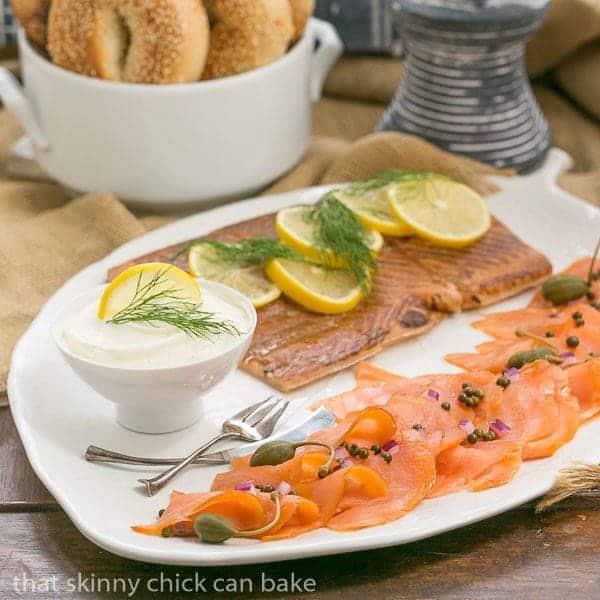 Smoked Salmon Platter
A simple platter of ingredients that is sure to please all your guests!
Author:
Prep Time: 15 mins
Total Time: 15 mins
Yield: Varies
Category: Seafood, Breakfast, Brunch
Method: Curing
Cuisine: Breakfast, Brunch, Appetizer
Ingredients
Smoked salmon or lox
Roasted salmon
Creme Fraiche or soft cream cheese
Capers
Fresh Dill
Red onion, minced
Lemon slices
Bagels and/or an assortment of bread
Instructions
Arrange salmon on a platter.
Sprinkle smoked salmon with capers and minced red onion. Top roasted salmon with sliced lemons and dill.
Serve with creme Fraiche and bread.
Nutrition
Calories: 0
Sugar: 0
Sodium: 0
Fat: 0
Saturated Fat: 0
Carbohydrates: 0
Fiber: 0
Protein: 0
Cholesterol: 0
Note: This post may contain affiliate links; view
my Disclosure Policy
for details. I earn a small percentage from any purchase you make by clicking on these links at no extra cost to you.