How to Make Gravlax
Gravlax, or Scandanavian cured salmon, is truly a breeze to make. Simply cured with salt and sugar, patience is the hardest step! The salmon must sit in the refrigerator for 3-4 days until it's ready to slice. It's definitely worth the wait.
You'll definitely impress your guests when you reveal that this beautiful, sliced dry brine salmon was made in your own kitchen. It's truly a luxury item you can make at home! Check out how to make gravlax for your next breakfast or brunch guests.
Why You Must Make
It's super easy with minimal ingredients. It just requires patience as it "cures."
You can control the seasonings.
Everyone will be amazed that this homemade salmon gravlax came out of your kitchen!
Our 4th of July menu was anything but classic Americana fare: Brazilian cocktails, Scandinavian cured salmon, grasshopper pie, plus something to throw on the grill. Certainly a mish-mash of recipes from across the globe. But I had my reasons for such a menu. We gather with our neighbors each Independence Day for a pitch-in dinner and fireworks.
It's the perfect time to test out some recipes for the blog, like this gravlax. My friends, unlike my family, will eat anything and they are so proficient at giving me quotable reviews. This is definitely an improvement over the "good stuff" or "you don't have to make this again" that I get from my crew. Plus they are actually interested in HOW to make gravlax, not just eating it!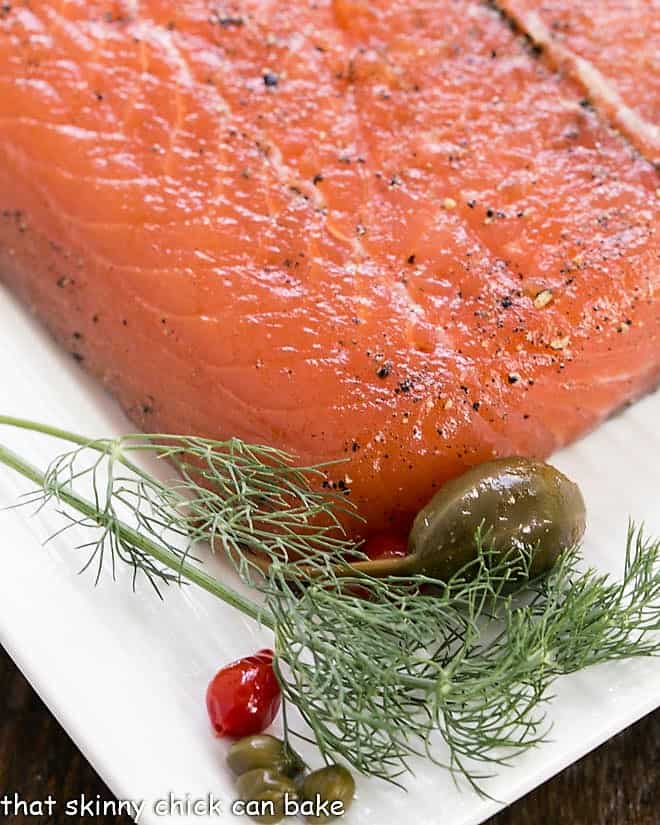 How to Make Gravlax AKA Cured Salmon
The first gravlax recipe goes back to the Middle Ages when fishermen salted salmon and buried it in the sand to ferment. Nowadays, salmon fillets are coated with a salt and sugar mixture then topped with dill sprigs. Mine received a sprinkle of Cognac before hanging out in the fridge for half a week. The fillets were weighted down (I used two cast iron popover pans), then flipped every 12 hours. The salmon is eventually cured via osmosis.
Line your rimmed baking sheet with plastic wrap as directed.
Place salmon on the baking sheet, skin side down. Remove any bones.
Mix together the dry brine ingredients. Sprinkle over fillets. Place dill over salmon, then drizzle with Cognac.
Cover with plastic wrap, then top with another baking sheet. Place a heavy object on the top baking sheet.
Every 12 hours, flip the salmon pieces and cover them with new plastic wrap. Continue for a total of 3-4 days.
Tips for Making Gravlax
Minimal ingredients plus an easy recipe make this a must-make dish! The only requirement is patience as it will be 3 days before you can dig in!
Use high-quality salmon. I go to my fishmonger instead of the grocery store for the best, freshest salmon available. I find some grocery store salmon can be mushy and you do not want those results.
Don't overdo the dill. A subtle flavor is nice, but it shouldn't dominate the seafood flavor. Other herbs and spices used are fennel, anise, coriander, caraway, and citrus.
PRO-Tip: Adding alcohol, like Cognac, is optional. It adds complexity to the flavor. Alcohol, like salt, is a flavor enhancer. Also used are vodka, gin, whiskey, and most notable, aquavit.
Be patient. The salt mixture needs time to penetrate the seafood and draw out the moisture, thus preserving it. It is worth waiting for!
PRO-Tip: Put reminders on your calendar or phone to flip your salmon every 12 hours. I often place mine in a basement refrigerator and can forget when it's out of sight.
Use whatever you'd like to weigh down the salmon, bricks, a cast-iron skillet, or even books. The pressure helps keep the salt and sugar mixture in close contact with the fish.
Slice as thin as you can from long end to long end at a slight angle. Use a very sharp knife for the best results. My slices weren't as thin as I like.
I knew I had a winner when one of my guests commented, "Great smoked salmon," with Bill chiming in, "I hope there's more of this." Yes, Mr. Picky Pants was eating raw, cured salmon…whoa. Maybe he will eat fennel again one day…or mint…or nuts…or pineapple. I can dream, can't I? I've also made terrific canapes with Dorie Greenspan's gravlax recipe.
Frequently Asked Questions
What Is Gravlax?
Gravlax is a Swedish raw salmon dish that is cured for a few days in a salt, sugar, and dill mixture. It's then sliced paper-thin to serve.
What Is the Difference Between Gravlax and Lox?
Lox is fresh salmon belly that is cured with a salty brine, but does not have other seasonings nor is it smoked. It's from a Yiddish word for salmon, Laks.
How Do You Make Gravlax?
Top the salmon with the salt and sugar mixture, then the fresh dill. Place it on a rimmed, plastic-lined baking sheet, then top with another layer of plastic wrap, and a second baking sheet (flat side down).
Weigh it down by pacing a heavy skillet or cans on the top baking sheet. Refrigerate, turning every 12 hours for 3-4 days. Scrape off the dry brine before slicing and serving.
How Do You Eat Gravlax?
Thinly slice your gravlax on a slight angle. Serve for breakfast, brunch, or as part of a smorgasbord. It's often paired with dark bread and a mustard dill sauce. On a bagel, it's delicious with a smear of cream cheese, diced red onions, and capers.
You May Also Like:
Stay in touch through social media @ Instagram, Facebook, and Pinterest. Don't forget to tag me when you try one of my recipes! And if you love the results, please give it a 5-star rating in the recipe card. Note: As an Amazon Associate, I earn from qualifying purchases. Visit my Amazon Store for my favorite products.
Prep Time 15 minutes
Total Time 15 minutes
Yield 20 servings
How to cure salmon with salt and sugar!
Ingredients
4 pounds boned salmon fillets, skin on
1 tablespoon freshly ground black pepper
½ cup sugar
¼ cup kosher salt
3 bunches fresh dill
2 tablespoons Cognac
Instructions
Wrap a rimmed baking sheet in plastic wrap, then line it with parchment. Place fillets baking sheet, skin side down. Remove any bones.
Mix together pepper, sugar, and salt. Sprinkle over fillets. Place dill over salmon, then drizzle with Cognac.
Cover with plastic wrap, then top with another baking sheet. Place a heavy object on top of the second baking sheet (I used cast iron popover pans).
Every 12 hours, flip the salmon pieces and cover with new plastic wrap. Continue for a total of 3-4 days.
To serve, scrape off dill and spices. Pat dry. Slice thin pieces on the diagonal.
Notes
Inspired by recipes from Emeril and Julia Child
Total time is 3-4 days for curing.
Feel free to use half the amount of salmon and half the rest of the ingredients. Curing time will remain the same.
Recommended Products
As an Amazon Associate and member of other affiliate programs, I earn from qualifying purchases.
Nutrition Information:
Yield:
20
Serving Size:
1
Amount Per Serving:
Calories: 210
Total Fat: 11g
Saturated Fat: 2g
Trans Fat: 0g
Unsaturated Fat: 8g
Cholesterol: 57mg
Sodium: 1470mg
Carbohydrates: 5g
Fiber: 0g
Sugar: 5g
Protein: 20g
Note: This post may contain affiliate links; view
my Disclosure Policy
for details. I earn a small percentage from any purchase you make by clicking on these links at no extra cost to you.