Paleo Roasted Salmon
This easy Paleo Roasted Salmon was glazed with ghee, lemon, maple syrup, and garlic for a quick, flavorful sheet pan entree. Declared "terrific" by my husband, this praise is typically reserved for chocolate desserts!
My friend, Shelby, just published a terrific cookbook full of delicious Paleo Recipes, including this Roasted Salmon. Scroll down for a chance to win your own copy of this wonderful cookbook!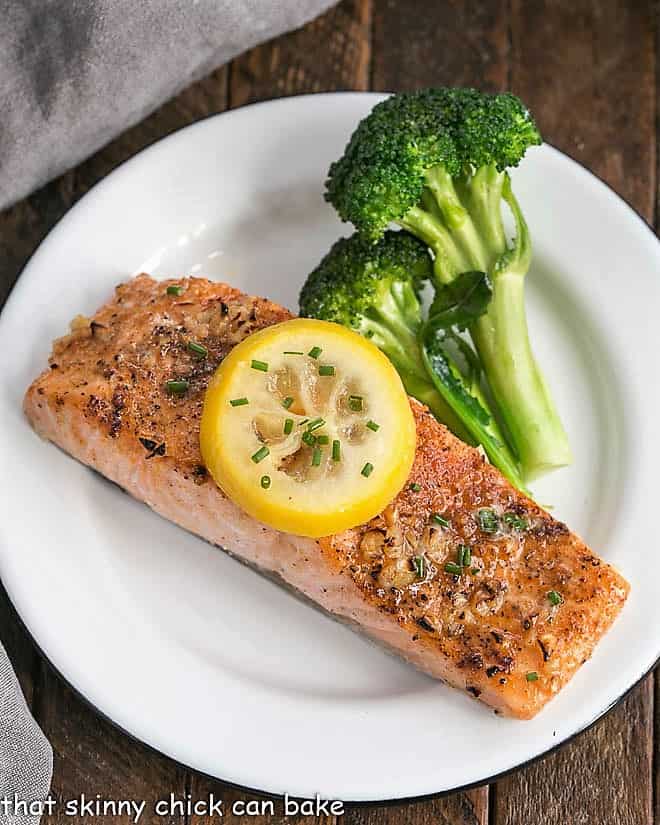 Why You Must Make
Paleo Salmon Recipes are a delicious way to eat healthy!
With garlic and lemon, the ingredients are simple yet flavorful.
Roasting on a sheet pan lined with foil makes it easy to cook and clean up!
We were smack in the middle of Lent when Shelby's cookbook, The One-Pot Paleo Cookbook, arrived in the mail. I browsed through the table of contents and knew I had to try this oven-roasted salmon on Friday night. I had all the ingredients on hand except for the salmon. Thank goodness my chives were popping up in the garden!
How to Make
This is a super easy recipe that's not short on flavor. There are a few simple steps to making this Paleo recipe.
First, slice a lemon. These slices will be placed under the salmon fillet and will steam, enveloping the salmon with lemon as it cooks in the oven.
Then there is the glaze mixture is whisked together in a bowl. 3/4 of it is poured over the salmon before it's sealed in a foil packet and placed in the oven.
After the salmon is nearly finished cooking, the top foil is removed and the remaining mixture is drizzled over the salmon as a glaze while the broiler puts a nice bronze finish on the seafood.
Chopped chives are an optional garnish to give the fillets a spot of color and fresh, mild oniony flavor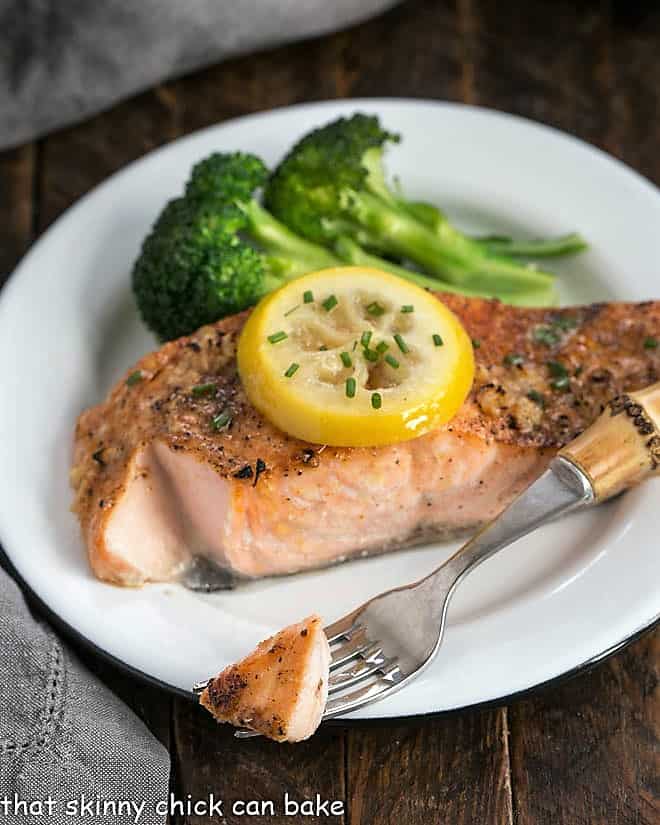 Serving Suggestions:
Frequently Asked Questions
What is the Paleo Diet?
The Paleo Diet is based on the diet of our prehistoric ancestors. During the Paleolithic period, humans were hunters and gatherers so crops like grains and legumes were not part of their diets. Nor was dairy. There are a few exceptions allowed such as green beans and ghee. 
Since these early humans lived off the land, their diet consisted of  "animal protein, eggs, fruit, vegetables, nuts, and seeds." So basically the Paleo diet is all about eating natural, whole, and organic foods and eliminating processed foods.
Will the Paleo Diet Help with Weight Loss?
Definitely! Just eliminating sugar, butter, wheat, and processed foods from your diet will make your weight decline. Plus there are cardiac and digestive benefits along with decreased inflammation.
What is Ghee?
Ghee is a form of clarified butter. The butter is melted and the milk solids are removed. Though it wasn't around during the Paleolithic time period, it has been approved for the Paleo diet. I substituted melted butter since I'm not following a Paleo diet. But here's an excellent tutorial on How to Make Ghee.
You May Also Like: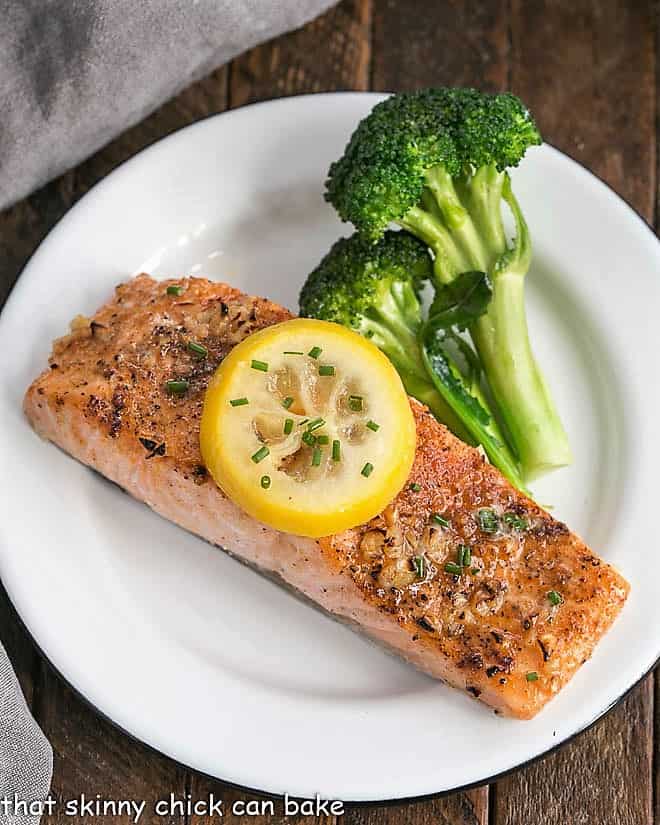 The Recipe:
Lemon Garlic Sheet Pan Salmon
Prep Time 15 minutes
Cook Time 23 minutes
Total Time 38 minutes
Yield 4
Oven Roasted Salmon with a lemon, maple, garlic glaze
Ingredients
1 lemon, sliced
1 1/2 pounds salmon fillet, skin left on
1/3 cup ghee (or melted butter if not on a Paleo diet)
2 tablespoons freshly squeezed lemon juice
1 tablespoon maple syrup
4 cloves garlic, minced
1 teaspoon salt
1/2 teaspoon freshly ground black pepper
1/2 teaspoon paprika
1 tablespoon chopped fresh chives, optional
Instructions
Preheat the oven to 375°. Line sheet pan with aluminum foil. Set aside.
Place the lemon slices on the prepared sheet pan. Lay the salmon fillets, skin-side down, on the lemon slices.
In a small bowl, whisk the melted ghee or butter, lemon juice, maple syrup, and garlic to combine. Spoon 3/4 of the mixture over the salmon and reserve the rest. Season the salmon with salt, pepper, and paprika.
Place another piece of foil over the salmon and seal the packet by folding the edges together.
Bake for 18 minutes. Remove the top piece of foil over the salmon and drizzle the salmon with the remainder of the butter mixture.
Turn the oven to broil.
Place the salmon under the broiler and cook for 5 minutes or until golden. Serve garnished with chives.
Recommended Products
As an Amazon Associate and member of other affiliate programs, I earn from qualifying purchases.
Nutrition Information:
Yield:
4
Serving Size:
1
Amount Per Serving:
Calories: 550
Total Fat: 41g
Saturated Fat: 16g
Trans Fat: 0g
Unsaturated Fat: 21g
Cholesterol: 158mg
Sodium: 659mg
Carbohydrates: 7g
Fiber: 1g
Sugar: 4g
Protein: 38g
Note: This post may contain affiliate links; view
my Disclosure Policy
for details. I earn a small percentage from any purchase you make by clicking on these links at no extra cost to you.