Dilled Gravlax with Mustard Sauce
Dilled Gravlax with Mustard Sauce is super easy to prepare, but your friends will think you slaved for hours! Served on party rye with either the homemade sauce or creme fraiche, it's a gorgeous appetizer.
Bill didn't always eat salmon, but I slowly won him over with dishes like my Maple Mustard Glazed Salmon. He gave this traditional gravlax recipe rave reviews! Baby steps.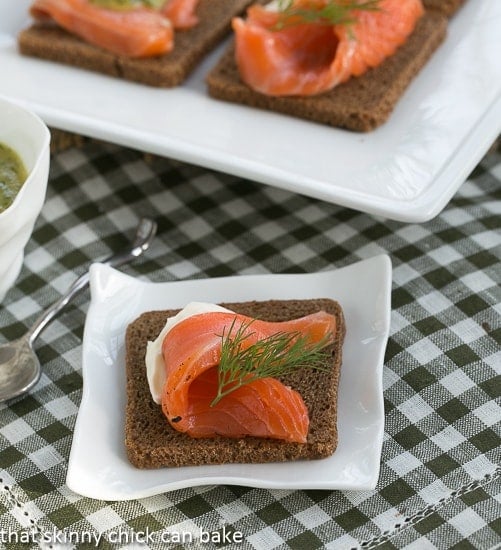 Dilled Gravlax with Mustard Sauce
Oh, my. Dorie hit a home run with her Dilled Gravlax recipe. I've made gravlax before which involves a specific process of curing a piece of salmon with salt, sugar and spices, and it was wonderful.
But it bordered on being too salty. As always, Dorie shared a perfect recipe with a shorter curing time and a more moderate amount of seasonings.
Cured Salmon You Can Make at Home
I made this dilled gravlax to serve at a neighborhood cookie exchange I hosted. It takes a total of 48-72 hours to cure, so plan accordingly. You'll also need to make sure you have white peppercorns and whole coriander seed on hand. Thanks to Dorie, these are now staples in my kitchen.

What is Gravlax?
Gravlax, lox and smoked salmon often get mistaken for one and other, though they're each prepared differently. Gravlax is a Scandinavian recipe for curing salmon using salt, sugar and loads of dill. Lox is similar, but it's cured in a salty brine. Neither gravlax nor lox is ever cooked. Smoked Salmon can be cooked as there are hot smoked (which results in a firm flaky fish) and cold smoked (which has a texture more like lox and gravlax) versions.
A Beautiful, Traditional Gravlax Recipe
My friends were thrilled that this cured salmon recipe was in Dorie Greenspan's Around My French Table as I have convinced many of them to buy the cookbook. Then Bill spied a few of the leftovers in the fridge and sampled one of the slices on party rye slices.
He immediately declared that this cured salmon would be his breakfast the next day…on baguette slices. First chopped liver and now gravlax? It actually appears that he likes more than cherry Koolaid and rare steaks! I served my dilled gravlax slices with either Dorie's dilled mustard sauce or dollops of creme fraiche…plus a frilly garnish of dill or chives.
Beautiful and delicious as a bit of green against the orange salmon provides a great contrast. And my furry friend, Lambeau, was happy to chow down on the leftover salmon skin…she gave it two paws up, too.
More Salmon Recipes You'll Love: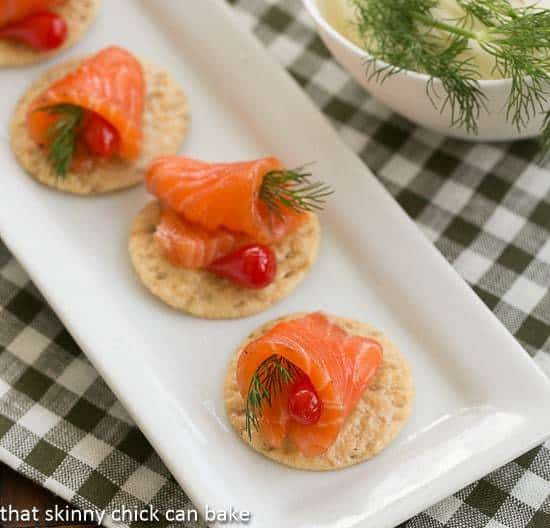 The Recipe:
Dilled Gravlax with Mustard Sauce
Prep Time 15 minutes
Cook Time 2 minutes
Total Time 17 minutes
Yield 4 servings
Dorie Greenspan's fabulous salmon cured in salt, sugar and dill.
Ingredients
Gravlax
1 teaspoon whole white peppercorns
1 teaspoon whole black peppercorns
1 teaspoon coriander seeds
2 tablespoons sea salt
2 teaspoons sugar
1 1-pound salmon fillet, skin on
1 cup chopped fresh dill, divided
Sauce
2 tablespoons honey mustard
1 tablespoon distilled white vinegar
3 tablespoons grapeseed oil or canola oil
2 tablespoons chopped fresh dill
1/4 teaspoon salt
Instructions
For gravlax:
Heat all peppercorns and coriander seeds in small skillet over medium-high heat until spices are fragrant, shaking skillet frequently, about 2 minutes. Crush spices with mallet or bottom of heavy pan. Transfer spices to small bowl. Mix in salt and sugar.
Using small knife, poke 12 small holes through skin of salmon. Rub 1/3 of spice mixture over skin. Sprinkle 1/3 cup chopped dill in bottom of an 8x8x2-inch glass baking dish. Place salmon, skin side down, over the dill. Rub remaining spice mixture into top of salmon. Press 2/3 cup chopped dill onto the salmon.
Cover with plastic wrap, pressing directly onto fish. Place another pan over the plastic, then weight down with some canned goods. Refrigerate 2 to 3 days.
For sauce:
Whisk mustard and vinegar in small bowl to blend. Gradually whisk in oil. Stir in chopped dill and salt. Season with ground black pepper.
Scrape spices and dill off both sides of salmon (some spice mixture will remain). Thinly slice salmon diagonally at 45-degree angle from top of fillet toward skin.
Top toasts with salmon slices, sauce, and dill sprigs.
Notes
Adapted from Dorie Greenspan.
Total time does not include 2-3 day curing time.
Nutrition Information:
Yield:
4
Serving Size:
1
Amount Per Serving:
Calories: 403
Total Fat: 31g
Saturated Fat: 4g
Trans Fat: 0g
Unsaturated Fat: 25g
Cholesterol: 74mg
Sodium: 3414mg
Carbohydrates: 5g
Fiber: 1g
Sugar: 3g
Protein: 25g
Note: This post may contain affiliate links; view
my Disclosure Policy
for details. I earn a small percentage from any purchase you make by clicking on these links at no extra cost to you.