Brookie Bars (Brownie & Chocolate Chip Cookie Bars)
Early in my blogging days, I came across a new cookie bar craze. Brookie Bars were created by layering chocolate chip cookie dough over brownie batter for a sure to please, outrageously delicious dessert!
When two popular desserts combine and collide, it makes for a decadent family-friendly dessert. These Brownie Cookie Bars are perfect for those times you can't decide between brownies and chocolate chip cookies!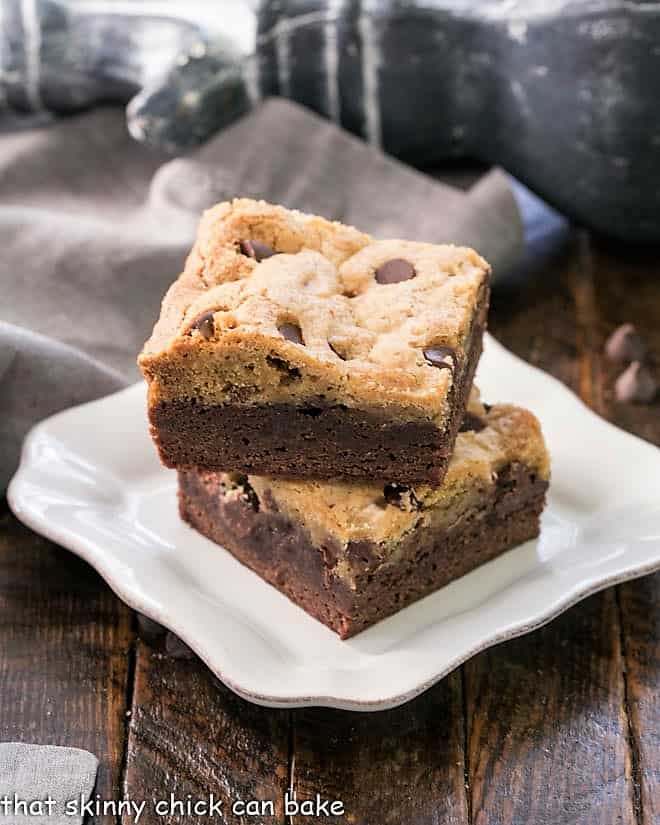 Why You Should Make Brookies
By now, my loyal fans know that my family loves chocolate chip cookies. If there is one dessert I've made more than any other, it's those chewy classic cookies packed with chocolate chips, chunks, or discs. I had the recipe on the back of Nestle's chocolate chips memorized within a few months of being married, but I still test nearly all the new chocolate chip cookie recipes I come across. But brownies, sans nuts, come in at a close second.
This recipe gives you a layer of BOTH. If you love all things chocolate, give these bars a whirl!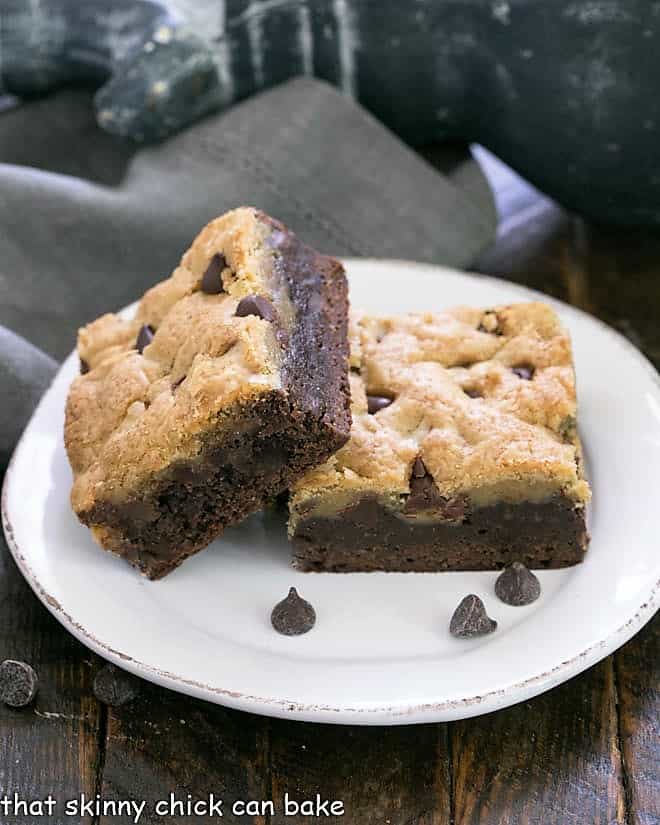 Brookies: Brownie and Chocolate Chip Cookie Bars
For ordinary occasions, a batch of brownies or chocolate chip cookie bars will always do. But when trying to come up with a weekday dessert last week, I thought back to those Brookies, the decadent double-decker dessert bars, and thought they needed to be revived.
My early blog posts were rather pitiful and my children don't even remember me making these brookies. It was time for these brownie cookie bars to make another appearance in my kitchen! I packaged a few of these up for a trip to Northern Wisconsin at the end of July. After just one bite, my brother-in-law quickly asked, "Are these on the blog?" I bet you'll get the same reaction!
How to Make Brookie Bars:
After 5 more years of blogging without making another batch of brookies, I was glad to remedy this egregious omission.
I went to work making a one-bowl brownie recipe, then spread it evenly in a prepared 9 x 13 pan. Use an offset spatula to help spread the batter to keep the brownies level.
The brownie batter was followed by a layer of that old faithful, chocolate chip cookie dough. Take small handfuls of dough and flatten it between your two palms.
Place this dough across the surface of the brownies, trying to cover them completely. You can use your fingers or an offset spatula to gently seal the "joints" between the dough pieces.
Bake until the surface of the cookies are lightly browned. The insides remain soft and gooey at 30 minutes. It's as easy as that!
PRO-Tip: Carefully press a few more chocolate chips across the top of the brookies after they come out of the oven. This will give a more professional look if you're sharing these with friends or serving to company.
My kids love to gently warm up slices in the microwave to remelt the chocolate chips.
Bill was so thrilled with this dessert that he got a look of panic when I told our oldest he could take a few brookies home with him. If you'd like your bars fully set, go ahead and bake for another 5 minutes. But coming from a gal who would rather eat cookie dough than cookies, I love mine slightly under baked!
Frequently Asked Questions
What Are Brookies?
Brookies, as you've probably surmised, is a term combining the words brownie and cookies. This version of brookies is made by layering brownies and cookies, but another version of brookies is cookies which are half chocolate dough and half chocolate chip cookie dough. The exact origin of this dessert cannot be verified.
How Do You Store Brookie Bars?
They can be left at room temperature, covered, for up to 3 days. If you have more than you can eat before they get stale, they freeze well. Just make sure they're placed in an airtight container or wrapped in plastic wrap, then foil. Brookies can be frozen up to 3 months.
Two Sweetie Pies
This recipe is part of a series where I make a recipe from one of my favorite blogs, Hugs & Cookies XOXO. Danielle chooses a recipe from my blog to recreate, too. You can find her original Brookies post and also check to see which of my recipes she selected to make this month!
More of the Best Brownie Recipes:
This recipe was first shared in July 2015. Photos and text were updated in 2020.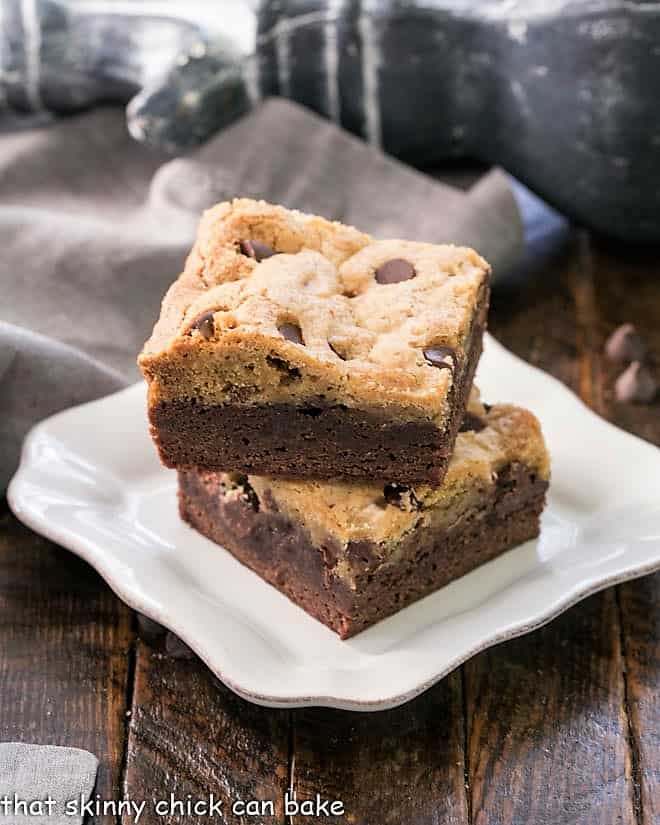 Prep Time 30 minutes
Cook Time 35 minutes
Total Time 1 hour 5 minutes
Yield 24 bars
Brownies + Chocolate Chip Cookies = Brookies!
Ingredients
Brownies
2 cups sugar
⅔ cup cocoa powder
1 cup melted butter
4 eggs
2 teaspoons vanilla
1½ cups flour
½ teaspoon salt
Cookie Layer
10 tablespoons butter, at room temperature
⅔ cup brown sugar
⅓ cup white sugar
1 egg + 1 additional egg yolk
1 teaspoon vanilla
1⅔ cups flour
¾ teaspoon. baking soda
¾ teaspoon salt
1 cup chocolate chips, plus a few extra to sprinkle on top
Instructions
Spray a 9 x 13 pan with non-stick baking spray or line the pan with non-stick foil. Preheat the oven to 350º.
Stir together the butter, sugar, eggs, and vanilla.
Add flour, cocoa, salt, and mix until combined. Spread in prepared pan.
To make the cookie dough layer, beat butter and sugars.
Add eggs and vanilla and mix until combined.
Add dry ingredients and using a wooden spoon, mix until combined. Fold in chips.
Flatten pieces of dough in hands and lay across the brownie layer to cover.
Sprinkle on a few more chips. Bake 30-35 mins.
Cool on a wire rack before cutting.
Notes
Adapted from Hugs & Cookies XOXO
Recommended Products
As an Amazon Associate and member of other affiliate programs, I earn from qualifying purchases.
Nutrition Information:
Yield:
24
Serving Size:
1 bar
Amount Per Serving:
Calories: 370
Total Fat: 21g
Saturated Fat: 12g
Trans Fat: 0g
Unsaturated Fat: 7g
Cholesterol: 71mg
Sodium: 303mg
Carbohydrates: 44g
Fiber: 2g
Sugar: 28g
Protein: 5g
Note: This post may contain affiliate links; view
my Disclosure Policy
for details. I earn a small percentage from any purchase you make by clicking on these links at no extra cost to you.