Finnish Pulla Bread
This Finnish Pulla Bread is the quintessential holiday bread. This Braided Yeast Bread Recipe is formed into a festive wreath. Flavored with cardamom, your family will request it every Christmas to come!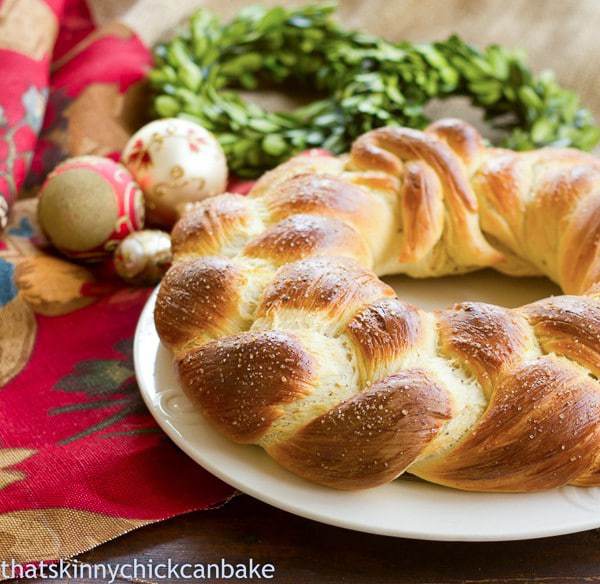 Finnish Pulla
A wreath tied up with a bow. How appropriate for the week before Christmas! This week's Tuesday's with Dorie recipe was for a Finnish Pulla, a lovely yeast bread recipe flavored with crushed cardamom seeds. The scent of the baked loaf was sublime, definitely aromatherapy at its best.
Using my KitchenAid mixer with a dough hook, the bread dough was a snap to prepare. Braiding required a bit more concentration. How is it that I can plait hair with my eyes closed, but 3 strands of dough perplexed me???? Well, finally got through that, snipped off the ends and formed a ring with the braid.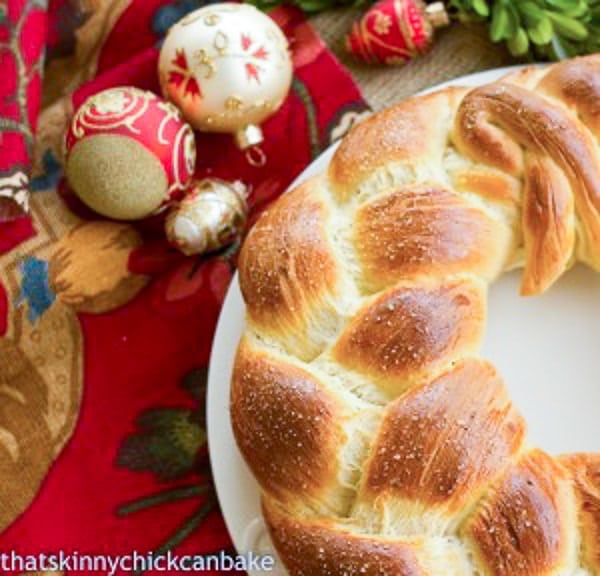 Tips for Making Your Holiday Yeast Bread Recipe
Beatrice Ojakangas, the contributing baker, had the brilliant idea of making a bow with the excess dough to cover up the seam. Well, I thought she was pretty darn clever till I tried to make a bow out of dough! I muddled through and it looked darn good going into the oven (save some striations in my strands, but I AM my own worst critic).
The dough was glazed with a mixture of egg and milk and then sprinkled with sugar. Pearl sugar was suggested, but since I didn't check my supplies till after I started baking, I just used some demerara sugar, a large-grained brown sugar. And the results were a glossy bread with a touch of glittery sugar. Exquisite. Sweet, sparkly bread which is perfect for the holidays!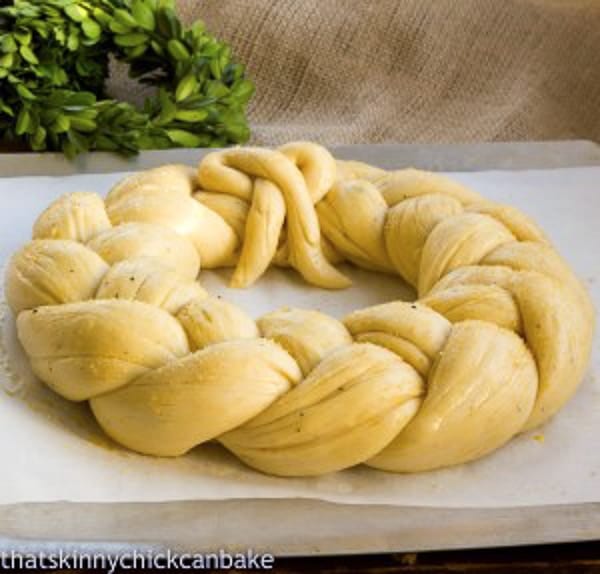 Finnish Pulla can be found on page 106 of Baking with Julia (affiliated link) by Dorie Greenspan.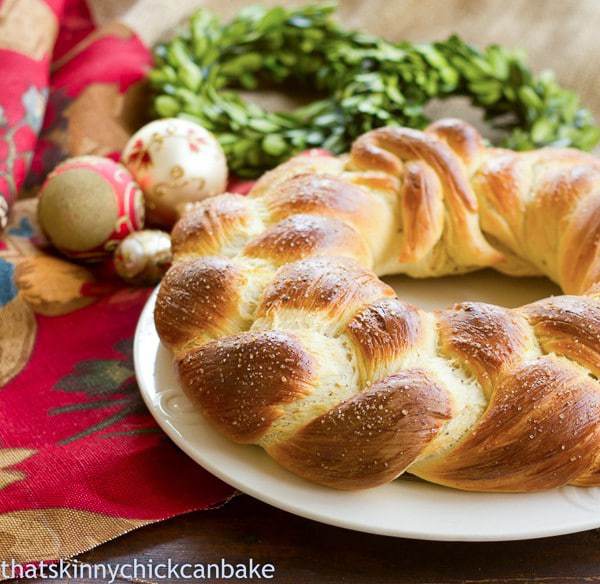 The Recipe:
Finnish Pulla Bread
Prep Time 2 hours
Cook Time 25 minutes
Total Time 2 hours 25 minutes
Yield 1 loaf
A holiday braid flavored with cardamom from Baking with Julia by Dorie Greenspan
Ingredients
1 cup milk
1 tablespoon active dry yeast
¼ cup warm water (no hotter than 110 degrees Fahrenheit)
½ cup granulated sugar
1 teaspoon crushed cardamom seeds (from 7 to 12 pods, depending on the size)
1 teaspoon salt
2 eggs, at room temperature, beaten
4 ½ to 5 cups (22.5 - 25 ounces by weight) all purpose flour
1 stick (4 ounces) unsalted butter, melted
1 large egg + 1 tablespoon milk, for glaze
Sliced almonds
Pearl sugar
Instructions
Grind 1 teaspoon cardamom seeds in a mortar and pestle or coffee grinder.
Place a small saucepan over medium heat and add the 1 cup milk. Scald the milk, so small bubbles are just visible around the edge. Remove the pot from the heat and cool the milk to around 110º Fahrenheit.
While the milk is scalding melt the 1 stick butter in the microwave.
In a large bowl, add ¼ cup warm water (around 110º) and whisk in the 1 tablespoon active dry yeast. Set the yeast/water mixture aside for at least 5 minutes. It will become creamy.
Once the water/yeast mixture is creamy, whisk in the 1 cup scalded and slightly cooled milk, ½ cup granulated sugar, 1 teaspoon ground cardamom seeds, 1 teaspoon salt, and the 2 beaten eggs. Whisk until fully combined.
Now, using a wooden spoon, add 2 cups flour to the bowl. Beat the mixture until smooth. Vigorously stir in the 1 stick melted butter. Once the butter is incorporated, add in the additional flour, a ½ cup at a time, until the dough is fairly stiff. Stop adding flour before the dough becomes dry.
If you wish, you can also use a stand mixer with a dough hook to mix the dough. Follow the directions in the same order.
Once you have your dough mixed, cover the bowl with plastic wrap and let the dough rest for about 15 minutes.
Turn the dough onto a floured work surface. Knead the dough until smooth and shiny, about 10 minutes. Add a bit of additional flour if needed. This is where I added my last ½ cup of flour or so.
You can also knead the dough in the mixer with the dough hook at medium speed. It may only take about 8 minutes or so, depending on your machine.
Shape your dough into a ball and lightly grease a large bowl. Turn the ball of dough in the bowl to lightly coat in the grease. Cover the bowl tightly with plastic wrap and set it in a warm place. Let the dough rise until it is double in size. This will take at least 45 minutes, but could take over an hour.
Cover your baking sheet with parchment paper.
Once the dough has doubled in size, turn it out of the bowl onto a cool, lightly oiled surface.
Knead the dough briefly to release the air. Divide the dough into 3 equal pieces. Weigh the pieces to ensure they are equal, or close to it.
Roll each of the three pieces into a log about 36 inches in length.
Now, line the logs up next to each other and pinch them together at the top. Braid the 3 pieces into a log braid. Carefully move this braid to the parchment lined baking sheet, forming it into a circle onto the sheet. Cut an inch or two of dough off each end and fuse the circle together. Knead the cut bits together and shape into another small log. Form into a bow and place the bow over the seam of the wreath.
Loosely cover your bread with a towel and let rest and rise at room temperature for about 45 minutes. Don't let it double in size.
Place a rack in the center of the oven and preheat to 375º.
Whisk together egg and milk for glaze. Brush the egg glaze all over the shaped dough. Sprinkle the dough all over with sliced almonds and pearl sugar.
Bake the loaf for 20 to 25 minutes. The top will be just golden, and the bottom of the loaf will be very light. Be careful not to over bake the bread.
Transfer the baked loaf to a cooling rack and cool to room temperature before cutting into the bread.
To store, cover the loaf in plastic wrap and keep at room temperature. Or, wrap tightly, so the bread is air tight and freeze for up to a month. Thaw the bread at room temperature.
Nutrition Information:
Yield:
16
Serving Size:
1 slice
Amount Per Serving:
Calories: 239
Total Fat: 5g
Saturated Fat: 1g
Trans Fat: 0g
Unsaturated Fat: 4g
Cholesterol: 38mg
Sodium: 161mg
Carbohydrates: 41g
Fiber: 2g
Sugar: 9g
Protein: 7g
Note: This post may contain affiliate links; view
my Disclosure Policy
for details. I earn a small percentage from any purchase you make by clicking on these links at no extra cost to you.