Parmesan Prosciutto Bread
A braided Parmesan Prosciutto Bread brings Italian flavors into your kitchen. This rustic yeast bread is enhanced with grated Parmesan cheese and Prosciutto.
Also known as Lard Bread and Brooklyn Bread, this version of the traditional Italian loaf is made with olive oil instead of lard. Provolone cheese is another common addition, but Parmesan provided delicious nutty undertones.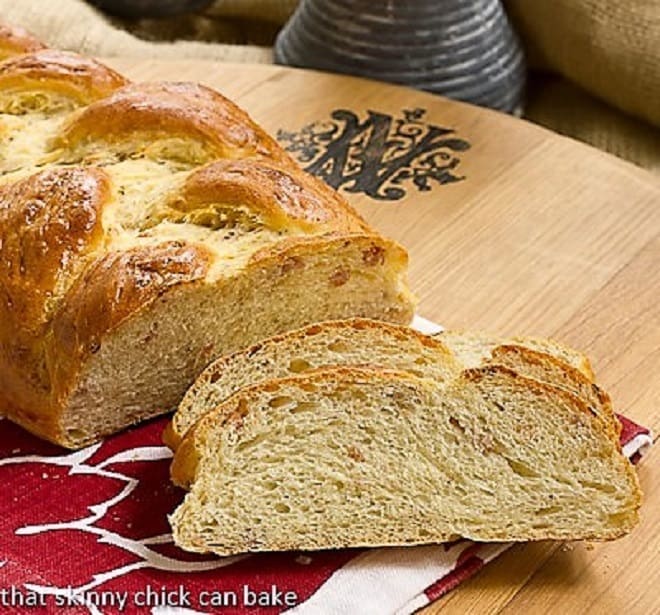 Why You Must Make
This enticing recipe comes from the baking guru, Nick Malgieri. I had just purchased his new cookbook, The Modern Baker, and was ready to dive in.
Bread with Prosciutto? That should be enough to persuade you!
This is a great loaf to eat with butter, make a grilled cheese, or serve with almost any entree!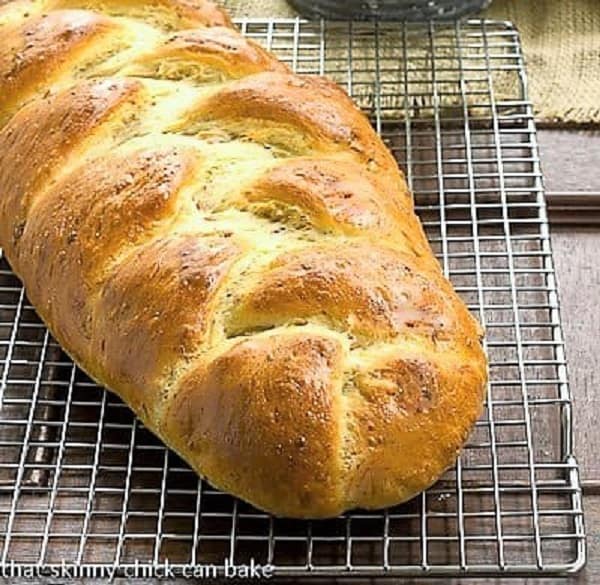 Expert Tips
The aroma of this bread was intoxicating as it baked in the oven. I could not wait to dive in…and it did not disappoint.
A typical prosciutto bread recipe has a nice hit of heat from freshly ground black pepper. I cut the amount in half to appease my picky family, but feel free to add a full tablespoon for a more authentic loaf.
I used very thinly sliced prosciutto, but if you can get a nice slab instead, cut it into 1/4 inch cubes.
You can also substitute the Parmesan for Provolone cheese. That may be cut into 1/4 cubes as well.
If you'd like to make a true lard bread, adding melted lard instead of olive oil will give a nice crispy crust.
This made one nice braided loaf, but if you'd like, shape the dough into two bâtards (think half-sized baguettes). Bake until the interior temperature reaches 205-210°.
My youngest, Nick, and I sampled a slice mid-afternoon. And then I had a couple more nibbles…just because. The decision to only add a half tablespoon of pepper was a good move. I was able to distinguish the Parm and ham flavors without either being overpowered by the pungent spice.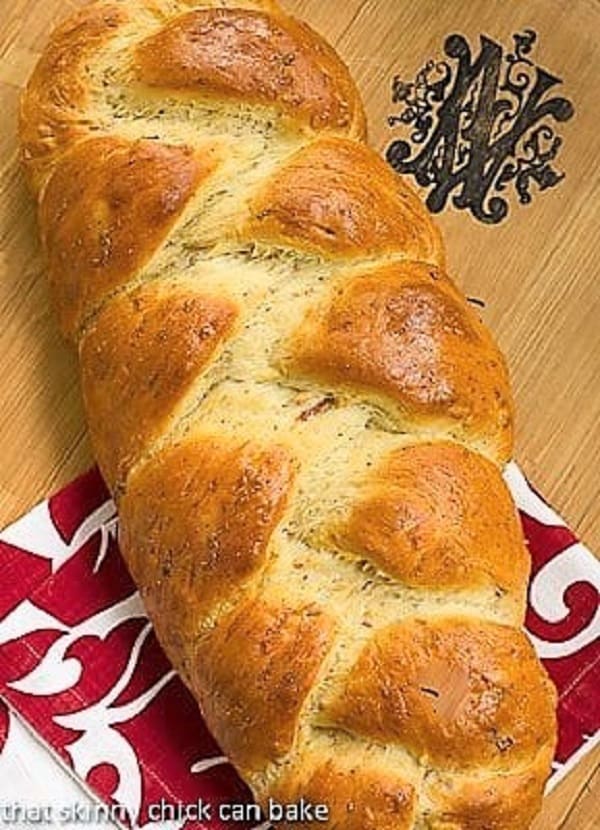 Frequently Asked Questions
Should Prosciutto Bread be Refrigerated? Can it Be Frozen?
Yes, you must store your prosciutto bread in the refrigerator since the prosciutto is perishable. It can also be frozen if wrapped airtight in foil, then plastic wrap or a Ziploc freezer bag. It keeps well for about 2 months. Defrost overnight in the refrigerator, and gently heat to serve.
How Do You Reheat  Prosciutto Bread?
Wrap your loaf in foil and place in a preheated 350° oven for about 15 minutes or until warm in the center.
How Should You Eat Prosciutto Bread?
Prosciutto Bread is terrific for breakfast, lunch, and dinner. Eat a slice with butter, use it to make a grilled cheese sandwich, or serve it with some olive oil for dipping doctored up with herbs, spices, and a splash of balsamic vinegar.
You May Also Like: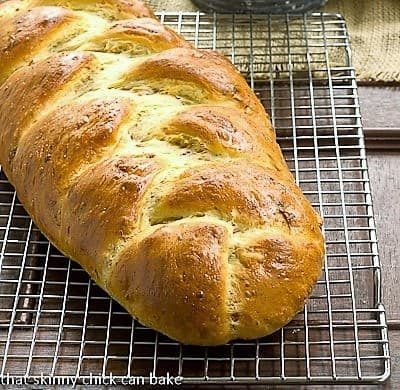 The Recipe:
Parmesan Prosciutto Bread
Prep Time 30 minutes
Cook Time 45 minutes
Total Time 1 hour 15 minutes
Yield 1 loaf
A braided loaf with grated Parmesan and Prosciutto
Ingredients
4 cups flour
1 1/2 teaspoon salt
1 1/2 teaspoon sugar
1/2 tablespoon freshly ground black pepper
4 teaspoons Red Star Platinum Yeast (a premium instant yeast)
1 1/2 cups warm water (about 120º if using Red Star Platinum Yeast)
3 tablespoons olive oil
1/2 cup grated Parmesan cheese
6 ounces prosciutto, cut into approximately 1/4 inch squares
1 egg, beaten with 1 teaspoon of water, to glaze
Instructions
Put 2 cups of flour, salt, sugar, pepper, and yeast into the bowl of your stand mixer fit with the paddle attachment. Mix to combine.
Add warm water and mix till blended. Add the remaining flour and mix for a few minutes, switching out to the dough hook if your mixer seems over-taxed.
Mix in olive oil and Parmesan. When those are incorporated, mix in prosciutto.
Remove dough and place in a large greased mixing bowl. Cover and let rest for about an hour at room temperature (your dough does not need to double when using the Platinum yeast).
Remove dough from bowl and place on lightly floured work surface. Pat out into a rectangle and divide dough into thirds.
With each third of the dough, form a 16-inch snake. Line up the 3 snakes next to each other.
Start braiding at the center till you reach one end. Pinch and tuck the tail under the end of the loaf. Repeat starting with the center and braiding to the other end.
Move to a baking pan lined with parchment paper. Cover with a greased piece of plastic wrap and let rise in a warm location till doubled, about an hour.
Preheat oven to 400º. Brush with one egg beaten with a teaspoon of water.
Bake for about 45 minutes or till the internal temperature reaches 200 - 205º. Remove to cooling rack.
Yield: 1 large loaf
Notes
Adapted from The Modern Baker by Nick Malgieri
Nutrition Information:
Yield:
16
Serving Size:
1 slice
Amount Per Serving:
Calories: 184
Total Fat: 5g
Saturated Fat: 1g
Trans Fat: 0g
Unsaturated Fat: 3g
Cholesterol: 22mg
Sodium: 547mg
Carbohydrates: 27g
Fiber: 1g
Sugar: 2g
Protein: 8g
I served this right after my youngest went off to start his second year of college. Is it crazy to think this kid who tended to load dirty dishes into the dishwasher full of clean dishes could set up house with 3 other sophomore boys? Would any cooking take place? Any cleaning? I asked questions like "Does your room have curtains?" His face scrunched up as he pondered, then replied, "I don't think so." "Will a queen-sized bed fit into your bedroom?" He shrugged his shoulders. His assignment was a BIG TV and bar stools.
Do these guys think of toilet bowl cleaner or hot pads? NOPE. That's what moms are for. But they will have a huge screen to watch the basketball games and play video games into the wee hours of the night…I am SO relieved about that (insert sarcastic tone). But I know he'll have a blast. I just won't bring my white gloves when I visit. When things calmed down, I went to work on the Parmesan Prosciutto Bread.
Note: This post may contain affiliate links; view
my Disclosure Policy
for details. I earn a small percentage from any purchase you make by clicking on these links at no extra cost to you.