Caramel Filled Carrot Cake with Cream Cheese Frosting
This Caramel Filled Carrot Cake with Cream Cheese Frosting is an extraordinary version of a carrot cake recipe. If I had to choose a favorite cake, it would be carrot cake, hands down. But not just any ordinary carrot cake; it must be chock full of goodies like this 3 layered version filled with caramel!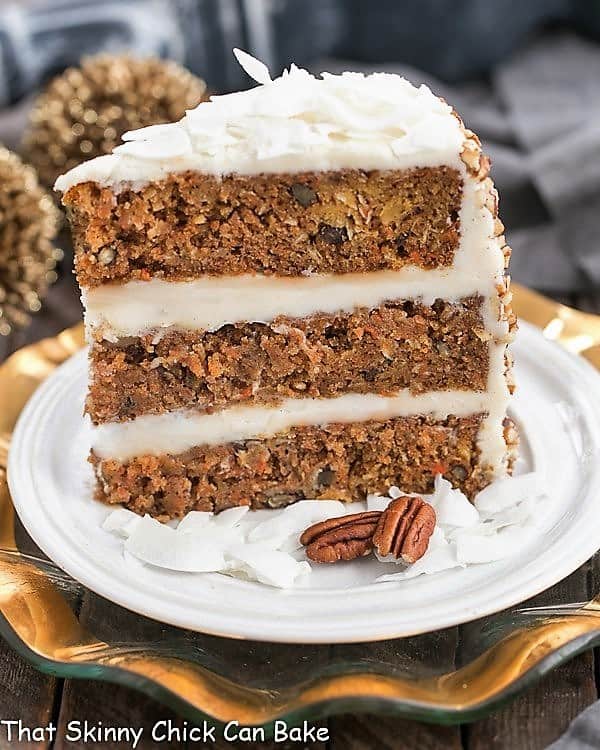 Layered Carrot Cake
I love any excuse to bake up a decadent, over-the-top dessert. Especially one full of ingredients I love, but the family doesn't: nuts, coconut, crushed pineapple. My book club provides me with all sorts of opportunities, and this week was our annual summer pitch-in dinner. It's no surprise that I always nab a dessert slot when it's time to sign up.
My friend, Roz, over at La Bella Vita, shared this marvelous three-layer carrot cake with an added bonus: a caramel filling. She actually had a praline filling but I decided to use the extra nuts as a garnish and keep the caramel layer simple, gooey and spectacular. And, of course, there's the cream cheese frosting. Who doesn't love that? Her Carrot Cake with Caramel Filling and Cream Cheese Frosting sounded exquisite. I just had to give it a shot.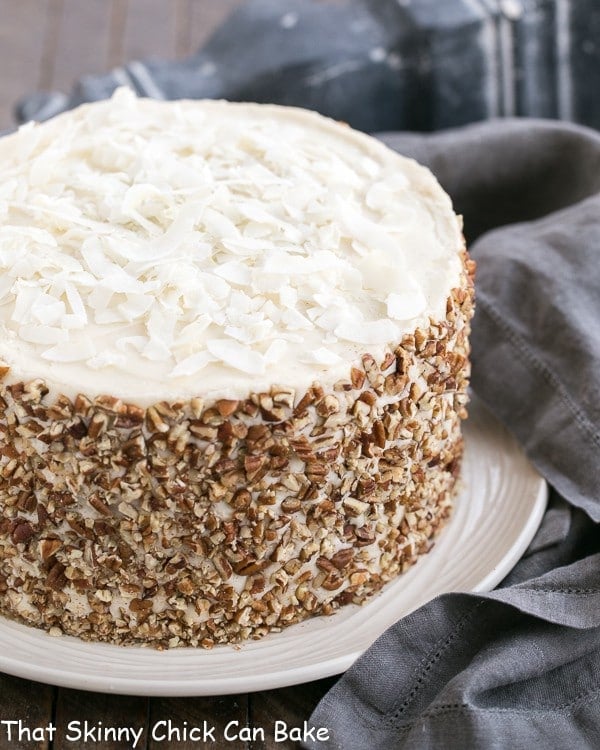 Over the Top Carrot Cake Recipe
But it was my girlfriend, Kelly, who told me this was a must-make recipe. You see, Kelly is a friend I've had since 3rd grade…and we also shared many adventures in college…even a boyfriend…long story there. I knew "of" her sister, Roz, growing up, but she was a cool high school student and my friends and I were the pesky (and squirrely) friends of the baby sister.
We actually "met" via our blogs not knowing we had a personal connection. Over weeks and months, we figured out we grew up only blocks from each other, plus actually met in person when Kelly and I road tripped to St. Louis while in college. When Kelly and I were in Michigan this spring, she raved about her sister's Carrot Cake With Praline Filling And Cream Cheese Frosting, more than once. A challenge I couldn't resist. Kelly loved it. I loved it. My book club adored it. And just recently, I took it to the cardiac cath lab for a Christmas lunch and they loved it as well. I hope you will, too!
More Carrot Cake Recipes You'll Love:
The Recipe:
Caramel Filled Carrot Cake Recipe
Prep Time 40 minutes
Cook Time 50 minutes
Total Time 1 hour 30 minutes
Yield 20 servings
An extraordinary carrot cake with a caramel filling. Adapted from La Bella Vita blog.
Ingredients
Cake:
3 cups flour
2 cups sugar
1 cup light brown sugar
2 teaspoons baking powder
2 teaspoons baking soda
1 teaspoon salt
4 teaspoons ground cinnamon
2 sticks butter, at room temperature
1/2 cup vegetable oil
6 eggs
1 tablespoon vanilla extract
1 1/3 cups (I used a 1 pound, 4 ounce can) drained crushed pineapple
1 cup shredded coconut
1 cup chopped pecans, toasted
6 cups shredded or grated carrots
Caramel Filling:
6 tablespoons butter
1 1/2 cups brown sugar
1 cup heavy cream
1 teaspoon vanilla
3/4 teaspoon salt
1/4 cup flour
2 teaspoons cornstarch
Cream Cheese Frosting:
2 8-ounce packages cream cheese, at room temperature
2 sticks of butter, at room temperature
7 cups powdered sugar
2 teaspoons vanilla
Chopped pecans to garnish sides, optional.
Instructions
Preheat oven to 350º.
Butter and flour 3 9-inch round cake pans. Set aside.
In the bowl of your stand mixer, add the flour, sugar, brown sugar, baking powder, baking soda, salt and cinnamon.Mix well.
Add the oil, eggs, butter, vanilla, pineapple, coconut, pecans, and carrots.
Place equal amounts of cake batter into each of three prepared pans.
Bake for 35 – 40 minutes or until an inserted toothpick comes out clean.Place on baking racks to cool for 10 -15 minutes, then remove from pans to finish cooling.
Prepare filling by melting the butter in a sauce pan. Add brown sugar and mix well. Add cream, vanilla and salt and mix to combine. Slowly add flour and cornstarch, whipping well to incorporate. Cook till mixture boils and thickens while whisking continuously. Run through a sieve to remove any lumps and place in fridge to cool completely (may chill overnight if necessary to thicken).
Make frosting by beating together butter and cream cheese till light and fluffy. Add vanilla then mix in powdered sugar till desired consistency is reached.
To assemble:
Top two of the layers with the caramel filling. If too runny, pop in the freezer till thickens. Spread a thick layer of the frosting over filling then stack these two layers. Top with third layer and frost the whole exterior as desired. Beware, that some caramel will ooze out. To minimize this, you may not want to use all the caramel.
Garnish sides with chopped pecans if desired.
Notes
Total time does not reflect cooling and chilling times.
My layers started sliding when I stacked them. I inserted a couple wooden skewers to hold them in place. You can chill the cake thoroughly and remove them or cut them off at the cake's surface and warn your guests before serving.
Nutrition Information:
Yield:
20
Serving Size:
1 slice
Amount Per Serving:
Calories: 894
Total Fat: 50g
Saturated Fat: 24g
Trans Fat: 1g
Unsaturated Fat: 23g
Cholesterol: 150mg
Sodium: 671mg
Carbohydrates: 108g
Fiber: 3g
Sugar: 87g
Protein: 8g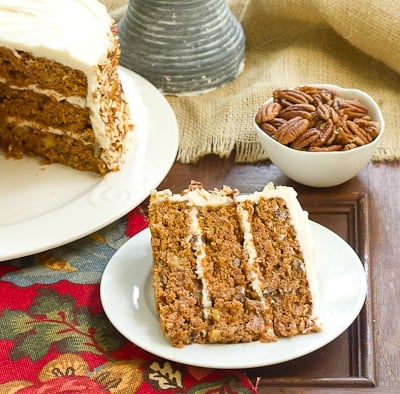 Photo circa 2013
The Instagram teaser I put on Facebook…look at that all that gooey caramel!!!
Note: This post may contain affiliate links; view
my Disclosure Policy
for details. I earn a small percentage from any purchase you make by clicking on these links at no extra cost to you.