Cream Cheese Filled Carrot Cake Muffins
Cream Cheese-Filled Carrot Cake Muffins: The divine flavors of a traditional carrot cake are transformed into a portable breakfast or snack!
These gems are actually Carrot Cake Cupcakes since I created them from my favorite carrot cake recipe. But since the "frosting" is on the inside, instead of on top, I think they can be an indulgence any time of day!
Why You'll Love these Muffins
If you love carrot cake, these are just mini versions!!
They have built-in portion control unless you go back for seconds and thirds (I wouldn't blame you!).
The cream cheese filling is a delicious surprise.
They're perfect for Easter brunch! You can leave a carrot or two out for the Easter bunny.
There is nothing better than biting through a sweet tender muffin. Well, except if that tender muffin has a center of sweet cream cheese filling. As a riff on carrot cake, these moist carrot cake muffins have a surprise filling instead of a topping of cream cheese icing.
I took the tried and true carrot cake recipe from The New Basics Cookbook (affiliate link) by Julee Rosso and Sheila Lukins and tweaked it into mini-versions that are perfectly acceptable for breakfast. Nice, huh?
I shared this muffin recipe with my unbiased taste testers one Friday morning, asking for their honest reviews. "Too much oil?" I posed. "How's the texture?" I queried. Between bites and swallows, there was only praise.
My non-baking friend, Sally, inquired whether she could make these…"Of course," I replied. Anyone who can read and follow directions can make these. There's nothing complicated when it comes to mixing, spraying, and scooping.
Expert Tips
Measure carefully. Scoop and swipe when measuring dry ingredients. Use the straight edge of a knife or an offset spatula to swipe across the top of the measuring cup.
Make sure your oven temperature is accurate by using an oven thermometer.
PRO-Tip: Do not overmix once the wet ingredients are added to the dry ingredients.
Never use a mixer, but instead mix by hand with a spoon or rubber spatula.
Overmixing will create tunnels in the muffins plus over-activating the gluten making tougher muffins.
Prep the muffin tins by lining them with paper cups or greasing just halfway up each cup in the tin (this gives the muffins something to adhere to as they rise, making them taller than if the whole cup was greased).
Toss any add-ins with a bit of flour so they don't sink.
PRO-Tip: Fill the muffin cups 3/4 full. More than that and they may overflow onto the top of the tin.
Bake as soon as the batter is mixed. Letting the batter sit will activate the leavening before it's in the oven (where you'd prefer the rising to take place).
Use a toothpick to check for doneness. It should come out clean when inserted and removed.
Let the muffins cool for about 10 minutes before removing them from the tin. This allows the sides to firm up.
If you have an empty well in your tin, fill it with a few tablespoons of water. this will prevent your pan from warping.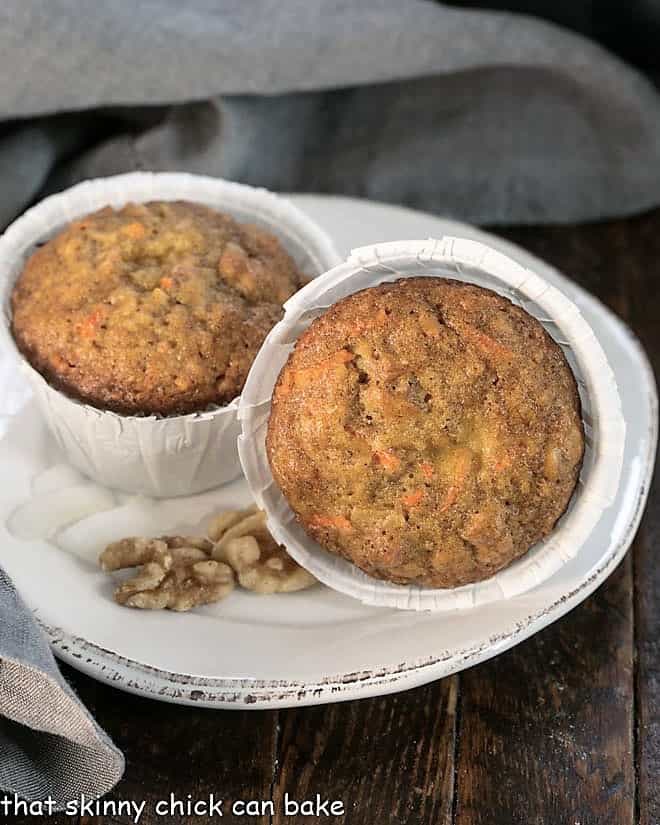 Rave Reviews for these Carrot Cake Muffins
I promised to type up the recipe ASAP, so I could share it with you all. And I sent as many as I could home with my friends. These babies are dangerous to have in plain sight. Even tucked in my freezer, I've been dreaming of them all day.
I have a feeling I won't even wait till one defrosts before I dive in! They may not win any beauty contest, but they will win first place in the muffin category and maybe even best in show. They are spectacular!!!
Update: Two of my friends made these within a week of sampling my version of a carrot cake cupcakes recipe. One doubled the filling so keep that in mind if you'd like to increase the ratio of filling to muffin batter. And most likely you'd get a few extra muffins out of the batch. She also suggested freezing the filling mounds overnight, which I quickly seconded. The filling is easier to roll and hold its shape if they're fully frozen.
Frequently Asked Questions
How Do You Fill Muffins?
There are a few ways to make muffins with a filling in the middle. If your filling is loose like jam, it might be possible to use a piping bag,  insert the piping tip into the muffin,  and squeeze in some filling. But since muffins are denser than cupcakes, it could be challenging.
Another method that I've used to fill cupcakes is to use a cupcake coring tool to remove some of the muffin, making a well for the filling. Reserve the top of the piece you removed to place over the filling to seal up the opening.
Or use the method in this recipe and add a ball of frozen filling after putting some of the muffin batter into each well of the muffin tin. Top with more batter to cover the filling. Then bake as directed. Note that adding frozen filling will extend the baking time of your muffins.
What's the Difference Between a Cupcake and a Muffin?
Cupcakes and muffins look almost the same since both are baked in identical tins, which are either called muffin tins or cupcake tins. But there are a few differences, too.
The method varies for each. To make cupcakes, the butter and sugar are creamed with a mixer to make a smooth, light batter. Then the other ingredients are added. When making muffins, the wet ingredients are only briefly beaten or mixed, then the dry ingredients are stirred in without a mixer. This process makes muffins denser than cupcakes.
Cupcakes contain more sugar and fat and often are topped with frosting. Muffins have less sugar and more additions like fruit and whole grains. Muffins can be either sweet or savory.
How Long Do You Bake Carrot Cake Muffins?
These muffins took about 30 minutes to bake. Having a frozen cream cheese ball in the center resulted in a longer cooking time than ordinary muffins. They should be domed and the tops should look dry, not moist when done.
How Should You Eat a Muffin?
Muffins are finger food. With a stuffed muffin, though, it's best to peel back part of the wrapper and take a bite. This prevents sticky fingers. Of course, you can always eat a muffin on a plate with a fork if that's your preference.
You May Also Like: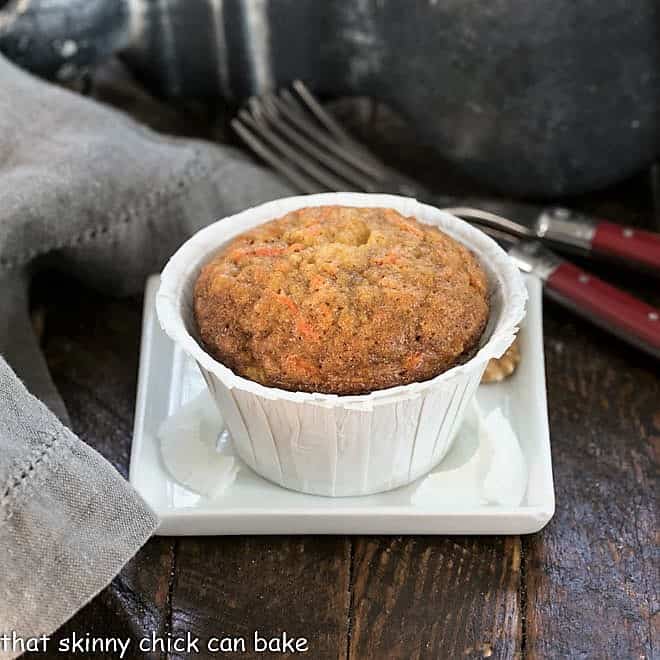 The Recipe:
Cream Cheese Filled Carrot Cake Muffins
Prep Time 20 minutes
Cook Time 30 minutes
Total Time 50 minutes
Yield 12 muffins
The divine flavors of a traditional carrot cake are transformed into a portable breakfast or snack!
Ingredients
Filling:
4 ounces cream cheese
1/4 cup sugar
1/4 teaspoon vanilla extract
Muffins:
1 1/2 cups flour
1 cup sugar
1 teaspoon baking soda
1/4 teaspoon salt
1 teaspoon cinnamon
1/2 cup vegetable oil
2 eggs, lightly beaten
1 teaspoon vanilla
1 1/2 cups grated carrots
1/2 cup chopped walnuts
1/2 cup shredded coconut
1/3 cup crushed pineapple, well-drained
Instructions
Note: You may want to freeze filling balls overnight.
Preheat oven to 350º. Add paper liners to 12 cup muffin tin and spray insides of papers with non-stick cooking spray. Set aside.
Make the filling by mixing cream cheese, sugar, and vanilla with a handheld electric mixer till smooth. Scoop out scant one tablespoon rounds onto a parchment-lined pan and place in the freezer while continuing with the recipe. You will need 12; one for each cupcake.
Whisk together flour, sugar, baking soda, salt, and cinnamon in a large bowl. Add the oil, eggs, and vanilla and mix well. Stir in carrots, walnuts, coconut, and pineapple.
Scoop a tablespoonful or two of batter into each prepared muffin cup. Remove filling balls from the freezer and quickly shape into compact balls with your hands, if desired, and put one ball in each of the muffin cups. Divide the rest of the batter between the muffin cups. Spread batter over filling if necessary.
Bake for 30 minutes or until the middle of the muffins look baked and the muffin pops back up when depressed slightly with the tip of a finger.
Notes
Adapted from the Silver Palate cookbook.
You may want to freeze the cream cheese filling balls overnight
Recommended Products
As an Amazon Associate and member of other affiliate programs, I earn from qualifying purchases.
Nutrition Information:
Yield:
12
Serving Size:
1 muffin
Amount Per Serving:
Calories: 303
Total Fat: 18g
Saturated Fat: 4g
Trans Fat: 0g
Unsaturated Fat: 12g
Cholesterol: 40mg
Sodium: 205mg
Carbohydrates: 35g
Fiber: 2g
Sugar: 24g
Protein: 3g
Note: This post may contain affiliate links; view
my Disclosure Policy
for details. I earn a small percentage from any purchase you make by clicking on these links at no extra cost to you.