French Apple Cake
Marie-Hélène's French Apple Cake is a Dorie Greenspan recipe that's a repeat performer at my house. I have a penchant for apple desserts, and Dorie's simple, rustic cake is packed full of apples and one of my favorite fall desserts.
I have made this Apple Cake Recipe a few times throughout the years. It started when I joined a group of bloggers who were cooking their way through Dorie Greenspan's cookbook, Around My French Table.(affiliate link).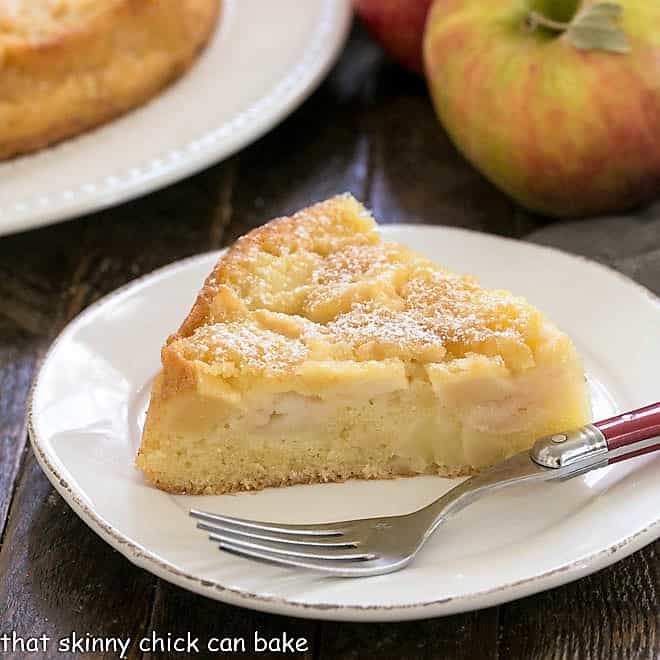 Why You Must Make
Dorie Greenspan ate this recipe at a dinner party in Paris. She loved it enough to recreate it at home and publish it in one of her cookbooks!
The ratio of apples to batter is higher than in a typical apple cake so it's perfect for apple lovers.
Big chunks of apple are held together with a sweet, eggy cake batter.
Topped with whipped cream or a big scoop of vanilla ice cream before serving makes for an elegant, company-worthy dessert!
Perfect in the fall, but easily made and adored any time of the year.
Expert Tips
PRO-Tip: Use a variety of apples for the best flavor. I have found Granny Smiths are still a little underdone at the end of the cooking period so if you use that variety, you may need to cut those pieces a bit smaller. I like choosing 4 different baking apples for the most delicious flavor palate. Crisp, soft, sweet, and tart!
Check for doneness by piercing an apple or two at the tail end of the baking time with a sharp knife. The knife should slide in without much resistance. If the apples still seem hard, add more baking time. You can always cover the pan with a little foil if you're concerned about the top getting too dark.
This apple-laden dessert was wonderful at room temperature, but due to our heatwave, I stored the leftovers in the fridge. Since it's a very moist cake, Dorie recommends just covering the exposed cut surface with plastic wrap.
I was surprised at how much the cold cake reminded me of a clafoutis, almost like a different French dessert. Nonetheless, this easy apple cake is one special dessert.
If you don't like to bake with or like the flavor of alcohol, feel free to leave out the rum. You can up the vanilla extract to 1 full teaspoon. PRO-Tip: Note that alcohol is a flavor enhancer, like salt, and most will evaporate over the baking time.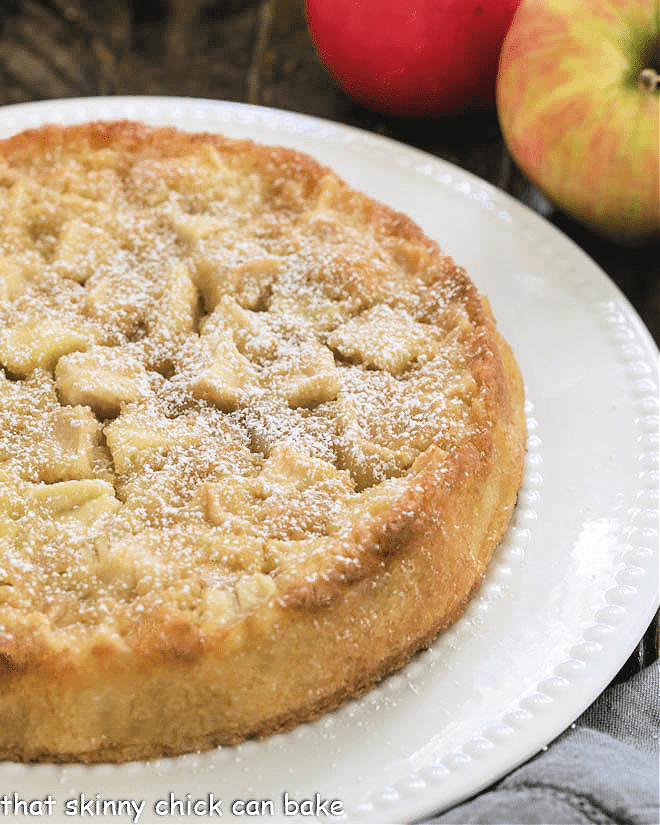 How to Make
Mix together the peeled and chunked apples, the eggs whisked with sugar then flavored with rum and vanilla, the dry ingredients and melted butter.
Make sure all the apple pieces are coated with a bit of batter, then scrape into a well-buttered 8-inch springform pan.
Using a springform pan makes it easy to remove the cake to a serving plate since the sides release from the base. Use an offset spatula to make sure the top is relatively even.
Bake until golden brown, about an hour. A knife inserted into the center should come out clean and the apples should be tender.
Cool for 5 minutes before using a knife to run around the perimeter of the pan, then carefully release the sides and allow to cool until just warm or to room temperature.
Serve wedges with the topping of your choice.
Frequently Asked Questions
What Kind of Apple is Best for Baking?
Look for baking apples in the market. Ask the produce manager if the apples aren't labeled with their uses.
As Dorie recommends, I purchase different varieties which make for a more interesting flavored and textured cake. Honeycrisp, Golden Delicious, Pink Lady, Jonathans, Cortland, Northern Spies, and even Gala are excellent apples for cake. As mentioned above, I also like to vary the textures and sweetness of the apples.
How to Serve a French Apple Cake?
A dusting of powdered sugar is all I need, but a slice of cake is also delicious served with a dollop of lightly sweetened whipped cream or a scoop of vanilla ice cream.
How to Store Apple Cake?
Leftovers can be stored at room temperature for a day or two, but since it's a moist cake, do not cover to top with plastic wrap. Instead, only press plastic against the cut surface. Move it to the refrigerator if you have leftovers after a couple of days.
You May Also Like:
For an Italian apple dessert, try this beautiful Apple Crostata, an apple tart.
Stay in touch through social media @ Instagram, Facebook, and Pinterest. Don't forget to tag me when you try one of my recipes! And if you love the results, please give it a 5-star rating in the recipe card. Note: As an Amazon Associate, I earn from qualifying purchases. Visit my Amazon Store for my favorite products.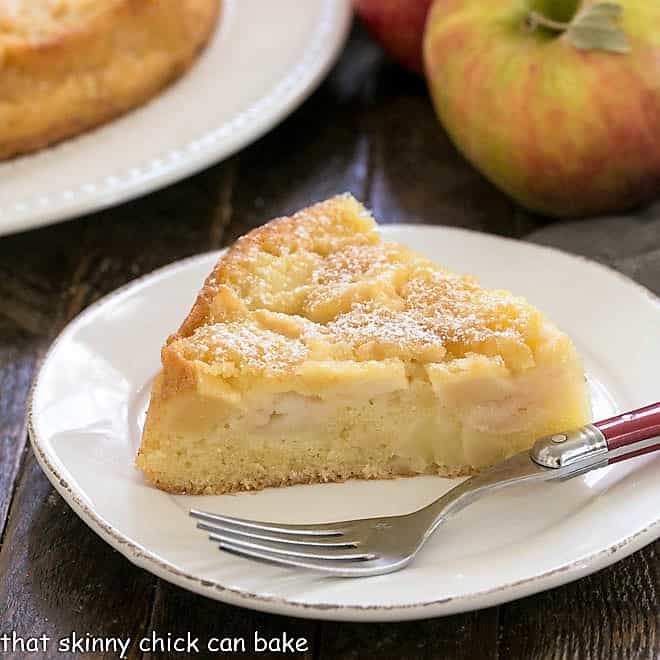 The Recipe:
French Apple Cake
Prep Time 20 minutes
Cook Time 1 hour
Total Time 1 hour 20 minutes
Yield 8 servings
A French apple cake chock full of fruit from Dorie Greenspan's Around My French Table
Ingredients
¾ cup all-purpose flour
¾ teaspoon baking powder
Pinch of salt
4 large apples (if you can, choose 4 different kinds)
2 large eggs
¾ cup sugar
3 tablespoons dark rum
½ teaspoon vanilla extract
8 tablespoons unsalted butter, melted and cooled
Instructions
Center a rack in the oven and preheat the oven to 350º. Generously butter an 8-inch springform pan and put it on a baking sheet lined with a silicone baking mat or parchment paper and put the springform on it.
Whisk the flour, baking powder, and salt together in a small bowl.
Peel the apples, cut them in half, and remove the cores. Cut the apples into 1 to 2-inch chunks.
In a medium bowl, beat the eggs with a whisk until they're foamy.
Pour in the sugar and whisk for a minute or so to blend. Whisk in the rum and vanilla.
Whisk in half the flour and when it is incorporated, add half the melted butter, followed by the rest of the flour and the remaining butter, mixing gently after each addition so that you have a smooth, rather thick batter.
Switch to a rubber spatula and fold in the apples, turning the fruit so that it's coated with batter. Scrape the mix into the pan and poke it around a little with the spatula so that it's evenish.
Slide the pan into the oven and bake for 50 to 60 minutes, or until the top of the cake is golden brown and a knife inserted deep into the center comes out clean; the cake may pull away from the sides of the pan.
Transfer to a cooling rack and let rest for 5 minutes.
Carefully run a blunt knife around the edges of the cake and remove the sides of the springform pan. (Open the springform slowly, and before it's fully opened, make sure there aren't any apples stuck to it.)
Allow the cake to cool until it is just slightly warm or at room temperature.
¾If you want to remove the cake from the bottom of the springform pan, wait until the cake is almost cooled, then run a long spatula between the cake and the pan, cover the top of the cake with a piece of parchment or wax paper, and invert it onto a rack. Carefully remove the bottom of the pan *and turn the cake over onto a serving dish.
To Serve:
The cake can be served warm or at room temperature, with or without a little softly whipped, barely sweetened heavy cream or a spoonful of ice cream. Marie-Hélène's served her cake with cinnamon ice cream and it was a terrific combination.
To Store:
The cake will keep for about 2 days at room temperature and, according to my husband, gets more comforting with each passing day. However long you keep the cake, it's best not to cover it - it's too moist. Leave the cake on its plate and just press a piece of plastic wrap or wax paper against the cut surfaces.
Recommended Products
As an Amazon Associate and member of other affiliate programs, I earn from qualifying purchases.
Nutrition Information:
Yield:
8
Serving Size:
1
Amount Per Serving:
Calories: 303
Total Fat: 13g
Saturated Fat: 8g
Trans Fat: 0g
Unsaturated Fat: 5g
Cholesterol: 77mg
Sodium: 83mg
Carbohydrates: 43g
Fiber: 3g
Sugar: 30g
Protein: 3g
Note: This post may contain affiliate links; view
my Disclosure Policy
for details. I earn a small percentage from any purchase you make by clicking on these links at no extra cost to you.