Apple Crisp Cheesecake
This Apple Crisp Cheesecake drew rave reviews at our holiday party! Delicious enough for two of the guests to ask for a to-go slice!
We had 20 of our dear neighbors over for a holiday appetizer party. Each couple brought a hearty appetizer, but I couldn't resist adding a couple of desserts. Both this autumnal Apple Cheesecake and my la bete noire (a flourless chocolate cake) were hits!
Why You Must Make
I knew the minute my knife glided through this apple crisp cheesecake, it was a winner. The cheesecake layer was super creamy with perfectly cooked apples.
And as a streusel fanatic, I was delighted with the oat crumb topping!
It's perfect for fall gatherings or a tasty dessert option on Thanksgiving.
Before you start wondering about the party guests, you must know we've lived in the same neighborhood for almost 30 years. I know everyone's favorite desserts, and the fellow that rivals my husband as biggest chocoholic and the resident cheesecake lover were both in attendance. If they hadn't asked for a slice or two, I would have offered.
Expert Tips
I love making cheesecakes and have learned a few ways to make a perfect cheesecake along the way. Plus, a few tips specifically for this apple cheesecake. I've written an in-depth post on How to Make a Cheesecake for your reference as well.
PRO-Tip: In general, have all your ingredients at room temperature when making a cheesecake, especially the eggs and cream cheese. This ensures a smooth cheesecake.
To speed up the process, I often place the eggs in a bowl of very warm, but not boiling, water for about 15 minutes. You don't want to cook the eggs, but get the chill off.
PRO-Tip: Use a paddle attachment to mix the filling. This will prevent excess air from being incorporated into the batter and makes for a better textured, more satiny cheesecake.
Bake your cheesecake in a bain-marie, or water bath, to stabilize the baking temperature. This is thought to help minimize cracking across the surface of the cheesecake.
PRO-Tip: Wrap the springform pan in heavy-duty foil to prevent any water from leaking into the pan and causing a soggy crust.
Chill your cheesecake overnight before serving if possible.
Use an apple like a golden delicious versus a granny smith. Though a golden delicious might not hold its shape in a pie, it will soften more quickly than other baking apples. This prevents your cheesecake from being baked, but the apples under-baked.
Add this amazing cheesecake to your fall baking list. It would be wonderful, though, as a delicious indulgence any time of year!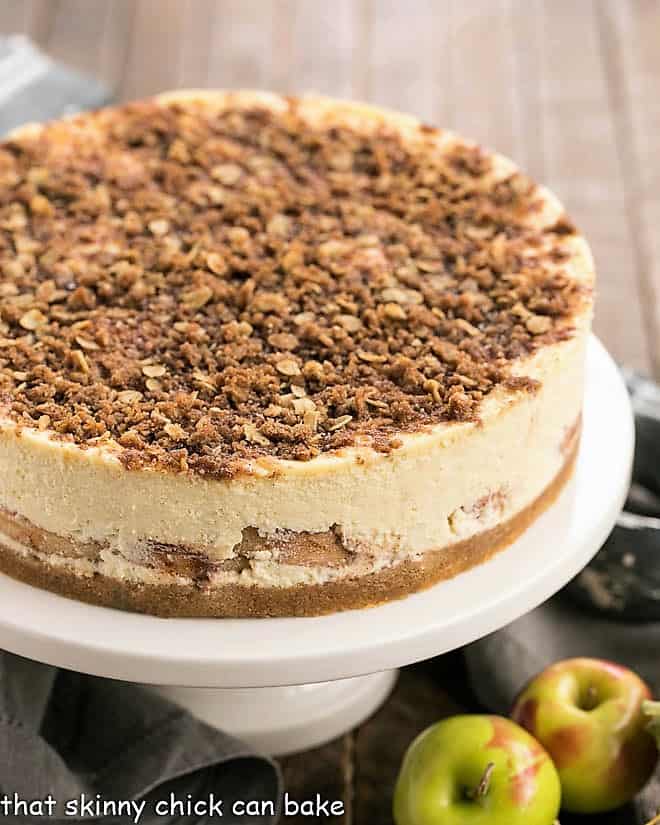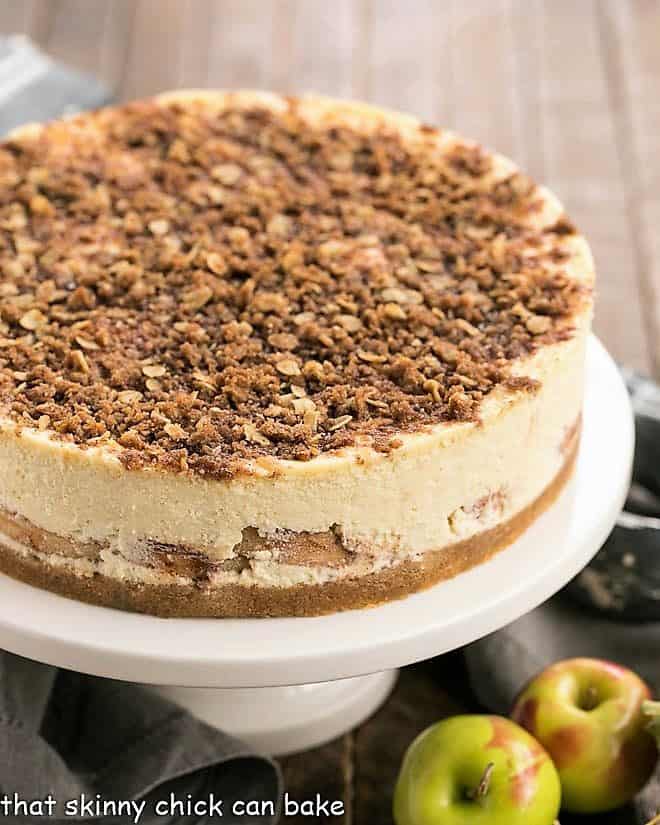 Frequently Asked Questions
What Apples are Best for baking?
There are numerous apples that are wonderful for baking, but which variety depends on the recipe. For pies, I prefer a variety of apples for the best flavor. For this apple crisp, the key was to have the apples cooked when the cheesecake was done, so a softer Golden Delicious apple worked well.
Can You Make this without a Water Bath?
A water bath helps a cheesecake bake at an even temperature, minimizing cracking and adding moisture by creating a steamy environment. But if your cheesecake has a topping, any cracks will be covered, so a water bath is not imperative.
How Do You Store a Cheesecake?
A cheesecake can be stored, covered, in the refrigerator for 3-4 days. It can also be frozen for up to 3 months if wrapped airtight to prevent freezer burn.

The crumble topping may suffer when defrosting, so make sure to allow it to defrost slowly in the refrigerator to minimize condensation developing.
You May Also Like:
If you love cheesecakes, you might also like these other terrific recipes:
Stay in touch through social media @ Instagram, Facebook, and Pinterest. Don't forget to tag me when you try one of my recipes! And if you love the results, please give it a 5-star rating in the recipe card. Note: As an Amazon Associate, I earn from qualifying purchases. Visit my Amazon Store for my favorite products.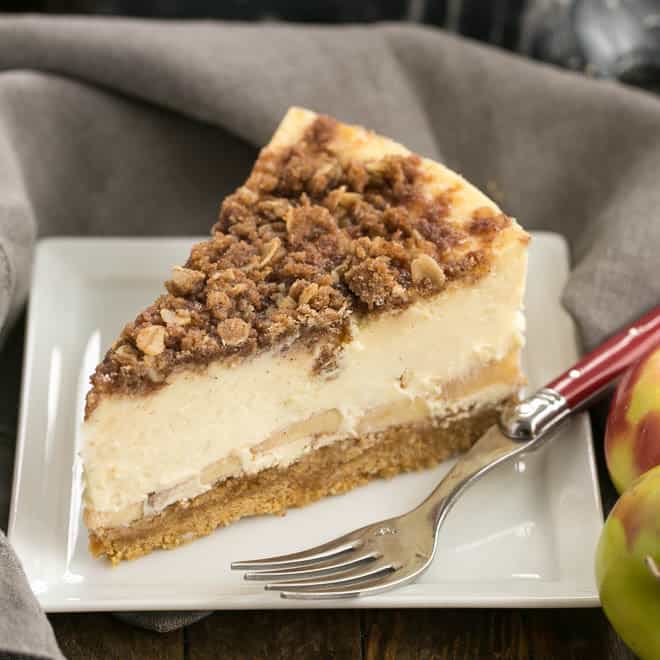 The Recipe:
Apple Crisp Cheesecake
Prep Time 30 minutes
Cook Time 1 hour 10 minutes
Total Time 1 hour 40 minutes
Yield 10 servings
When two delicious desserts collide: Apple Crisp plus Cheesecake!
Ingredients
Crust:
2 cups graham cracker crumbs
1/4 cup sugar
7 tablespoons unsalted butter (I used salted)
Cheesecake:
3 (8-ounce) packages cream cheese, at room temperature
1 cup sugar
1 cup sour cream
2 1/2 teaspoons vanilla extract
3 eggs, at room temperature
3 cups apple, peeled, cored and sliced 1/4-inch thin (I used Golden Delicious)
1 teaspoon cinnamon
1/2 salt (I used a scant 1/4 teaspoon, but I think a pinch would suffice)
2 tablespoons sugar
Topping:
1/4 cup all-purpose flour
1/4 cup old-fashioned oats
1/4 cup brown sugar
1 teaspoon cinnamon
2 tablespoons butter, at room temperature
Instructions
Preheat oven to 350 degrees.
Line a 9-inch springform pan with parchment paper and wrap the bottom and sides of the pan with heavy-duty aluminum foil. Set aside.
To make the crust, in a large bowl, mix together your graham cracker crumbs, sugar, and melted butter until combined. Press the crust into the bottom of the pan and set it aside.
In a stand mixer, add your cream cheese and on medium speed, mix until smooth (I used the paddle attachment).
Add sugar and mix until combined.
Next, add in your sour cream and vanilla and mix until combined. Add your eggs, one at a time, making sure the eggs are incorporated after each addition.
In a large bowl, add your apples, cinnamon, salt, and sugar. Toss to coat.
Layer the apples on top of the crust, covering them evenly. Pour your cheesecake filling over the top of apples. Set aside.
To make the topping, in a medium bowl, mix together your flour, oats, brown sugar, cinnamon, and butter until pea-sized crumbs form. Sprinkle over the cheesecake.
Pace your springform pan in a large roasting pan, and fill halfway up the sides with hot water. Place in the oven and bake for 1 hour and 10 minutes until the center is just set.
Turn off the heat and crack the oven door open. Let it cook this way for 1 hour. Remove the cheesecake from the oven, and let it cool completely. Cover and refrigerate for 8 hours before serving.
Notes
Recipe courtesy of Allison Miller and her new cookbook, Untraditional Desserts. Recipe reprinted with permission of Page Street Publishing Company.
Recommended Products
As an Amazon Associate and member of other affiliate programs, I earn from qualifying purchases.
Nutrition Information:
Yield:
10
Serving Size:
1
Amount Per Serving:
Calories: 406
Total Fat: 19g
Saturated Fat: 10g
Trans Fat: 0g
Unsaturated Fat: 7g
Cholesterol: 100mg
Sodium: 165mg
Carbohydrates: 56g
Fiber: 2g
Sugar: 41g
Protein: 5g
Note: This post may contain affiliate links; view
my Disclosure Policy
for details. I earn a small percentage from any purchase you make by clicking on these links at no extra cost to you.