Maple Glazed Salmon with Mango Pineapple Salsa
This super simple Maple Glazed Salmon is quickly cooked under the broiler for a healthy, delicious gourmet entree. This Broiled Salmon only takes minutes to prep and you'll always want seconds. Trust me!
This Glazed Salmon is enhanced with a tropical, fresh fruit salsa making it a restaurant-worthy dish you can make at home!!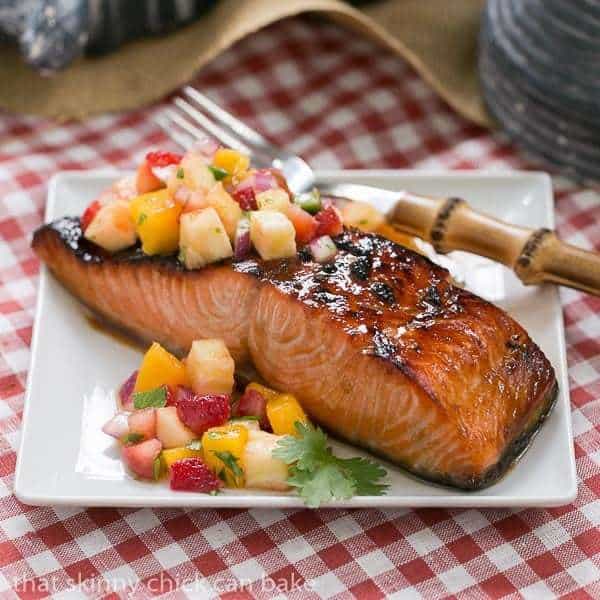 Why You Must Make this Maple Salmon
The sweet and salty glaze plays beautifully off the succulent fresh salmon.
Marinating adds even more flavor to salmon fillets. Plus there are only FOUR ingredients in the marinade.
You can make this rain or shine as it utilizes the broiler to cook and add a picture-perfect bronze glow to the surface.
Maple syrup enhances so many recipes, not just pancakes, and waffles, but even vegetables like brussels sprouts! Depending on the season it is harvested, the subtle flavors of real maple syrup can also include nutty, vanilla, coffee, floral or spicy. It also contains more than 50 antioxidants. Check out the Pure Canadian Maple Syrup site for all sorts of information and recipes. Then grab your real maple syrup and make this quick glazed salmon recipe ASAP!
Recipe Tips
Unlike other seafood, salmon can be marinated longer since it's not as delicate as white fish.
If the marinade is acidic from the addition of lemon juice, it can easily make the salmon mushy if marinated longer than an hour. Six hours will infuse a good flavor if there's no acid in the marinade.
To roast salmon, place it skin side down on a baking sheet. The rule of thumb is 10 minutes per inch at 400-425 degrees.
Use a meat thermometer if you don't want to cut into the salmon to see if it's done to your liking.
Salmon cooked to medium, or 135 degrees, will be cooked without being dry. The FDA recommends cooking to 145 degrees, but most salmon lovers feel the fish is overcooked and dry at that temperature.
It's recommended that you let your salmon rest after it comes to your desired temperature, so the juices have a chance to reabsorb. The internal temperature will rise another 5-10 degrees during a 10 minute resting time, so you may want to pull it out of the oven at 125 degrees.
Cooking at a high temperature allows some color to develop, especially since the marinade contains maple syrup. The sugars will caramelize, creating a nice browned surface.
Salmon is high in Omega 3 Fatty Acids which have known health benefits. It's definitely good fat!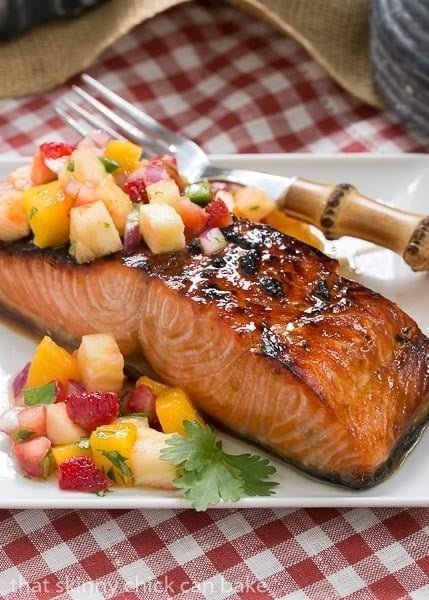 A Divine Sweet and Salty Marinade!
I love the mixture of sweet and salty paired with salmon. In this Maple Glazed Salmon recipe, maple syrup with a splash of soy is a wonderful flavor combination. Ginger and garlic added a bit of zing, and I'm thinking some red pepper flakes would have been nice as well if you're craving some heat.
I've updated the photos with a mango, pineapple, and strawberry salsa served atop the salmon. It was a beautiful pairing with salmon. Bill went to work raving about this recipe, and the lightened-up Fettuccine Alfredo with which it was served.

Frequently Asked Questions
How Do You Make a Salmon Glaze?
Often, ingredients are simmered on the stovetop and used as a glaze. In this recipe, the marinade and juices produced during cooking are used to glaze the salmon.
How Do You Cook Glazed Salmon?
It can be baked, grilled, or broiled. For this recipe, the salmon is placed 4-5 inches under the broiler, and depending on the thickness of your salmon steak or fillet, it's cooked for about 10 minutes per inch.

Watch carefully so the top of the salmon does not burn. When a marinade contains sugar (or something like maple syrup), it can easily char.
How Long Do You Cook Salmon in the Oven?
It takes about 10 minutes per inch under the broiler, but use a meat thermometer for the most accurate way to determine doneness. These are the temperatures to look for:
There are different recommendations for wild and farm-raised salmon as their fat contents vary.
The less fatty wild salmon tastes better cooked to 120 degrees and the farmed salmon best at 125 degrees.

The FDA recommends cooking your salmon to 145 degrees, but I prefer pulling it out at 120-125 degrees for medium rare, depending on the type. The salmon will be moister, flakier, and more tender if not cooked to that higher temperature.
Just like with beef, there will be some carryover cooking time, meaning the salmon's temperature will continue to rise as it rests after pulling out of the oven.
You May Also Like:
Stay in touch through social media @ Instagram, Facebook, and Pinterest. Don't forget to tag me when you try one of my recipes! And if you love the results, please give it a 5-star rating in the recipe card. Note: As an Amazon Associate, I earn from qualifying purchases. Visit my Amazon Store for my favorite products.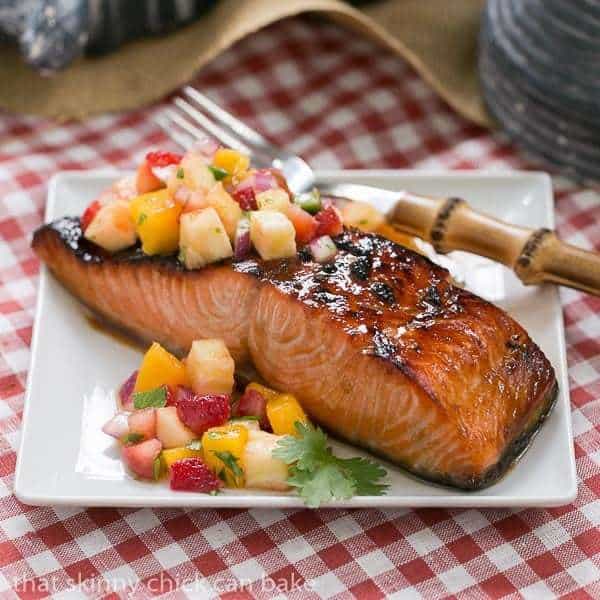 The Recipe:
Maple Glazed Salmon
Prep Time 20 minutes
Cook Time 15 minutes
Total Time 35 minutes
Yield 4 servings
A super simple salmon marinade that will get an entree on the table in just a little over 30 minutes.
Ingredients
4 6-ounce salmon fillets, skin on
¼ cup pure maple syrup
2 tablespoons soy sauce
Large pinch of ground ginger or to taste
Instructions
¼Mix maple syrup, soy, garlic, and ginger in a baking dish. Dip each side of the salmon fillets in the marinade, then let sit, skin side down, for about 20 minutes.
Turn on the broiler. Spoon a bit more of the marinade over the salmon then place 4-5 inches under the broiler element.
Cook to your desired doneness, about 10-15 minutes, depending on the thickness of the fillets.
Remove from oven and spoon some of the syrupy marinade from the pan over the salmon before serving.
Notes
The rule of thumb for cooking seafood is 10 minutes per inch of thickness, but it depends on the temperature of your oven. Use a meat thermometer to make sure it's done to your liking. The FDA recommends 145 degrees, but salmon can be dry at that temperature. We prefer about 125 degrees, then letting it rest under foil for 5-10 minutes before serving.
Recommended Products
As an Amazon Associate and member of other affiliate programs, I earn from qualifying purchases.
Nutrition Information:
Yield:
4
Serving Size:
1 fillet
Amount Per Serving:
Calories: 408
Total Fat: 21g
Saturated Fat: 4g
Trans Fat: 0g
Unsaturated Fat: 15g
Cholesterol: 107mg
Sodium: 544mg
Carbohydrates: 14g
Fiber: 0g
Sugar: 12g
Protein: 38g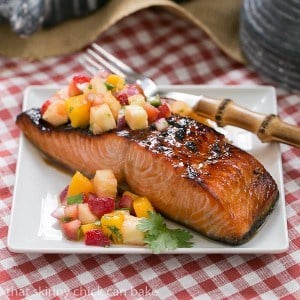 The Recipe:
Mango Pineapple Salsa
Prep Time 10 minutes
Total Time 10 minutes
Yield 2 cups
A tropical fruit salsa with a little jalapeno kick. Perfect with seafood, chicken or as an appetizer with chips.
Ingredients
2 cups diced fruit, I used about ¼ cup small diced strawberries, then equal parts diced mango and pineapple
2 tablespoons minced red onion
1 jalapeno, minced
2 tablespoons olive oil
Juice of one lime (or half a large lime)
A pinch of kosher salt
Minced cilantro
Instructions
Gently toss together fruit, onion, and jalapeno.
Add olive oil, lime juice, and a pinch of salt. Add cilantro, mix carefully and serve.
Notes
Feel free to tweak the recipe with different fruit and peppers depending on what's in season.
Nutrition Information:
Yield:
8
Serving Size:
1
Amount Per Serving:
Calories: 91
Total Fat: 4g
Saturated Fat: 1g
Trans Fat: 0g
Unsaturated Fat: 3g
Cholesterol: 0mg
Sodium: 18mg
Carbohydrates: 15g
Fiber: 2g
Sugar: 12g
Protein: 1g
Note: This post may contain affiliate links; view
my Disclosure Policy
for details. I earn a small percentage from any purchase you make by clicking on these links at no extra cost to you.