Light Fettuccine Alfredo
I wasn't certain that this Light Fettuccine Alfredo would pass the family's taste test. But they gobbled it up without a peep. And asked for more!
This Skinny Fettuccine Alfredo isn't exactly low-cal, but it's certainly lightened up from the heavy cream, butter and Parmesan version we all love!
Light Fettuccine Alfredo
Light Fettuccine Alfredo??? You may be thinking that "Fettuccine Alfredo" and "Light" in the same recipe is contradictory and maybe even impossible! The traditional Italian pasta dish consists of long flat noodles mixed with a rich sauce of emulsified Parmigiano-Reggiano cheese and butter, though most of the recipes I've used in the past call for heavy cream. How can this be made light and still delicious??? I've found a way.
This post may be somewhat of a shocker to my devoted readers, but it's actually a healthier version of our favorite fat-laden pasta dish. A typical Alfredo sauce is not for the calorie-conscious. But when I first made this Light Fettuccine Alfredo a few years back, nobody even noticed the changes. I knew from both my first bite and my family's reaction that it was a winner.
Plus it's super easy! My family loves simple, comforting pasta dishes like Penne alla Vodka, Pasta with Sausage and Tomatoes, or this Creamy Pesto Pasta. My family gives this healthier fettuccine Alfredo their hearty approval!
Skinny Fettuccine Alfredo
Low-fat or 2 percent milk and lightened cream cheese replaced the heavy cream sauce in this Cooking Light version of Alfredo sauce. I was the skeptic, but if you know how picky my family is, you know this version was darned tasty if they approved.
There's still butter and loads of Parmesan, so it's not totally guilt-free. But a heck of a lot lighter than the classic fettuccine Alfredo. If you have a craving for this classic, rich pasta dish, why not give this healthier skinny fettuccine Alfredo a try. Comfort food without the guilt!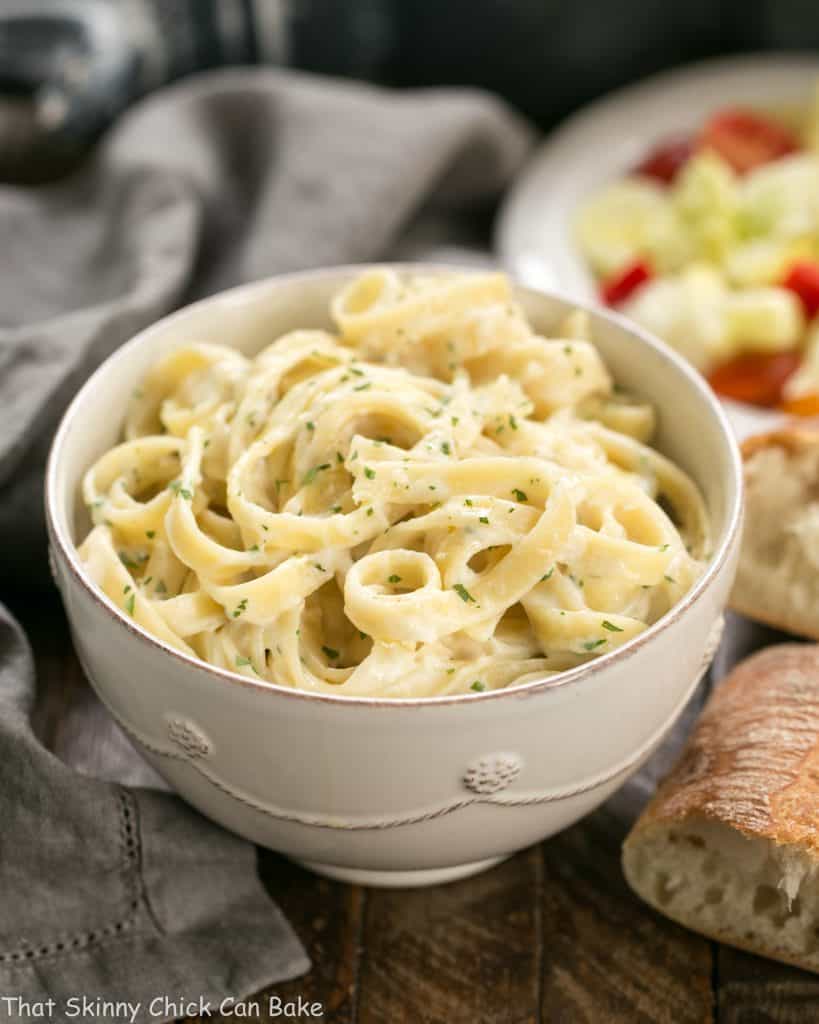 More Pasta Recipes You'll Love: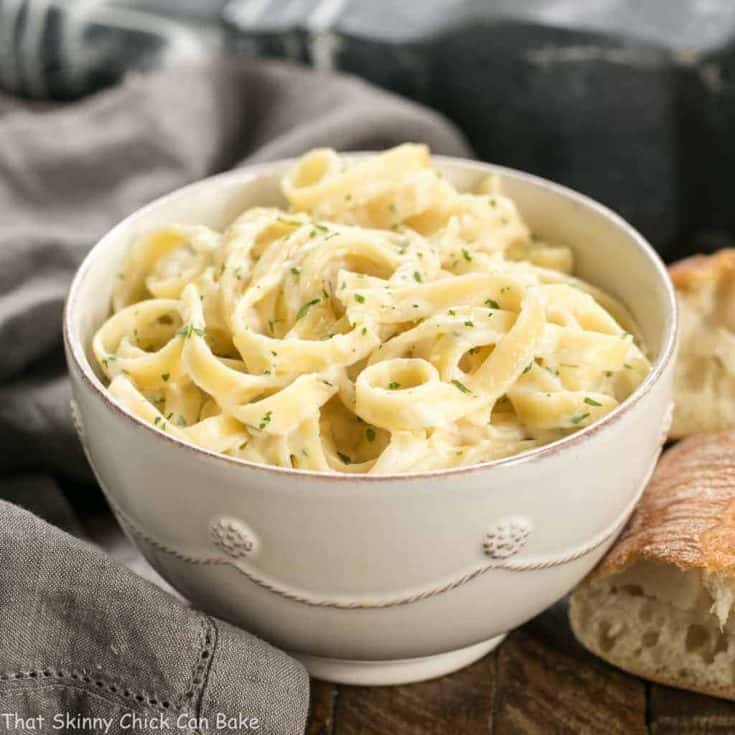 The Recipe:
Light Fettuccine Alfredo
Prep Time 5 minutes
Cook Time 15 minutes
Total Time 20 minutes
Yield 4 servings
A lightened up Fettuccine Alfredo that past my family's scrutiny!
Ingredients
1 tablespoon butter
2 garlic cloves, minced
1 tablespoon flour (I used Wondra)
1 1/3 cups 1% low-fat milk
1 1/4 cups Parmesan cheese
2 tablespoons 1/3 less fat cream cheese
1/2 teaspoon salt
8 ounces fettuccine, cooked and drained
2 teaspoons chopped flat-leaf parsley
Freshly ground black pepper
Instructions
Cook fettuccine according to package directions, and drain.
Melt butter in a saucepan over medium heat. Add garlic and cook just till fragrant, about a minute, stirring frequently.
Stir in flour, then gradually whisk in milk, stirring constantly till the mixture thickens.
Add 1 cup of the Parmesan, cream cheese, and salt, stirring till cheese melts. Add hot pasta and toss.
Serve with a sprinkle of the remaining Parmesan, flat-leaf parsley, and black pepper to taste.
Notes
Adapted from Cooking Light.
Nutrition Information:
Yield:
4
Serving Size:
1
Amount Per Serving:
Calories: 313
Total Fat: 15g
Saturated Fat: 9g
Trans Fat: 0g
Unsaturated Fat: 5g
Cholesterol: 46mg
Sodium: 913mg
Carbohydrates: 28g
Fiber: 1g
Sugar: 5g
Protein: 15g
Note: This post may contain affiliate links; view
my Disclosure Policy
for details. I earn a small percentage from any purchase you make by clicking on these links at no extra cost to you.