Mozzarella, Basil, Parmigiano-Reggiano Ravioli with Butter Sage Sauce
One of my dear blogger friends just released her cookbook, Homemade Pasta Made Simple. I made Manu's simple egg pasta dough and then her delectable Mozzarella, Basil Parmigiano-Reggiano Ravioli with Butter Sage Sauce.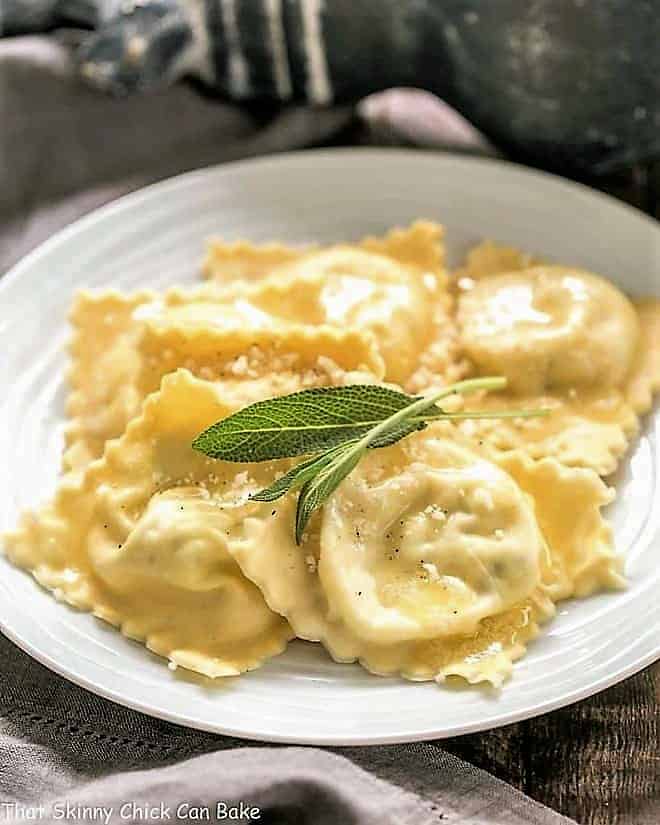 Why You'll Love this Ravioli Recipe
My daughter adores stuffed pasta, especially those filled with gooey cheese. When my friend Manu, of Manu's Menu, asked me to review her newly released cookbook, Homemade Pasta Made Simple: A Pasta Cookbook with Easy Recipes & Lessons to Make Fresh Pasta Any Night, I knew she'd have some winners that even picky Katie would love. Manu and I crossed paths early in our blogging careers. She lives in Australia, but grew up in Italy and thus is a pasta aficionado!
This Mozzarella, Basil, Parmigiano-Reggiano Ravioli was exquisite despite my rusty (or maybe non-existent!) pasta-making skills. This cookbook is the ultimate pasta-making manual. Each recipe is written with thorough instructions even for the novice pasta maker. Whether you're dying to make your own pasta or just hone your skills a bit, I highly recommend this cookbook. Every pasta recipe imaginable is in this tome.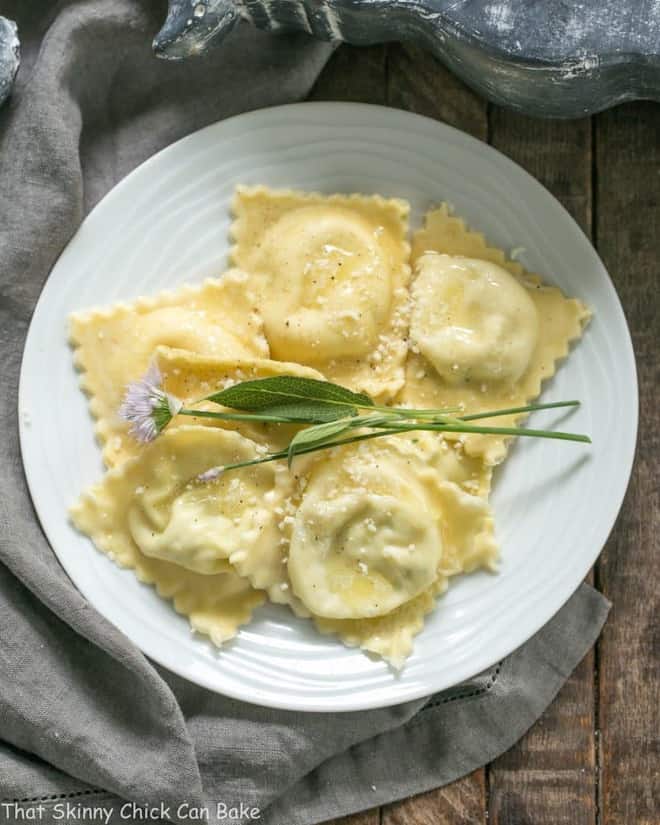 Simple Homemade Pasta
Manu's cookbook has a wealth of information. Each pasta has options for sauces and all sorts of tips to ensure a perfect result. Since I was a newbie to stuffed pasta, I used an old gadget I found near my pasta machine which helped me form nice square ravioli. Getting my pasta sheets thin enough, adding enough filling, and sealing perfectly will take another practice session, but the flavor was outstanding! Even the picky husband loved this ravioli. I had extra filling and thought it would be delightful in cannelloni. From beginners to pros, if you love pasta, you'll be thrilled with Manu's quintessential pasta cookbook. To order, click on the link below.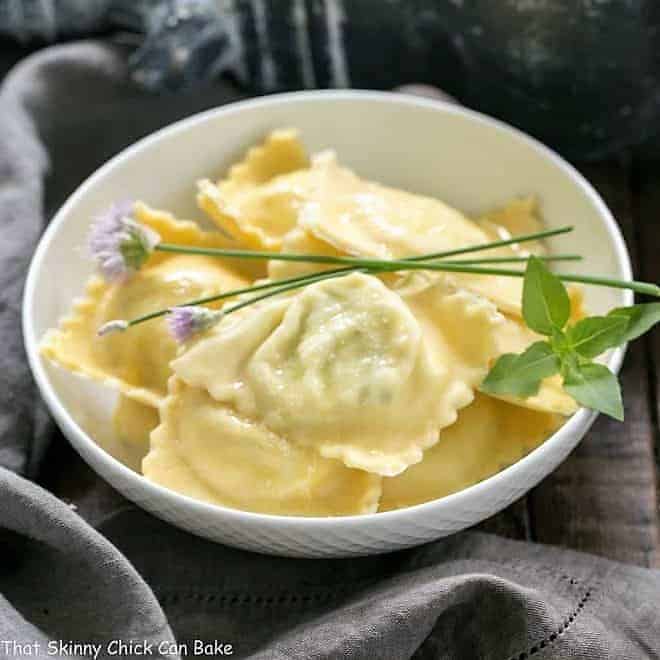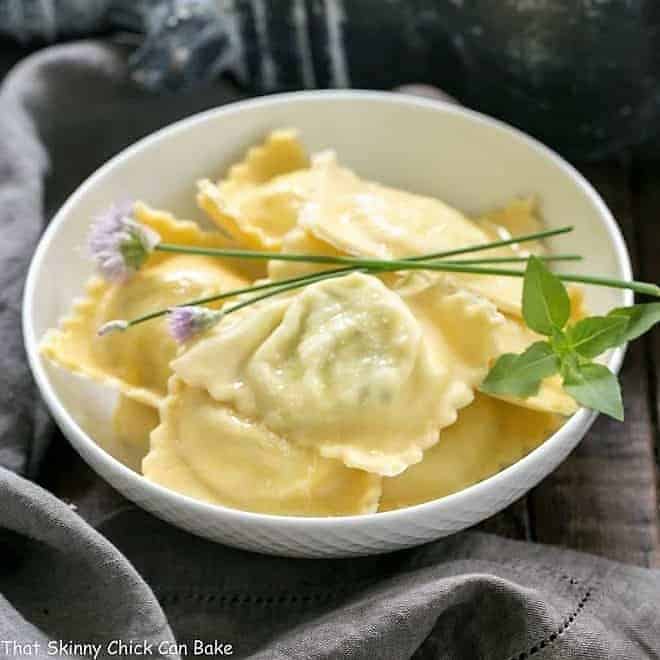 Tips for Making Homemade Ravioli:
I loved Manu's "Know-By-Heart" Egg pasta dough. Only two ingredients, a bit of kneading in your KitchenAid mixer (or by hand), and a 30-minute rest to quiet the gluten and it's ready to go!
I used my old crank handle pasta machine, but I'm tempted to invest in a KitchenAid attachment if making pasta becomes a habit!
I also utilized a "ravioli maker" that was in my cupboard along with my pasta machine. It made cutting a breeze! If you're a pro, there's no need for this gadget.
I served this divine Mozzarella, Basil, Parmigiano-Reggiano Ravioli with a simple sage butter, but it would also be magnificent with Manu's Tomato and Basil Sauce.
Helpful Tools:
You Might Like: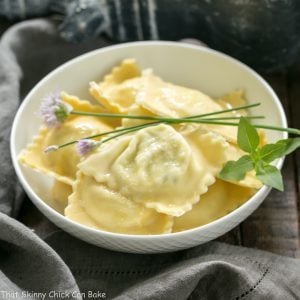 The Recipe:
Mozzarella, Basil, Parmigiano-Reggiano Ravioli with Butter Sage Sauce
Prep Time 1 hour 15 minutes
Cook Time 2 minutes
Total Time 1 hour 17 minutes
Yield 4 servings
Homemade egg pasta filled with basil and mozzarella! Recipe courtesy of Manuela Zangera and Homemade Pasta Made Simple.
Ingredients
Know By Heart Egg Pasta Dough:
14 ounces 00 or all-purpose flour
4 large eggs (weighing about 2 ounces each)
Stuffing:
1 ½ pounds fresh mozzarella, roughly chopped
¼ cup basil leaves
¾ cup finely grated Parmigiano-Reggiano
Sea salt
Freshly ground black pepper
Butter and Sage Sauce:
¼ cup plus 3 tablespoons unsalted butter
8 sage leaves
Sea salt
4 tablespoons finely grated Parmigiano-Reggiano plus more to serve
Freshly ground black pepper, to serve
Instructions
Make the pasta. Weigh the flour and mound it on a board or in a bowl.
Make a well in the center of the mound. Crack the eggs in a separate bowl and pour them into the well.
Beat the eggs with a fork until smooth.
Using the tips of your fingers, mix the eggs with the flour, incorporating it a little at a time, until everything is combined.
Knead the dough for 5-10 minutes, or until the dough is smooth. (I did this with my dough hook in my Kitchen Aid mixer).
Make the dough into a ball, wrap it in plastic wrap to prevent it from drying out, and let it rest for 30 minutes before rolling it out and turning it into pasta.
Make filling. In a food processor, roughly blend the fresh mozzarella and basil leaves. Transfer to a colander and let sit for 30 minutes to drain.
Transfer the mixture to a bowl, add the Parmigiano-Reggiano, and mix well with a fork. Season with sea salt and freshly ground black pepper.
Roll the pasta. Dust the 2 or 3 baking sheets with 00 or all-purpose flour.
Roll the dough and feed the prepared egg pasta sheet through the machine, adjusting the settings, until setting #8. If the sheet of pasta gets too long, you can cut it in half with a knife.
Place pasta sheets on the prepared pans. Repeat until all the dough is rolled.
You can do this with a rolling pin, too. Make the dough as thin and uniform as possible.
Make hazelnut-sized balls with the stuffing and put them on the lower half of the sheet of pasta. Make sure to leave enough space in between the balls so you can close your pasta well and cut it.
Wet the sides of the dough with a little water to help the pasta stick.
Fold the other half of the sheet onto the filling and press well all around. Make sure not to leave any air bubbles inside or the pasta will open while cooking and the filling will come out.
Use a crinkle-edge pastry wheel or pizza cutter and cut around the filling in a squarish shape, then remove the excess dough.
Transfer the ravioli back to the prepared baking sheets.
Repeat the above steps until you have no dough left.
Cook the pasta by setting a large pot of salted water on the stove to boil.
While the water is heating, make the sauce.
Heat the butter, sage, and sea salt in a saucepan over low heat until the butter melts. Remove the pan from the heat and cook the pasta.
Cook the pasta for about 2 minutes or until al dente. To test this, remove a piece of pasta from the pot and take a bite. It should be cooked but still slightly firm in the center.
When the pasta is ready, remove it with a slotted spoon and gently shake out the excess water. Empty the water, and return the pasta to the pan over low heat. Add the butter and sage sauce and the grated Parmigiano-Reggiano to the pasta. Mix well while cooking for 1 minute.
Serve immediately with finely grated Parmigiano-Reggiano and freshly ground black pepper if desired.
Nutrition Information:
Yield:
4
Serving Size:
1
Amount Per Serving:
Calories: 668
Total Fat: 51g
Saturated Fat: 29g
Trans Fat: 0g
Unsaturated Fat: 18g
Cholesterol: 339mg
Sodium: 1669mg
Carbohydrates: 8g
Fiber: 0g
Sugar: 2g
Protein: 44g
Note: This post may contain affiliate links; view
my Disclosure Policy
for details. I earn a small percentage from any purchase you make by clicking on these links at no extra cost to you.