Vegetable Beef Soup with Roasted Garlic
This Homemade Vegetable Beef Soup is chock full of veggies, given a flavor boost from roasted garlic, and super hearty with orzo and Parmesan. Plus it's just plain delicious! Perfect for dinner with leftovers doled out into thermoses for a homemade, back-to-school hot lunch.
There are many ways to make Beef and Vegetable Soup. Cooking on the stovetop, in a crockpot or instant pot, and by shaking up the recipe with your favorite vegetables!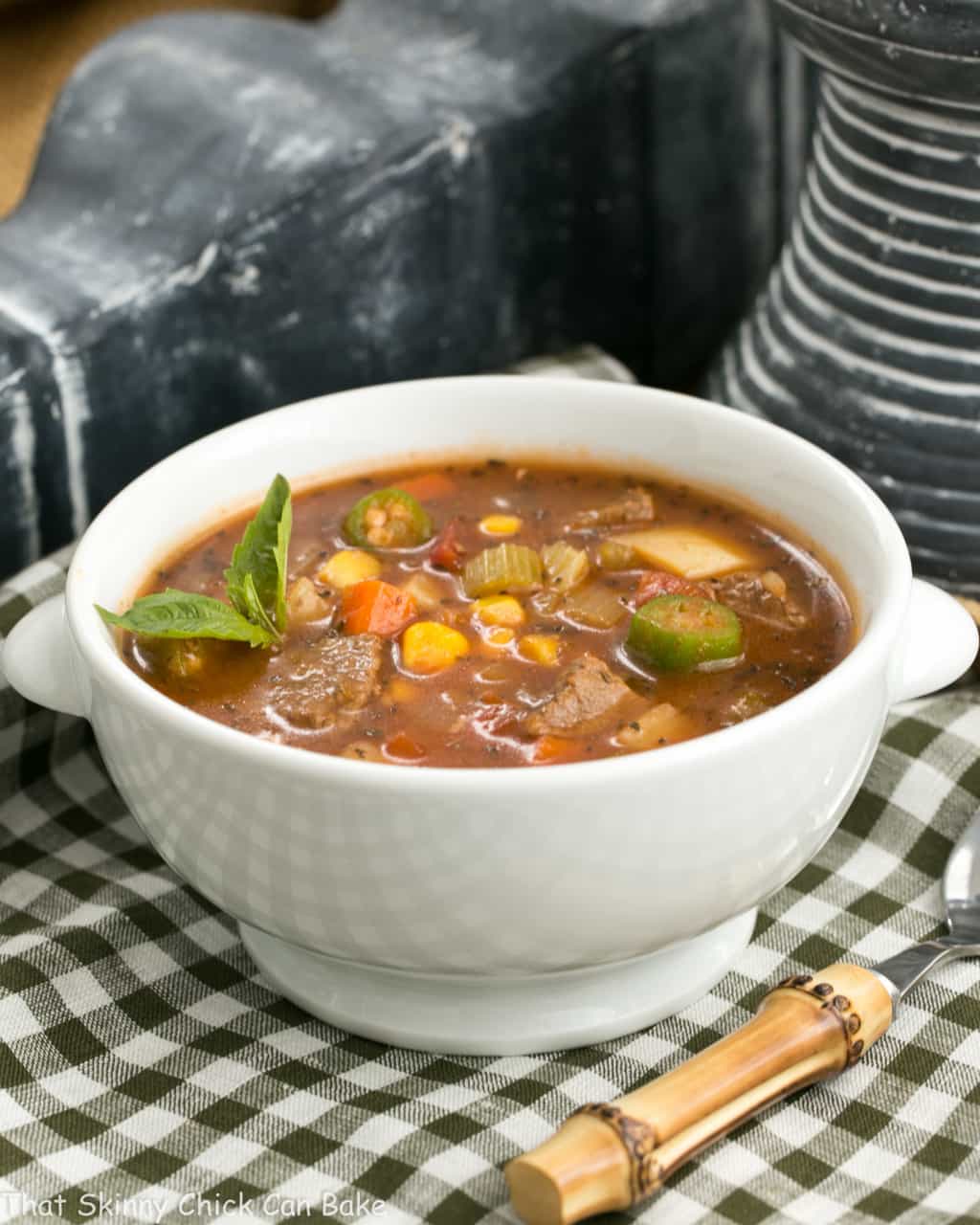 Why You Must Make
It's a tasty healthier meal for January after all the decadent desserts, marbled beef, and buttered, well, buttered everything over the holidays. It's the perfect remedy!
A piping hot bowl of soup is ideal when there is snow, ice, and bone-chilling temperatures!
This recipe makes a decent-sized batch and like my Chili with Black Beans, it only gets better as it sits overnight in the fridge. Leftovers are terrific for lunch. Baked Potato Soup is another hearty favorite.
Expert Tips
This vegetable beef soup recipe can easily be adapted by leaving out the beef, altering the vegetables, or changing up the pasta. Bill would prefer I eliminate the okra next time (and every time).
Feel free to add green beans, black beans, or any of your favorites.
I often add orzo, but any small pasta is nice. Or even rice.
The roasted garlic gives an amazing depth of flavor but sauteing some minced garlic with the onions, carrots, and celery is another option.
Topping the soup with some grated Parmesan is a nice finishing touch. If you happen to have a rind of Parmesano Reggiano, toss that in the pot while cooking. It will provide a certain je ne sais quoi. I like to store a rind or two in the freezer just to add to soups.
I make this 0n the stovetop, but you can saute the beef, onions, carrots, and celery and add those and the rest of the ingredients to a slow cooker and let it cook all day long. Even an Instant Pot will work, but you may have to adjust the recipe depending on the size of your appliance.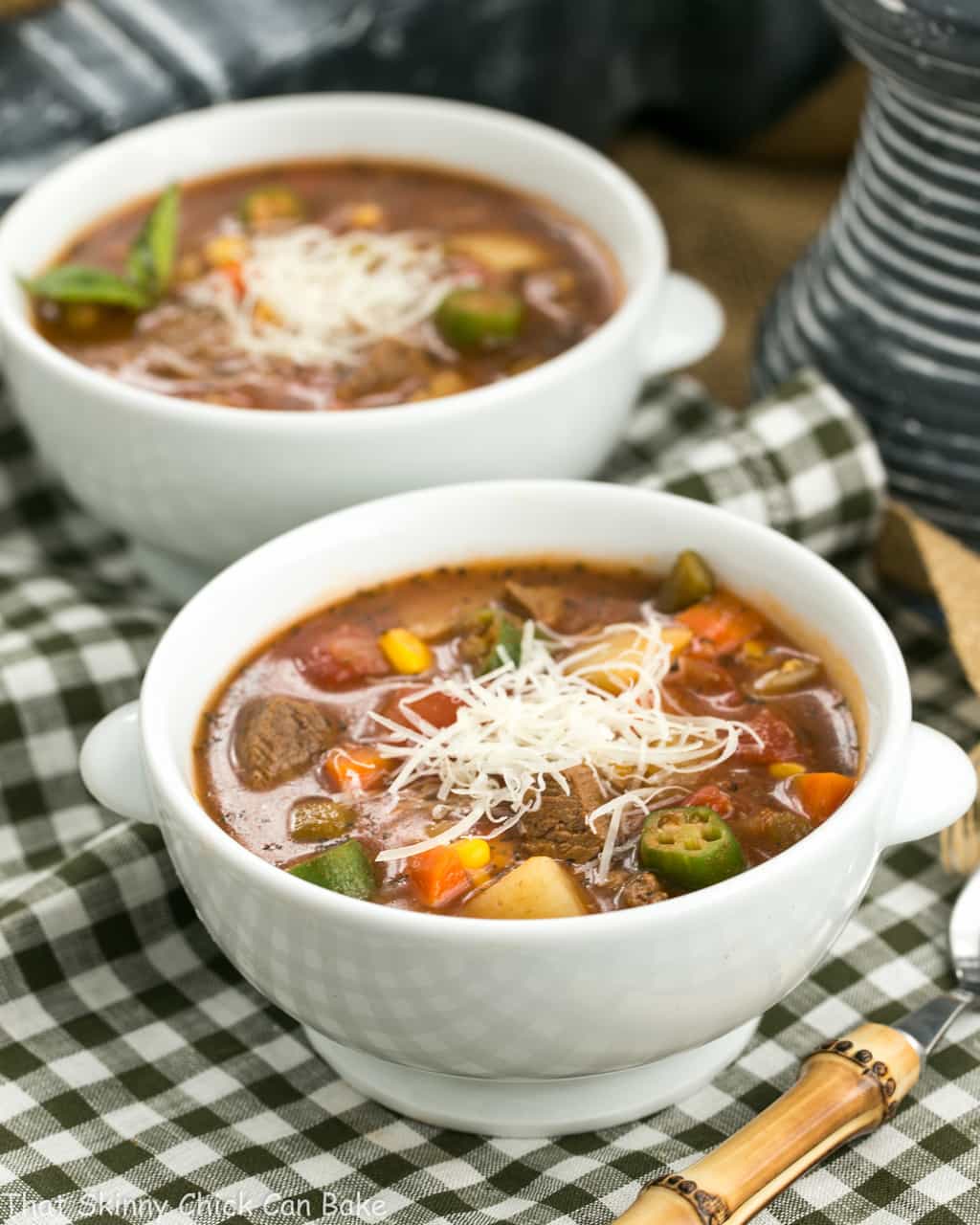 Frequently Asked Questions
How Do You Add Flavor to Beef Soup?
If your soup is bland, there are a few things you can try. Let it rest in the refrigerator overnight as this allows the flavors to really infuse into the soup. Taste it again. Does it need more salt? A  squeeze of lemon to brighten the flavor? You can add soy sauce or Worcestershire sauce which provides umami, the 5th sense of taste.

If you're remaking a recipe, make sure you add aromatics like garlic and onions. Roast your vegetables to concentrate their flavor. Roast your garlic like in this recipe. Add herbs. And if you have a leftover Parmesan rind, add it to the pot while your soup simmers. It will infuse some delicious saltiness and help thicken the soup a wee bit.
How Do You Thicken Vegetable Soup?
To thicken a soup, you can puree some of the cooked, softened vegetables and add them back into the soup. Alternatively, you can make a slurry of flour and some of the broth and whisk that into the soup. Once it boils, the soup will thicken a bit. Try 2 tablespoons of all-purpose flour in 1/4 cup of liquid.
Make your version of beef & vegetable soup perfect for your family's tastes. It's the perfect meal on a chilly night.
You May Also Like:
The Recipe:
Vegetable Beef Soup
Prep Time 15 minutes
Cook Time 1 hour 15 minutes
Total Time 1 hour 30 minutes
Yield 6 servings
Adapted from a recipe by my friend, Robin
Ingredients
1 whole head of garlic, roasted (cut top of head off, drizzle with olive oil, wrap in foil, and roast at 375º for 35-45 minutes)
1 pound lean beef, cut into small pieces (I use beef tenderloin, but even cooked and drained ground beef will work)
Olive oil
1 medium onion, chopped
1 cup diced celery
1 cup chopped carrots
1 large russet potato, diced
1 cup frozen corn
1 cup frozen sliced okra
16 ounce can diced tomatoes
1 can chicken broth
1 can beef broth
1 1/2 cups V8 Juice
2 teaspoons dried basil
salt and pepper to taste
Dash of Worcestershire sauce
1/2 cup dried orzo, cooked in salted water and drained, optional
Parmesan, to serve
Instructions
Saute beef in olive oil till browned. Add onions, carrots, and celery and cook till soft.
Add all the rest of the ingredients except pasta.
Squeeze the roasted garlic head to release all the individual cloves.
Stir and bring to a simmer for about an hour or till the beef is tender and the potatoes are cooked.
Before serving, add cooked orzo (if using), stir and allow to cook until warm.
Serve with Parmesan.
Notes
May eliminate beef and substitute vegetable broth for a vegetarian option.
Nutrition Information:
Yield:
6
Serving Size:
1
Amount Per Serving:
Calories: 549
Total Fat: 19g
Saturated Fat: 6g
Trans Fat: 0g
Unsaturated Fat: 10g
Cholesterol: 103mg
Sodium: 1198mg
Carbohydrates: 54g
Fiber: 10g
Sugar: 13g
Protein: 43g
Note: This post may contain affiliate links; view
my Disclosure Policy
for details. I earn a small percentage from any purchase you make by clicking on these links at no extra cost to you.