Italian Wedding Soup
Italian Wedding Soup is full of vegetables, pasta, and little meatballs; it's perfect comfort food on a chilly night and it comes together in no time. It's kid and husband friendly, so add it to your menu today!
When autumn rolls around soup reappears on the dinner menu. Your family will beg you to make this Italian Wedding Soup Recipe after slurping down their first bowlfuls! This easy soup recipe is perfect for a weeknight meal and will warm you from the inside out!
Why You Must Make
The weather has turned, the boots, gloves, and jackets are strewn throughout the house, and soup has become a regular offering on our dinner menu. This Wedding Soup is one of our favorites! With meatballs, pasta and a flavorful broth, it's well-loved by the whole family.
I have a weak spot when it comes to meatballs. And when they're floating in a delicious, doctored-up chicken broth, the results are delicious!
Recipe Tips
If you can chop, you can make this soup! It's a great recipe for new cooks and comes together on the stovetop in no time at all.
Chop onions, carrots, and celery and saute in olive oil along with some minced garlic before chicken stock and dried spices are added to the mix.
Make meatballs from scratch or use frozen meatballs depending on how much time you have.
I mix up some simple homemade meatballs, cook, then drop into the soup to simmer for a while. Since I like some color on the meatballs, I saute them first. Usually at least one side gets flat, but I love the added flavor that comes with browning. An alternative is to drop the raw meatballs into the simmering soup to cook.
PRO-Tip: Browning your meatballs first results in a Maillard reaction, a chemical process that gives browned foods their amazing flavor and aroma!
For a quick dinner, I make meatballs with ground beef. For more tender meatballs, replace about 1/3 of the ground beef with ground pork.
Watch the sodium content of your chicken broth. Some store-bought broths are extremely salty, so you will not want to add any extra salt.
Vary your spices depending on what you enjoy. Stick with Italian flavors like thyme or Italian seasoning. Fresh herbs chopped and added at the end of the cooking time give a nice fresh punch.
Pasta and spinach are the final additions. Italians like to use escarole or kale so feel free to substitute your greens. Use any small pasta like orzo or acini de pepe.
PRO-Tip: If you have a leftover rind of Parmesan, add that to the pot while simmering this soup. It will add an amazing depth of flavor.
My 100% Italian friend and fellow food blogger, Roz, swirls in a mixture of eggs and Parmesan before serving.
Frequently Asked Questions
What is Italian Wedding Soup?
Wedding soup is an Italian recipe with a clear, flavorful chicken broth base, some kind of meat, like meatballs, greens, and pasta.
Why Is It Called Italian Wedding Soup?
There is a misnomer that this soup got its name because Italians would feed it to newlyweds to provide sustenance for their wedding night. Instead, the Italian name for this soup, Minestra Maritala, which refers to the delicious marriage of this soup's ingredients, translates to Married Soup in English. From this translation, came speculation about the name, most of it unfounded
What Should You Serve with Wedding Soup?
Make sure to pass around some real Parmesan, or Parmigiano Reggiano, to sprinkle over your hot soup. Other dishes will be dependent on whether the soup is a starter or an entree. If it's a starter, you can go hog wild with an Italian menu or antipasti, tossed salad, lasagna, and an Italian dessert. If it's the entree, serve a nice crusty bread and a green salad.
You May Also Like: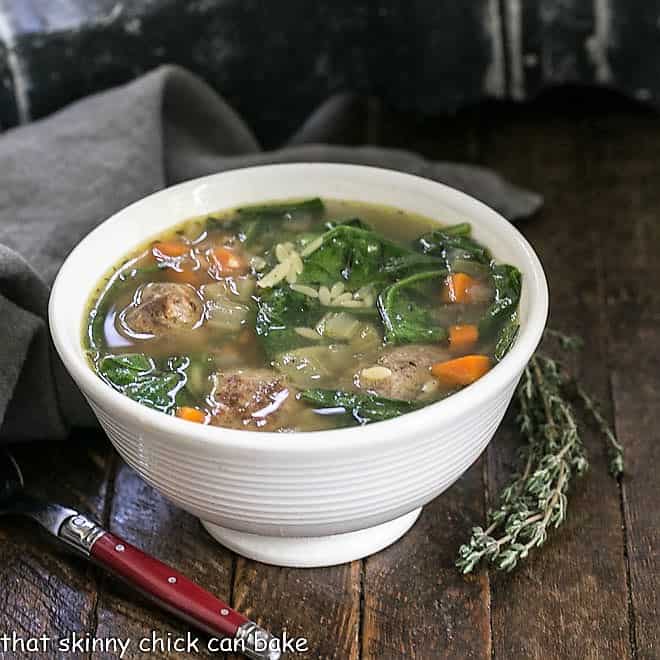 The Recipe:
Italian Wedding Soup
Prep Time 20 minutes
Cook Time 30 minutes
Total Time 50 minutes
Yield 6 servings
An easy dinner recipe that's perfect on a chilly fall or winter night!
Ingredients
Soup:
2 tablespoons olive oil
1 medium onion, diced
1-2 cloves garlic
1 cup chopped carrots
1 cup chopped celery
1 teaspoon dried thyme
2 quarts chicken stock
½ cup small pasta, I used orzo
1 bag baby spinach
Salt and freshly ground black pepper, to taste (if your stock is salty, you may not need any additional salt)
Meatballs:
1 pound ground beef
¾ teaspoon salt
¼ cup bread crumbs
¼ cup grated Parmesan
1 egg
Instructions
Heat 1 tablespoon of the oil in a large stockpot. Saute the onion until soft and translucent.
Add garlic and saute just until fragrant, do not brown. Remove to a medium bowl.
Add the rest of the oil to the pan, then the celery and carrots, and cook until tender. Add stock and thyme and let simmer.
Make meatballs by combining cooked minced onion, ground beef, salt, bread crumbs, and egg. When well combined, make meatballs (½-1 inch in diameter).
At this point, you may saute them or drop them raw into simmering soup.
Simmer until the meat is cooked through.
Add pasta and cook until done.
Right before serving, stir in spinach until wilted.
Notes
You may use frozen meatballs from the grocery store if you enjoy those.
Nutrition Information:
Yield:
6
Serving Size:
1
Amount Per Serving:
Calories: 500
Total Fat: 24g
Saturated Fat: 8g
Trans Fat: 1g
Unsaturated Fat: 14g
Cholesterol: 111mg
Sodium: 1004mg
Carbohydrates: 34g
Fiber: 2g
Sugar: 8g
Protein: 35g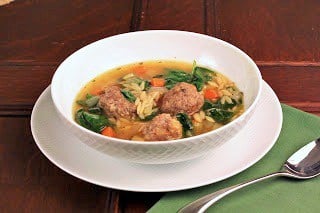 Note: This post may contain affiliate links; view
my Disclosure Policy
for details. I earn a small percentage from any purchase you make by clicking on these links at no extra cost to you.