Classic French Onion Soup
When the weather takes a turn, Classic French Onion Soup topped with cheesy croutons is comfort food that will hit the spot!
I tweaked my tried and true recipe by using two types of broth and adding some herbs. This was the best French onion soup to come out of my kitchen!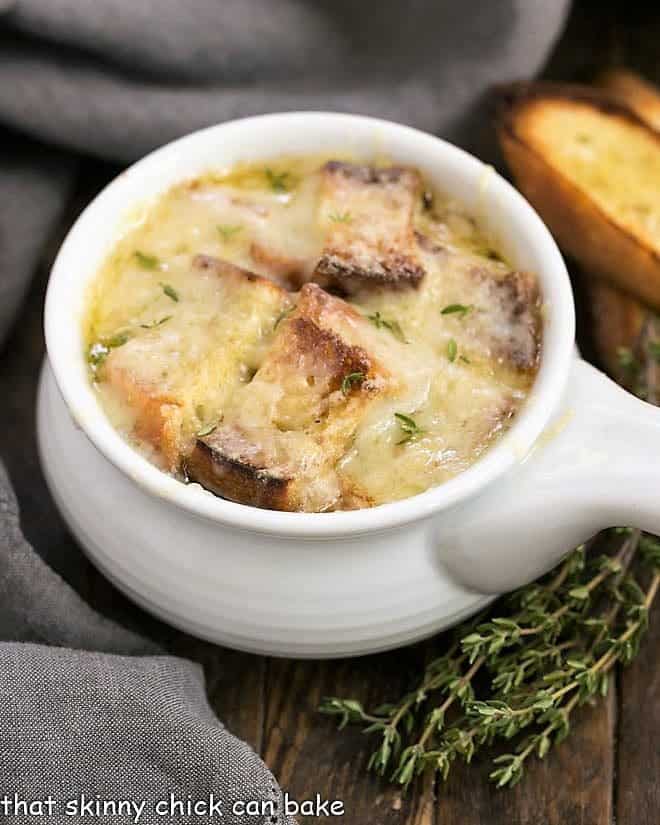 Why You Must Make
I adore baking, but I still have to get dinners ready for a family of 5, which is not nearly as much fun. When somebody actually requests a dish, I'm delighted to comply! My oldest recently asked if I could make French onion soup. So within days, it was on our menu.
If you've never caramelized onions, this recipe will prove their deliciousness.
The Gruyere-topped croutons are irresistible.
This is comfort food on a chilly day!
I slowly caramelized some thinly sliced Spanish onions afternoon along with a bit of minced garlic. A tablespoon of flour was sprinkled over them once they reach a golden brown, then dry white wine and broth were added. Bill and I picked up our youngest, Nick, from a 4-day retreat with his high school classmates, and the closing ceremony lasted well past our dinnertime. When we all arrived home, one sleep-deprived and in desperate need of a shower, we quickly rewarmed this aromatic soup, added a slosh of cognac and broiled each bowl with a Gruyere topped crouton.
My broiler was on the fritz (yes, my oven saga continues) so I didn't get the golden crust I was hoping for but any melted cheese was better than none! It truly hit the spot on a cool autumnal evening.
Recipe Tips
French onion soup has always been a favorite. It's all about the bread and gooey cheese topper. My favorite version to date is this combination of Dorie Greenspan's and Thomas Keller's recipes with a few tweaks of my own.
Taking time to fully caramelize the onions will magnify the delectable flavors. This is a slow process that takes patience but is worth the effort. Start with a sweeter onion, like the yellow onions I selected. They should slowly brown, but not burn, and must be stirred frequently. Well caramelized onions give an amazing depth of deliciousness.
I added a bay leaf and a bit of fresh thyme to this French onion soup for another dimension. Layering flavors is key.
My best French onion soup is made with both beef and chicken broth from a box, but I'm certain it would be even more incredible with homemade stock. I prefer store-bought chicken broth to beef, but the combination is really nice.
Watch the sodium if you're using some of those canned brands of broth or stock. Some are so salty that they can ruin your soup. I like using Pacific brand which I've even seen at Target.
PRO-Tip: Did you know alcohol is a flavor enhancer? The deglazing of the pan with white wine and the addition of cognac both help make this an incredibly delicious soup.
My favorite part of this dish is the cheesy crouton served on top of the soup! I toasted both sides of a long diagonal slice of a baguette in the oven, then placed one or two on the bowl of soup, and finally topped with a generous amount of shredded Swiss cheese.
Next, the soup bowls were popped under the broiler until hot, gooey, and golden! Gruyere is a classic cheese choice, but I love mixing half and half Gruyere and Emmenthal. More depth of flavor again!
My friend, Marissa, of Pinch and Swirl, cut her bread into croutons, so I followed suit with a few bowls. It was definitely easier to eat! She used Julia Child's recipe if you want to peek at that, too.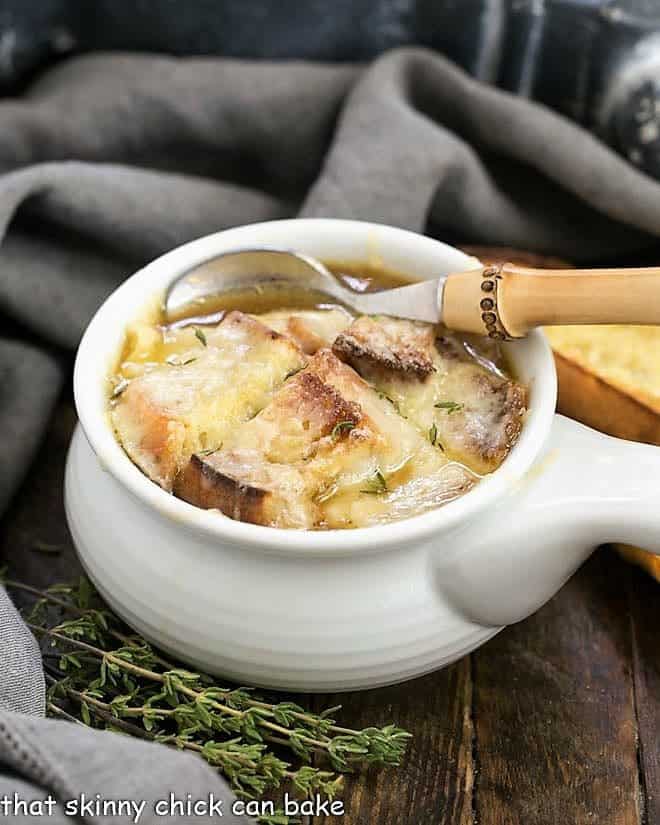 You May Also Like
If you're making a batch of caramelized onions for this onion soup, then why not toss in an extra onion and use the extras to enhance some other recipes! Add some to your next homemade pizza; they were a terrific component of these mini Fig, Goat Cheese and Prosciutto Pizzas. My French Onion Marmalade is a fabulous burger topping and made in a similar manner with brown sugar and vinegar. These Bacon Burgers with Caramelized Onions would be hard to resist as would this White Barbecue Pizza with Prosciutto and Caramelized Onions.
The Recipe:
Classic French Onion Soup
Prep Time 15 minutes
Cook Time 1 hour
Total Time 1 hour 15 minutes
Yield 6 servings
A rich onion laden broth flavored with herbs, white wine and cognac and topped with cheesy toast!
Ingredients
4 pounds yellow onions
2 tablespoons butter
2 tablespoons olive oil
3-4 cloves of garlic, minced
Kosher salt
1 tablespoon flour
1 cup dry white wine (or vermouth)
2 cups beef broth
2 cups chicken broth
2 bay leaves
2 sprigs of fresh thyme
Freshly grated black pepper to taste
1/4 cup Cognac
1 1/2 cups grated Swiss cheese (I used half Gruyere and half Emmental)
Baguette, cut into 1/2 inch slices
Olive oil and kosher salt to toast baguette
Instructions
Peel onions, then cut in half through the root. Cut each half into thin slices. In a Dutch oven, heat olive oil and butter.
Add onions, and garlic and sprinkle with Kosher salt. Slowly cook, over low heat, stirring frequently until
the onions start to caramelize. Do not allow them to burn, but continue cooking till the onions are really browned.
When the onions are caramelized, add flour and cook for a minute or two to cook off the raw flour taste. Add wine or vermouth and reduce the liquid by about half.
Add both broths, and bring to boil. Reduce heat and allow soup to simmer for at least 30 minutes. Add cognac and stir. Check for seasoning, adding black pepper and more salt to taste if needed.
Prepare croutons by brushing with olive oil and a sprinkle of Kosher salt. Broil till lightly toasted. Flip, brush with olive oil, and broil backside. Set aside. Watch carefully as these can burn quickly.
Fill heat-proof bowls with soup, leaving room to top with crouton. Place crouton over soup and put about 1/4 cup grated cheese over toasts. Or like my friend, Marissa from Pinch and Swirl, make smaller croutons out of your slice and top those with cheese. Place bowls on sheet pan and place under broiler. Broil till cheese is melted, bubbly, and lightly brown. Serve immediately.
Notes
Deglazing the pan is key to building flavor. The alcohol will burn off, so it isn't a worry when serving it to children.
Adapted from recipes by Thomas Keller and Dorie Greenspan.
Nutrition Information:
Yield:
6
Serving Size:
1
Amount Per Serving:
Calories: 598
Total Fat: 21g
Saturated Fat: 9g
Trans Fat: 0g
Unsaturated Fat: 10g
Cholesterol: 37mg
Sodium: 1300mg
Carbohydrates: 74g
Fiber: 7g
Sugar: 19g
Protein: 21g
Note: This post may contain affiliate links; view
my Disclosure Policy
for details. I earn a small percentage from any purchase you make by clicking on these links at no extra cost to you.