Fig, Goat Cheese and Prosciutto Pizza
This Easy Fig, Goat Cheese, and Prosciutto Pizza is made with Naan bread and topped with sweet, jammy sliced fresh figs,  dabs of goat cheese, strips of salty prosciutto, and caramelized onions! Every bite is an extravaganza of flavors in your mouth!
Fig Pizza Recipe is an elegant starter to take advantage of fig season! Plus, they're super simple to make.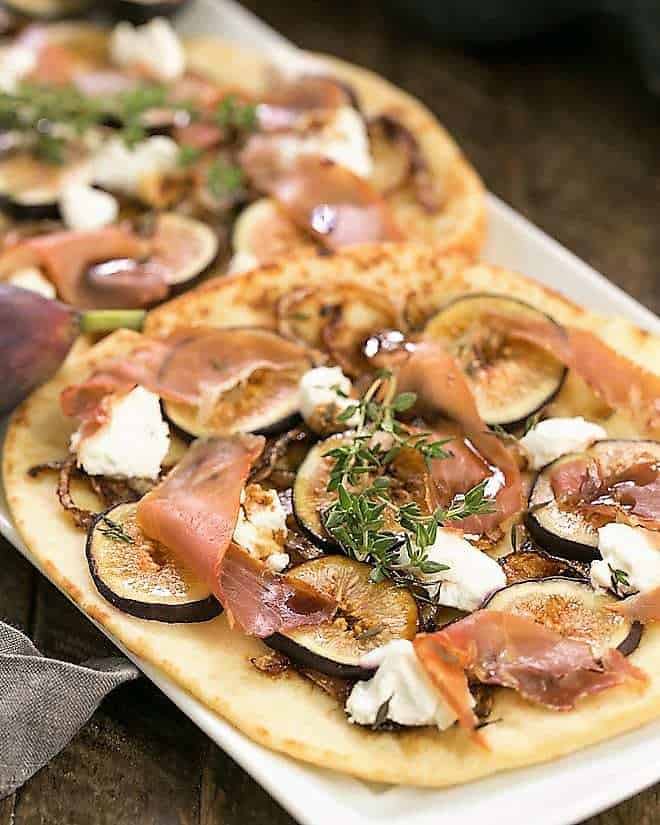 Why You Must Make
Move over Fig Newtons, these pizzas are the grownup way to enjoy figs!
This is a super easy recipe, using naan bread as the pizza crust.
This is a fun appetizer when fresh figs are at their prime!
When I was a wee one, probably 3 or 4 years old, some of my favorite memories were of treats my mom would buy for me and my sisters. Goldfish crackers, Dr. Pepper, and Fig Newtons were those rare store-bought surprises that made a huge impression. The latter was my introduction to figs as the small college town of Ames, Iowa lacked what could be exotic fresh produce back in the day.
Though those fig cookies are not a favorite anymore, I love fresh figs and fig jam used in appetizers, like in my Fig Gruyere Crostini and these fig pizzas.

Expert Tips
Using prepackaged naan bread, an Indian flatbread, for the crusts makes these fig appetizers a snap to prepare. The key to delicious toppings involves adding a variety of textures and flavors that complement each other: something sweet, something creamy, something salty, and something savory. I've got you covered with all of those with these multifaceted fig pizzas!
PRO-Tip: Using a package of naan bread from the grocery store bakery is a terrific shortcut. If you have a favorite pizza dough recipe, that will work, too. You will want to bake the crust a bit first before adding your toppings to duplicate using prebaked naan.
The sweet component is sliced figs and a drizzle of aged balsamic vinegar. Dried figs or fig jam would also provide sweetness if fresh figs aren't available or they're subpar. My first fig purchase this fall was less than ideal.
Goat cheese provides a creamy element. Blue cheese or Cambozola (a cross between a triple creme cheese and gorgonzola) would be lovely if you're not a goat cheese fan.
Strips of prosciutto incorporate both salty and savory flavors. Crumbled bacon is a crunchy substitute or you could certainly go meatless.
Caramelized onions are an amazingly delicious ingredient. If you don't like the bite of raw onions, you still may become an onion fan after tasting these slow-cooked slices. I had just made a batch of French onion soup and couldn't help but swoon as I stirred and sampled these onions cooked in butter and oil. I just couldn't resist making a smaller batch to strew across these fig pizzas!
The drizzle of aged balsamic vinegar gives that je ne sais quoi, but only if you use a good-quality version! And a sprinkle of fresh thyme before serving brightens the whole experience!
Frequently Asked Questions
When Are Figs in Season?
There are two seasons for fresh figs. The first, shorter season is in early June. The second season is from August to October.
What Cheeses Pair Well with Figs?
Figs are sweet and jammy and pair beautifully with savory ingredients like creamy goat cheese, pungent blue cheese, and rich, sharp Parmesan cheese. 
You May Also Like:
Stay in touch through social media @ Instagram, Facebook, and Pinterest. Don't forget to tag me when you try one of my recipes! And if you love the results, please give it a 5-star rating in the recipe card. Note: As an Amazon Associate, I earn from qualifying purchases. Visit my Amazon Store for my favorite products.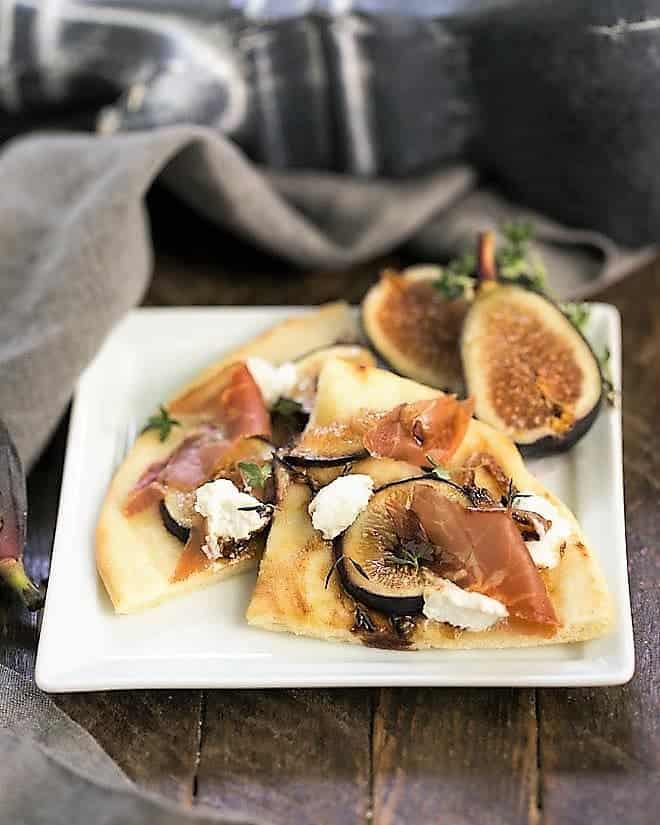 The Recipe:
Fig, Goat Cheese and Prosciutto Pizza
Prep Time 15 minutes
Cook Time 30 minutes
Total Time 45 minutes
Yield 8 servings
A gourmet appetizer pizza made with fresh figs, caramelized onions, prosciutto and goat cheese
Ingredients
1 yellow onion, cut in half and sliced thinly
1 tablespoon olive oil
Pinch of salt
2 teaspoons good quality balsamic vinegar
4 pieces naan bread
4 ounces prosciutto, sliced into strips
3 tablespoons goat cheese
8 fresh figs, sliced into rounds, tossing the stem and tail ends.
1 teaspoon fresh thyme
More balsamic vinegar to drizzle
Instructions
Caramelize the onions by cooking the onion slices in olive oil with a pinch of salt on medium-low until they get light golden in color. Stir in balsamic vinegar and cook for a minute. Set aside.
Place the naan on a baking sheet. Layer with caramelized onions, prosciutto, small bits of goat cheese, and fig slices.
Bake at 350 degrees for 15 minutes. Sprinkle with fresh thyme and drizzle lightly with balsamic vinegar, about 1/2 teaspoon per pizza. Cut into quarters and serve warm.
Nutrition Information:
Yield:
8
Serving Size:
1/2 pizza
Amount Per Serving:
Calories: 233
Total Fat: 7g
Saturated Fat: 2g
Trans Fat: 0g
Unsaturated Fat: 4g
Cholesterol: 12mg
Sodium: 633mg
Carbohydrates: 34g
Fiber: 3g
Sugar: 11g
Protein: 10g
Note: This post may contain affiliate links; view
my Disclosure Policy
for details. I earn a small percentage from any purchase you make by clicking on these links at no extra cost to you.