Confit d'Oignon or French Onion Marmalade
We had some dear friends over for an end-of-the-year cookout along with a birthday celebration. The grill was fired up, burgers sizzled over hot coals while I set up a condiment spread including this French Onion Marmalade.
This flavorful Onion Confit was a new burger topping for my guests, and it got such rave reviews that I had to share the recipe that night!!
Why You Should Make this Condiment
Most likely, you'll be introducing your family or guests to a new, gourmet topping that they will fall for with their first tastes!
It's a delicious way to jazz up burgers, sandwiches, and more.
You'll definitely be the host or hostess with the mostess!
This gathering was casual and everyone pitched in with wine, appetizers, and side dishes. I set up a burger bar with all the fixings you could imagine. Lettuces, ripe garden tomato slices, 3 types of cheeses, sauteed mushrooms, guacamole, and more. But it was this delightful onion marmalade that caught the most attention. Is it on the blog?? Soon, I replied.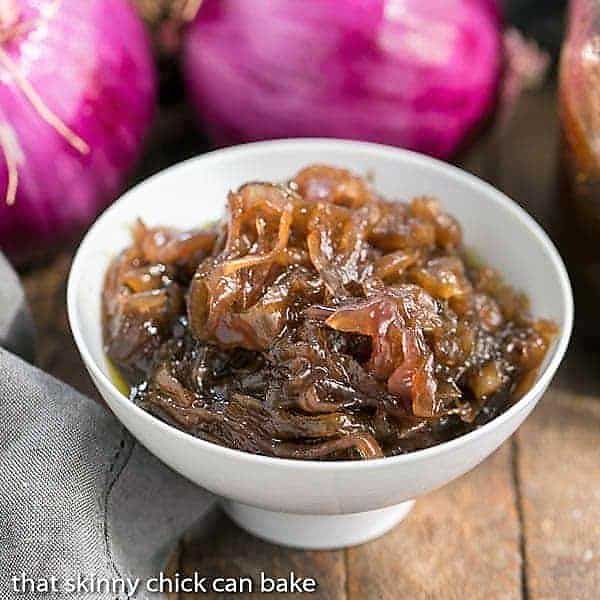 How to Make Onion Marmalade
Caramelize the natural sugars in the onions by gently cooking in a good dousing of olive oil.
Add brown sugar, herbs, white wine, and vinegar to bring a little more complexity to the mix.
Simmer for about an hour, then add to a canning jar to cool.
Decide how you're going to use this marmalade first. Onion lovers will be thrilled with this fabulous red onion confit!
What's the Difference Between Confit, Marmalade, and Chutney?
This Confit d'Oignon could be classified as any of the above, but do you know the difference? Here's some help:
Chutney – Chutneys contain fruit, vinegar, sugar, and spices. This condiment is almost a chutney since whether an onion is a fruit or vegetable is up to debate. Since onions don't contain seeds, they're most likely a vegetable.
Confit – Confit is a specialty food originating in Gaston, France. It refers to an ancient method of preserving meat by salting, then cooking in its own fat. Duck confit is a dish most of us are familiar with. Doesn't sound like this spread is truly a confit, either, though there are some commonalities, like cooking in oil.
Marmalade or Jam – Marmalade is a Portuguese word for quince jam, after the first fruit used for this condiment. Marmalade is a preserve containing fruit and rind. A jam is made from fruit and sugar. Again, since onions are not a fruit, these may not be the correct terms either.
In conclusion, there is no conclusion, so call this condiment whatever you like! A confit to be fancy or maybe just an onion spread or topping to be clear and still accurate!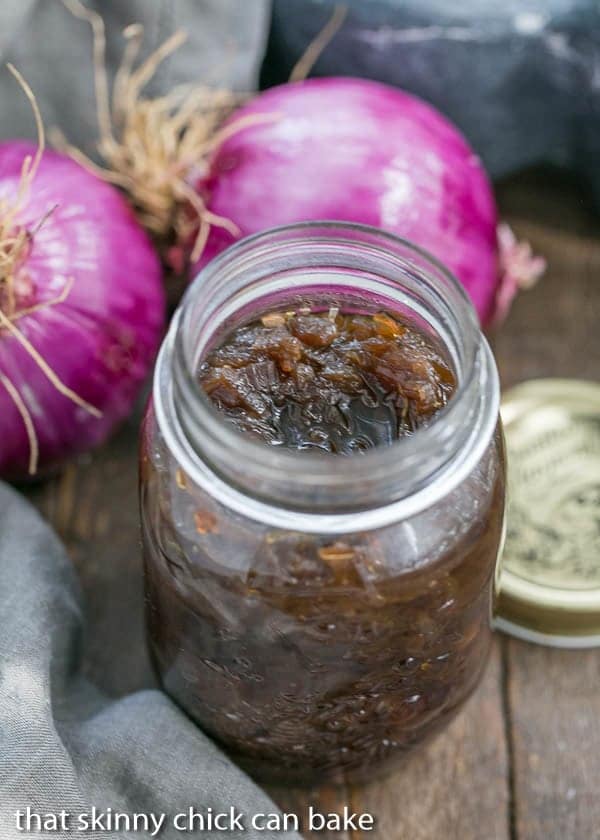 How to Use Onion Marmalade
Besides a delicious burger topping, you may be curious how else to use this confit d'oignon recipe.
Use it as a spread on any sandwich. Try it on a grilled cheese!
Add to chicken or vegetables while cooking instead of plain onions for more depth of flavor
Make a savory baked Brie by topping your Brie with this onion jam and wrapping it in puff pastry before baking
Add to a charcuterie platter along with some traditional fruit jam to pair with crackers and cheese
Use as a crostini topping with a slice of cheese
Serve with eggs or mix into scrambled eggs
Add to your favorite soup recipes
Plus, if you love making condiments, try this Bourbon Bacon Jam.
How to Store
This Confit d'Oignon can be stored in the refrigerator for 2-3 months. If you'd like to make more than one batch, consider canning it to make it shelf-stable at room temperature.
Some Delicious Burger Recipes You'll Love:
Instead of the standard ketchup and mustard, try this confit on your next hamburger!
Don't Forget to Subscribe!
Have you subscribed to my weekly newsletter? You'll get the latest blog recipes plus some seasonal favorites delivered to your inbox every Saturday morning! And as a bonus, you'll receive a series of 5 Tips & Recipes for Leveling Up Your Desserts! Of course, you can unsubscribe at any time!!
SUBSCRIBE HERE—> https://bit.ly/3tLQIcL
This recipe was first shared in September 2016. Text was updated in 2021.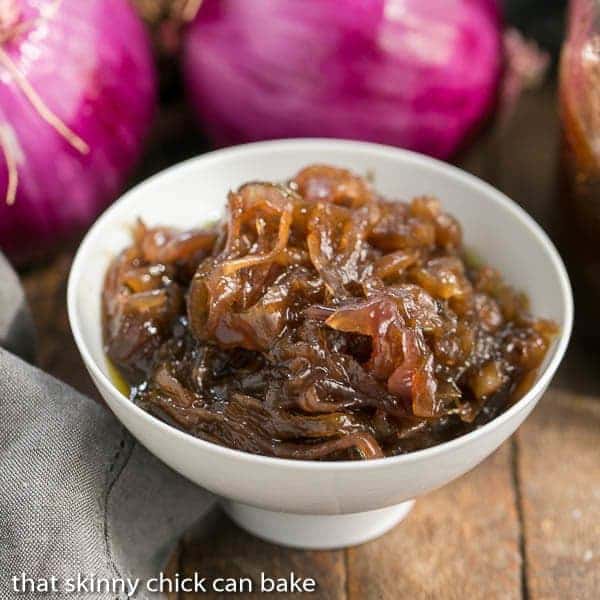 The Recipe:
Confit d'Oignon or Onion Marmalade
Prep Time 10 minutes
Cook Time 1 hour
Total Time 1 hour 10 minutes
Yield 1½ cups
Onions slow cooked with herbs, wine and vinegar make for a fabulous condiment!
Ingredients
2 pounds red onions, peeled, halved, and sliced thinly
A scant 1/2 cup olive oil
1 teaspoon sea salt
1⁄2 teaspoon ground black pepper
2 bay leaves
2 rosemary sprigs
1 cup brown sugar
A scant 1/3 cup dry white wine
A scant 1/3 cup red wine vinegar
5 teaspoons balsamic vinegar
Instructions
In a heavy frying pan add olive oil over medium heat. Add onions and toss to coat. Cover pan and cook gently until onions start to color.
Add salt, pepper, bay leaves, and rosemary and cook for 20 minutes, till herbs are wilted.
Add sugar, wine, and vinegars and simmer until all the liquids have evaporated and the onions are soft, about 30 minutes. Make sure to stir frequently so onions do not burn.
Remove herbs and pour into a clean canning jar. Let cool, then seal and store in the refrigerator. Use within two weeks unless you go through the canning process.
Notes
Makes 24 one-tablespoon servings.
Recommended Products
As an Amazon Associate and member of other affiliate programs, I earn from qualifying purchases.
Nutrition Information:
Yield:
12
Serving Size:
2 tablespoons
Amount Per Serving:
Calories: 180
Total Fat: 9g
Saturated Fat: 1g
Trans Fat: 0g
Unsaturated Fat: 8g
Cholesterol: 0mg
Sodium: 184mg
Carbohydrates: 23g
Fiber: 1g
Sugar: 19g
Protein: 1g
Note: This post may contain affiliate links; view
my Disclosure Policy
for details. I earn a small percentage from any purchase you make by clicking on these links at no extra cost to you.