Pinot Noir Mushroom Burgers
Mushrooms sauteed in red wine with fresh thyme make for these out of this world Mushroom Topped Pinot Noir Burgers!
Pinot Noir Mushroom Burgers
Grilling is a year-round activity in our household. And, according to the hubby, charcoal only for the best flavor. So for Father's Day, I must raise the bar from our typical grilled fare, and these Mushroom Topped Pinot Noir Burgers are a perfect option.
It figures, though, that the hubby chose a mushroom-free burger when I gave these a trial run. But if you're a mushroom fan, you won't be able to resist adding this sensational topping. If you're not, these Grilled Butter Burgers are a delicious option!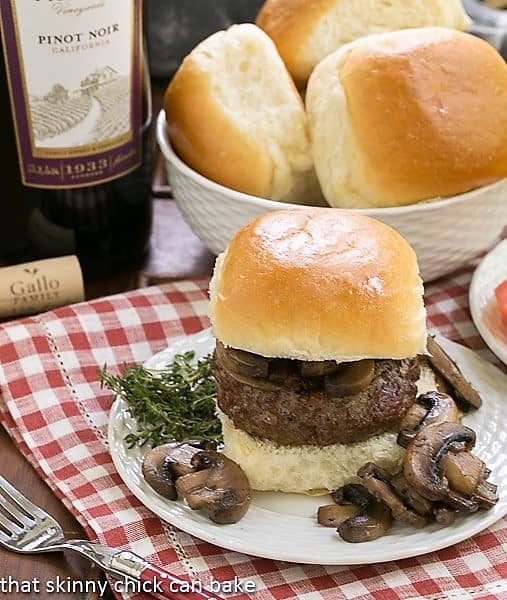 Best Hamburger Recipe
"I'm deathly allergic," Bill will often quip when mushrooms are on the menu. A big fat lie, of course. This picky fellow has perfected this socially accepted line to avoid all his food dislikes. So he had a "fungus" free burger topped with lettuce, tomato and a heck of a lot of ketchup. And was quite pleased with his juicy burger flavored with a lovely Pinot Noir and a bit of Worcestershire. One of the best hamburger recipes of the season!
The incredible mushroom topping was a snap to make, too. I sauteed sliced mushrooms in olive oil and butter with some minced shallots and thyme. A nice slosh of Pinot Noir and beef broth deglazed the pan and provided a lovely flavor boost. As a bonus, thanks to the persnickety husband, I had twice as many mushrooms to pile on my mushroom burger!
Pro-Tip: Did you know alcohol is a flavor enhancer? Just like salt, alcohol, including red wine enhances the flavor of a dish. Adding Pinot Noir to both the mushrooms and burger helped build a delicious flavor profile!
Complete Your Menu: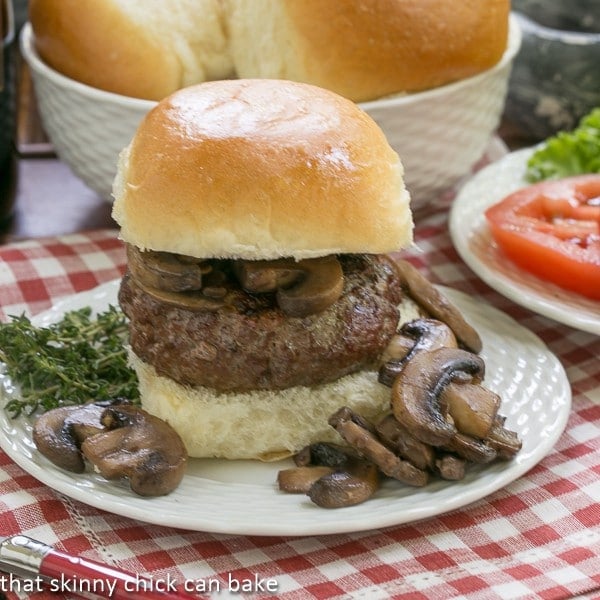 The Recipe:
Mushroom Topped Pinot Noir Burgers
Prep Time 10 minutes
Cook Time 10 minutes
Total Time 20 minutes
Yield 4 servings
Delectable seasoned beef burgers with a juicy topping of mushrooms sauteed in Pinot Noir and thyme.
Ingredients
For burgers:
1 1/2 pounds ground beef
1 teaspoon salt
freshly ground black pepper
2 teaspoons Worchestershire sauce
2 tablespoons Pinot Noir, I used Gallo Family Vineyards' Pinot Noir
2 tablespoons water
For mushroom topping:
1 pound white button mushrooms, trimmed and sliced
2 tablespoons butter
1 tablespoon olive oil
1 shallot, minced
1/4-1/2 teaspoon salt (start with 1/4 teaspoon)
Freshly ground black pepper
1 sprig of thyme (or 2 if small)
2 tablespoons Pinot Noir, I used Gallo Family Vineyards' Pinot Noir
2 tablespoons beef broth
Instructions
Gently mix ground beef with seasonings, Worcestershire sauce, Pinot Noir and water. Form into 4-6 patties and refrigerate till ready to grill. Patties will be delicate due to the addition of water.
Heat olive oil and butter in large saute pan. Add shallots and cook until tender. Add mushrooms and thyme and saute until browned. Season with salt and pepper, then deglaze with wine. When the wine has almost evaporated, add beef broth and cook till broth evaporates. Check for seasonings and add more if desired.
Grill burgers to desired doneness. Serve on buns topped with mushrooms and other condiments, fixings of your choice.
Nutrition Information:
Yield:
4
Serving Size:
1 burger
Amount Per Serving:
Calories: 660
Total Fat: 39g
Saturated Fat: 15g
Trans Fat: 2g
Unsaturated Fat: 19g
Cholesterol: 167mg
Sodium: 1170mg
Carbohydrates: 11g
Fiber: 3g
Sugar: 4g
Protein: 49g
Note: This post may contain affiliate links; view
my Disclosure Policy
for details. I earn a small percentage from any purchase you make by clicking on these links at no extra cost to you.