White Chocolate Raspberry Swirl Cheesecake
White Chocolate Raspberry Swirl Cheesecake is both gorgeous & absolutely scrumptious. A show-stopping dessert that's ultra-rich and creamy.
A food blogger friend told me she thought her mom made the best cheesecake until I served her a slice of my homemade cheesecake recipe. The best cheesecake recipe! How's that for an endorsement??!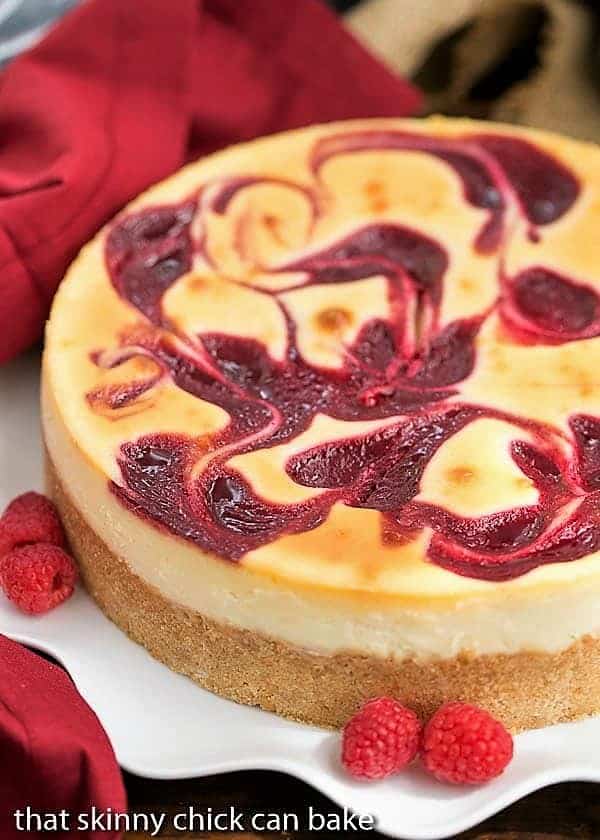 Why You Must Make
The raspberry swirls over the white chocolate cheesecake make a stunning presentation!
Raspberries paired with white chocolate is a heavenly combination.
My foodie friends declared it the best cheesecake they'd ever eaten after indulging!
We were invited to a dear friend's house for dinner. Six of us, the wives all foodies, would pitch in to complete the menu. I would make dessert, natch! One of the husbands has made it known how much he loves cheesecake, so my wheels started turning. I had printed off this recipe in 2005, so it was high time I gave it a shot, with some major tweaks, of course.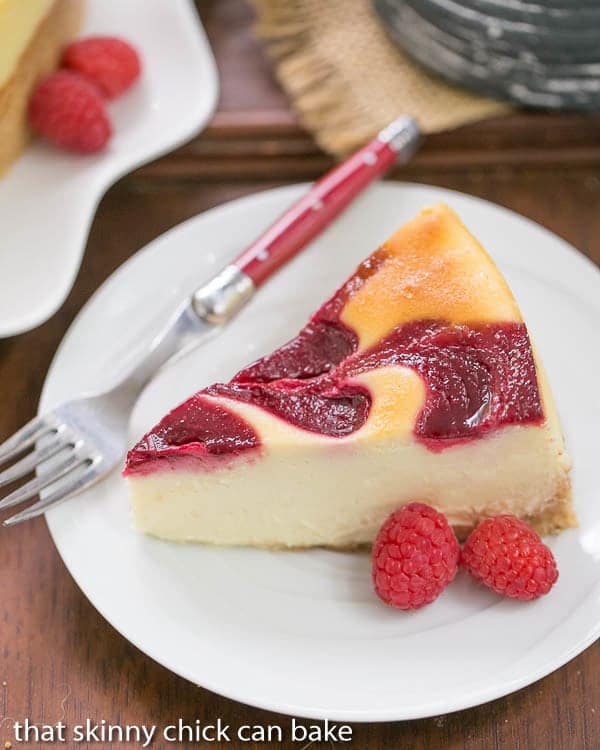 The Verdict:
Steve, the cheesecake fan, was thrilled with this Raspberry Swirl Cheesecake. A scientist by trade and curious by nature, he queried about the difference between this cheesecake and others I have made. It was definitely ultra-creamy, even velvety smooth.
PRO-Tip: Leaving it out on the counter while we noshed on appetizers and then plated and ate our dinner was key. It made slicing more difficult, but the softer texture was sublime. Bringing it to room temperature gave it a luscious texture.
After dinner, our hostess commented that my cheesecake trumped her dear mother's recipe as the best ever.

Expert Tips
If you follow my cheesecake baking tips, you'll have a super creamy, luscious cheesecake that will get rave reviews! Here are two resources
As always, use the best quality ingredients you can afford. I always recommend Philadelphia Cream Cheese for my cheesecakes and real not imitation vanilla extract.
PRO-Tip: Have your eggs and cream cheese at room temperature for the smoothest incorporation. If your cream cheese is not soft, you'll see bits of it in your finished batter.
If you forget to get out your eggs and cream cheese ahead of time, you can place your eggs in warm (not boiling) water for 15-20 minutes and put your cream cheese in the microwave with a Pyrex container of very hot or boiling water for 15 minutes (do not microwave your wrapped cream cheese since it has foil packaging!).
PRO-Tip: Use your paddle attachment of your stand mixer to mix your cheesecake. The whisk attachment will incorporate too much air and compromise the texture.
Add your eggs one at a time, mixing each one just until incorporated. No longer.
PRO-Tip: Bake in a bain marie or water bath to minimize cracking and create a humid environment in the oven. I like to use a roasting pan with handles to make it easier to get it in and out of the oven.
If using a bain marie, wrap your springform pan in heavy-duty foil to minimize the chance that any water will leak into the pan and moisten the crust.
Frequently Asked Questions
Is White Chocolate Really Chocolate?
White Chocolate is not true chocolate since it doesn't contain any chocolate liquor. This is why it doesn't have any chocolate flavor. But to be labeled white chocolate, it must at least have cocoa solids as an ingredient, otherwise, it is a confectionary coating according to the Food Lover's Companion.
How Do You Add White Chocolate to a Cheesecake?
The white chocolate is gently melted, then allowed to cool slightly. Then it's mixed into the cheesecake batter along with any flavorings.
Can You Freeze this Cheesecake?
Yes, if wrapped well, this cheesecake can be stored in the freezer for up to 3 months. Let it defrost overnight in the refrigerator before serving. You can store a cheesecake in the refrigerator for up to 5 days.
You May Also Like:
Stay in touch through social media @ Instagram, Facebook, and Pinterest. Don't forget to tag me when you try one of my recipes! And if you love the results, please give it a 5-star rating in the recipe card. Note: As an Amazon Associate, I earn from qualifying purchases. Visit my Amazon Store for my favorite products.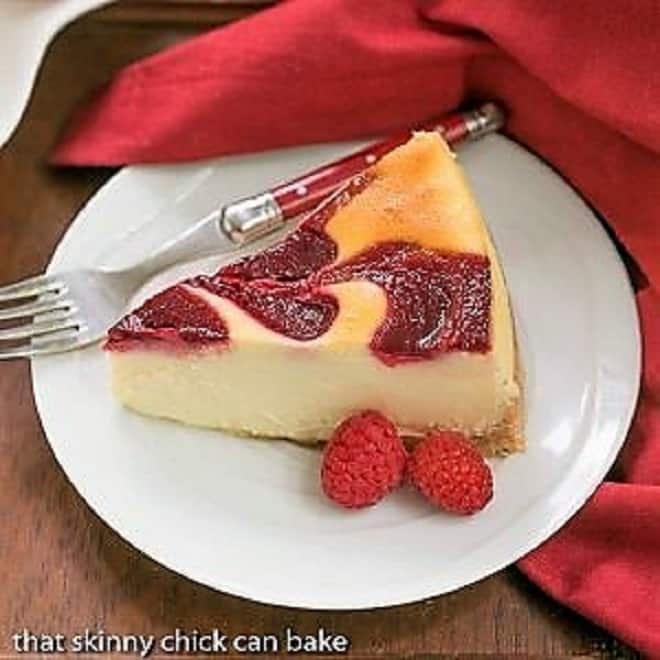 The Recipe:
White Chocolate Raspberry Swirl Cheesecake
Prep Time 45 minutes
Cook Time 1 hour
Total Time 1 hour 45 minutes
Yield 16
A luxurious cheesecake with white chocolate and a gorgeous raspberry swirl topping! Adapted from Bake and Freeze Chocolate Desserts.
Ingredients
Crust:
1 ¾ cups graham cracker or vanilla wafer crumbs
3 tablespoons sugar
4 tablespoons butter, melted
Raspberry Sauce:
1 ½ cups unsweetened frozen raspberries, thawed and drained
1 tablespoon sugar
1 teaspoon fresh lemon juice
White Chocolate Cheesecake:
8 ounces white chocolate, chopped
2 pounds cream cheese, at room temperature
1 ¼ cups sugar
2 tablespoons flour
4 eggs, at room temperature
2 teaspoons vanilla
2 tablespoons whipping cream
Fresh raspberries to garnish, optional
Instructions
Mix together crust ingredients and pat into the bottom and partway up the sides of a 9-inch springform pan.
Wrap the pan with heavy-duty aluminum foil and place it in a large baking pan (I use my roaster). Set aside.
To make the raspberry sauce, purée the raspberries in a food processor. Press the raspberries through a strainer to remove the seeds.
Add 1 tablespoon of sugar and lemon juice to the strained puree. Set aside.
Preheat the oven to 350º.
Gently melt the white chocolate in a microwave-safe bowl by starting and stopping the microwave at 30-second increments, stirring each time, until melted and smooth. Set aside.
Put the cream cheese in a stand mixer fit with a paddle attachment. Mix on low speed until smooth, about 1 minute.
Add the sugar and mix until smooth, about 1 minute. Mix in the flour.
Add the eggs, one at a time, mixing smooth after each addition, scraping down the sides of the mixing bowl after each addition.
Add the vanilla and whipping cream. Stir in the melted white chocolate. Pour the batter into the prepared springform pan.
Spoon tablespoonfuls of raspberry sauce over the surface of the cheesecake, leaving space between each dollop. Avoid getting any too close to the edge of the pan. You may not need to use all your sauce (I used about ½ cup).
Dip the spoon about ½ inch into the batter and swirl some of the sauce into the batter making a marbleized pattern. Do not over swirl.
Put the cheesecake in the oven and pour hot water into the large baking pan to reach 1 inch up the sides of the springform pan. Bake about 1 hour or until the top appears set.
Cool the cheesecake in the water bath for 1 hour. Remove the pan and cool on the countertop for another hour. Chill at least 6 hours or overnight before serving.
Set out on the counter for an hour before serving. Garnish with fresh raspberries if desired.
Notes
Baking in a water bath or ban marine helps the cheesecake bake at a steady temperature and may help prevent cracking.
Recommended Products
As an Amazon Associate and member of other affiliate programs, I earn from qualifying purchases.
Nutrition Information:
Yield:
16
Serving Size:
1
Amount Per Serving:
Calories: 460
Total Fat: 30g
Saturated Fat: 17g
Trans Fat: 0g
Unsaturated Fat: 10g
Cholesterol: 117mg
Sodium: 282mg
Carbohydrates: 42g
Fiber: 2g
Sugar: 33g
Protein: 7g
Note: This post may contain affiliate links; view
my Disclosure Policy
for details. I earn a small percentage from any purchase you make by clicking on these links at no extra cost to you.