Caramel Topped Pumpkin Cheesecake
Pumpkin Cheesecake is the perfect autumn indulgence! This creamy, dreamy spiced homemade cheesecake with a swirl of caramel is the best cheesecake for Fall!
A Pumpkin Swirl Cheesecake makes a beautiful presentation, plus it's a nice change of pace from pumpkin pie for a Thanksgiving dessert.
Why You'll Love Pumpkin Cheesecake
It had the classic flavors of a pumpkin pie but in a rich cheesecake!
The simple caramel garnish makes it company-worthy, and you won't break a sweat adding it.
It's super creamy and delicious!
The picky hubby is a huge fan of the classic pumpkin pie. It's a must-make for Thanksgiving. But no tweaking allowed. Pumpkin chiffon pie is a no-go and, heaven forbid, no substitutions like this outrageously delicious pumpkin cheesecake recipe.
He also won't touch pumpkin bread, Easy Pumpkin Fudge, pumpkin bars, or any other of my favorite pumpkin recipes. Well, it's his loss. Though I really don't get his logic, I was A-OK with more of this dessert for myself.
Ingredient Notes
Kitchen Staples – Sugar, Brown Sugar, Cinnamon, Butter
Graham Cracker Crumbs – Grind graham crackers in a food processor or buy a box of prepared crumbs
Cream Cheese – Full fat. Have at room temperature for the smoothest results.
Eggs – Have at room temperature for easier incorporation.
Canned Pumpkin – Should be pure pumpkin puree, not pumpkin pie mix which has spices, etc.
Whipping Cream – Look for heavy cream, 36% butterfat
Allspice – A ground spice that tastes like a combination of cinnamon, nutmeg, and cloves.
Vanilla Extract – Use real vanilla extract not artificially flavored
Caramel Sauce – Optional Garnish. Homemade is great or buy a high-quality brand like Sanders or Graeter's.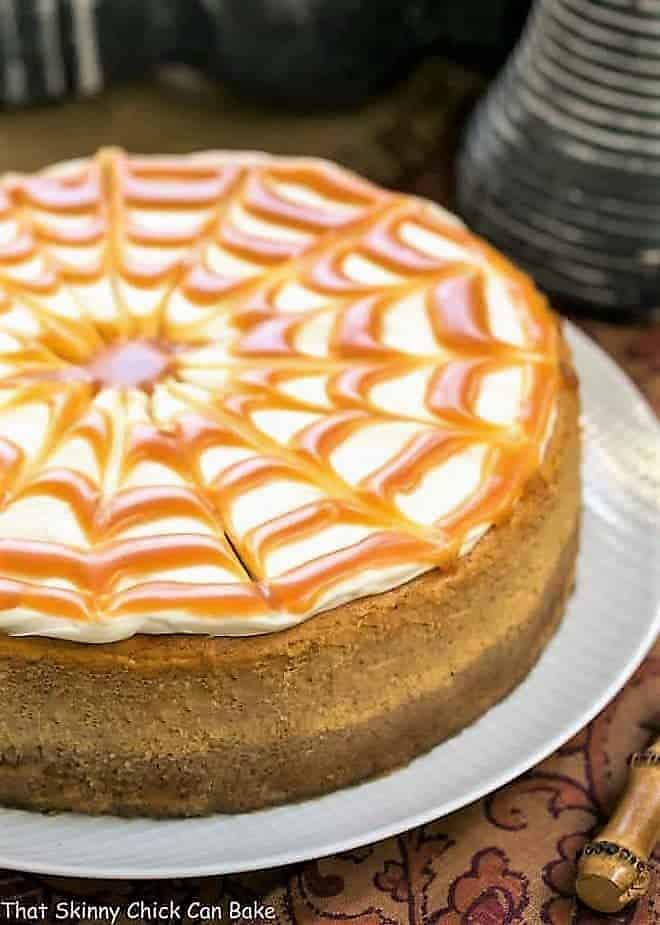 Recipe Tips
My two top tips for making perfect cheesecakes never change. First, have your ingredients at room temperature, mainly the eggs and cream cheese. This makes a world of difference in how they incorporate into the batter. You want a smooth, lump-free batter for the silkiest cheesecake.
Second, use the paddle attachment for mixing. A whisk will incorporate too much air into the batter and the texture will reflect that.
I'd never used this combination before, but drizzling caramel sauce over pumpkin cheesecake turned out to be one stupendous idea! You could drizzle and swirl or just pour some caramel sauce over the top of each slice.
But I piped a spiral of caramel over the cream cheese topping, then used a skewer to make this starburst design. I'm not too artsy, so don't worry, this is an easy technique.
PRO-Tip: Bring the cheesecake out of the refrigerator about an hour before serving. This will make the texture ultra-creamy when you're ready to slice it.
I've made pumpkin cheesecakes before, but this one trumps any previous versions. The texture is light and luscious, and oh, so creamy. I'd pick a slice of this beauty over pumpkin pie every time!
How to Make a Pumpkin Cheesecake
Preheat the oven and prep the springform pan.
Make the crust and press into the pan.
Beat together the cream cheese and sugar, remove ¾ cup, and chill to use later.
Using a mixer fitted with the paddle attachment, add and combine the remaining ingredients with the rest of the cream cheese mixture, in the order listed. Mix to combine.
Scrape batter into the prepared pan.
Make a water bath in a large pan or roaster, place in the oven, and add the cheesecake to the pan.
Bake until the cheesecake is almost fully set.
Cool on a rack for 10 minutes, then run a knife or offset spatula around the perimeter.
Allow to finish cooling, then cover and chill overnight.
Remove the cheesecake from the pan and place it on a serving plate.
Let the reserved cream cheese mixture warm to room temperature, add more cream as directed, then spread over the top of the cheesecake.
Garnish with a swirl of caramel sauce using a piping bag, then make "spokes" by running a skewer across the caramel and topping from the middle to the edge at slice-sized intervals (see the overhead photo of the cheesecake below).

Frequently Asked Questions
What Is the Key to Making the Best Cheesecake?
There are a few general tips for making nearly all cheesecakes. First, have all your ingredients at room temperature, especially the eggs and cream cheese. This ensures they will blend in smoothly. You don't want little white bits of cream cheese in the batter.
Also, bake your cheesecake in a water bath so that the heat stays at an even temperature which prevents cracking across the surface. Plus, you don't want to open the oven door for the same reason until the end of the baking time when you'll want to check for doneness.
Why Do Cheesecakes Need a Springform Pan?
A springform pan has a removable ring that creates the sides of the pan. Since a cheesecake is more custard-like than cake-like, it would be difficult to cut and remove slices if it was baked in a traditional cake pan. The removable sides make it easy!
Why Do You Have to Wrap the Springform Pan in Aluminum Foil?
Since most cheesecakes are baked in a water bath, the foil ensures that no water can creep inside the pan making the crust soggy.
How Do You Know When a Cheesecake is Done?
Use the recipe as your guide, and when it's near the end of the baking time (about 10 minutes early), carefully give your pan a little jiggle. If only the very center moves, it can be pulled from the oven. If the whole surface jiggles, continue baking and recheck every 10 minutes or so. The heat of the surrounding baked cheesecake will help the middle finish cooking.
How Can You Cut Nice Clean Cheesecake Slices?
I like using a dry, hot knife. Pour hot water from your teapot over both sides of your knife (or dip it into a pan of boiling water), then dry it and slice. Repeat heating and wiping the knife as needed.
You May Also Like
Stay in touch through social media @ Instagram, Facebook, and Pinterest. Don't forget to tag me when you try one of my recipes! And if you love the results, please give it a 5-star rating in the recipe card. Note: As an Amazon Associate, I earn from qualifying purchases. Visit my Amazon Store for my favorite products.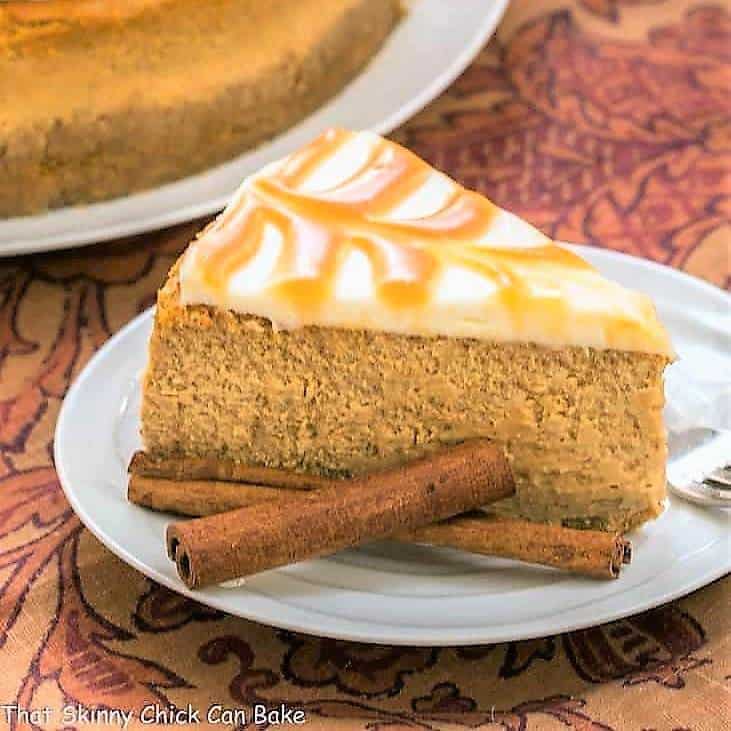 The Recipe:
Caramel Topped Pumpkin Cheesecake
Prep Time 30 minutes
Cook Time 1 hour 15 minutes
Total Time 1 hour 45 minutes
Yield 12 servings
A lightly spiced, ultra creamy pumpkin cheesecake topped with luscious caramel sauce
Ingredients
Crust:
2 cups graham cracker crumbs
2 tablespoons brown sugar
1 stick butter, melted (½ cup)
Filling:
4 8-ounce packages cream cheese, room temperature
1 ⅔ cups sugar
1 ½ cups canned pumpkin (not pumpkin pie mix)
9 tablespoons whipping cream
1 teaspoon cinnamon
1 teaspoon allspice
1 teaspoon vanilla
4 eggs
¼ cup high-quality caramel sauce (I used Better Boy Bourbon Caramel Sauce)
Instructions
For Crust:
Preheat oven to 350°. Wrap the base of a 9-inch springform pan with 2¾-inch sides with a double layer of heavy-duty (or regular) foil. Set aside.
Mix together graham cracker crumbs and brown sugar. Add melted butter and mix until combined.
Press the crust mixture onto the bottom and up about 1 inch along the side of the pan.
For Filling:
Using a stand mixer, fit with the paddle attachment, beat cream cheese and sugar until light.
Reserve ¾ cup of the mixture to use as the topping (cover and chill).
Add pumpkin, 4 tablespoons whipping cream, cinnamon, allspice, and vanilla to the pumpkin mixture and mix until well combined.
Add eggs one at a time, beating just until combined. Pour filling into the crust.
Make a water bath by pouring boiling water into a large roaster to about an inch up the sides of the pan, and place in a heated oven.
Place the well-wrapped springform pan filled with cheesecake batter into the roaster.
Bake until the cheesecake moves only slightly when the pan is shaken, about 1 hour and 15 minutes.
Transfer the cheesecake to a rack and cool for 10 minutes.
Run a knife around the perimeter of the pan to loosen Cool. Cover tightly and refrigerate overnight.
Release the pan sides from cheesecake.
Bring the remaining ¾ cup cream cheese mixture to room temperature.
Add the remaining 5 tablespoons whipping cream to the cream cheese mixture and stir to combine.
Pour the cream cheese mixture over the cheesecake, spreading evenly.
Drizzle with caramel sauce or use a ziplock bag with a hole cut in the corner, starting at the center, and pipe a spiral from the middle to the edges.
Take a skewer and draw "spokes" from the center to the edge to make a web-like pattern.
Notes
Total time does not reflect cooling and chilling times.
Recommended Products
As an Amazon Associate and member of other affiliate programs, I earn from qualifying purchases.
Nutrition Information:
Yield:
12
Serving Size:
1 slice
Amount Per Serving:
Calories: 596
Total Fat: 41g
Saturated Fat: 23g
Trans Fat: 0g
Unsaturated Fat: 13g
Cholesterol: 171mg
Sodium: 415mg
Carbohydrates: 52g
Fiber: 2g
Sugar: 41g
Protein: 9g
Note: This post may contain affiliate links; view
my Disclosure Policy
for details. I earn a small percentage from any purchase you make by clicking on these links at no extra cost to you.