Crème Brûlée Cheesecake
This Crème Brûlée Cheesecake is a delicious marriage of two favorite desserts: mascarpone cheesecake and dreamy sugar-crusted crème brûlée.
Homemade Cheesecake is always a hit with my family, and this Burnt Cheesecake was no exception!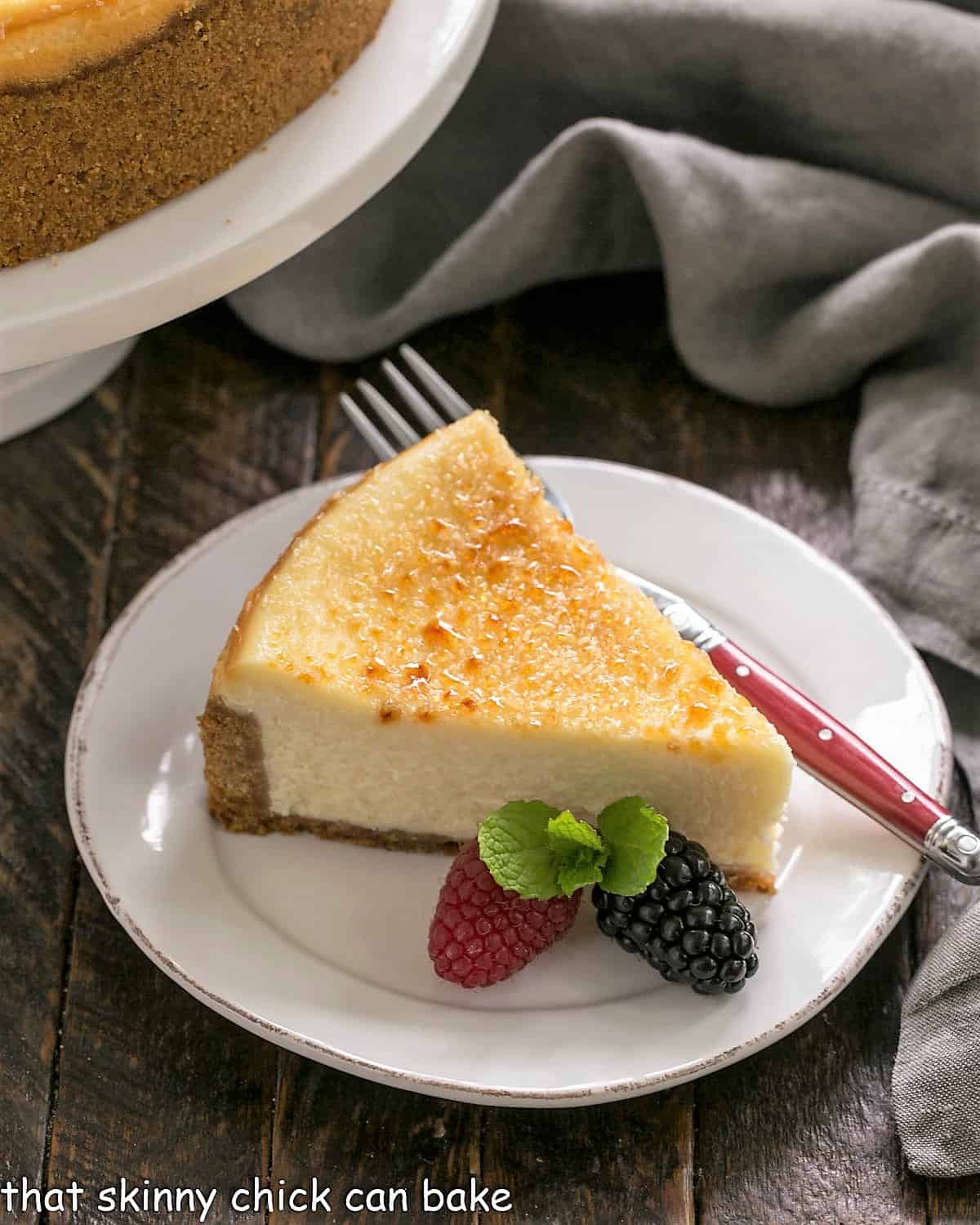 Why You Must Make
It's a combination of two of the most delicious, decadent desserts: cheesecake and creme brulee!!!
It will feed up to 12 guests and draw rave reviews.
The caramelized sugar topping is both elegant and impressive! And it's extremely tasty, too.
My youngest started college and my oldest moved to his own place. Katie doesn't seem to be suffering too much with both her brothers out of the house. In fact, she was delighted that more of her dinner requests and desserts would be honored. I'd been wanting to combine two of her favorite sweets for years, cheesecake and crème brûlée.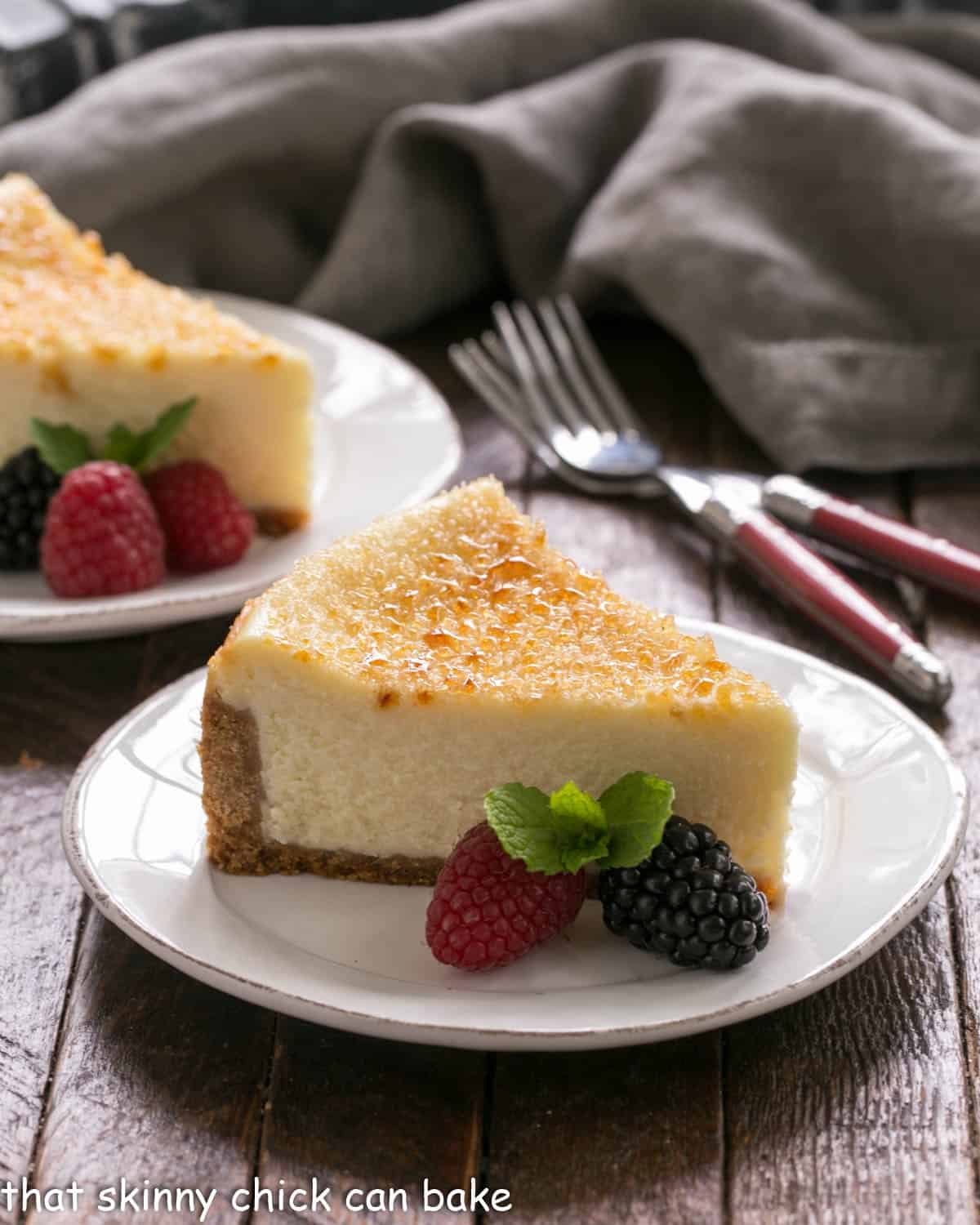 Expert Tips
As with all cheesecakes, have your cream cheese and eggs at room temperature. For this recipe, also bring your mascarpone to room temperature. This helps to make a creamy cheesecake.
PRO-Tip: Use the paddle attachment if using a stand mixer to prevent excess air from being incorporated into the batter.
Do not overbeat the eggs. Add one at a time and mix just until incorporated.
Bake in a water bath (bain-marie) for even cooking and to prevent cracking. It also creates a steamy baking environment.
Remove the cheesecake when the middle is just slightly jiggly when lightly tapped…timing differs depending on your oven and pan size.
PRO-Tip: Bring the cheesecake to room temperature before serving. This will create a super creamy texture.
PRO-Tip: If mascarpone cheese is hard to come by, a quick google search shows how to make your own using 1/4 cup whipping cream, 8 ounces of cream cheese and 2 1/2 tablespoons of sour cream. Or if you plan ahead, you can make Homemade Mascarpone Cheese in your own kitchen. It only requires two ingredients!
If you don't have turbinado sugar (sugar in the raw) to sprinkle and torch to make the topping, you can use regular granulated sugar.
Hubby Bill, the self-proclaimed chocoholic, loved this cheesecake recipe. It was perfectly smooth and creamy and the crunch of the crisp, caramelized sugar was the perfect textural contrast.
How to Make 2 Smaller Cheesecakes
Putting my highly honed geometry skills to work, I figured that my two deep 5-inch springform pans would hold approximately 5 cups of batter. Nah, I just took a measuring cup to check their volumes. Much easier than dealing with ╥, as I much prefer pie to pi.
If you'd like to make 2 smaller cheesecakes, just make half of this recipe. Bake in two 5 x 2 1/2-inch springform pans, 5-7 minutes for the crust, and 40 minutes for the cheesecakes.

Photo of a 5-inch cheesecake. Circa 2012.
Frequently Asked Questions
What Does Creme Brulee Mean?
Creme Brulee, pronounced Krehm-broo-LAY, translates to burnt cream.
How Do You Make a Creme Brulee Topping?
To make the brittle caramelized topping, sprinkle the dessert with turbinado or granulated sugar. Quickly cook under a broiler, salamander, or with a torch until the sugar browns and melts. The melted sugar hardens as it cools and is a delicious contrast with the creamy dessert below.
You May Also Like:
Stay in touch through social media @ Instagram, Facebook, and Pinterest. Don't forget to tag me when you try one of my recipes! And if you love the results, please give it a 5-star rating in the recipe card. Note: As an Amazon Associate, I earn from qualifying purchases. Visit my Amazon Store for my favorite products.
The Recipe:
Crème Brûlée Cheesecake
Prep Time 30 minutes
Cook Time 47 minutes
Total Time 1 hour 17 minutes
Yield 10 servings
A lovely cheesecake made to mimic the terrific flavors of creme brulee! Recipe adapted from Fine Cooking.
Ingredients
For Crust:
2 cups graham cracker crumbs
2 tablespoons sugar
½ cup butter, melted
For Cheesecake:
24 ounces cream cheese (3 packages), at room temperature
8 ounces mascarpone cheese, at room temperature
2 tablespoons flour
Pinch of salt
1 ¼ cups sugar
1 tablespoon pure vanilla bean paste (may substitute vanilla extract)
4 eggs, at room temperature
3-4 tablespoons turbinado sugar (sugar in the raw)
Instructions
Preheat the oven to 375º.
Mix the graham cracker crumbs, sugar, and melted butter till well combined.
Pat the crumbs onto the bottom and about halfway up the sides of each of a 9-inch springform pan.
Bake for 10-12 minutes just until the crust slightly darkens. Remove to rack and cool.
Reduce oven temperature to 300º.
Using the paddle attachment of your stand mixer, beat cream cheese, mascarpone, flour, and salt until smooth and fluffy, about 5 minutes.
Add sugar and continue mixing till smooth then add and mix in vanilla extract or paste.
Add eggs one at a time, mixing just until incorporated.
Scrape the batter into your springform pan.
Bake for about 55-65 minutes or till most of the cheesecake is set and only the middle is slightly jiggly when the pan is tapped.
Remove to rack and cool completely.
Place in refrigerator and chill for at least 8 hours.
Carefully remove the sides of springform pans, then use a large spatula to release cheesecakes from the bottom of the pan onto a serving plate.
To serve, sprinkle the top with turbinado sugar and use a kitchen torch to melt the sugar.
Notes
Have the cream cheese, mascarpone, and eggs at room temperature for the best, most creamy cheesecake.
Recommended Products
As an Amazon Associate and member of other affiliate programs, I earn from qualifying purchases.
Nutrition Information:
Yield:
12
Serving Size:
1
Amount Per Serving:
Calories: 465
Total Fat: 37g
Saturated Fat: 21g
Trans Fat: 0g
Unsaturated Fat: 12g
Cholesterol: 160mg
Sodium: 416mg
Carbohydrates: 26g
Fiber: 1g
Sugar: 17g
Protein: 8g
Note: This post may contain affiliate links; view
my Disclosure Policy
for details. I earn a small percentage from any purchase you make by clicking on these links at no extra cost to you.