This Le Cirque Classic Crème Brûlée recipe was the first I ever made and no other version has ever surpassed it! Martha Stewart featured this Classic Crème Brûlée recipe one of her shows nearly 20 years ago. I had never even tasted crème brûlée, but knowing Bill was a fan of custard desserts, I gave it a go.
I used my broiler to brulee the coarse sugar topping which transformed this vanilla custard into an extraordinary after dinner treat. Cracking a spoon through the hardened sugar crust into the silky smooth custard revealed the two quintessential elements which made this dessert so famous.
Le Cirque's Legendary Classic Crème Brûlée Recipe
Since I started making this Classic Crème Brûlée at home, Bill will not order them from a restaurant menu. According to him, they always fall short. This is truly the quintessential crème brûlée recipe.
Tips for Making the Perfect Classic Crème Brûlée
Once you make this recipe, it will be a frequent flyer when it comes to dessert. Perfect for company, holidays or whenever you want to treat your family to a fabulous dessert. Here are some tips for making the perfect creme brulee.
Creme Brulee Equipment
Straining the Custard
Caramelizing the Sugar Topping
Serving Your Creme Brulee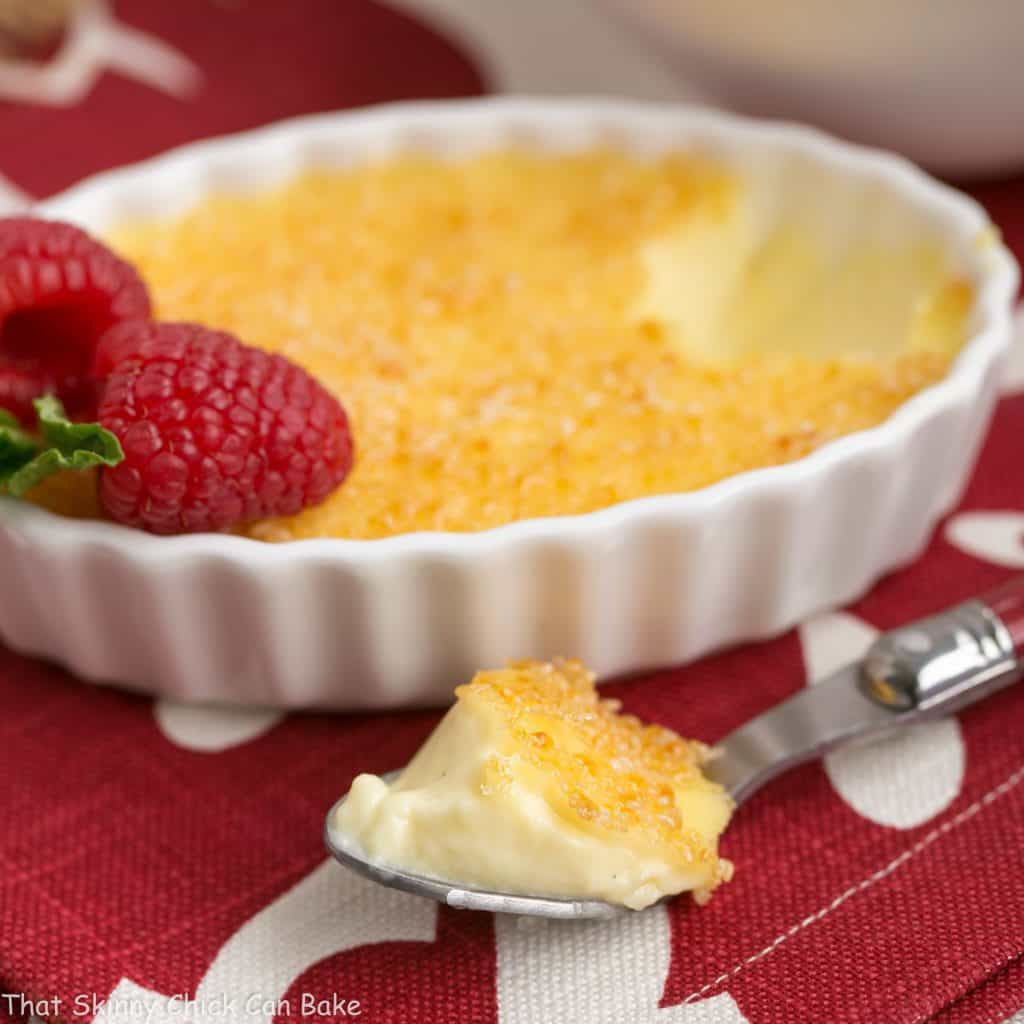 More Crème Brûlée Inspired Recipes You'll Love:
Print
Classic Crème Brûlée
A creamy vanilla custard topped with a crisp "burnt" sugar topping
Author:
Prep Time: 15 mins
Cook Time: 50 mins
Total Time: 1 hour 5 minutes
Yield: 9 servings
Category: Dessert
Method: Baking
Cuisine: American
Ingredients
4 cups heavy cream
1 vanilla bean, slit in half lengthwise and seeds scraped
3/4 cup sugar
Pinch of salt
7 large egg yolks
Turbinado sugar (sugar in the raw)
Instructions
Preheat oven to 300º.
In a saucepan, heat cream, vanilla pod, vanilla seeds, sugar, and salt over medium heat, stirring occasionally, till bubbles form around perimeter. Do not bring to a boil. Remove from heat.
Whisk eggs in large glass measuring cup (or bowl). Temper yolks by adding a small amount of hot cream to the yolks while whisking. Repeat a few more times, making sure to add the cream mixture very slowly and to keep whisking so yolks do not cook. Pour tempered yolks back into pan and whisk till smooth. Strain the mixture into large measuring cup (you may reuse the cup utilized for tempering) to remove vanilla pod, seeds and any bits of cooked yolk.
Place nine 8 ounce ramekins in roasting pan. Fill the ramekins to the top with custard. Carefully place pan in the oven, and pour enough hot water in roasting pan to come halfway up ramekins. Bake until custard is set and jiggles slightly when shaken, about 50 minutes.
Remove from water bath and let cool a half hour or so. Chill for at least 2 hours and up to 3 days. Before serving, sprinkle with turbinado sugar and broil (approximately 4 inches from element) till sugar caramelizes….watch carefully as this takes less than a minute. You may also use a kitchen torch to caramelize. Place on small plate to serve.
I used shallow ramekins and baked for about 40 minutes.
Note: This post may contain affiliate links; view
my Disclosure Policy
for details. I earn a small percentage from any purchase you make by clicking on these links at no extra cost to you.