Best Crème Brûlée Recipe
This Le Cirque Classic Crème Brûlée recipe was the first I ever made and no other version has ever surpassed it! Martha Stewart featured this Classic Crème Brûlée recipe on one of her shows nearly 20 years ago. I had never even tasted crème brûlée, but it turned out to be a treasured family dessert!
I used my broiler to brulee the coarse sugar topping which transformed this vanilla custard into an extraordinary after-dinner treat. Cracking a spoon through the hardened sugar crust into the silky smooth custard revealed the two quintessential elements which made this Easy Creme Brulee Recipe so famous.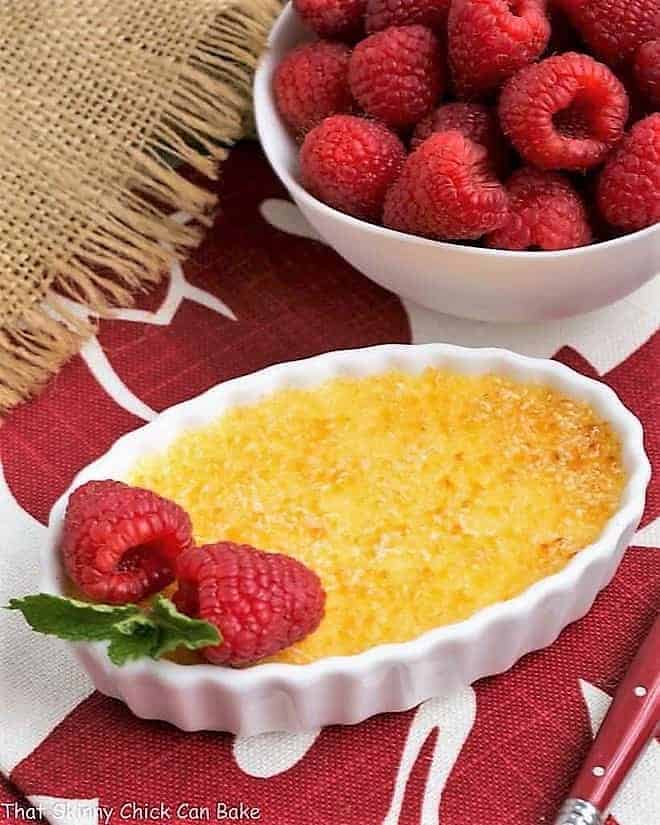 Why You Must Make
Also known as Burnt Cream or Trinity Cream, crème brûlée is a rich, creamy custard topped with a thin, crisp layer of caramelized sugar.
Since I started making this Classic Crème Brûlée at home, Bill will not order it from a restaurant menu. According to him, they always fall short.
The recipe is from New York City's legendary restaurant, Le Cirque.
This is truly the quintessential crème brûlée recipe.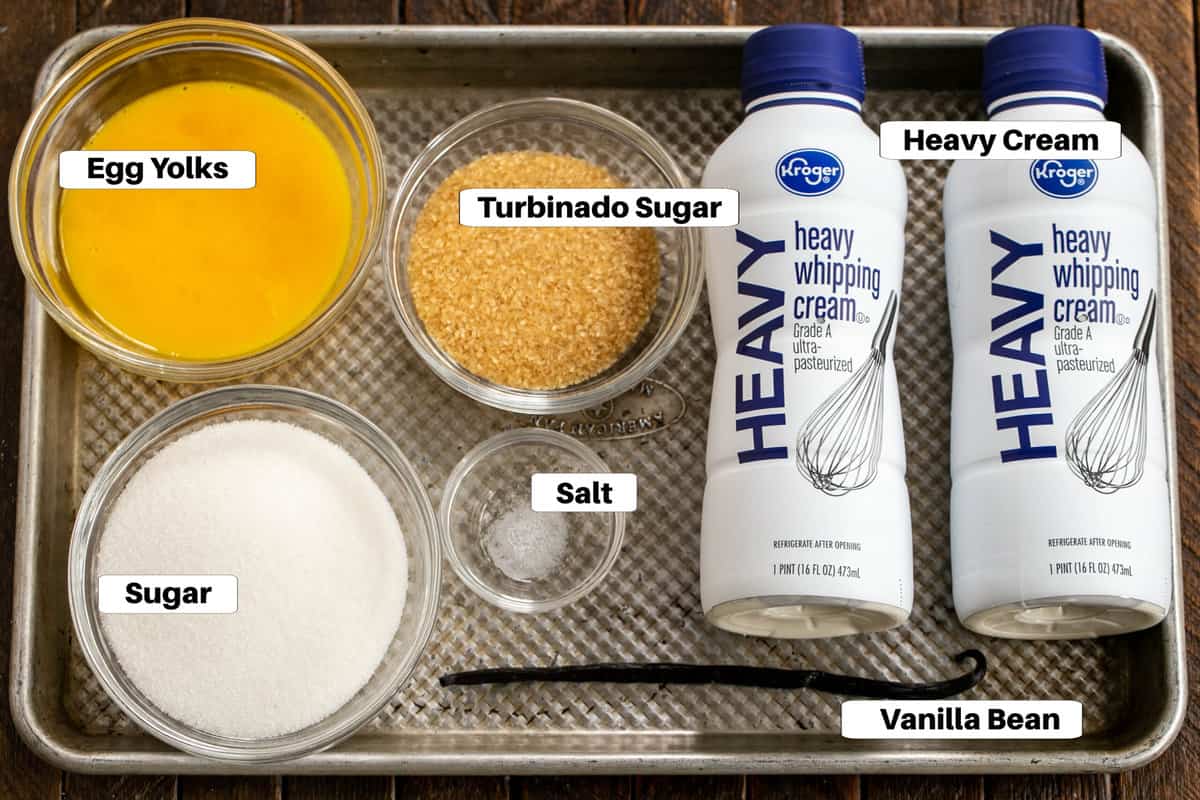 Ingredient Notes
Kitchen Staples – Granulated Sugar (regular white sugar), Salt
Heavy Cream – 36% butterfat
Vanilla Bean – Slit in half lengthwise, scrape out seeds, and add both seeds and pod to the cream
Egg Yolks – Eggs separate best when cold. See below for recipes that use only egg whites.
Turbinado Sugar – Also known as sugar in the raw. A coarse, blonde-colored sugar with a delicate molasses flavor. Use a handheld kitchen torch or your broiler to melt the sugar topping on each creme brulee.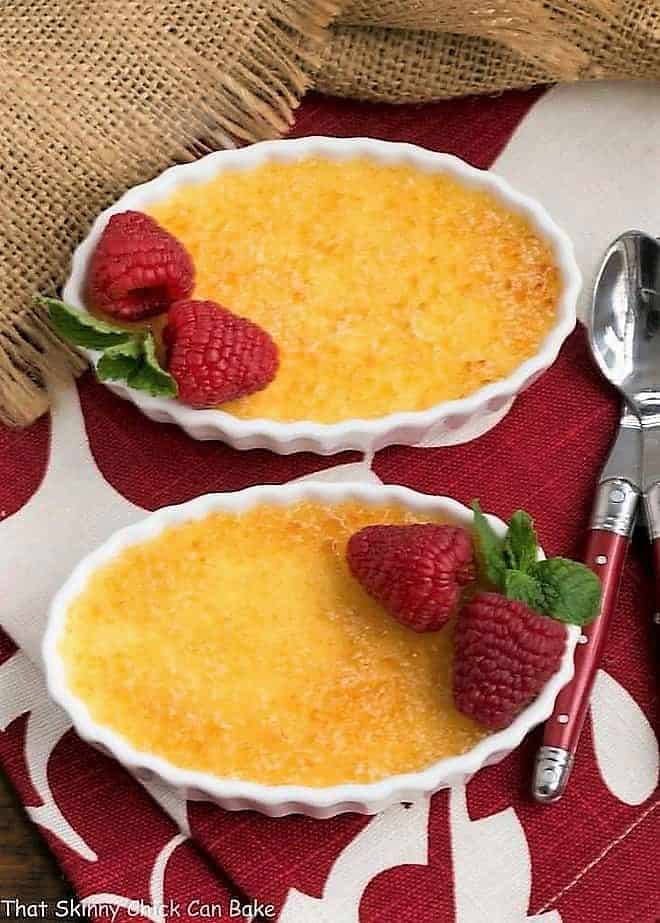 Expert Tips:
Once you learn how to make creme brulee, it will be a frequent flyer when it comes to dessert. Perfect for company, holidays, or whenever you want to treat your family to a fabulous dessert. Here are some tips for making the best creme brulee recipe.
Crème Brûlée Equipment
I finally purchased some (all affiliate links) flat oval ramekins, but the round, deeper version works fine, too. You'll just have to add more baking time to ensure the custard is set. There will be a slight jiggle in the middle but set around the perimeter when they are fully baked.
Creme brulee is baked in a bain marie, which is the French term for a water bath. Setting the unbaked custards into a pan of hot water to bake them helps stabilize the baking temperature, making for the creamiest results. The water should come halfway up the sides of your dishes. You do not want any water to slosh into the dishes. I use my roasting pan.
You'll also need a culinary torch or broiler. See below for more details.
Straining the Custard
The custard needs to be strained before pouring it into the ramekins. Even if you very carefully and slowly add the hot cream to the eggs while constantly whisking, some small bits of egg can cook. You must strain those out so you have the silkiest, creamy custard.
Note: If you have a lot of cooked egg bits, it means you added the eggs too quickly and/or did not whisk constantly while drizzling them into the hot cream. If this happens, there will not be enough egg in your custard to allow them to solidify. You will have to start over. Don't ask how I know this!
PRO-Tip: I like to strain my custard into a 4 cup Pyrex measuring cup with a spout. It makes it super easy to pour the mixture into your ramekins.
Caramelizing the Sugar Topping
When it comes to caramelizing your sugar topping, you have options there as well. I use turbinado, or sugar in the raw, but you can also use brown sugar or granulated sugar. Some folks add a thin layer, torch, and then repeat. Generally, I just go for it once.
You can also use your broiler, which used to be my preferred method, just watch carefully and remove them when the sugar topping starts bubbling. I use a mini-torch now, but you can also use a larger, welding torch instead of a culinary torch if you're comfortable using one.
Serving Your Crème Brûlée
Make sure to chill your creme brulee before torching so the custard doesn't totally liquefy from the heat. Not that anyone has ever complained when that's happened around here!
Though this classic creme brulee is lovely served ungarnished, for company, I'll add a couple of fresh raspberries or sliced strawberries to jazz up the presentation.
I've also updated this recipe after reading Jenni Field's post on salting desserts. She's an accomplished pastry chef and knows her stuff; just a pinch of salt will make a world of difference to the taste of the vanilla bean custard. If you have never made an easy crème brûlée recipe before, consider it for a Valentine's Day dessert for the one (or ones) you love.
You can make the custards ahead of time. I like torching the sugar topping right before serving.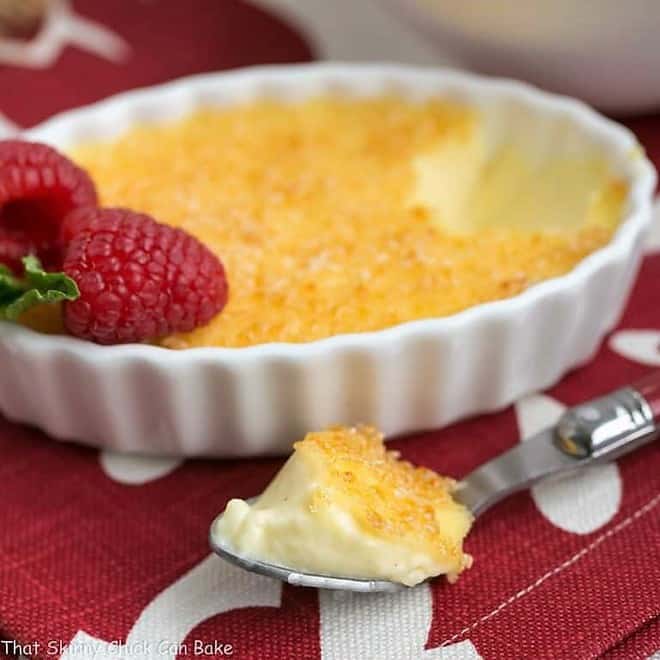 Recipes to Use Up Extra Egg Whites:
After making this creme brulee recipe, you'll be left with 7 egg whites. Don't toss them, but instead save them for one of these recipes featuring leftover egg whites.
Frequently Asked Questions
How Do You Pronounce Crème Brûlée?
As mentioned above this French phrase translates to Burnt Cream. The accent marks may be confusing when trying to figure out how to say the name of this dessert. It's krehm-broo-LAY.
Can You Make Crème Brûlée Ahead of Time?
Yes, this is what makes creme brulee an excellent recipe for entertaining. PRO-Tip: The custards can be stored in the refrigerator for up to 3 days. Just cover them with plastic wrap. Sprinkle with sugar and torch before serving.
Can You Broil Your Crème Brûlée?
PRO-Tip: Using a Creme Brulee Torch or Kitchen Torch is the preferred method for melting the sugar on top of your custards.

But in a pinch, the broiler will work. Just place your Crème Brûlée on a sheet pan and broil about 4 inches from the element. Watch very carefully so your sugar does not burn. You may need to line up your ramekins so they're directly beneath a heat source.
You May Also Like:
Stay in touch through social media @ Instagram, Facebook, and Pinterest. Don't forget to tag me when you try one of my recipes! And if you love the results, please give it a 5-star rating in the recipe card. Note: As an Amazon Associate, I earn from qualifying purchases. Visit my Amazon Store for my favorite products.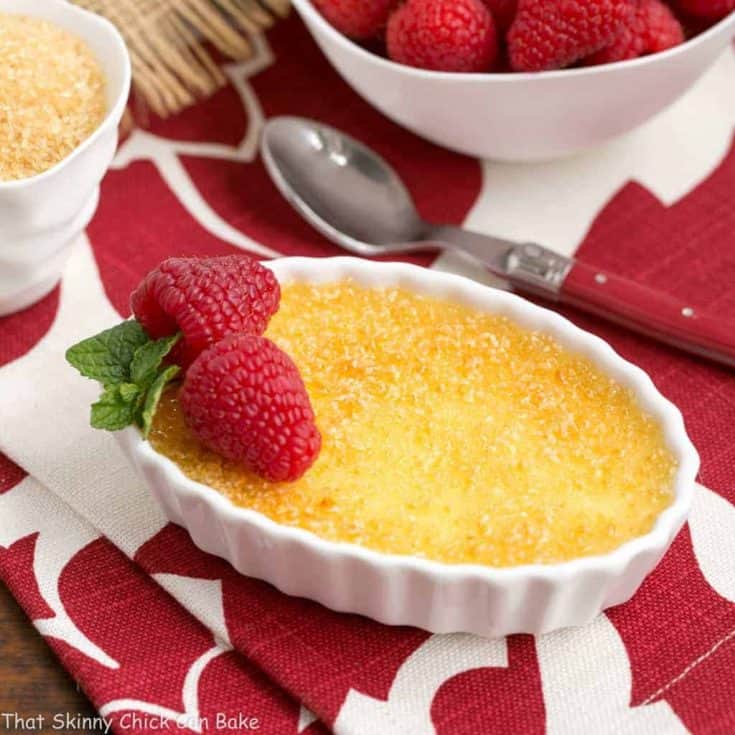 The Recipe:
Classic Crème Brûlée
Prep Time 15 minutes
Cook Time 50 minutes
Total Time 1 hour 5 minutes
Yield 9 servings
A creamy vanilla custard topped with a crisp "burnt" sugar topping
Ingredients
4 cups heavy cream
1 vanilla bean, slit in half lengthwise and seeds scraped
3/4 cup sugar
Pinch of salt
7 large egg yolks
Turbinado sugar (sugar in the raw)
Instructions
Preheat oven to 300º.
In a saucepan, heat cream, vanilla pod, vanilla seeds, sugar, and salt over medium heat, occasionally stirring, till bubbles form around the perimeter. Do not bring to a boil. Remove from heat.
Whisk eggs in a large glass measuring cup (or bowl). Temper the yolks by adding a small amount of hot cream to the yolks while whisking. Repeat a few more times, making sure to add the cream mixture very slowly and to keep whisking so the yolks do not cook.
Pour tempered yolks back into the pan and whisk till smooth. Strain the mixture into a large measuring cup (you may reuse the cup utilized for tempering) to remove the vanilla pod, seeds, and any bits of cooked yolk.
Place nine 8-ounce ramekins in a roasting pan. Fill the ramekins to the top with custard. Carefully place the pan in the oven, and pour enough hot water in the roasting pan to come halfway up the ramekins. Bake until custard is set and jiggles slightly when shaken, about 50 minutes.
Remove from the water bath and let cool for a half hour or so. Chill for at least 2 hours and up to 3 days. Before serving, sprinkle with turbinado sugar and use a kitchen torch to caramelize. In a pinch, you can also place under the broiler (about 4 inches from the element) and broil until the sugar is melted. Watch VERY carefully.
Place each on a small plate to serve.
I used shallow ramekins and baked for about 40 minutes.
Recommended Products
As an Amazon Associate and member of other affiliate programs, I earn from qualifying purchases.
Nutrition Information:
Yield:
9
Serving Size:
1 creme brulee
Amount Per Serving:
Calories: 488
Total Fat: 42g
Saturated Fat: 26g
Trans Fat: 1g
Unsaturated Fat: 14g
Cholesterol: 285mg
Sodium: 100mg
Carbohydrates: 20g
Fiber: 0g
Sugar: 20g
Protein: 8g
Note: This post may contain affiliate links; view
my Disclosure Policy
for details. I earn a small percentage from any purchase you make by clicking on these links at no extra cost to you.