White Chocolate Crème Brûlée
This luscious White Chocolate Crème Brûlée is a decadent twist on the classic custard with a crusted sugar topping! A rich, delicious dessert for any special occasion.
Learn How to Make Crème Brûlée so that you can serve this restaurant-worthy dessert at home!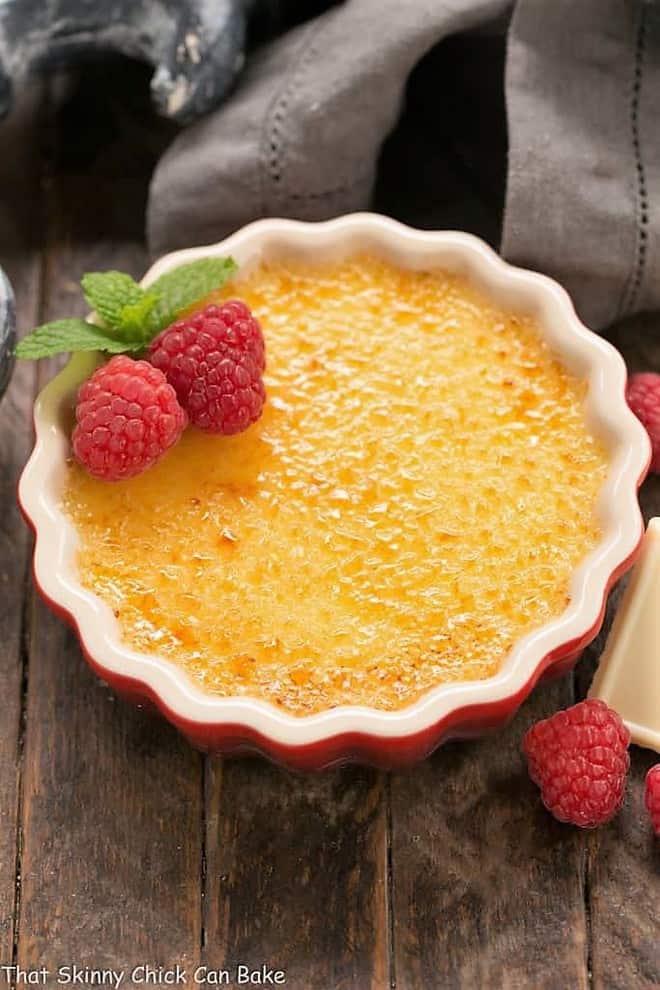 Why You Must Make this Crème Brûlée
It's super creamy and utterly delicious!
This recipe is based on Le Cirque's recipe and, according to my husband, this is better than any restaurant version he's tasted!
It's a wonderful way to enjoy white chocolate!!
The first time I made this dreamy White Chocolate Crème Brûlée, I inadvertently got a crème brûlée facial in the process (when removing one of the custards from the water bath). It was definitely worth repeating minus the drenching. While we had a stash in the fridge, Bill was quick to let me know how fabulous it tasted. I must agree, it's super creamy and utterly delicious!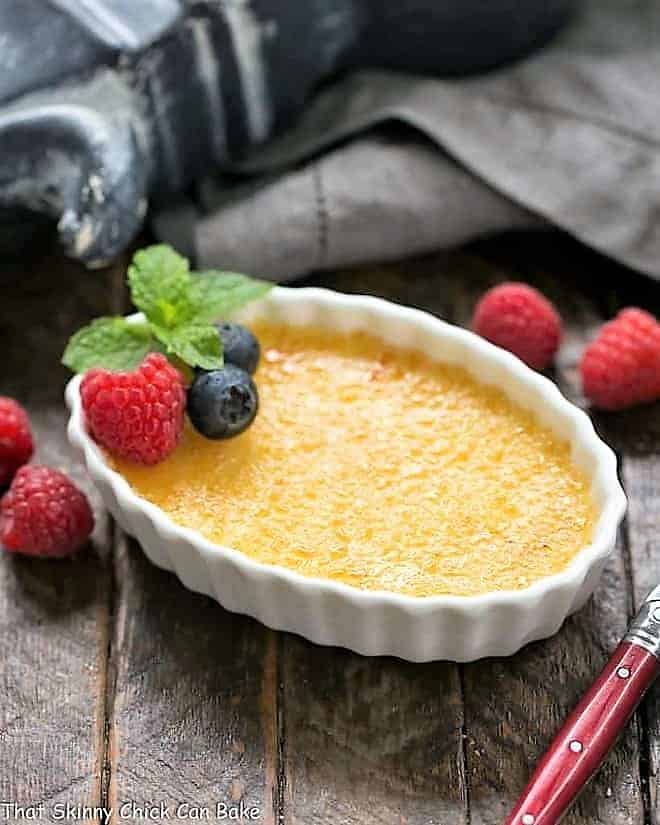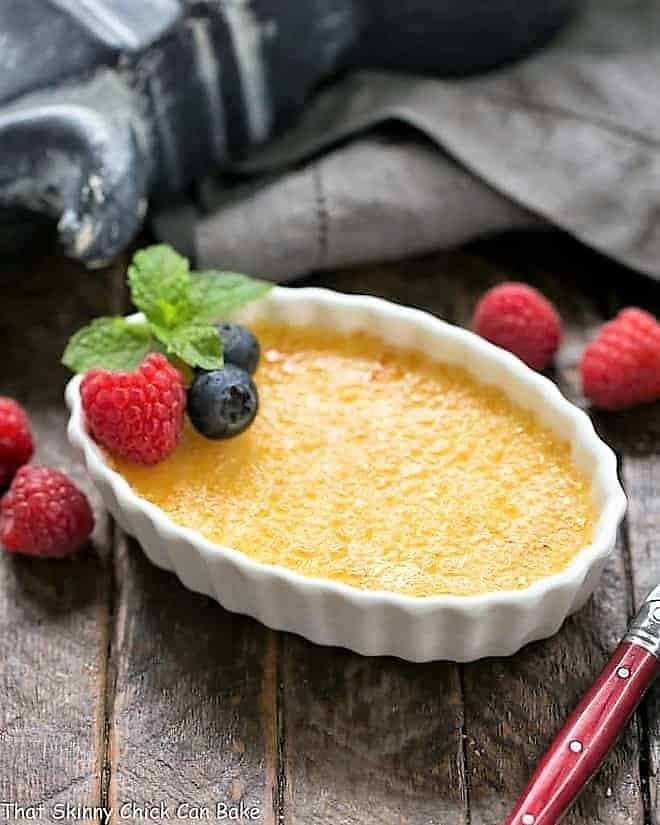 Expert Tips:
Since classic creme brulee is one of Bill's favorite desserts, I've made it dozens and dozens of times. Here are some tips I've learned along the way:
PRO-Tip: Slowly drizzle the hot cream into the egg mixture while whisking constantly. Start with just a few drops at a time. If you go too fast the eggs will curdle. Then when you strain the mixture, all the egg that should be giving the creme brulee its structure will be tossed out in the form of scrambled eggs (been there, done that)!
Baking times will differ depending on the type of ramekins you use. The deeper round versions (affiliate links) 4 oz. Porcelain Ramekins) will take longer than the flat, oblong dishes ( Creme Brûlee Ramekin Set) (affiliate links).
PRO-Tip: Bake in a bain marie or water bath. This allows the custard to bake at a consistent temperature, ensuring you have a silky, creamy result.
I use a deep dish pizza pan or my roaster for my bain marie. The handles on the roaster are handy for moving the water-filled pan in and out of the oven more easily.
For the burnt sugar topping, I use sugar in the raw or Turbinado Sugar. Brown sugar would work too, but I'd suggest leaving it out to dry for a few hours before sprinkling it over the custard.
You can use your broiler to melt the sugar, just make sure to watch it carefully so the sugar doesn't burn. You want it melted and lightly browned.
I like using a Culinary Torch to brulee the sugar. You have much more control compared to the broiler.
PRO-Tip: Save your leftover egg whites to make a pavlova, meringue cookies or macaroons! And here's a link to 50 Egg White Recipes!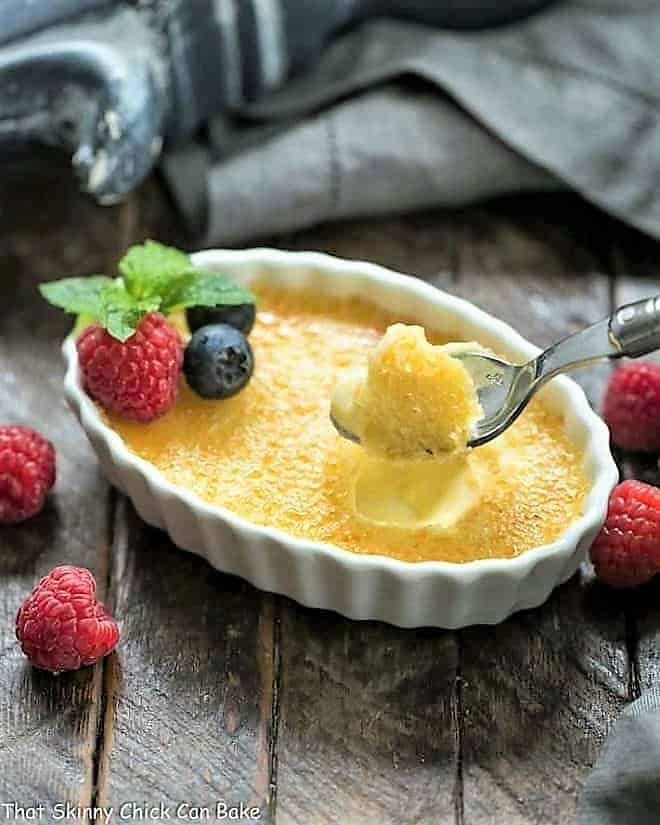 Frequently Asked Questions
What is Crème Brûlée? 
Crème Brûlée is a rich, baked vanilla custard that has a  thin, crisp burnt sugar topping. No one is certain of the exact origin, but the first printed recipe was in a French cookbook dated 1691, and the chef at Versailles made it like we do today. Well, except he didn't have a mini torch or oven broiler to melt the sugar topping!
What's the Difference Between Custards and Puddings?
Custards and Puddings are made from similar ingredients, but custards are usually baked and puddings are usually cooked on the stovetop. Puddings may contain starch like flour or cornstarch in addition to eggs to thicken. Due to these differences, custards are flat-topped, firmer, and puddings are fluffier.
How Do You Serve Creme Brulee?
It can be served warm, room temperature, or cold. When I discovered the Le Cirque crème brûlée recipe years ago, this dessert immediately became a family favorite. We always serve both versions cold.
Why Does Creme Brulee Taste Eggy?
Overcooking any custard will amplify the eggy flavor. If the internal temperature goes above 175°, there may be more of an eggy or sulphuric taste.
Make sure to remove them from the oven when the very center of the custards still have a slight jiggle. There will be carryover cooking time from the residual heat of the ramekins to finish the job.
You May Also Like:
Stay in touch through social media @ Instagram, Facebook, and Pinterest. Don't forget to tag me when you try one of my recipes! And if you love the results, please give it a 5-star rating in the recipe card. Note: As an Amazon Associate, I earn from qualifying purchases. Visit my Amazon Store for my favorite products.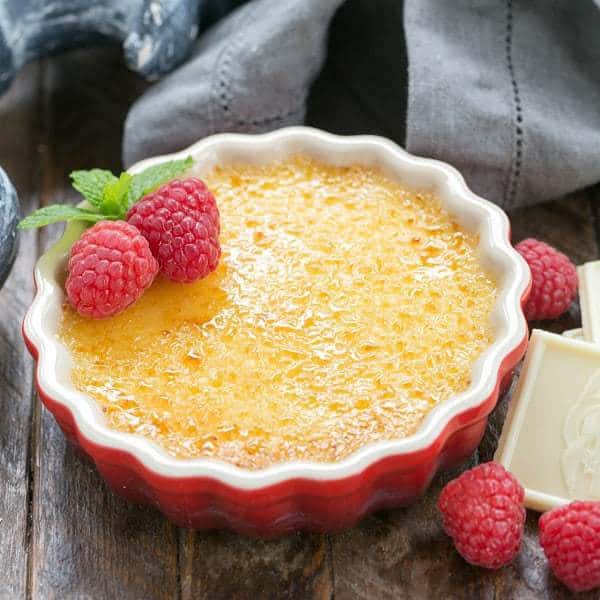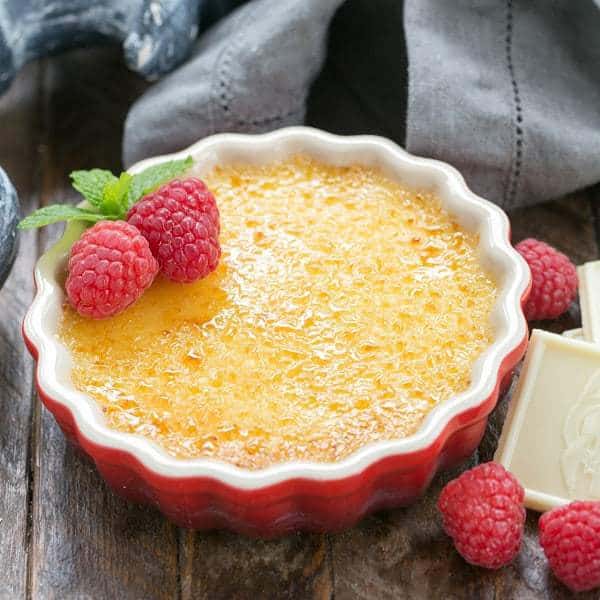 The Recipe:
White Chocolate Crème Brûlée
Prep Time 15 minutes
Cook Time 55 minutes
Total Time 1 hour 10 minutes
Yield 4
A twist on the classic creme brulee with the addition of white chocolate!
Ingredients
4 egg yolks
¼ -⅓ cup sugar (white chocolate is very sweet so you may prefer the smaller amount of sugar)
2 cups heavy cream
4 ounces whited chocolate, chopped
½ teaspoon vanilla
Turbinado sugar (sugar in the raw)
Berries and fresh mint to garnish, optional
Instructions
⅓Preheat the oven to 300º.
Whisk together yolks and sugar in a medium bowl. In a saucepan, heat cream to a simmer. Add white chocolate to cream and whisk until chocolate melts.
Drizzle a few tablespoons of cream/chocolate mixture into the yolks, whisking constantly to prevent the egg from cooking. Add the rest of the cream to the yolks and whisk to combine.
Strain liquid through a sieve into a large glass measuring cup. Pour into four 6-ounce ramekins. Place ramekins into a baking pan and pour hot water into the pan so that it is 1-1 ½ deep.
Bake for 45-55 minutes or the till centers only jiggle slightly when moved. Remove ramekins from the water bath (carefully!!). Cool, then refrigerate till chilled.
To serve, sprinkle with turbinado sugar and broil for 3-4 minutes until the sugar is caramelized or melt sugar with a kitchen torch.
Notes
Recipe adapted from Ghirardelli.
Recommended Products
As an Amazon Associate and member of other affiliate programs, I earn from qualifying purchases.
Nutrition Information:
Yield:
4
Serving Size:
1
Amount Per Serving:
Calories: 698
Total Fat: 56g
Saturated Fat: 34g
Trans Fat: 1g
Unsaturated Fat: 18g
Cholesterol: 325mg
Sodium: 64mg
Carbohydrates: 43g
Fiber: 3g
Sugar: 38g
Protein: 9g
Note: This post may contain affiliate links; view
my Disclosure Policy
for details. I earn a small percentage from any purchase you make by clicking on these links at no extra cost to you.