Strawberry Topped Chocolate Pavlova
Strawberry Topped Chocolate Pavlova with mascarpone cream and sweet, ripe strawberries is an exquisite summer dessert that is amazing with seasonal berries!
A crisp meringue shell with a marshmallow-like interior is the delicious base for this sweet berries and cream Pavlova Recipe!

Why You Must Make
A pavlova makes a beautiful, elegant presentation with the chocolate meringue shell, billowy white whipped cream, and vibrant red strawberries.
It's just as delicious as it looks!
My friends had never seen nor eaten a pavlova until I served this. You will wow your guests by serving a pavlova dessert.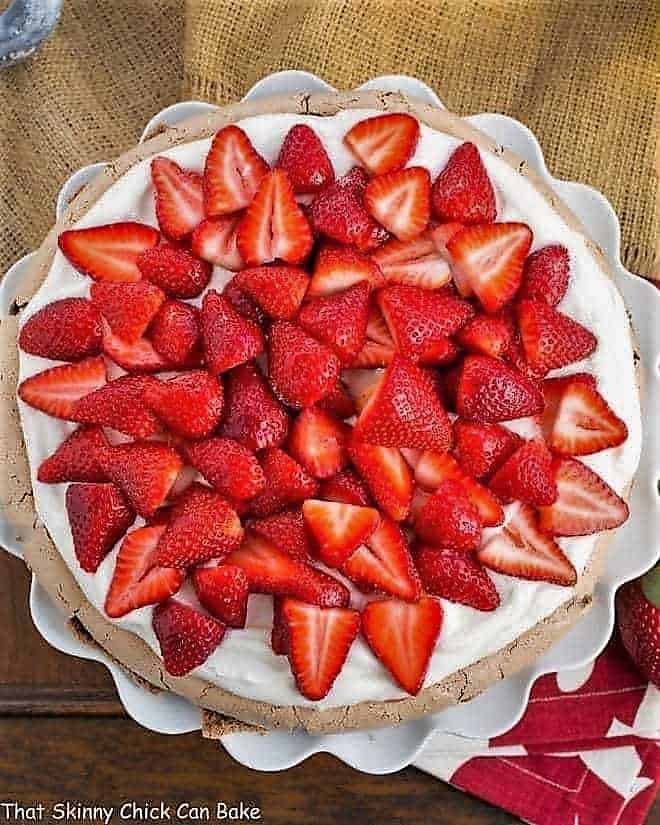 Expert Tips
PRO-Tip: Your egg whites must be at room temperature for the best volume.
PRO-Tip: Your bowl and beaters must be scrupulously clean. Any speck of oil will prevent the whites from beating properly.
In the same vein, there must be no egg yolk in the whites. The fat in the egg yolk will also prevent the whites from beating properly.
Use superfine sugar to help the sugar dissolve into the whites. You can make your own by whizzing regular, granulated sugar in a food processor.
PRO-Tip: Do not overbeat your egg whites (they should never look dry) or your pavlova will crack.
PRO-Tip: Never beat your whites higher than low or medium. This takes patience, but over-whisking will cause your pavlova to crack and collapse.
Add your sugar slowly. Begin when the egg whites just become soft and foamy. If you feel any granules of sugar in your meringue, it will cause your baked pavlova to weep (develop water droplets on the surface). This can also occur when baking on a humid day.
PRO-Tip: Use a dab of the egg white mixture under each corner of the parchment paper so it adheres to the baking sheet.
After the hour of baking, turn off the oven, open the door, and let the meringue cool off in the oven. PRO-Tip: If you decide to store the pavlova in the oven, put a reminder note on the oven door so you don't accidentally turn on the oven (been there, done that!).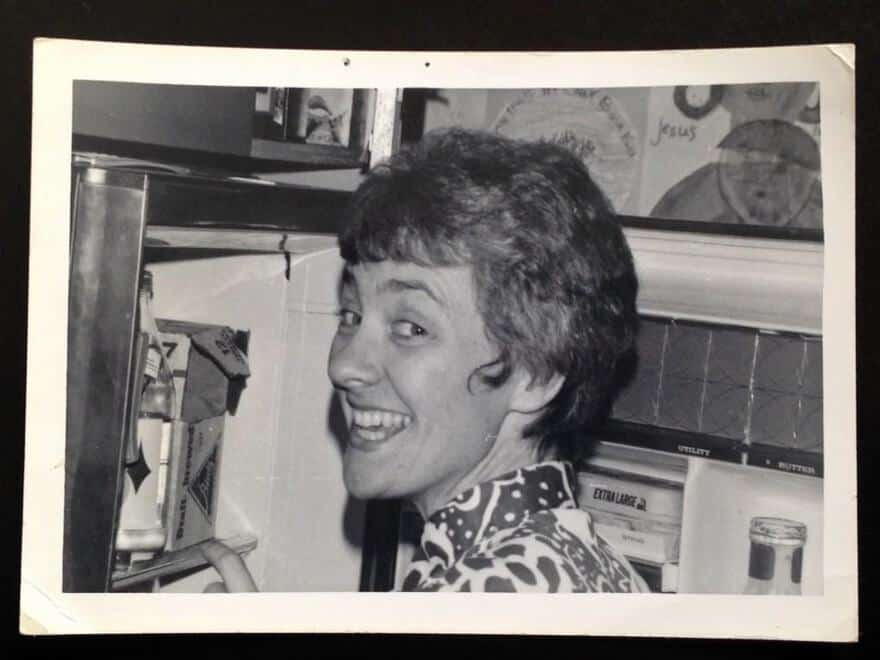 Chocolate Pavlova Recipe
The first pavlova I ever made was Nigella's chocolate pavlova with raspberries (recipe link below). I added some cocoa powder and semisweet chocolate to the meringue, then topped the crispy shell with a heavenly cloud of whipped cream and loads of ripe red raspberries. The family was instantly smitten.
The recipe morphed. Any kind of berries was fair game. And then I added some mascarpone to the cream topping. It was now even more swoon-worthy. When I hit the market this week, the raspberries were sad and pale, but the strawberries were luscious and fragrant. A strawberry topped chocolate pavlova would be on our menu. Another winner!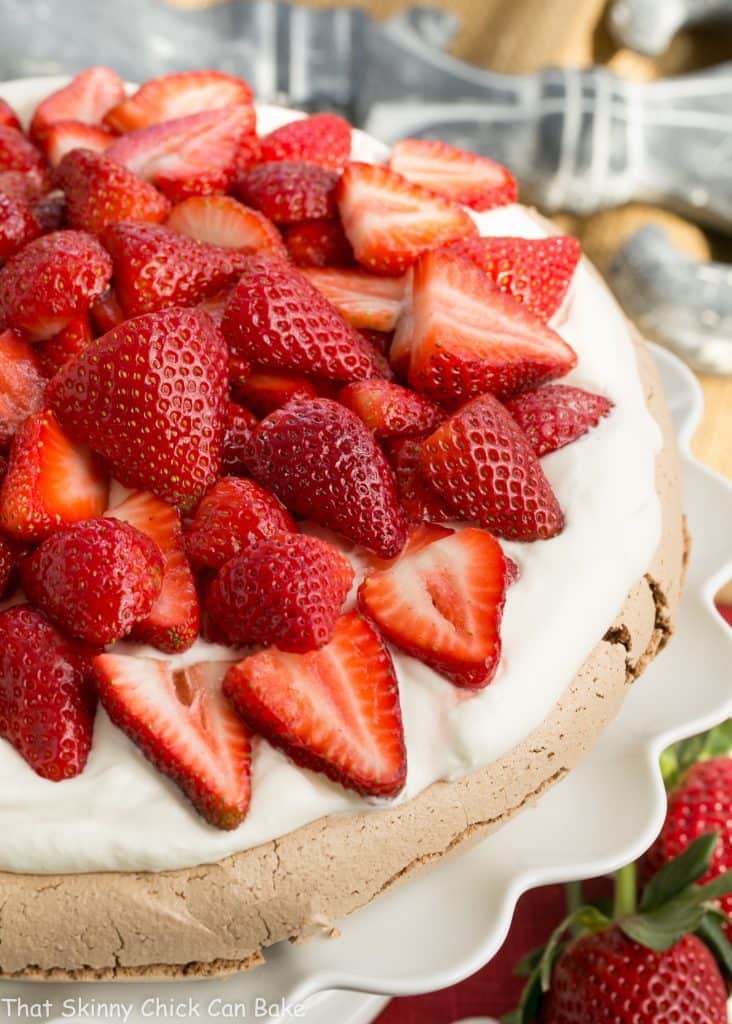 Frequently Asked Questions
What Is a Pavlova?
A pavlova is a large meringue covered with cream and fruit. It was named for Anna Pavlova, the famous ballerina who visited Australia and New Zealand in the 1920s. Both countries would love to take credit for inventing the recipe. New Zealand seems to have gotten the edge in this contest as they have the first published recipe from the 1920s It wasn't until 1940 for Australia's first cookbook entry.
How Does a Meringue Differ from a Pavlova?
Pavlova and Meringues are both egg white desserts. Meringue cookies, though, have a completely different texture compared to a pavlova. The cookies are crisp all the way through and will melt in your mouth. A pavlova has what Nigella Lawson calls "a squidgy" interior, chewy and marshmallow-like. The exterior of a pavlova, though, is crisp.
You May Also Like:
These recipes with egg whites are terrific when you've made a custard or creme brulee that uses only yolks and there are leftover whites.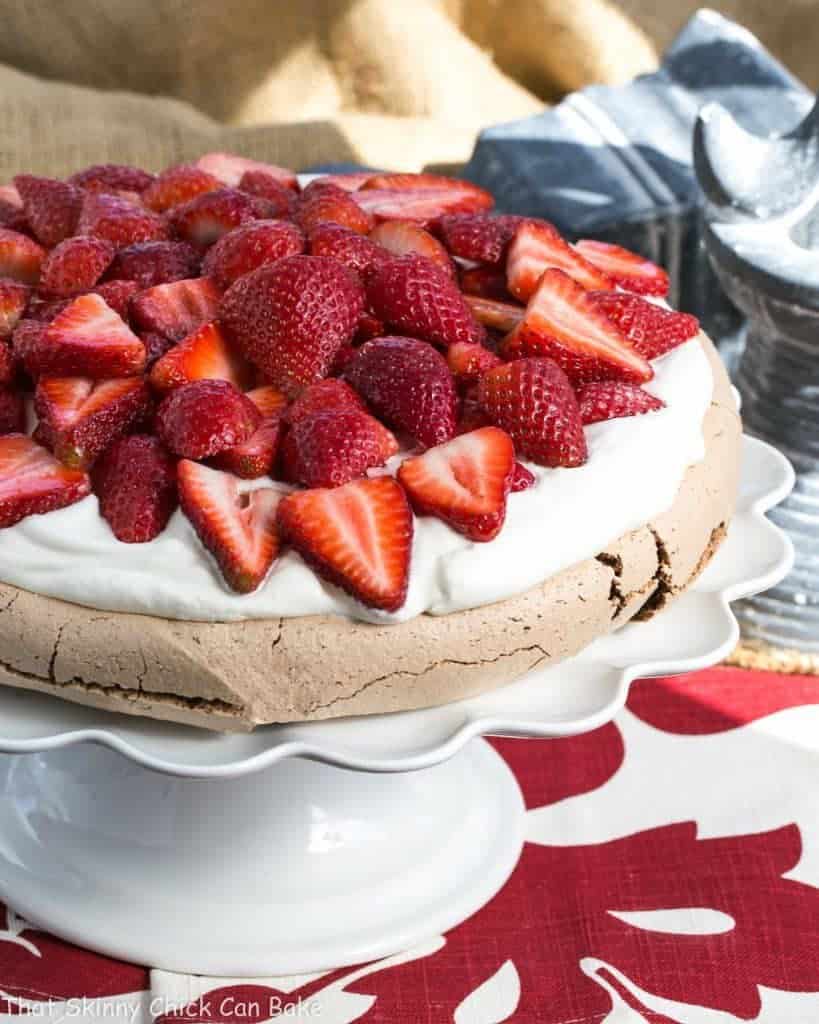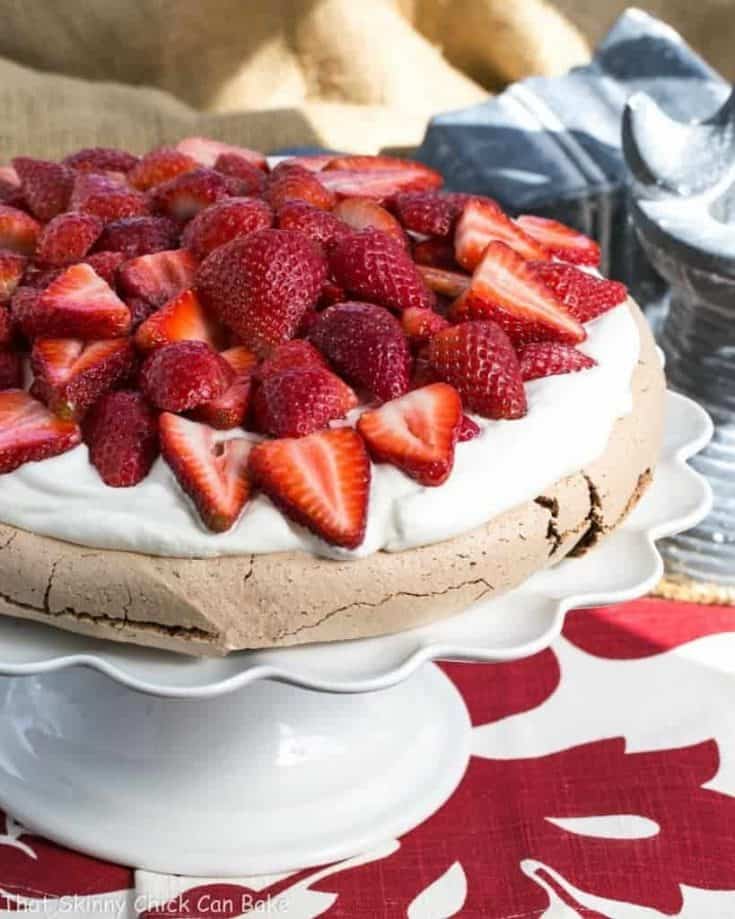 The Recipe:
Chocolate Pavlova Recipe
Prep Time 20 minutes
Cook Time 1 hour 15 minutes
Total Time 1 hour 35 minutes
Yield 10 servings
A large cocoa meringue topped with whipped mascarpone cream and sliced ripe strawberries
Ingredients
6 egg whites, at room temperature
1/4 teaspoon salt
1 1/2 cups superfine sugar (I whiz granulated sugar in the food processor for a minute or so)
1/4 cup good quality cocoa powder
1 teaspoon raspberry or balsamic vinegar (I used black currant balsamic vinegar)
1/2 teaspoon vanilla extract
2 ounces semi-sweet chocolate, finely chopped
1 1/2 cups heavy cream
1/2 cup Mascarpone cream
1/2 cup powdered sugar
1 teaspoon vanilla
4 cups sliced strawberries, gently tossed with a tablespoon of sugar
Instructions
Preheat the oven to 350º. Line baking sheet with parchment. Draw a 9-inch circle on parchment, then flip the paper over. Set aside.
Beat the egg whites till soft peaks form. Add salt, then slowly add the sugar, while continuing to beat, until meringue is stiff and glossy. Sift cocoa powder over the meringue, then add vinegar, vanilla, and chopped chocolate. Fold well till combined.
Pile the meringue onto the baking sheet, keeping it within the 9-inch circle. Smooth top and edges with an offset spatula.
Place in oven and immediately decrease the temperature to 300º.
Bake for 1-1¼ hours till dry on edges and top. Pavlova will appear cracked.
Turn off the oven, open the oven door, and allow it to cool completely.
To serve, carefully flip onto the serving plate. Whip cream with powdered sugar, vanilla. Fold in mascarpone. Top pavlova with whipped cream, then sliced strawberries.
Notes
Make sure all your utensils are free from oil and grease or the egg whites won't whip properly. This includes contamination from egg yolk, which contains fat.
Recipe adapted from Nigella Lawson.
Recommended Products
As an Amazon Associate and member of other affiliate programs, I earn from qualifying purchases.
Nutrition Information:
Yield:
10
Serving Size:
1 slice
Amount Per Serving:
Calories: 443
Total Fat: 26g
Saturated Fat: 16g
Trans Fat: 1g
Unsaturated Fat: 8g
Cholesterol: 74mg
Sodium: 196mg
Carbohydrates: 49g
Fiber: 2g
Sugar: 45g
Protein: 5g
Note: This post may contain affiliate links; view
my Disclosure Policy
for details. I earn a small percentage from any purchase you make by clicking on these links at no extra cost to you.