Strawberry Pavlova
With a large "squidgy" meringue base, a billowy mound of whipped cream, and balsamic strawberries, this Strawberry Pavlova is one showstopping dessert!
Pavlova Recipes are terrific for summer gatherings, or anytime you can find gorgeous, ripe, fragrant berries. Made with simple, obtainable ingredients, a pavlova dessert will always bring oohs and ahs when you serve it!!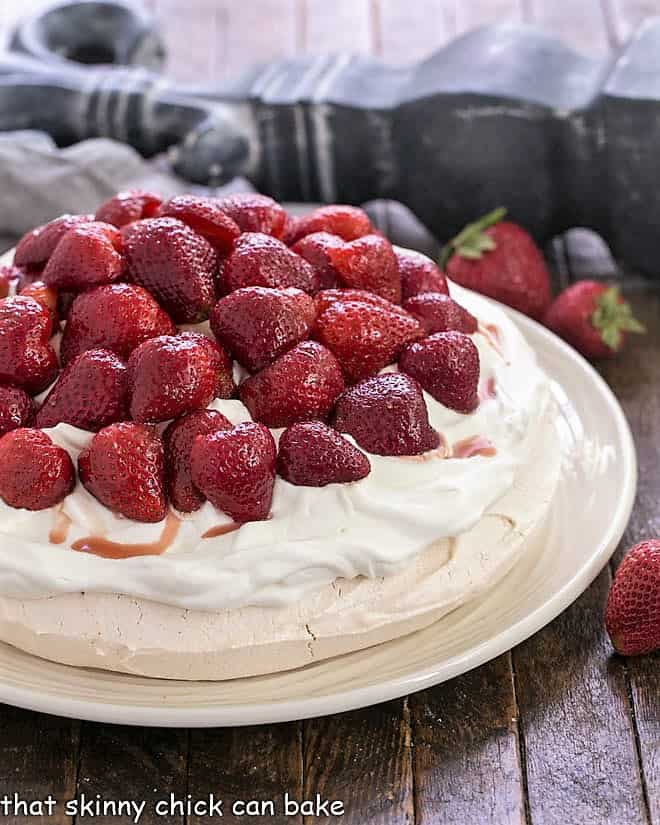 Why You Must Make
We rarely had fancy desserts growing up, but do remember one luscious creation involving a meringue base, lemon curd topped with whipped cream. That was my introduction to pavlova.
Years later, I joined a cooking board; and one of Nigella's recipes, a chocolate pavlova covered with beautiful red raspberries and cream, was receiving tons of praise.
After that, I made my first pavlova for a neighborhood pitch in one Memorial Day, and it was gone in a flash. I had to make a second for my disappointed family later that day. It was a show-stopper!
Ingredient Notes
Egg whites – Must not be contaminated by even a speck of egg yolk or they won't whip properly.
White sugar, superfine is preferred for the pavlova as it dissolves more easily. Domino makes a version that can often be found near the granulated sugar.
Table salt, just a pinch
Cornstarch
White wine or champagne vinegar for the pavlova, and a good aged balsamic vinegar for the strawberries
Real vanilla extract
Fresh, ripe strawberries
Heavy whipping cream – At least 36% butterfat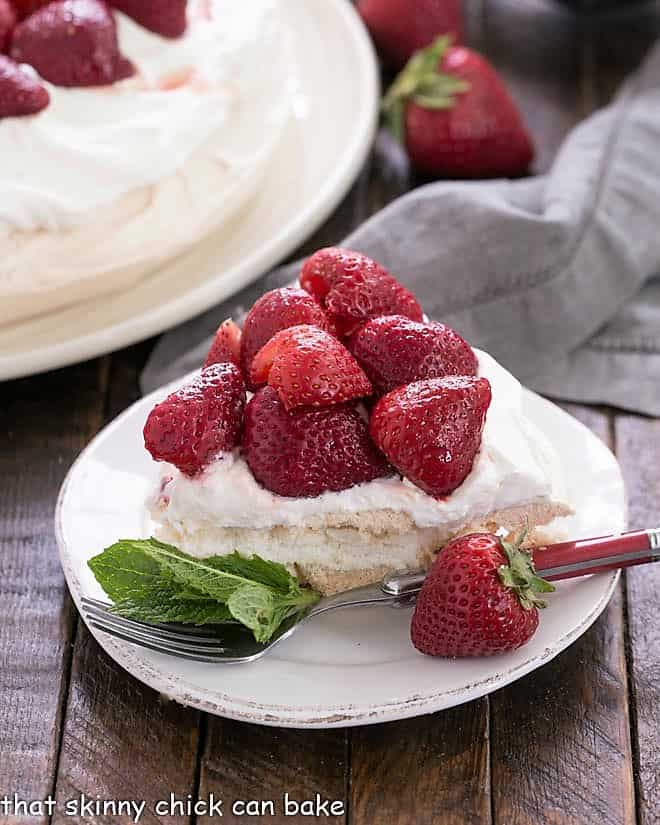 Expert Tips
Like with simple meringue cookies, there are a few things you must know before baking up a pavlova.
PRO-Tip: First, when working with egg whites, your mixing bowl and beaters must be completely free of any grease or oil or the whites will not whip properly.
I make sure everything has been run through the dishwasher, to ensure grease-free dishes.In the same vein, when separating the egg whites from the yolks, you must take care that no yolk, even a tiny speck, contaminates the whites.
Yolks have fat and will also prevent your whites from whipping to their potential. If you contaminate an egg white or whites, you must toss all the whites or save them for another use.
PRO-Tip: Eggs separate best when cold, but the egg whites beat better when they're at room temperature. Plan ahead, and separated your eggs ahead of time, then keep the egg whites out at room temperature. I often set the bowl of egg whites into another bowl of very warm (not boiling as you could cook the whites) water to help take the chill off more quickly.
PRO-Tip: I bake my pavlova on a parchment-lined baking sheet. I draw a circle, using a cake pan as a template, on the parchment.
Then I flip the parchment over and use the circle as a guide for spreading the beaten egg whites.
A pavlova is baked at a lower-than-average temperature for a longer time period. Most are then left in the oven, with the heat off, to cool and dry. This recipe calls for the oven to be turned off after baking, then left in the oven to cool. This helps dry out the meringue, though the inside is still the classic marshmallow texture.
Add the toppings shortly before serving. The toppings will soften the meringue shell, which isn't a bad thing, but the preferred way to eat is when freshly made.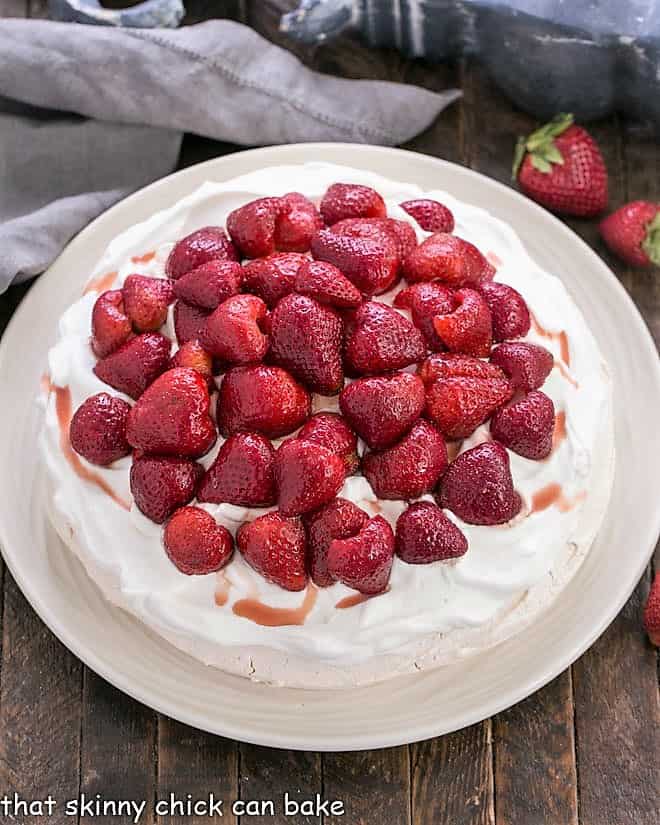 Frequently Asked Questions
What is a Pavlova?
If you're like me, you might refer to a pavlova as a giant meringue or egg white cookie. According to the Food Lover's Companion:
A "pavlova consists of a crisp meringue base topped with whipped cream and fruit such as strawberries, passion fruit, and kiwi."
The debate continues on whether the pavlova was created in Australia or New Zealand. But it is common knowledge that the pavlova was named after the Russian ballerina, Anna Pavlova, after she toured both countries in 1926.
How do you store a pavlova?
The meringue base can be made ahead of time and stored in an airtight container, so any humidity in the air won't soften the meringue. The oven is a terrific spot to store a baked pavlova shell, but make sure to put a reminder on the oven so it's not turned on by accident. I know this from experience!!
Once the toppings are applied, the pavlova must be refrigerated. It's best to top with the whipped cream and berries close to serving time. Leftovers must also be refrigerated.
Can you freeze a pavlova?
Yes, it is possible to freeze a pavlova, but since a baked meringue is quite fragile, it will probably not be without a few chips or broken pieces. But if you're careful, any flaws can be hidden with a mound of whipped cream.
To freeze a pavlova shell, make sure it's cooled down to room temperature. Nigella suggests freezing it first on the baking pan, then when it's frozen, wrap in a couple of layers of plastic wrap, then foil. Place in a safe spot in the freezer where it won't get crushed. Store up to a month for the best results.
You May Also Like:
Stay in touch through social media @ Instagram, Facebook, and Pinterest. Don't forget to tag me when you try one of my recipes! And if you love the results, please give it a 5-star rating in the recipe card. Note: As an Amazon Associate, I earn from qualifying purchases. Visit my Amazon Store for my favorite products.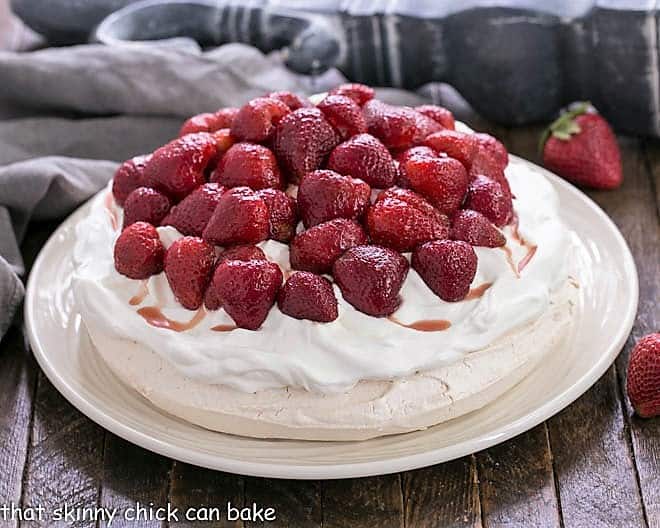 The Recipe:
Strawberry Pavlova
Prep Time 20 minutes
Cook Time 1 hour 15 minutes
Total Time 1 hour 35 minutes
Yield 8 servings
A stunning dessert! A large meringue is topped with sweetened whipped cream and balsamic strawberries.
Ingredients
For the meringue:
4 egg whites
Pinch of salt
1 1/4 cups superfine or regular granulated sugar
2 teaspoons cornstarch
1 teaspoon white-wine vinegar
1/2 teaspoon vanilla extract
For the topping:
1 pound strawberries, hulled and halved or quartered
1/2 teaspoon vanilla extract
1/2 teaspoon high-quality balsamic vinegar
1-2 teaspoons sugar
2 cups heavy cream
1/2 cup sugar
Instructions
To prepare meringue: heat oven to 350º. Line a baking sheet with parchment paper, and draw a circle on the paper using an 8- or 9- inch cake pan as a guide. In the bowl of an electric mixer, combine egg whites and salt. Begin beating at low speed, slowly increasing to high. Continue until satiny peaks begin to form; gradually beat in sugar a tablespoon at a time until the meringue is stiff and shiny.
Sprinkle in cornstarch, white-wine vinegar and vanilla, and fold in gently. Mound onto parchment within the circle, and shape into a disk, flattening the top and smoothing sides. Place in oven, and immediately reduce heat to 300º. Bake 1 hour 15 minutes. Turn off heat, and allow the meringue to cool completely in the oven.
To prepare topping: In a mixing bowl, combine strawberries, vanilla, balsamic vinegar, and sugar. Cover with plastic wrap. Let sit at room temperature at least 15 minutes and up to 2 hours.
To serve, invert meringue onto a plate, and carefully peel off parchment. Whip cream with sugar until it is thick enough to hold peaks, and spread it evenly over meringue. Cover cream with strawberries. Serve immediately.
Notes
I add Whip It to stabilize the whipped cream. If dessert will be eaten on the day it is made, this is not necessary.
Adapted from Nigella Lawson.
Nutrition Information:
Yield:
8
Serving Size:
1
Amount Per Serving:
Calories: 383
Total Fat: 22g
Saturated Fat: 14g
Trans Fat: 1g
Unsaturated Fat: 6g
Cholesterol: 67mg
Sodium: 61mg
Carbohydrates: 45g
Fiber: 1g
Sugar: 43g
Protein: 4g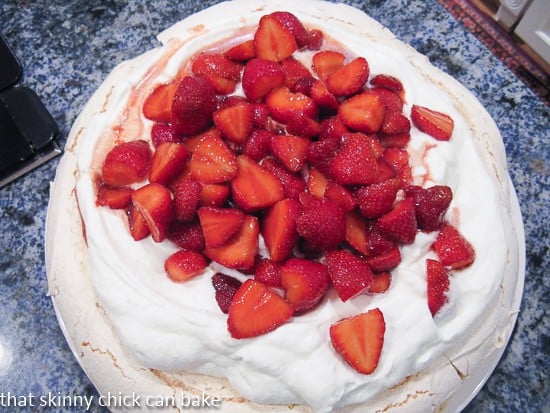 Note: This post may contain affiliate links; view
my Disclosure Policy
for details. I earn a small percentage from any purchase you make by clicking on these links at no extra cost to you.