Roasted Broccoli Frittata
This easily adaptable Roasted Broccoli Frittata can be whipped together with any leftover vegetables and cheeses in your fridge. Perfect for breakfast, lunch, or even dinner. Using frozen broccoli made it super easy!
I'd never thought about making an Egg Frittata with frozen vegetables until a friend mentioned she'd roasted broccoli florets right from the freezer. That was a game-changer! I eat a lot of omelets and wanted to shake things up a bit. This baked frittata recipe was a hit!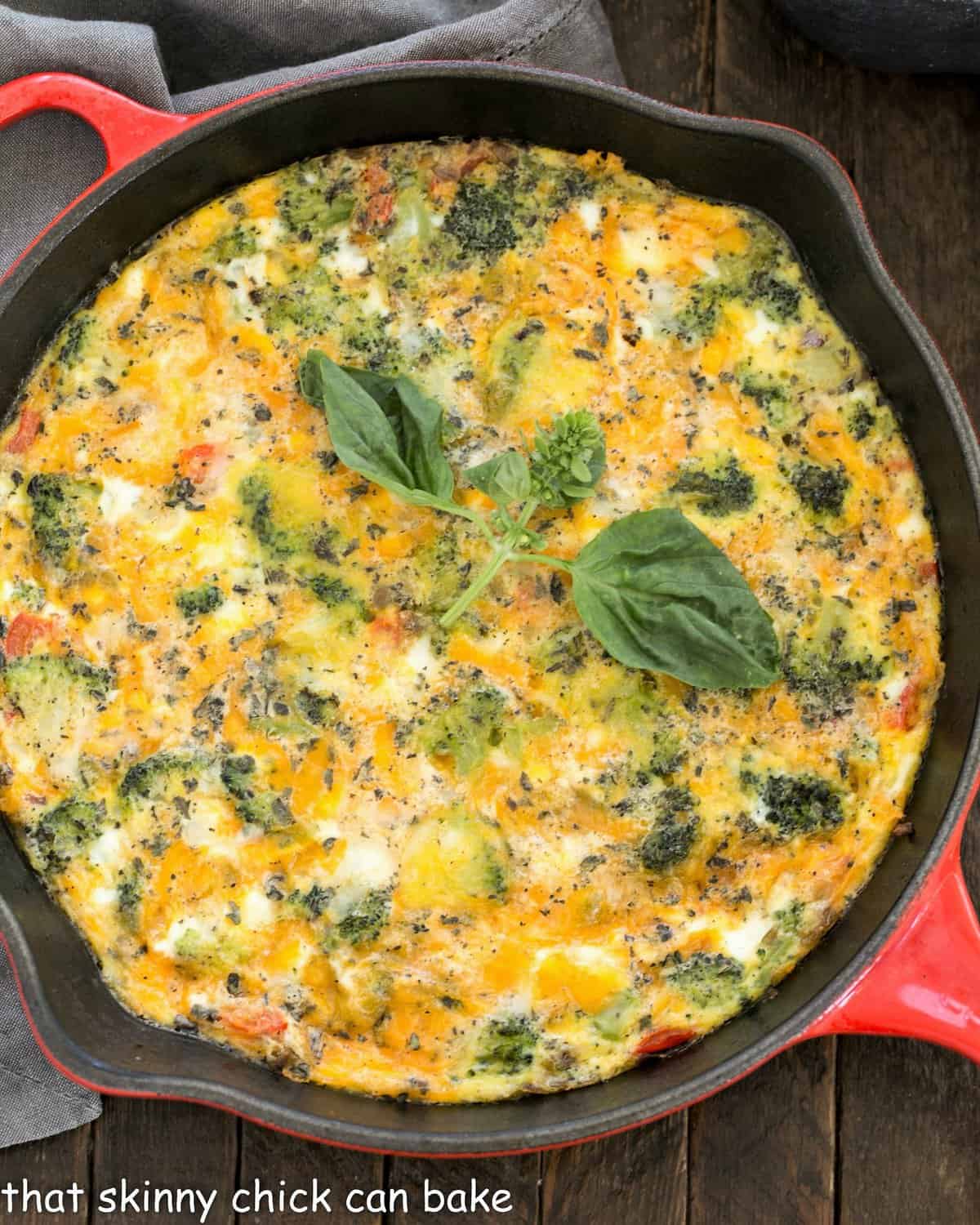 Why You Must Make
It can easily be made with eggs, odds, and ends of vegetables, and cheeses in your refrigerator.
It's relatively low-carb, making it a healthy breakfast or brunch dish.
Roasting your vegetables first will soften them along with enhancing their flavor.
To make a frittata, start with selecting your fillings. A nice combination of vegetables, including an aromatic, and cheese is my basic formula. For this frittata, our ingredients included roasted broccoli, shallots, red bell peppers, mozzarella cheese, cheddar cheese, milk, and eggs.
Using leftover vegetables and odds and ends in your refrigerator can result in a scrumptious vegetable frittata!

How to Make
Start by cooking your vegetables. If you don't have any leftover roasted broccoli, that should be the first task. I used a 10.8-ounce bag of frozen broccoli florets, roasted them frozen, then chopped them into bite-sized pieces, once cooled.
Whisk together the eggs, milk, or cream, plus any seasonings. Add the grated cheese and mix. Set aside. I added dried basil, but feel free to use whatever goes well with your ingredient selections.
Next, heat the oil in a cast iron or ovenproof skillet. Cook the aromatics, like onion, garlic, or shallots first, then any additional vegetables until soft. If using a variety of vegetables, add those that take longer to cook first, then add the softer or leafy vegetables after the others are partially cooked.
Once all the vegetables are cooked, add any other ingredients like the roasted broccoli, then add the egg mixture and cook a couple of minutes until the edges start to set. Pop in the oven to finish cooking.
Expert Tips
If you have eggs, milk, some odds and ends of cheeses, and vegetables, you can make a frittata. Save the odds and ends of your dinner and repurpose them for breakfast. One of the first frittatas I ate incorporated linguine from the night before. There are no right or wrong ingredients!
Any sized eggs will work. If you accidentally bought regular instead of large eggs, just add a couple of extras.
As long as your vegetables are pre-cooked and, in your opinion, taste good together, add them to your frittata. Cut them into bite-sized pieces.
Most varieties of cheese will work. Even a bit of blue cheese plus leftover roasted, diced potatoes would be delicious. Melty cheeses like cheddar, Monterey jack, or mozzarella, are some of my favorites for an egg frittata. But grated Parmesan would complement any of those.
I keep finely chopped onions in my freezer, so I utilized those. A shallot or green onions are terrific alternatives. Garlic is always wonderful.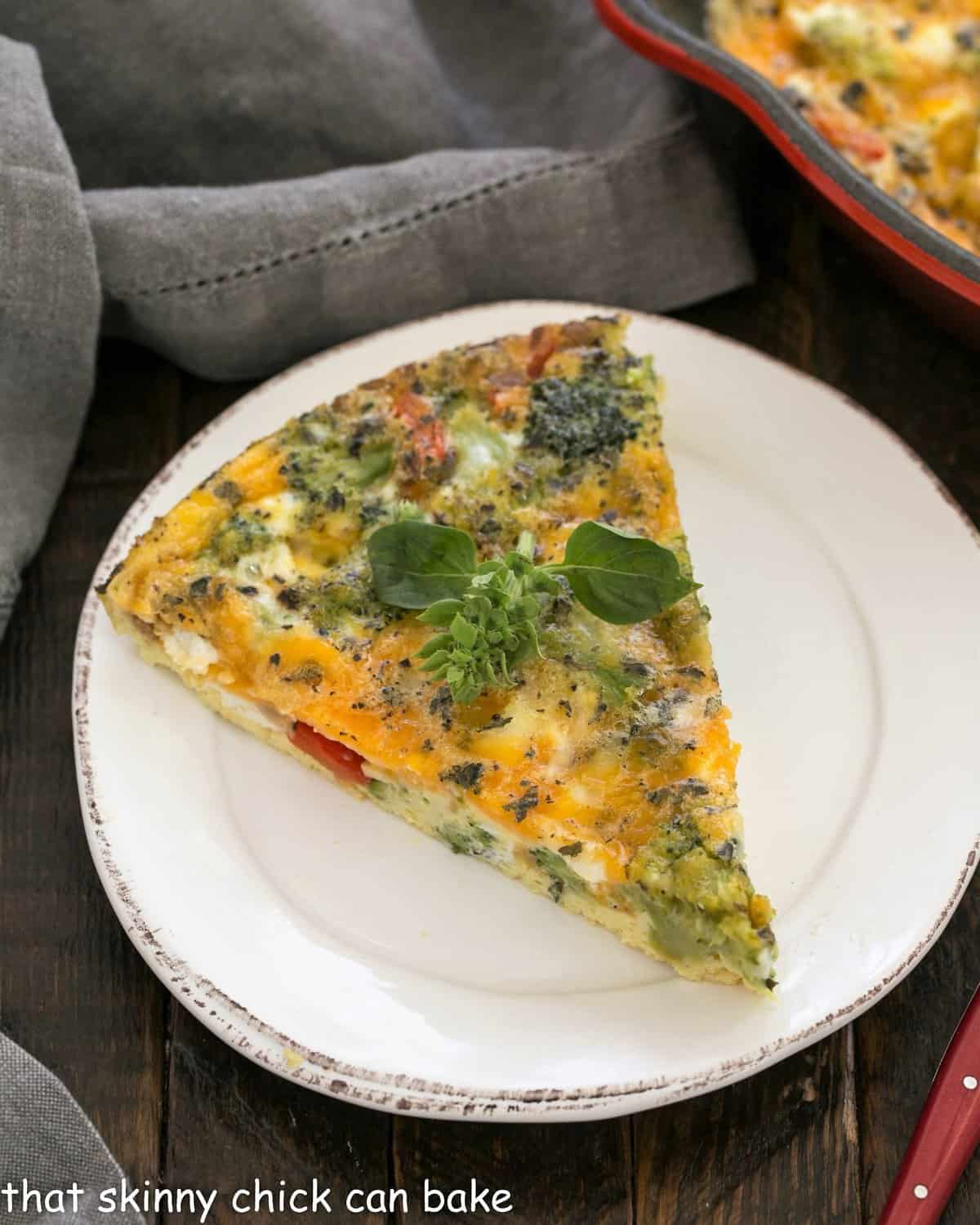 How to Roast Frozen Vegetables
This method is genius. No need to run to the market for fresh vegetables to enjoy the marvelous, delicious, slightly sweet flavors of roasted vegetables.
There's no need to defrost your frozen vegetables.
Make sure they're all similar sizes so they will be done at the same time.
Place them in a large Ziploc bag or bowl with a couple of tablespoons of olive oil. Do not scrimp on the oil as there must be enough to coat the frozen veggies.
Preheat your oven to 425-450 degrees.
Spread the oiled vegetables out on a large baking sheet (metal not glass) and season as desired with kosher salt and freshly ground black pepper. Do not overcrowd the pan.
Toss halfway through the roasting time.
Roasting time will vary depending on the type of vegetable and your oven, but here are some suggested times from Sustainable Cooks:
Broccoli and cauliflower florets, carrots: 15-18 minutes
Asparagus: 17 minutes
Beets: 20 minutes
Brussels Sprouts: 20 minutes
Squash: 22 minutes
Whole Green Beans: 18-20 minutes from Dinner, then Dessert
Frequently Asked Questions
What is a Frittata?
It's actually an Italian omelet with the ingredients mixed in with the eggs in contrast with a French omelet where the eggs are folded over the filling. A frittata is cooked more slowly than a traditional omelet, often started on the cooktop, and finished in the oven. 
The resulting frittata is firmer than an omelet and round. And if you're wondering,  a frittata is like a crustless quiche.
How Long Do You Bake a Frittata?
It will vary depending on your fillings, the diameter of your pan, the temperature of the eggs, etc. as you place the frittata in the oven. This 8-egg frittata took 15-17 minutes to cook in a 400º oven.
How Do You Know When a Frittata is Done?
The center should look firm when a frittata is done. If the middle is not set, cook for a few more minutes and check again. If you insert a knife into the center of the frittata, it should leave a mark when it's removed (no liquid should backfill the knife mark).
Can You Freeze a Frittata?
Yes, egg casseroles and frittatas can be frozen for up to 3 months, wrapped airtight. Defrost overnight in the refrigerator, then gently reheat in the oven or microwave, though the oven works best. They also keep up to 4 days in the refrigerator if kept airtight in a container or wrapped in plastic.
You May Also Like:
The Recipe:
Roasted Broccoli Frittata
Prep Time 10 minutes
Cook Time 20 minutes
Total Time 30 minutes
Yield 4
A highly adaptable frittata recipe that's delicious any time of day!
Ingredients
1 1/2 tablespoons olive oil
2 tablespoons minced onion
1 clove garlic, minced
1/2 red bell pepper, diced
1 1/2 cups roasted broccoli florets, large florets chopped into bite-sized pieces (or cooked/roasted veggies of your choice)
8 eggs
1/2 cup whole milk (or cream)
1-1 1/2 cups shredded cheese (I used sharp cheddar and mozzarella, but substitute your favorite melty cheese)
1 teaspoon kosher salt
1/2 teaspoon freshly ground black pepper
1 teaspoon dried basil (or favorite dried herb)
Instructions
Preheat oven to 400°.
Heat olive oil in a 10-inch skillet. May use other sizes, but baking time will need to be adjusted. Add minced onion and cook until soft, then add garlic and red bell pepper and cook until peppers are soft. Add broccoli to the pan and toss.
In a bowl, whisk together eggs, milk, cheese, salt, pepper and basil. Pour into pan and cook until the eggs start to set around the edges, about one minute.
Slide into the oven and bake until the center is set, about 15-17 minutes. Cut into wedges and serve warm.
Notes
Add any of your favorite roasted vegetables.
Recommended Products
As an Amazon Associate and member of other affiliate programs, I earn from qualifying purchases.
Nutrition Information:
Yield:
4
Serving Size:
1 large wedge
Amount Per Serving:
Calories: 390
Total Fat: 30g
Saturated Fat: 12g
Trans Fat: 0g
Unsaturated Fat: 15g
Cholesterol: 417mg
Sodium: 965mg
Carbohydrates: 6g
Fiber: 1g
Sugar: 3g
Protein: 24g
Note: This post may contain affiliate links; view
my Disclosure Policy
for details. I earn a small percentage from any purchase you make by clicking on these links at no extra cost to you.