Easy Spinach Lasagna
This Easy Spinach Lasagna is my go-to vegetarian lasagna. Layers of sauce, no-boil noodles, spinach ricotta & cheese combine for a tasty meatless meal!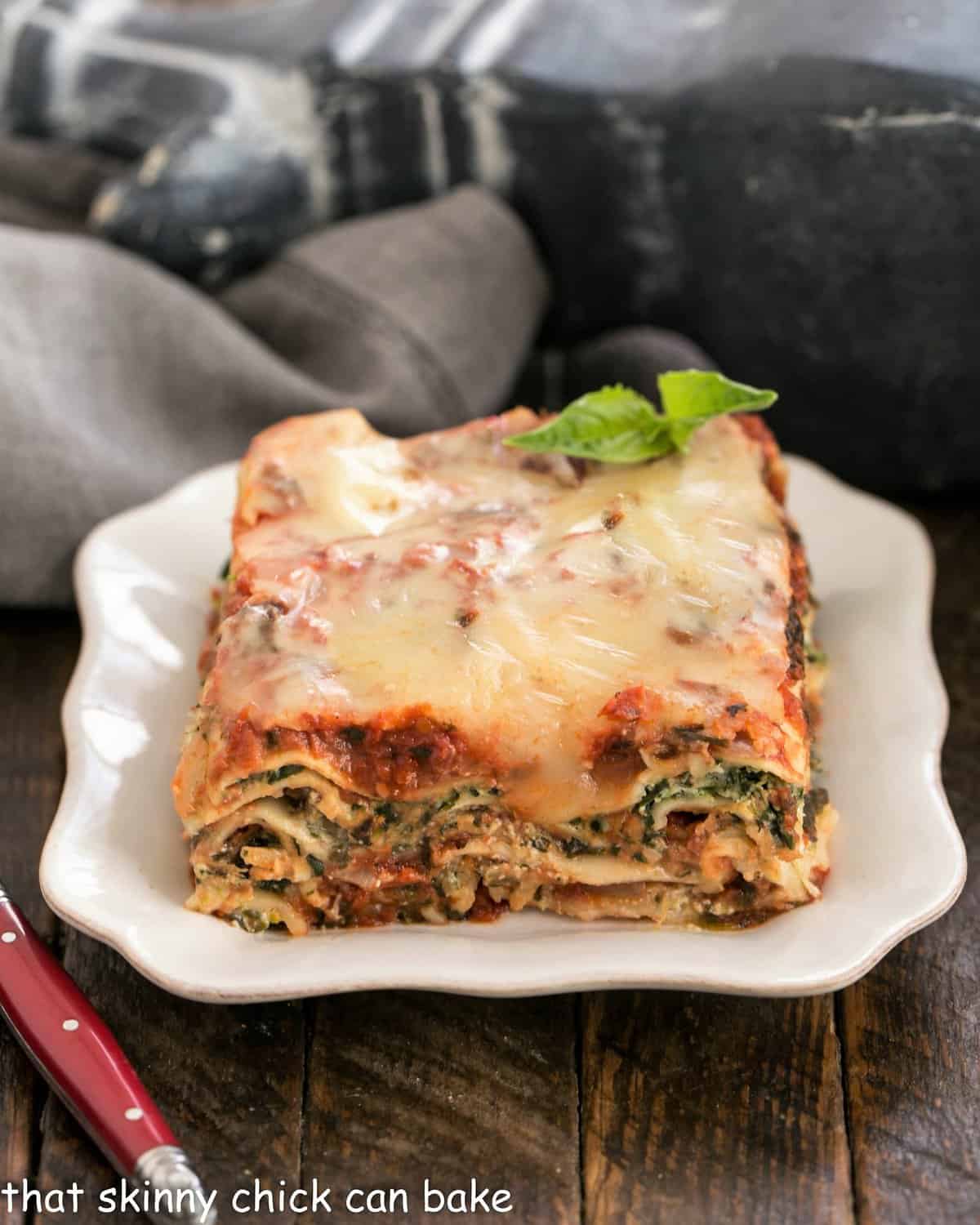 Why You Must Make
It was featured on Cook's Country TV which shares well-tested recipes.
It's perfect for vegetarians.
You can also jazz it up for carnivores by adding in some sauteed, sliced Italian sausages!
I caught an episode of Cook's Country TV one Saturday when they featured this Spinach Lasagna. Knowing any sort of spinach pasta would be a huge hit with my daughter, I printed off this easy spinach lasagna recipe while it was still available online.
Recipe Tips
For the meat lover in your home, add some sliced sauteed Italian sausage to the sauce. I've made this recipe with half sausage and half without.
Look for No-Boil lasagna noodles and that saves you the step and the pan needed to make traditional pasta. There's enough liquid in the sauce to plump up the pasta as it cooks.
Though you have to break out your food processor, it's used twice. Once for finely chopping the spinach and again for mixing part of the spinach with the ricotta, etc.
PRO-Tip: Grease one side of your foil so that the cheese will not stick as the lasagna cooks. I love non-stick foil as it saves a step, but spraying Pam on regular foil works well, too.
PRO-Tip: If you don't have fresh basil, you can substitute 1 teaspoon dried basil for each tablespoon of fresh basil.
Defrost your frozen spinach overnight in the refrigerator. Squeeze dry before using. You can use a potato ricer, press and squeeze in a strainer, or squeeze over a bowl with clean hands.
Frequently Asked Questions
Why Is This an Easy Lasagna?
There are a few things that make this a simple lasagna recipe. First are the no-boil lasagna noodles. They absorb liquid from the sauce to hydrate, eliminating the need to boil and cool them before using them. Then, since this is a vegetarian lasagna, there's no need to get out another pan to cook hamburger or sausages. And, finally, using frozen chopped spinach entails defrosting and squeezing it dry instead of cooking and chopping, then squeezing out the excess liquid.
What Can I Use Instead of Ricotta?
Ricotta is a soft Italian cheese that's often used in lasagna. My mom used cottage cheese and that's probably the best alternative. Other options include cream cheese, sour cream, tofu, and even goat's cheese or yogurt.
What's the Best Way to Squeeze the Liquid Out of Cooked Chopped Spinach?
Using a ricer works well, though it's difficult to clean. You can also hand squeeze it with well-washed hands. I do that method over a strainer in the kitchen sink.
You May Also Like:
The Recipe:
Spinach Lasagna
Prep Time 30 minutes
Cook Time 50 minutes
Total Time 1 hour 20 minutes
Yield 8 servings
A hearty, scrumptious pasta dish laden with spinach adapted from Cook's Country
Ingredients
3 10-ounce packages frozen chopped spinach
2 tablespoons olive oil
1 onion, finely chopped
5 garlic cloves, minced
1/8 teaspoon crushed red pepper flakes
2 28-ounce cans crushed tomatoes
Kosher salt
Freshly ground black pepper
6 tablespoons chopped fresh basil, divided
3 cups (24 ounces) ricotta
1 1/2 cups grated Parmesan
2 large eggs
12+ no-boil lasagna noodles
3 cups (12 ounces) shredded mozzarella
3-4 mild Italian sausage links, sliced and browned, optional for a non-vegetarian version
Instructions
Preheat oven to 375º. Microwave spinach in covered large bowl until completely thawed, about 15 minutes, stirring halfway through. Squeeze spinach dry, reserving 1/3 cup liquid. Pulse spinach in food processor until ground, 8 to 10 pulses, scraping down bowl every few pulses. Wipe out large bowl with paper towels. Transfer spinach to now-empty bowl; set aside.
Heat oil in large saucepan over medium heat until shimmering. Add onion and cook until softened, about 5 minutes. Stir in garlic and pepper flakes and cook until fragrant, about 30 seconds. Add tomatoes, ½ cup processed spinach, 1 teaspoon salt, and ½ teaspoon pepper and cook until slightly thickened, about 10 minutes. Off heat, stir in 3 tablespoons basil; set aside.
Process ricotta and reserved spinach liquid in food processor until smooth, about 30 seconds. Add Parmesan, remaining 3 tablespoons basil, eggs, 1½ teaspoons salt, and ½ teaspoon pepper and process until combined. Stir ricotta mixture into remaining processed spinach.
Cover bottom of 13 by 9-inch baking dish with 1¼ cups sauce. Top with 3 noodles and spread one-third of ricotta mixture evenly over noodles. Sprinkle with 2/3 cup mozzarella and cover with 1¼ cups sauce and sprinkle with sausage pieces, if using. Repeat twice, beginning with noodles and ending with sauce. Top with remaining 3 noodles, remaining sauce, and remaining 1 cup mozzarella.
Cover pan tightly with aluminum foil sprayed with vegetable oil spray and bake until bubbling around edges, about 40 minutes. Discard foil and continue to bake until cheese is melted, about 10 minutes. Cool on wire rack for 30 minutes. Serve.
Recommended Products
As an Amazon Associate and member of other affiliate programs, I earn from qualifying purchases.
Nutrition Information:
Yield:
8
Serving Size:
1
Amount Per Serving:
Calories: 396
Total Fat: 23g
Saturated Fat: 9g
Trans Fat: 0g
Unsaturated Fat: 14g
Cholesterol: 92mg
Sodium: 1218mg
Carbohydrates: 27g
Fiber: 7g
Sugar: 11g
Protein: 24g
Note: This post may contain affiliate links; view
my Disclosure Policy
for details. I earn a small percentage from any purchase you make by clicking on these links at no extra cost to you.