Lasagna with Ricotta Cheese
Pure comfort food, this tasty Lasagna with Ricotta Cheese and Sausage makes for a fabulous meal. This is one entree the whole family adores.
Super cheesy, with a hint of spice from the mild Italian sausage, and layers of flavor from the slow-cooked tomato sauce, this Ricotta Lasagna is a winner suitable for any gathering.
Why You Must Make:
My mom used to make lasagna with cottage cheese. I guess that's the way it was done in the Midwest way back when. Ricotta cheese was not readily available unless she'd venture to Des Moines to an Italian market. But with 4 young girls, that wasn't going to happen!
If you haven't made lasagna with ricotta cheese, this is the perfect recipe to try.
Adding Italian sausage gives loads of flavor to the sauce.
There's lots of gooey Mozzarella cheese, and who doesn't love a cheesy pasta dish????
Ingredient Notes
There are so many different versions of lasagna, but for this ricotta lasagna, add these ingredients to your shopping list:
Italian Sausage – can be mild or spicy depending on your preference, saute it first for the best flavor.
Whole milk ricotta – the additional fat makes a creamier result
Lasagna noodles – If you want to use the no-boil lasagna noodles, make sure your sauce isn't too thick as the noodles need liquid for them to soften. If you use regular dried lasagna noodles, cook as directed on the box in well-salted water. The cooking water should taste like seawater.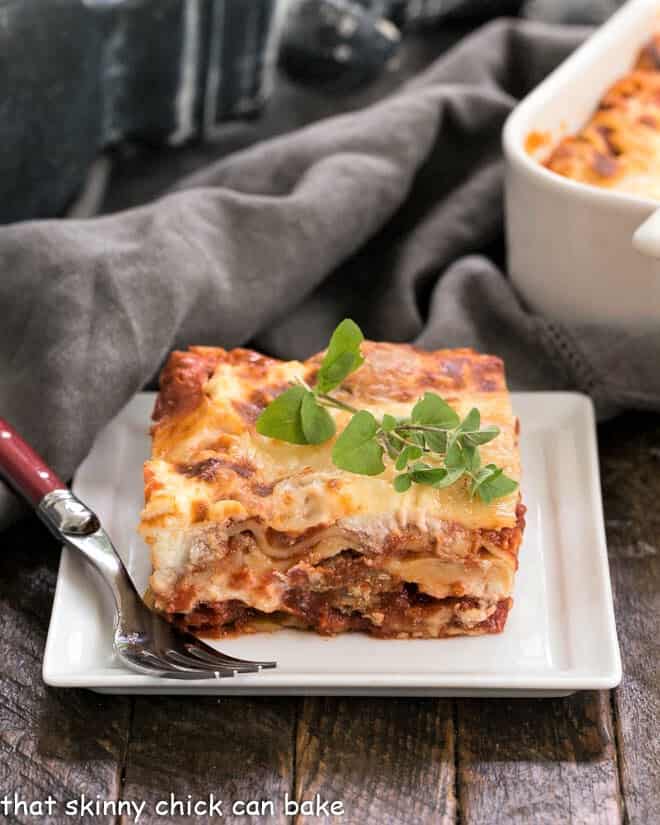 Homemade Ricotta
Creating homemade ricotta is really quite easy, but it's even easier to buy it at the market! Besides lasagna, ricotta can be used in stuffed shells, manicotti, on pizza, as a smear instead of cream cheese, in dips, and to dollop on soups.
Expert Tips
Adding cooked Italian sausage slices or bulk Italian sausage to the tomato sauce is a way to incorporate more flavor into every bite.
Since my mostly vegetarian daughter does not enjoy meat in her lasagna or spaghetti sauce, adding slices is easier for her to pick around.
PRO-Tip: Instead of adding raw sausage, cooking it first helps intensify the flavors through the browning process, something known as the Maillard reaction. By way of cooking, the amino acids in the meat and the reducing sugars have a chemical reaction giving the distinct, delicious flavor of browned meat. So make sure to get a little color on the sausage while sauteing for the best outcome.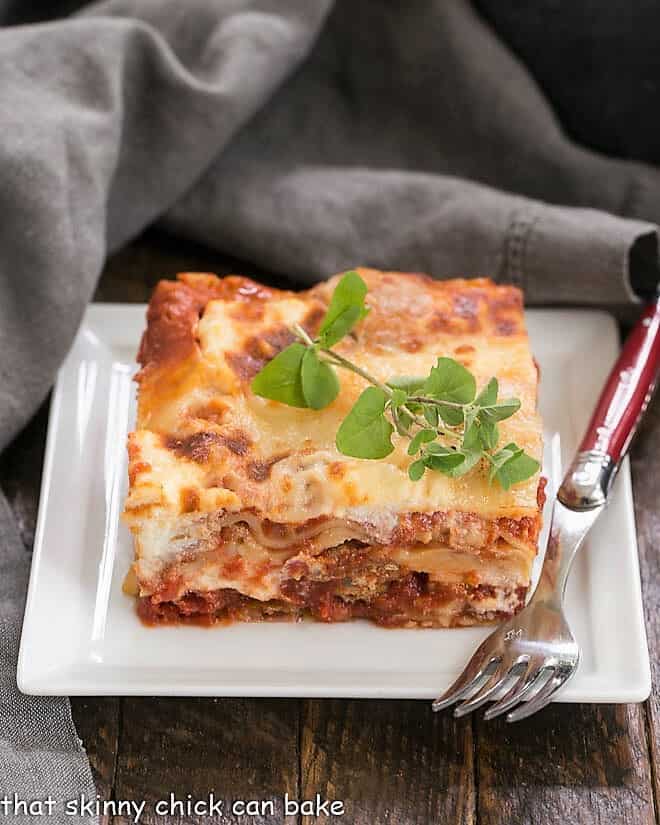 Recipe Tips
Simmering a flavorful sauce for 2+ hours provides a delicious foundation for your lasagna. Using crushed tomatoes makes for a nice sauce consistency.
The addition of cooked sausage or ground beef adds that umami, or layer of meaty flavor.
Use either shredded or sliced mozzarella for the cheesy component. This time, I used shredded.
My preference is whole milk ricotta. It's difficult to spread over the sauce, so I disperse spoonfuls of ricotta over the sauce.
Bake with greased or non-stick foil covering the lasagna. At the end of the baking time, remove the foil and broil for a couple of minutes or let the heat of the oven brown the cheese a bit if desired.
PRO-Tip: For a meatless lasagna, or a Lasagna with Spinach, eliminate the sausage. Then mix the ricotta with a defrosted, squeezed dry 9-ounce box of frozen chopped spinach along with an egg, 1/4 cup grated Parmesan, 1 teaspoon dried basil, 1/2 teaspoon salt and 1/4 teaspoon freshly ground black pepper. Layer this mixture in place of the plain ricotta.
Frequently Asked Questions
What is Ricotta?
Ricotta translates to recooked in Italian since it was originally made from the whey. Whey is the liquid leftover liquid after milk is used to make something else, like cheese. An acid and some milk is typically added to the whey to help coagulate the proteins and form ricotta.

Now, in the US, ricotta is made with whole milk instead of whey, but using the same technique to make the curds which become a fluffy ricotta cheese.
Can You Make Ricotta Cheese at Home?
Yes, if it's not available at your grocery store, you can make it with four simple ingredients. Here's my sister's recipe:
1. Squeeze 2-3 fresh lemons to make 7 Tablespoons. 
2. Place the lemon juice, ½ gallon whole milk, 1 cup heavy cream, and ¼ teaspoon of salt into a pan over medium-low heat.
3. Allow mixture to heat for 45 to 50 minutes until temperature reaches 165 to 170 degrees.
4. Stir the mixture once or twice
to avoid sticking. But don't stir too much otherwise the ricotta curds will be too small.
5. Increase heat slightly for another 7 to 8 minutes or until it reaches 200 to 205 degrees on the edges and in the middle.
6. Remove ricotta from the heat and allow it to rest for 15 minutes. Line a colander with a double thickness of damp cheesecloth. Pour the curds into the colander.
7. Allow the ricotta to drain for 20 minutes.
Makes 16 ounces of yummy light slightly lemony ricotta. Perfect for pasta, salads, or even cheesecake.

You May Also Like:
The Recipe:
Ricotta Lasagna with Italian Sausage
Prep Time 30 minutes
Cook Time 3 hours
Total Time 3 hours 30 minutes
Yield 8 servings
A fabulous lasagna with flavorful sauce, dabs of ricotta cheese, mild Italian sausage plus gooey mozzarella!
Ingredients
1 cup chopped onion
2 tablespoons olive oil
2 cloves minced garlic
1 28-ounce can crushed tomatoes
1 16-ounce can diced tomatoes
1 6-ounce can tomato paste
1 tablespoon brown sugar
1 teaspoon salt
1 1/2 teaspoons oregano
1/4 teaspoon thyme
1 bay leaf
1 stalk of celery, cut in half
2 cups water
4 links Italian sausage (1 1/2-2 pounds), sliced and cooked
1 pound ricotta cheese
1 1/2 pounds mozzarella, grated
8 ounces lasagna noodles, soaked in warm water for about an hour or no boil lasagna noodles
Instructions
In a large pan, saute onion in olive oil till translucent. Add garlic and saute till fragrant. Add tomatoes, tomato paste, brown sugar, salt, oregano, thyme, bay leaf, celery, and water. Simmer for 2-3 hours. Remove celery and bay leaf.
Soak dried lasagna noodles in warm water for about an hour. No need to boil using this method. Or use no boil lasagna noodles.
Cook sausage in a saute pan till browned on both sides and cooked through. Add to sauce.
Preheat the oven to 350º. Grease a 9 x 13-inch pan. Put a small amount of sauce (without sausage) on the bottom of the dish.
Start layering with half the noodles, then half the sauce, half the ricotta, and half the cheese. Repeat. Cover with a greased piece of foil or non. Bake for 1 hour. May remove foil for the last 15 minutes to brown the cheese if desired.
Cool about 15 minutes before cutting and serving.
Notes
Lasagna can be frozen, then baked straight from the freezer. Baking time will need to be extended to 1 1/2 hours or until hot throughout.
Adapted from Creme de Colorado.
Nutrition Information:
Yield:
8
Serving Size:
1
Amount Per Serving:
Calories: 627
Total Fat: 38g
Saturated Fat: 18g
Trans Fat: 0g
Unsaturated Fat: 19g
Cholesterol: 106mg
Sodium: 1404mg
Carbohydrates: 35g
Fiber: 5g
Sugar: 13g
Protein: 38g
Note: This post may contain affiliate links; view
my Disclosure Policy
for details. I earn a small percentage from any purchase you make by clicking on these links at no extra cost to you.