Mexican Chicken Manicotti
If there's a need for comfort food at the end of the day, this creamy Mexican Chicken Manicotti fits the bill. This Manicotti Recipe makes a tasty, easy meal!
This Mexican Chicken Casserole is perfect for an easy weeknight meal or to deliver to friends or family who need a family-friendly, delicious meal.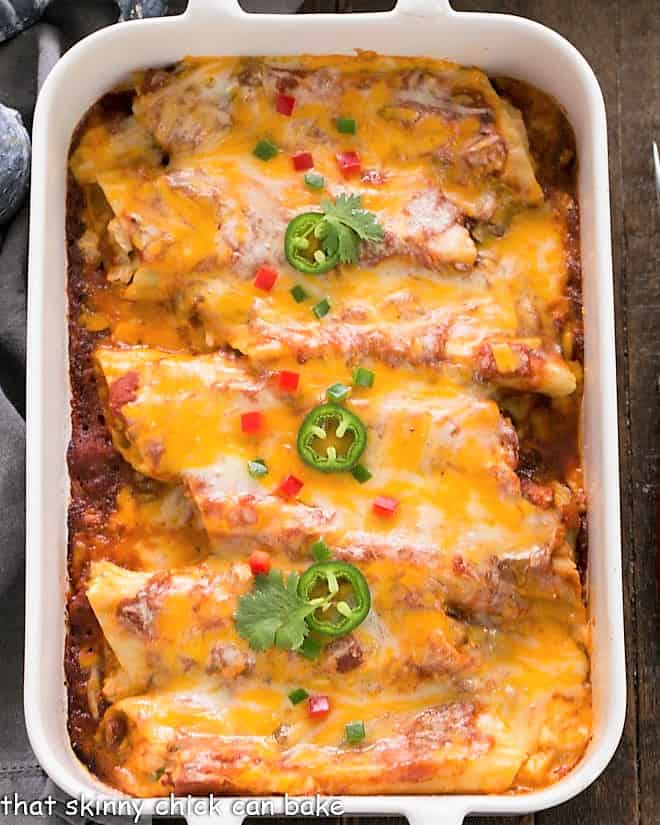 Why You Must Make
Instead of an Italian flavor profile, this version has a Mexican twist.
It's spicy, cheesy, and delicious!!
A combination of aromatics, jalapenos, chicken, cream cheese, sour cream, and salsa makes for a creamy, flavor-packed stuffing for these pasta shells.
Since it's not overly spicy, it's family-friendly.
Cheesy pasta casseroles are the best comfort food. And perfect for so many occasions. Easy to prep ahead of time and pop in the oven on game day. Nice to make for a family with a new baby, a new neighbor, or a family dealing with a death or illness. Or whenever you and your family are craving a slightly spicy, cheesy entree!
Ingredient Notes
Kitchen Staples – Onion, Garlic, Butter
Manicotti Shells – These are large pasta tubes that can be found in the pasta aisle. If you're having trouble finding manicotti, you can also use large pasta shells.
Jalapeño Peppers – Minced. If you prefer milder peppers, look for canned green chiles.
Chicken – Cooked and shredded. Can use a rotisserie chicken as a shortcut.
Cream Cheese – At room temperature for easy blending
Sour cream – I use full fat
Salsa – Choose mild to spicy depending on your palate.
Can of Enchilada Sauce
Monterey Jack Cheese – Grate your own or buy it shredded.
Sharp Cheddar Cheese – Grate your own or buy it shredded.
Parmesan Cheese – Grated or shredded.

How to Make:
Manicotti is a tube-like pasta that is boiled, then can be stuffed with all sorts of delicious fillings. This version happens to have a Tex-Mex twist instead of the more classic Italian fillings. A combination of aromatics, jalapenos, chicken, cream cheese, sour cream, and salsa makes for a creamy, flavor-packed stuffing for these pasta shells.
The process to make manicotti is quite simple. First, you need to make the filling. For this recipe, saute the onions, garlic, and jalapenos.
Then mix in the rest of the filling ingredients. I poach boneless, skinless chicken breasts in broth to shred, but you can use leftover chicken or a rotisserie chicken as well.
Make and cool the pasta using the directions on the box.
When the pasta is cool enough to handle, fill the manicotti shells. I like to use a narrow spoon with a long handle, but you can also put the filling in a Ziploc bag and cut an opening the size of the lumen of the manicotti. Seal the bag, place the open end into the pasta, and gently squeeze to fill.
Place some of the sauce on the bottom of the prepared pan and arrange the stuffed shells across the surface.
Sprinkle the cheeses over the top and bake as directed.
Expert Tips
Make sure to cook your pasta in well-salted water. It should taste like the ocean. This will infuse some salt into the noodles as they cook and give them better flavor.
Cook your pasta al dente or "to the tooth." When you cut into a noodle cooked al dente, you'll see that there is an internal ring that's white because it's undercooked. Or you can bite into a noodle and feel a bit of resistance instead of the typical pasta texture.
Since the pasta will be stuffed, covered with sauce, and baked again, the pasta will fully cook instead of getting mushy and overcooked.
You can assemble the pasta dish early in the day, cover and refrigerate it, then bake your stuffed manicotti close to dinner time. Since the pasta will be cold, you will need to add at least 15 more minutes of baking time.
This is definitely fusion food. Italian manicotti is filled with spicy Tex-Mex chicken in a creamy sauce. Topped with loads of cheese, this chicken manicotti "casserole" will please young and old alike. Like pasta? Check. Mexican? Check. Make this Tex-Mex casserole for someone you care about or your own family!

Frequently Asked Questions
What is the Difference Between Manicotti and Cannelloni?
They are quite similar. But the definitions vary depending on the source. Cannelloni translates to big tubes in Italian and Manicotti loosely translates to sleeves. Traditionally, manicotti is made from crepes like in my  Cheese Manicotti Recipe, but I've made them with pasta shells, too.

Cannelloni originally was made with pasta sheets that were rolled into tubes, but with the availability of dried manicotti shells, only traditionalists make their own pasta tubes. Most Americans don't know the difference and use these terms interchangeably.
Can You Freeze Manicotti?
Like most pasta casseroles, manicotti freezes well. Keep it frozen for up to 3 months, wrapped well in plastic wrap, then aluminum foil to minimize potential frost build-up. It can be baked right from the freezer, adding additional baking time, or defrosted overnight in the refrigerator before baking.
How Do You Store Manicotti?
As with all leftovers, don't leave them out at room temperature longer than 2 hours in order to prevent food poisoning. Wrap the leftovers airtight and keep them chilled for up to 4 days.
How Do You Reheat Manicotti?
If it's still in an oven safe casserole dish, cover it with foil and reheat it in the oven at 350° for 15-20 minutes or until heated through. You can also microwave individual servings on microwave safe plates covered with plastic wrap until hot, 2 minutes or less, depending on the power of your microwave.
More Comfort Food Recipes:
You May Also Like:
Stay in touch through social media @ Instagram, Facebook, and Pinterest. Don't forget to tag me when you try one of my recipes! And if you love the results, please give it a 5-star rating in the recipe card. Note: As an Amazon Associate, I earn from qualifying purchases. Visit my Amazon Store for my favorite products.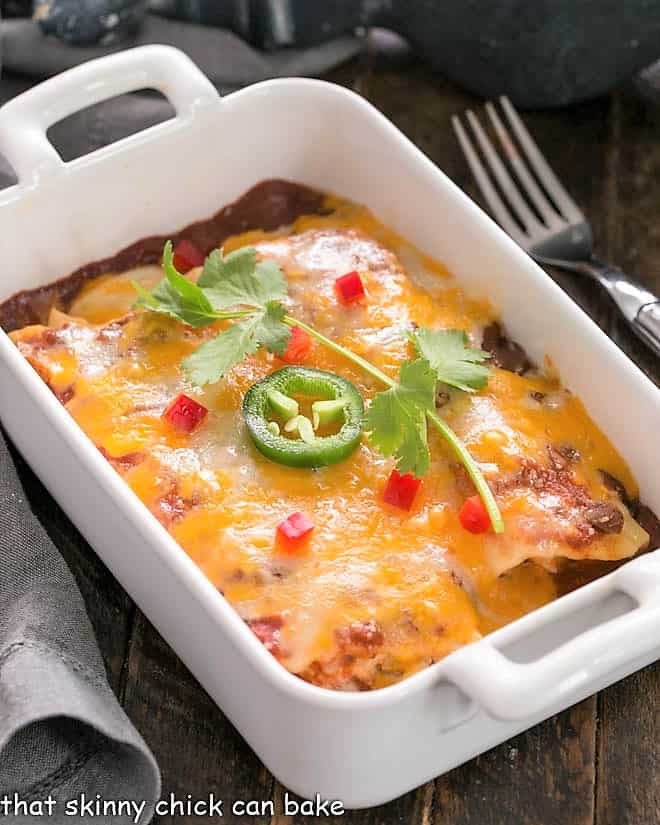 The Recipe:
Mexican Chicken Manicotti Recipe
Prep Time 20 minutes
Cook Time 1 hour
Total Time 1 hour 20 minutes
Yield 6 servings
Manicotti shells filled with creamy, spiced up chicken and topped with gooey cheese!
Ingredients
16 ounces manicotti shells
1 onion, chopped
3 cloves garlic, minced
1-2 jalapeño peppers, minced
2 tablespoons butter
2 cups shredded cooked chicken (can use a rotisserie chicken)
8-ounces cream cheese, at room temperature
¼ cup sour cream
1⅓ cups salsa, divided
8-ounce can of enchilada sauce
¾ cup shredded Monterey Jack cheese
¾ cup shredded sharp cheddar cheese
¼ cup shredded Parmesan cheese*
Instructions
Preheat oven to 350 degrees F. Spray a 13" x 9" pan with nonstick cooking spray and set aside. Bring a large pot of salted water to a boil.
In a large skillet, cook onion, garlic, and jalapeños in butter until softened. Remove from heat and stir in chicken, cream cheese, and sour cream; stir until blended. Let cool for 20 minutes, then add ⅓ cup salsa.
Cook the manicotti shells until almost al dente according to package directions; drain. Stuff the shells with the chicken mixture.
In a small bowl, combine the remaining cup of salsa and enchilada sauce; mix well. Place ½ cup of this mixture into the bottom of the prepared pan. Top with stuffed manicotti shells. If there is leftover chicken filling, just put it on top of the stuffed shells. Pour the remaining sauce mixture over. Mix the 3 cheeses together and sprinkle over the manicotti.
Bake for 35-40 minutes until the mixture is bubbly and the cheese is browned.
Notes
* You can also add the Parmesan to the chicken filling.
Recommended Products
As an Amazon Associate and member of other affiliate programs, I earn from qualifying purchases.
Nutrition Information:
Yield:
6
Serving Size:
1
Amount Per Serving:
Calories: 650
Total Fat: 40g
Saturated Fat: 22g
Trans Fat: 1g
Unsaturated Fat: 14g
Cholesterol: 139mg
Sodium: 1760mg
Carbohydrates: 41g
Fiber: 5g
Sugar: 11g
Protein: 32g
The Story of Ryan, Ashley, and Miles
Sometimes there are causes that you just cannot ignore. If you're not familiar with Ryan, Ashley, and little Miles, here is a story you won't soon forget. When Ashley was pregnant with their first child, her husband, a young, and up to this point, a very healthy guy, Ryan, was diagnosed with stage 4 colon cancer.
Then 8 weeks after this dire diagnosis, their sweet son was born. Baby Miles was diagnosed with renal failure, Primary Hyperoxaluria, and needed a liver and kidney transplant for long-term survival. Any one of these diagnoses would pull at your heartstrings, but two? In one year? Devastating.
If the Wagner family lived nearby, I'd be baking and cooking up a storm. Isn't that what we all like to do to offer comfort? Dropping off a loaf of banana bread or a casserole ready to pop in the oven.
That's what my blogger friends and I are doing today—sharing comfort food, like this Mexican chicken manicotti, and asking our friends and readers to donate to a worthy cause. Please consider donating even just your Starbucks' allotment for the week. Every penny will help get Miles closer to a cure. And I'm certain they'd welcome your prayers, too.
If you'd like to read more about their story, here is the blog post where Ashley talks about Ryan's diagnosis and the first fundraiser to help them through his treatment. And another post when she detailed learning about Miles' genetic illness after rushing him to the ER post-seizure. I'm certain that just looking at precious Miles' beautiful face will convince you to help in some way. Thank you, all.
Note: This post may contain affiliate links; view
my Disclosure Policy
for details. I earn a small percentage from any purchase you make by clicking on these links at no extra cost to you.