Low Carb Chile Rellenos Casserole
With a bit of spice, oodles of cheese, and loads of deliciousness, this Low Carb Chile Rellenos Casserole Recipe is pure comfort any time of day! It's ridiculously simple and absolutely irresistible!
I've served this versatile Tex-Mex Casserole Dish for a Lenten Friday night entree, Meatless Monday, and weekend brunches. Plus, I love having leftovers for lunch.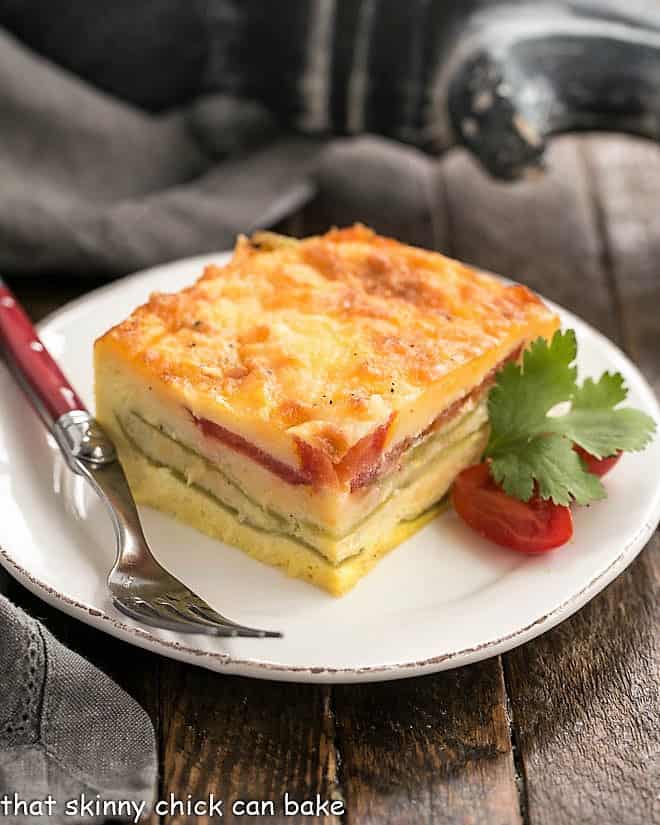 Why You Must Make
It's super easy to make! All the ingredients are layered instead of stuffing individual chiles.
If you're following a low-carb diet, you'll love this dish.
It's a delicious vegetarian recipe that's perfect for Lent or Meatless Monday.
How to Make
A cheesy egg casserole screams comfort to me. And one with a bit of heat is even better. Turns out this Chiles Rellenos Casserole Recipe met all this criteria and was perfect for breakfast, lunch, or dinner.
Layers of green chiles, cheese, and tomatoes are topped with a spicy mixture of eggs and milk…and then baked into a gooey, savory meal. The hubby asked what the green things were, a clue that I had added too many peppers to the recipe. I also did not slice them open and each bite he took had a double dose of peppers.
I amended this Egg Casserole Dish to ensure a better balance of peppers, eggs, and cheese. I'm thinking that two cans of chiles might be enough, but please let your palate lead the way. Loyal readers know that the hubby has a few food quirks, even though these green chiles don't pack much heat at all.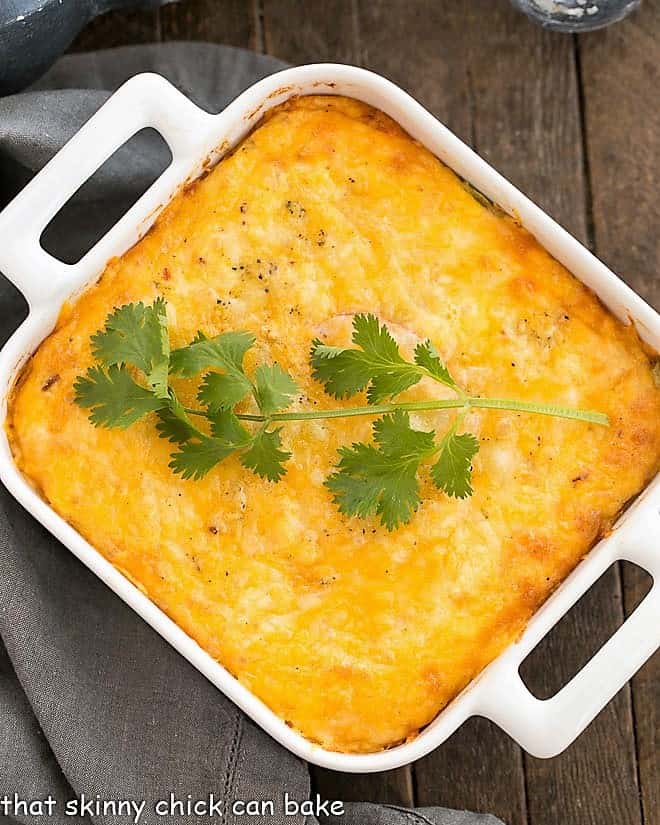 Tex-Mex Egg Casserole Dish
My dad, on the other hand, would have loved this Chiles Rellenos Recipe. For most of my childhood, we spent our summer vacations in picturesque Aspen, Colorado. Mind you, at the time it was a relatively unknown, yet still chic, ski resort. In nearly 2 decades, not one celeb sighting.
We hiked, picnicked, and with much grumbling, drove to a Trappist Monastery each Sunday at dawn for Mass. But we were bribed with breakfast on the town after our religious excursions. And as you might guess, since we were smack dab in the middle of the southwest, classic huevos rancheros was on all the breakfast menus. And 9 times out of 10, that's what my dad would order.
He was also known for eating more tacos than any other relative at our family reunions. A Tex-Mex fan for sure. This chiles rellenos casserole would be right up his alley. I hope I can make it for him one day soon.
Expert Tips
This egg casserole is a versatile dish that can be served any time of day. Here are some tips for the best results:
Check the expiration of your shredded cheese packages. If you purchase close to the "Sell By" date, the cheese could lose some quality and be more likely to spoil before you use it.
Watch your oven temperature and cooking time when a casserole is topped with cheese. You may want to cover the dish with greased foil if you want the cheese to remain gooey, like with a lasagna. Removing the foil for the last few minutes will add a little color if desired.
If you elect to grate your own cheese, it's much easier to use very cold cheese. PRO-Tip: I find that cheese grated at home melts better than the already shredded cheese.
PRO-Tip: Rinse the chiles to remove any seeds as well as lay the tomato slices on paper towels to drain so they don't add any excess liquid to the casserole.
Besides being extremely tasty, this chili relleno casserole is perfect for when you need a meatless or vegetarian entree. I make this Tex-Mex dish at least one Friday during Lent.
Unlike my other version of a chiles rellenos casserole, this one only has 2 tablespoons of flour added so it is lower in carbs. But both are delicious! 
Lasagna is an excellent cheesy dish that can be frozen either before it's baked or after it's baked and cooled for a future meal. My Chili Relleno casserole may not freeze well due to the eggs, but I have not tested this.
P.S. There appear to be numerous ways to spell this dish. Since both of my casserole versions have different spellings, I'm obviously not an expert!
Frequently Asked Questions
What is Chiles Rellenos?
Chiles Rellenos is a Mexican dish that translates to stuffed pepper, and they're usually coated in batter and deep-fried.
What is the Difference Between a Chile and a Chili?
Chile typically refers to the plant and chili to dishes such as chili con carne.
What Do You Serve with Chiles Rellenos?
Any Tex-Mex sides would be delicious with this dish or casserole. A Mexican rice dish or coleslaw, refried beans or a Mexican street corn salad would pair well.
You May Also Like:
Stay in touch through social media @ Instagram, Facebook, and Pinterest. Don't forget to tag me when you try one of my recipes! And if you love the results, please give it a 5-star rating in the recipe card. Note: As an Amazon Associate, I earn from qualifying purchases. Visit my Amazon Store for my favorite products.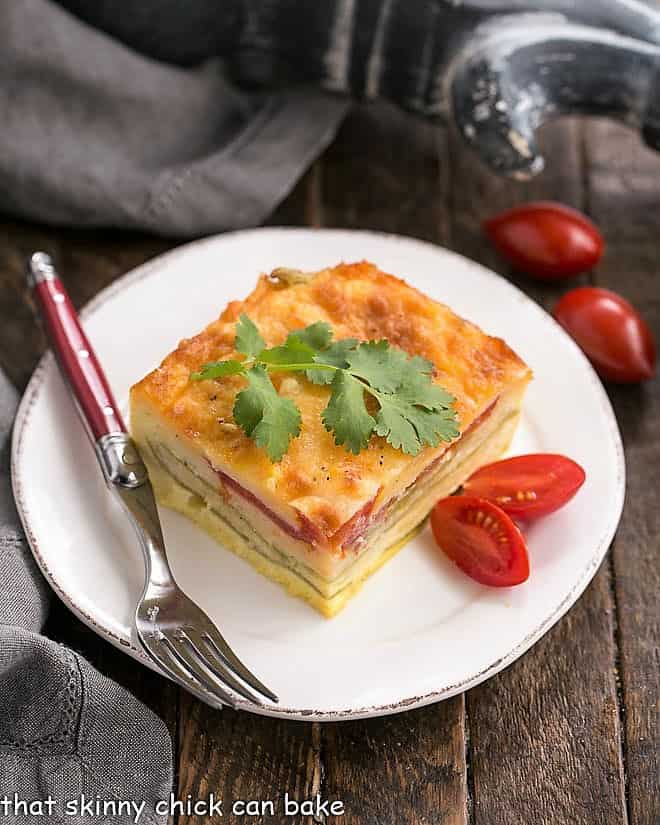 The Recipe:
Chile Relleno Casserole Recipe
Prep Time 20 minutes
Cook Time 45 minutes
Total Time 1 hour 5 minutes
Yield 8 servings
An easy way to enjoy the flavors of chile rellenos!
Ingredients
8 eggs
½ cup milk
2 tablespoons flour
½ teaspoon salt
½ teaspoon pepper
½ teaspoon cumin
½ teaspoon garlic powder
A pinch of red pepper flakes, optional
1 large tomato, cut into thin slices (set slices between paper toweling to remove excess juices)
2 7-ounce cans of whole green chilies, drained well, and split open (may use a 3rd can if desired)
1 pound shredded cheese, I used a combination of sharp cheddar and Monterey Jack
Instructions
Grease a 9 x 9-inch pan (or similar-sized casserole dish).
Beat together, eggs, milk, flour, and seasonings.
Layer a third of the chilies, then a third of the cheese, and repeat.
For the third round, layer the last of the chilies, then the tomato slices followed by the last of the cheese.
Pour egg mixture over cheese. Let rest for about a half-hour while you preheat the oven to 350º.
Bake for 45+ minutes or until puffed and slightly browned. If the top doesn't look set or watery, just bake longer!
Let sit 20 minutes before serving.
Notes
Inspired by a Bon Appetit recipe.
Note, I cooled this batch before cutting to get nice clean slices, then reheated.
Nutrition Information:
Yield:
8
Serving Size:
1
Amount Per Serving:
Calories: 369
Total Fat: 26g
Saturated Fat: 14g
Trans Fat: 1g
Unsaturated Fat: 10g
Cholesterol: 250mg
Sodium: 630mg
Carbohydrates: 10g
Fiber: 1g
Sugar: 4g
Protein: 23g
Note: This post may contain affiliate links; view
my Disclosure Policy
for details. I earn a small percentage from any purchase you make by clicking on these links at no extra cost to you.