Classic White Layer Cake with White Chocolate Buttercream
This rich, luscious Classic White Layer Cake with White Chocolate Buttercream was Bill's birthday cake selection this year. It's the kind of cake where you slice off a sliver, then another and another. So hard to resist!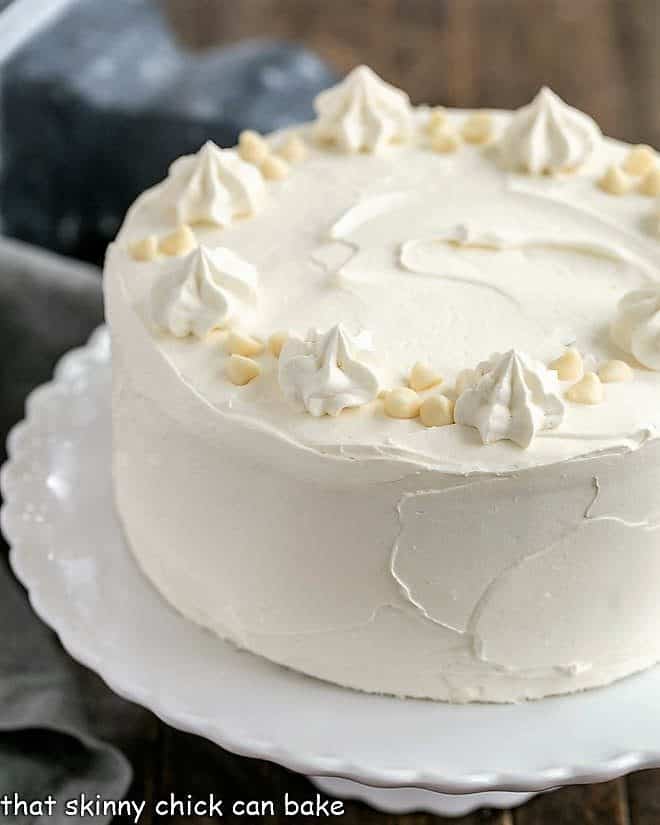 Classic White Layer Cake with White Chocolate Buttercream
A Swiss meringue buttercream is the icing on this cake so to speak! It's been a favorite frosting for years, and definitely worth the bit of extra effort for special occasions. The white layer cake has been my go to non-chocolate layer cake, too. Made with egg whites, not yolks, it's definitely a white cake!
This is the sort of dessert that I slice off a sliver, trying to behave myself. But instead of being satisfied with a teeny slice, I go back again and again, eating more than if I had cut myself a reasonable portion. Thank goodness it's baked in two 8-inch layer cake pans, so it can be polished off rather quickly!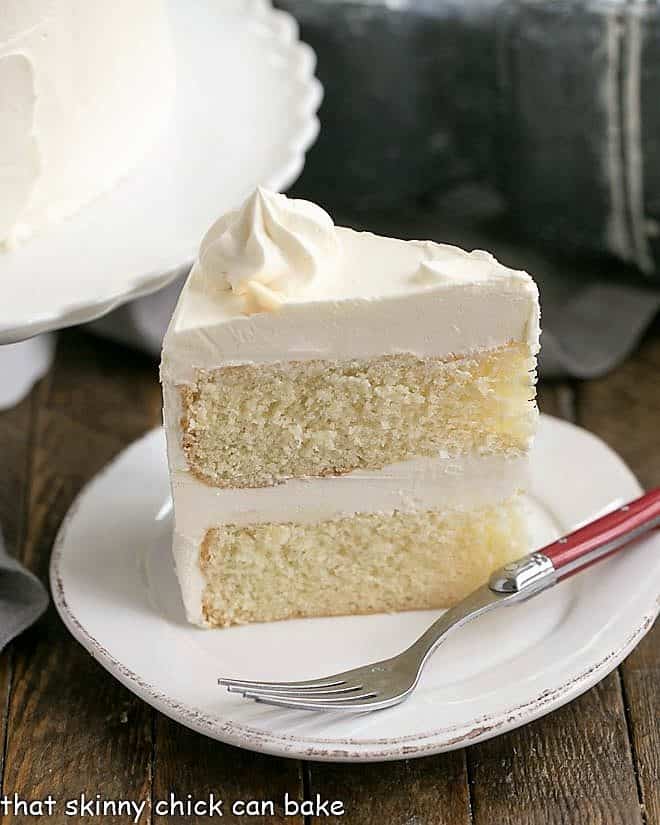 Swiss Meringue Buttercream
The white chocolate Swiss meringue buttercream has the most luxurious, silky smooth mouth feel that you can imagine. Made with egg whites, which are carefully warmed before being whipped with sugar, then made richer with butter and melted white chocolate, this buttercream is to die for.
Tips for Making a White Chocolate Swiss Meringue Buttercream
Unlike my other meringue recipes, the egg whites do not need to be at room temperature before whipping as they are warmed over a double boiler.
But note that eggs separate easiest when cold, so separate the whites from the yolks when fresh out of the refrigerator.

PRO-Tip: Avoid getting any egg yolk into your whites as that will inhibit them from whipping up properly. And your mixing bowl and beater should be grease free as well. If the equipment was washed in a dishwasher, it should be fine, but if you've hand washed, you might consider wiping all implements down with vinegar to eliminate any residue.
You don't need an official double boiler for this recipe. Just use a large pan that your mixing bowl can fit inside, then fill that with water about 1/3 the way up the bowl.

When it's time to add the butter, make sure it's at room temperature. You'll be adding to the mixer one tablespoon at a time, and it must be incorporated before you add more. So having it soft is ideal.
Due to the eggs in the buttercream, this cake needs to be stored in the refrigerator. But my best white layer cake will taste best if it's brought to room temperature before serving.
How to Make The Best White Layer Cake
There are a few tips that will help make for a tender crumb, moist classic white layer cake. As always, read through the recipe before you begin and measure carefully.
Not using egg yolks help this cake keep from being a yellow cake, but save those extra yolks to make pudding or creme brulee.
Cake flour has less gluten than all purpose flour and helps make for a more tender cake.

PRO-Tip: If you're in a pinch and don't have cake flour on hand, you can make it at home with a couple kitchen staples. For each cup of cake flour, measure out a cup of all-purpose flour, then remove 2 tablespoons and replace that flour with 2 tablespoons of cornstarch.
Scrape the bottom and sides of the mixing bowl frequently during the mixing process. This will minimize the time you need to spend beating to get a smooth batter, and consequently, not activating the gluten any more than necessary.

PRO-Tip: I like using a kitchen scale to make sure both layers have approximately the same amount of batter. You can certainly eyeball it pretty accurately. A sliced cake looks best when the layers are the same depth.
Try to bake this white layer cake just until a toothpick inserted in the middle comes out clean. Over-baking will create a drier cake. All ovens bake differently, so the times listed are just a general guideline.
More Favorite Layer Cakes
If you're a die-hard chocoholic, this Chocolate Fudge Layer Cake is worth the effort! Though this Triple Layer Cocoa Cake is less work, it's still one of my favorite chocolate cakes! A Lemon Layer Cake will please the citrus lovers and a Classic Carrot Cake is always my first choice!
If you're looking for a 9 x 13-inch cake, this Tres Leches Cake Recipe is authentic and delicious! Check my recipe index for more of the Best Cake Recipes.
The Recipe:
Classic White Layer Cake with White Chocolate Buttercream
Prep Time 45 minutes
Cook Time 30 minutes
Total Time 1 hour 15 minutes
Yield 12
A tender white layer cake iced with an exquisite Swiss meringue buttercream!
Ingredients
For Cake:
2 1/4 cups cake flour
1 cup milk, at room temperature
6 egg whites, at room temperature
2 teaspoons almond extract
1 teaspoon vanilla
1 3/4 cups sugar
4 teaspoons baking powder
3/4 teaspoon salt
1 1/2 sticks butter, at room temperature but still cool
For Buttercream:
9 ounces white chocolate, chopped
6 eggs whites
1 1/2 cups plus 3 tablespoons sugar
1 1/2 cups plus 3 tablespoons butter, at room temperature
2 teaspoons vanilla
Instructions
Heat oven to 350 degrees. Prepare two 8-inch cake pans by spraying with Baker's Joy and lining with rounds of parchment.
Make sure milk and eggs are room temperature.
Pour milk, egg whites, and extracts into medium bowl and whisk to combine.
Mix cake flour, sugar, baking powder, and salt in bowl of electric mixer at slow speed. Add butter, cut into small pieces and beat for a couple more minutes.
Add half of the milk mixture to flour mixture and beat at medium speed for a couple minutes. Add remaining milk mixture and beat for about 1 minute.
Pour batter evenly between two prepared cake pans.
Bake until toothpick inserted in the center comes out clean, 27 to 30 minutes.
Allow cake to cool to room temperature.
Melt the white chocolate in a microwave safe bowl, gently in the microwave, using 15-30 second intervals, stirring until melted. Cool to room temperature.
Combine the egg whites and sugar in bowl of mixer. Place bowl over pot of simmering water so that the water comes a third of the way up the bowl. Whisk the egg whites till just hot to the touch, about 1-2 minutes.
Use mixer on high to whip the eggs until thick and cooled to room temperature, about 5 minutes. Turn mixer speed to medium and add butter by tablespoon, making sure butter is mixed in before adding the next tablespoon. Add the chocolate and vanilla and mix until smooth. If the icing is too runny, refrigerate briefly until it thickens.
Notes
Cake adapted from Cook's Illustrated and frosting adapted from Ghirardelli.
You will have leftover buttercream.
Nutrition Information:
Yield:
12
Serving Size:
1 slice
Amount Per Serving:
Calories: 520
Total Fat: 24g
Saturated Fat: 14g
Trans Fat: 1g
Unsaturated Fat: 8g
Cholesterol: 137mg
Sodium: 502mg
Carbohydrates: 67g
Fiber: 0g
Sugar: 45g
Protein: 9g
Note: This post may contain affiliate links; view
my Disclosure Policy
for details. I earn a small percentage from any purchase you make by clicking on these links at no extra cost to you.