Chocolate Fudge Layer Cake
6 layers of pure chocolate deliciousness make this Chocolate Fudge Layer Cake a showstopper worthy of all special occasions! When I plan a holiday meal, I pull out all the stops when it comes to dessert.
One of the Best Chocolate Cake Recipes you'll ever find, every bite of this will make you swoon!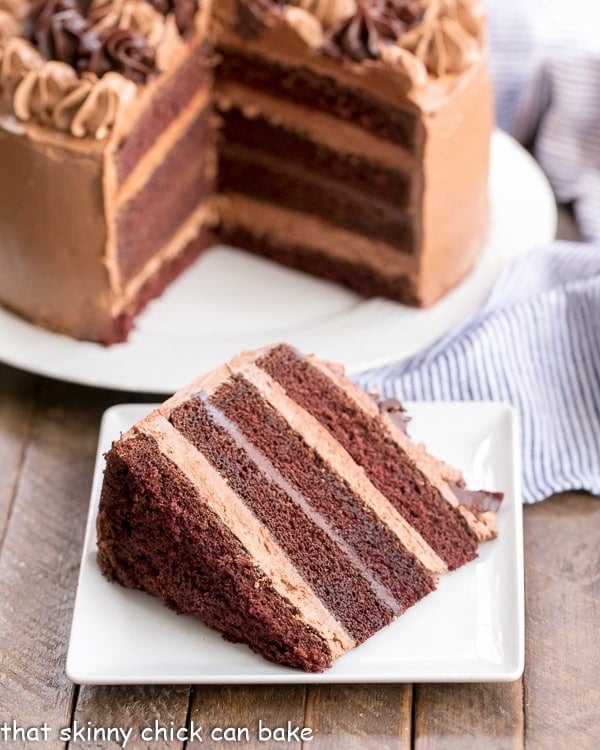 Why You Must Make
This is no ordinary Chocolate Fudge Cake!
There are FOUR layers of cake filled with silky ganache and chocolate meringue buttercream frosting.
The ingredients include 30 ounces of chocolate, over a pound and a quarter of butter, a cup of heavy cream, and 9 eggs.
The result is one exquisite, extremely decadent, better-than-bakery cake!
Warning: your kitchen will be a mess of chocolate bowls and implements by the time this gem is filled and frosted. Even Izzy was splattered with frosting when my offset spatula flipped off the countertop and landed on her back. She hovers when I bake. I bet you can see why. This fudge cake is perfect for whatever holidays you celebrate this fall, winter, and throughout the year. It's one of the Fudge Cakes you'll ever taste!
Recipe Endorsement
From the comments: Turned out great! Not a simple cake, it takes a lot of work but what a hit everyone loved the chocolate coffee ganache in the center.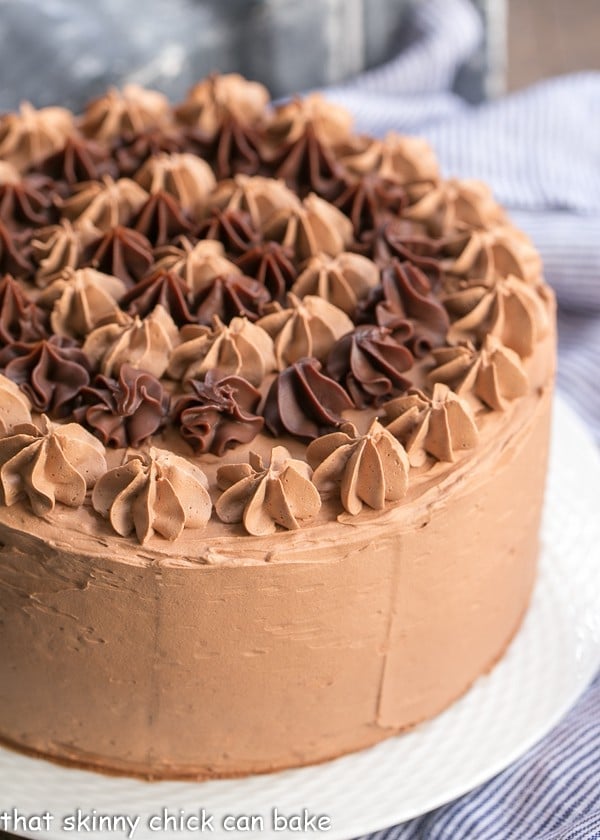 Ingredient Notes
Kitchen Staples – Baking Soda, Salt, Sugar
Unsweetened Chocolate – Chopped; I use Ghirardelli bars
Semisweet Chocolate – Chopped; I use Ghirardelli bars
Brown Sugar – Should be VERY tightly packed into the measuring cup.
Butter – At room temperature for easy incorporation.
Cake Flour – Has less gluten than all-purpose flour so makes a more tender cake. You can make your own cake flour with all-purpose flour and cornstarch. See recipe tips below for the details.
Eggs and Egg Whites – Eggs separate best when cold, but incorporate best into the batter when at room temperature.
Sour Cream – Full fat. The acid in the sour cream will help tenderize by breaking some of the gluten bonds.
Heavy Cream – 36% Butterfat
Instant Coffee Powder – Helps to enhance the chocolate flavors. May use espresso powder for a more intense coffee flavor.
Real Vanilla Extract – Never use artificially flavored vanilla.
Recipe Tips
Room-temperature eggs will incorporate best. Make sure you get them out of the refrigerator an hour or two before you plan to start mixing. Or you can place them in a bowl of hot, not boiling, water to speed up the process.
PRO-Tip: If you don't have cake flour or enough cake flour, you can make it at home. For one cup of cake flour, spoon one cup of all-purpose flour into a dry measuring cup. Use an offset spatula to sweep off any excess from the top of the cup. Remove 2 tablespoons of the AP flour and return it to your bag or bin of flour. Sift the remaining 14 tablespoons of flour with 2 tablespoons of cornstarch into a bowl. Voil, one cup of cake (pastry) flour!
Pull your butter out of the refrigerator ahead of time, too, so it's soft, but not so soft that it looks oily. It will blend into a smoother b` and prevent little bits of butter in the batter.
PRO-Tip: The melted chocolate should be cooled down to at least 80° before adding it to the butter or the butter will melt.
I like using the microwave to melt my chocolate. Use short increments and stir before starting the microwave again. When it's almost completely melted, let the residual heat finish the process. This minimizes the chance of the chocolate seizing from overheating.
PRO-Tip: Spray the baking pans with Baker's Joy, a flour and oil spray to prevent sticking. Cool for 15 minutes before releasing the cakes from their pans. Sooner and the edges may not be well set, and if you wait longer, the cakes may stick. Alternatively, you can butter the pans and dust with flour.
PRO-Tip: Adding coffee powder is a trick for enhancing the flavor of any chocolate dessert. The original recipe called for espresso powder which is more intense. Feel free to use espresso powder instead.
If you'd like to make this cake in stages, Marcel recommends baking the cake on day one, then cooling, wrapping in plastic wrap, and storing it in the refrigerator. On day two, make the ganache and buttercream frosting. Then assemble.
PRO-Tip: To slice the cake layers horizontally, I like placing toothpicks around the perimeter of each cake, slightly below the halfway point of the cakes. This will help guide your knife as you slice. Use a long knife and slowly go around the perimeter before working your way inwards.
You can store this cake for 2 days before serving. But bring it out of the refrigerator, slice, and let the slices come to room temperature before serving.
Use a 1M piping tip (a star tip) to garnish the cake with stars made with the leftover ganache.
The Ultimate Chocolate Layer Cake
I found an espresso fudge layer cake in Marcel Desaulniers' Death by Chocolate cookbook, but it was loaded with coffee undertones. The hubby's persnickety palate would not be a fan. The espresso needed to be toned way down. The result was a sublime creation. I really tried to restrain myself, but this Chocolate Fudge Layer Cake was one amazing, irresistible cake! Save this recipe for a special occasion. And make sure to allow enough time to make all the components.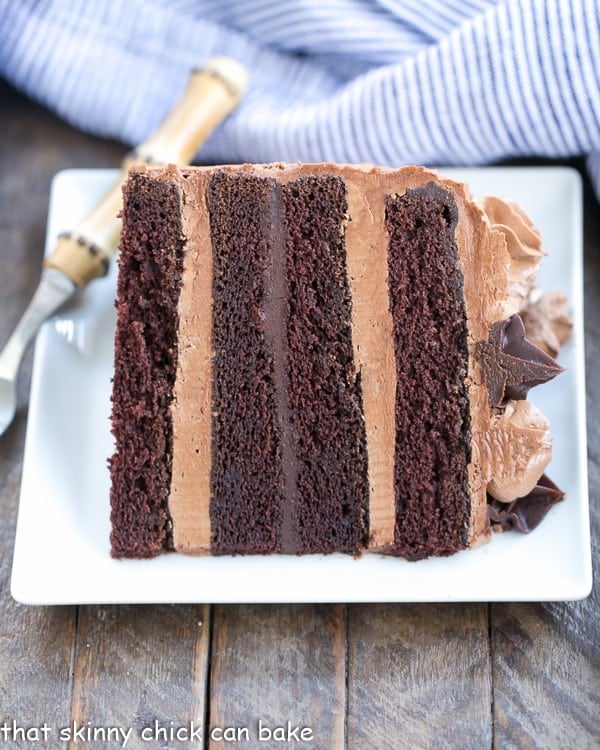 Frequently Asked Questions
How Do You Fix a Broken Ganache?
If you overheat your ganache when making it, there is a chance it can separate. No one wants to waste a batch, especially if loaded with expensive chocolate!!
My friend, Jenni, the writer of Pastry Chef Online, provides a tutorial for How to Fix a Broken Ganache, that could save your dessert one day!
How Do You Make Even Layers?
If your pans are all the same model, you can weigh them when they are filled with batter. Spoon batter from a heavier pan to the lighter pan. This can be a bit time-consuming, but not difficult.

You can also use a toothpick to measure the depth of the batter and then adjust it as needed by moving a spoonful or two of batter from the heavier layer to the lighter layer. Reweigh both and make more adjustments if needed.
How Do You Store this Cake?
So the frosting doesn't get too warm, it's best to store this cake in the refrigerator. Once slices are removed, cover the exposed cake with plastic wrap to prevent it from drying out. Remember to bring the cake (or individual slices) to room temperature before serving for the best texture.
You May Also Like:
If you're looking for more chocolate cake recipes (I always am!!), here are a few delicious options.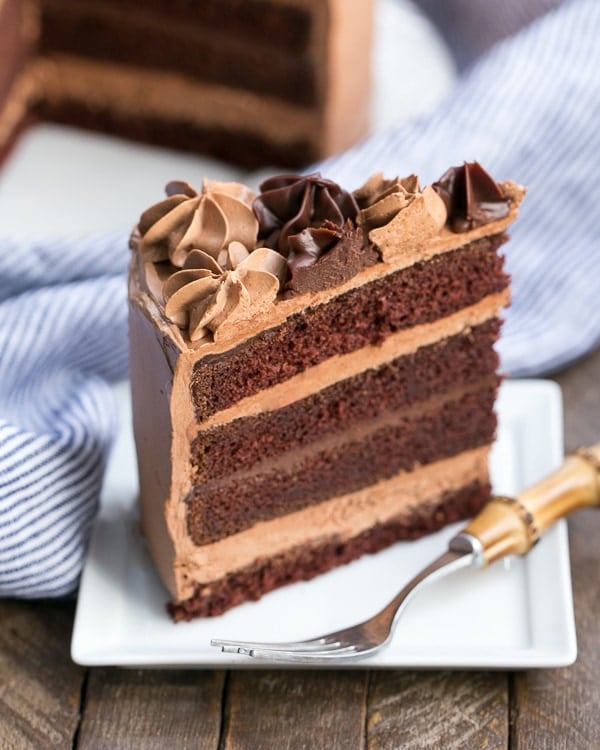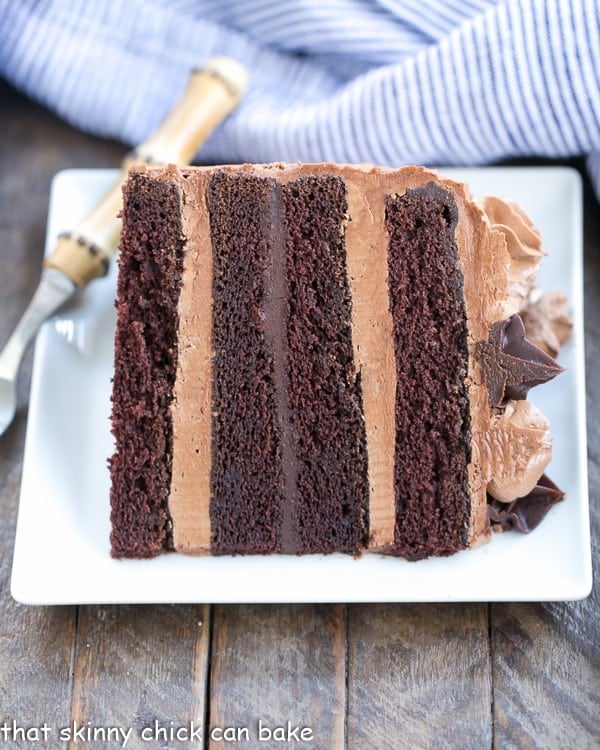 The Recipe:
Chocolate Fudge Layer Cake
Prep Time 1 hour
Cook Time 50 minutes
Total Time 1 hour 50 minutes
Yield 16 servings
A decadent multi-layered cake that's worthy of any holiday or celebration, especially if you're a chocoholic! Adapted from Marcel Desaulniers
Ingredients
Fudge Cake:
4 ounces unsweetened chocolate, chopped
2 cups cake flour
2 teaspoons baking soda
½ teaspoon salt
8 tablespoons butter at room temperature
2 cups packed light brown sugar
4 eggs
1 teaspoon vanilla
1 cup water
1 cup sour cream
Chocolate Ganache:
1 cup heavy cream
2 tablespoons butter
2 tablespoons sugar
8 ounces semisweet chocolate, chopped
1 teaspoon instant coffee powder
Chocolate Buttercream:
8 ounces semisweet chocolate, chopped
2 ounces unsweetened chocolate, chopped
2 teaspoons vanilla
1 pound butter at room temperature
5 egg whites
1 cup sugar
Instructions
Preheat oven to 350º.½
To make the cake, place the unsweetened chocolate in a microwave-safe bowl. Gently microwave, using 30-second increments, stirring frequently, until almost all melted. Remove and let sit, stir until smooth. If needed zap again for a few seconds to make sure all chocolate is melted.
Spray two 9-inch cake pans with non-stick oil and flour spray like Bakers Joy. Whisk together the 2 cups of flour, baking soda, and salt in a medium bowl. Set aside.
Combine the brown sugar and 8 tablespoons of soft butter in the bowl of an electric mixer fit with the paddle attachment. Beat on low for 3 minutes. Scrape down the sides of the bowl, then beat on high for 2 minutes. Scrape down the sides of the bowl again and beat on high for another 1½ minutes.
Add 4 eggs, one at a time, beating on high for 30 seconds after adding each egg. Scrape down the bowl after each addition, then beat on high for 2 more minutes. Add the melted chocolate and the vanilla. Beat on low for 30 seconds, then scrape down the bowl.
Microwave 1 cup of water until near boiling in a microwave-safe Pyrex measuring cup. With the mixer on low add a third of the flour mixture. Mix, then add ½ cup sour cream; allow to mix for 30 seconds. Add another third of the flour and the remaining sour cream and mix for another 30 seconds. Add the remaining sifted flour and the boiling water and mix for an additional 30 seconds before removing the bowl from the mixer. Use a rubber spatula to finish mixing the batter, until it is smooth and thoroughly combined. You do not want to over-mix.
Pour the cake batter into the prepared pans, dividing it evenly. Smooth the tops with an offset spatula. Bake until a toothpick inserted in the center comes out clean, 45 to 50 minutes. Remove the cakes from the oven and cool in the pans for 15 minutes at room temperature. Remove cakes to cooling racks and refrigerate until needed.
To make the ganache: Heat the heavy cream, 2 tablespoons butter, and 2 tablespoons sugar in a 2½-quart saucepan over medium-high heat, stirring to dissolve the sugar. Bring the mixture to a boil. Place 8 ounces of semisweet chocolate and the instant coffee powder in a heatproof bowl. Pour the boiling cream over the chocolate. Allow to stand for 10 minutes, then stir until smooth. Keep at room temperature until ready to use.
To make the buttercream: Heat 1 inch of water in the bottom half of a double boiler over medium heat. Place 8 ounces of semisweet chocolate, and 2 ounces of unsweetened chocolate in the top half of the double boiler. Tightly cover the top with plastic wrap. Allow to heat for 8 to 10 minutes, add vanilla and stir until smooth. Set aside until needed.
Place 1 pound of butter in the bowl of an electric mixer fitted with a paddle. Beat the butter on low for 2 minutes then on medium for 3 minutes. Scrape down the sides of the bowl. Beat on high until light and fluffy, about 4 to 5 minutes. Transfer the butter to a large bowl. Set aside until needed.
Heat 1 inch of water in the bottom half of a double boiler over medium heat. Place 5 egg whites and 1 cup sugar in the top half of the double boiler. Gently whisk the egg whites until they reach a temperature of 120 degrees, about 3 to 5 minutes. Transfer the heated egg whites to the bowl of an electric mixer fitted with the whisk attachment. Beat on high until stiff peaks form, about 4 minutes. Remove from mixer.
Fold the melted chocolate into the butter, using a rubber spatula to thoroughly combine. Fold in the whipped egg whites until thoroughly combined. Set aside.
To assemble the cake: Remove the cakes from the refrigerator and turn them over so the top side is facing up. Trim off the tops of the cakes, if they are rounded. Slice each cake horizontally into 2 equal layers. Place the top layer of a cake onto the bottom of a closed 9-inch springform pan. Evenly spread 1½ cups of the buttercream over the cake in the springform pan. Place the bottom layer of the first cake onto the buttercream and gently press it into place. Pour 1¼ cups of ganache over the cake layer, spreading the ganache evenly to the edges. Refrigerate the remaining ganache. Place the top layer of the second cake on top of the ganache and press it into place. Spread 1½ cups buttercream evenly over this layer. Place the remaining bottom cake layer, cut side down, onto the buttercream, and gently press into place. Cover the entire cake and pan with plastic wrap and freeze for 1 hour.
To decorate the cake: Fill a pastry bag fitted with a large star tip with 1½ cups of buttercream. Remove the cake from the freezer. Run a metal spatula or table knife around the edges next to the pan to release the cake from the springform pan. Transfer the cake to a serving plate. Using a cake spatula, evenly spread the remaining buttercream over the top and sides of the cake. Refrigerate the cake for 1 hour.
Fill a pastry bag fitted with a medium-sized star tip with remaining ganache. To decorate the cake, first pipe a ring of the buttercream stars around the outside edge of the top of the cake. Then pipe a circle of ganache stars (each star touching the other) inside the ring of buttercream. Alternate the rings of buttercream stars and circles of ganache stars, until the entire top of the cake is covered. Refrigerate the cake for at least 1 hour before cutting.
To cut and serve the cake: When ready to serve, slice the cake and let rest at room temperature for 10-15 minutes before serving.
Recommended Products
As an Amazon Associate and member of other affiliate programs, I earn from qualifying purchases.
Nutrition Information:
Yield:
16
Serving Size:
1 slice
Amount Per Serving:
Calories: 779
Total Fat: 54g
Saturated Fat: 33g
Trans Fat: 2g
Unsaturated Fat: 17g
Cholesterol: 152mg
Sodium: 519mg
Carbohydrates: 72g
Fiber: 4g
Sugar: 53g
Protein: 8g
I hate to admit this, but I often make two desserts for our family of 5 on the holidays. Mainly it's because the guys, meaning my hubby and two grown sons, want something chocolate.
Katie and I aren't quite as rigid, so we can go peanut butter, vanilla, or even red velvet. But the most thought goes into the chocolate recipe. Lava cakes and French silk pie make the cut quite frequently, but I also love to peruse my cookbooks for a new idea like this fabulous fudge cake!
Note: This post may contain affiliate links; view
my Disclosure Policy
for details. I earn a small percentage from any purchase you make by clicking on these links at no extra cost to you.