This Layered mousse cake is rich and decadent, and worthy of an appearance when you need a special dessert. A group of girlfriends gathered for a holiday luncheon the week before Christmas. Once it was decided we'd surprise one of our friends for her upcoming birthday, I knew I had to make one incredibly special dessert.
I went deep into my archives to retrieve this Layered Mousse Cake recipe. Between the guest of honor and my friends, there were nothing but accolades for this lovely mousse dessert.
Layered Mousse Cake
I've made so many chocolate mousses and mousse cakes that I've lost count. Every iteration I've seen, I've tried. This is one, though, that I've made more than once. It's memorable. It's decadent. It's a show stopper. There are SO many amazing mousse recipes out in the blogosphere, and I could make a new once each week without a complaint from my family. Well, unless there's a Brussels sprouts version out there. I don't think I'll bother googling that! This White Chocolate Mousse with Frangelico is a family favorite.
My friend, Shelli, has a birthday the same day as my son, Tom. Two days after Christmas. Lost in the shuffle of the holidays. We were going to make sure she knew we loved her; I made this sublime creation to celebrate her special day. There was swooning after the sampling of this layered mousse cake began. If you need an incredible dessert, this is the one for you!!
Three Layered Cake!
With a layered dessert, a decent Springform Pan is crucial. Having removable sides helps reveal the gorgeous layers without having to flip your creation out of a traditional cake pan. The bottom layer is baked. The eggs happen to be separated and the whites beaten to make a lighter, cake-like base. Then there are those dreamy chocolate and white chocolate mousse layers. I revealed how to make Chocolate Curls on a previous post. They're hard to fiddle with on a hot summer's day, but if you crank up the AC for a bit, I think they're doable any time of year! This Layered Mousse Cake is worth the effort!!
PRO-Tip: When beating egg whites, like in both the mousse layers and the bottom chocolate souffle cake, the bowl and beaters must be free of all grease or they will not whip properly. If some egg yolk happens to get into your whites, you must toss the eggs as the fat in the yolks will prevent the whites from getting to the proper consistency.
Tip #2: To avoid contaminating your egg whites with a speck of yolk, separate your yolk into one clean bowl and then the white into another. For the next egg, separate the egg white into a third bowl and transfer that white to the other bowl of whites only if it does not have any yolk in it.  The yolk can go into the yolk bowl. Repeat using the empty whites bowl for your initial separation as long as no drops of yolk have been introduced.
It's a bit of extra work, but once you've accidentally gotten a bit of yolk into a bowl of 6 egg whites, you'll understand that it's worth the effort. I've done that….more than once!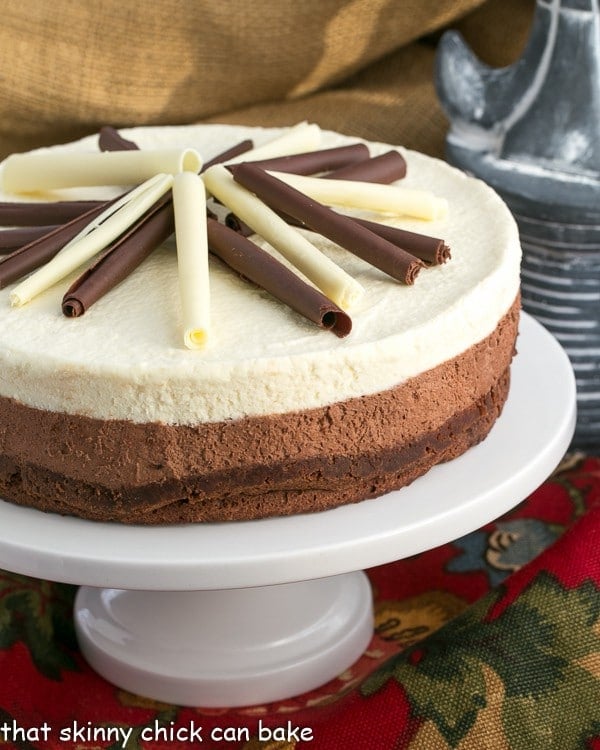 National Sunday Supper Month!
I've been with this Sunday Supper group since nearly its inception…nearly 4 years ago. I think my first Sunday Supper post featured these Parisian Cheese Puffs for our Oscar party on February 26, 2012! To celebrate, January has been declared National Sunday Supper month. We are all focusing on great food and family–just what the Sunday Supper mission is all about.  Plus, make sure to check out all the amazing recipes this week—we have a huge number of participants for this special event!
More Fabulous Recipes to Kick off Sunday Supper Month:
Appetizers and Soups
Main courses
Side dishes
Desserts
How To Make Layered Mousse Cake
To make this decadent 3 layered mousse cake recipe, you'll need these tools:
Print
Layered Mousse Cake
A decadent, 3 layer chocolate mousse cake that will thrill the chocoholics in your life! Adapted slightly from Cook's Illustrated.
Author:
Prep Time: 40 minutes
Cook Time: 18 minutes
Total Time: 58 minutes
Yield: 12 servings
Category: Dessert, Cake
Method: Baking
Cuisine: American
Ingredients
Bottom layer:
6 tablespoons butter, cut into pieces (plus extra for greasing the pan)
7 ounces semisweet chocolate, finely chopped
¾ teaspoon instant espresso powder
1½ teaspoons vanilla extract
4 eggs, separated
Pinch of salt
1/3 cup brown sugar
Chocolate Mousse Layer
2 tablespoons Dutch-processed cocoa powder
5 tablespoons. hot water
7 ounces semisweet chocolate, finely chopped
1½ cups heavy cream
1 tablespoon granulated sugar
Pinch of salt
White Chocolate Mousse:
¾ teaspoon powdered gelatin (I use Knox)
1 tablespoon water
6 ounces white chocolate, finely chopped
1½ cups heavy cream
For garnish:
Instructions
To make the bottom layer, butter the bottom and sides of a 9-inch spring-form pan. Center a rack in the oven and preheat to 325º. Combine the butter, chocolate, and espresso powder in a large heatproof bowl set over simmering water. Stir occasionally until the mixture is smooth. Remove from the heat and let cool slightly, about 5 minutes. Whisk in the vanilla and egg yolks. Set aside.
In a stand mixer, beat the egg whites and salt on medium speed until foamy. Crumble the brown sugar into the egg whites and mix to incorporate. Continue to beat on high speed until stiff peaks form, a minute or two longer. Using a whisk, mix about a third of the beaten egg whites to the chocolate mixture to lighten it. Fold in the remaining egg whites gently with a rubber spatula until no streaks remain. Pour the batter into the prepared spring-form pan and smooth the top with a spatula.
Bake until the center of the cake has just set but is still soft (should spring back after pressing gently with a finger), about 14-18 minutes. Cool completely on a wire rack.
To make the second layer, whisk together the cocoa powder and hot water in a small bowl; set aside. Melt the chocolate in a heatproof bowl set over simmering water, stirring occasionally until smooth. Once melted, remove from the heat and let cool slightly, 2-5 minutes.
In the clean bowl of a stand mixer fitted with the whisk attachment, whip the cream, sugar and salt on medium speed until the mixture begins to thicken, about 30 seconds. Increase the speed to high and whip until soft peaks form when the whisk is lifted, 30-60 seconds. Whisk in the cocoa powder mixture until smooth. Using a whisk, mix one-third of the whipped cream to the chocolate mixture to lighten it. Fold in the remaining whipped cream gently with a rubber spatula until no streaks remain. Pour the mousse into the spring-form pan over the cooled cake and tap gently on the counter a few times to remove the air bubbles. Smooth the top with a spatula. Wipe off any mousse that has dripped on the interior of the pan. Refrigerate while preparing the top layer.
Sprinkle the gelatin over the water in a small bowl and let stand at least 5 minutes to soften. Place the white chocolate in a medium bowl. Bring ½ cup of the cream to a boil in a small saucepan. Remove the pan from the heat, add the gelatin mixture and stir until dissolved. Pour the hot cream mixture over the white chocolate and let stand about 1 minute. Whisk until the mixture is smooth. Cool to room temperature, stirring occasionally.
Whip the remaining 1 cup of cream until it begins to thicken. Increase the speed to high and whip until soft peaks form. Using a whisk, mix one-third of the whipped cream to the white chocolate mixture to lighten it. Fold in the remaining whipped cream gently with a rubber spatula until no streaks remain. Spoon the white chocolate mousse into the pan over the middle layer. Smooth the top with an offset spatula. Return the cake to the refrigerator and chill until set, at least 2½ hours.
Garnish with chocolate curls if desired.
Notes
Total time does not include chilling time.
Help us celebrate National Sunday Supper Month by entering the Idaho® Potato Let's Poutine recipe contest, sponsored by the Idaho Potato Commission, with prizes of $500, $200 and $100, plus a ticket for each winner to Food and Wine Conference 2016. All the rules and conditions for entry can be found on our Sunday Supper Movement website.
Join the #SundaySupper conversation on Twitter on Sunday! We tweet throughout the day and share recipes from all over the world. Our weekly chat starts at 7:00 pm ET. Follow the #SundaySupper hashtag and remember to include it in your tweets to join in the chat.
Note: This post may contain affiliate links; view
my Disclosure Policy
for details. I earn a small percentage from any purchase you make by clicking on these links at no extra cost to you.