Layered Mousse Cake
This Layered Mousse Cake is rich and decadent, and worthy of an appearance when you need a special dessert. A group of girlfriends gathered for a holiday luncheon the week before Christmas. Once it was decided we'd surprise one of our friends for her upcoming birthday, I knew I had to make one incredibly special dessert.
I went deep into my archives to retrieve this Chocolate Mousse Cake recipe. Between the guest of honor and my friends, there was nothing but accolades for this lovely mousse dessert.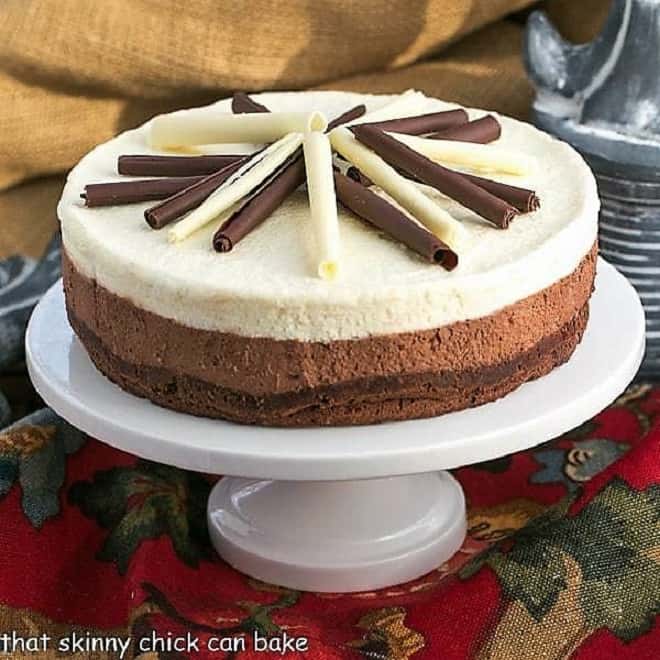 Why You Must Make
There is a variety of chocolate in this cake for any fan: White Chocolate, Milk Chocolate, and Dark Chocolate!
The bottom layer is a chocolate souffle cake, followed by a layer of semisweet chocolate mousse, then white chocolate mousse. A triple indulgence.
It's an exquisite dessert that makes a gorgeous presentation. It's perfect for any celebration!
I've made so many chocolate mousse recipes and mousse cakes that I've lost count. Every iteration I've seen, I've tried. This is one, though, that I've made more than once. It's memorable. It's decadent. It's a show-stopper. There are SO many amazing mousse recipes out in the blogosphere, and I could make a new one once each week without a complaint from my family. Well, unless there's a Brussels sprouts version out there. I don't think I'll bother googling that! This White Chocolate Mousse with Frangelico is a family favorite.
My friend, Shelli, has a birthday on the same day as my son, Tom. Two days after Christmas. Lost in the shuffle of the holidays. We were going to make sure she knew we loved her; I made this sublime creation to celebrate her special day. There was swooning after the sampling of this layered mousse cake began. If you need an incredible dessert, this is the one for you!!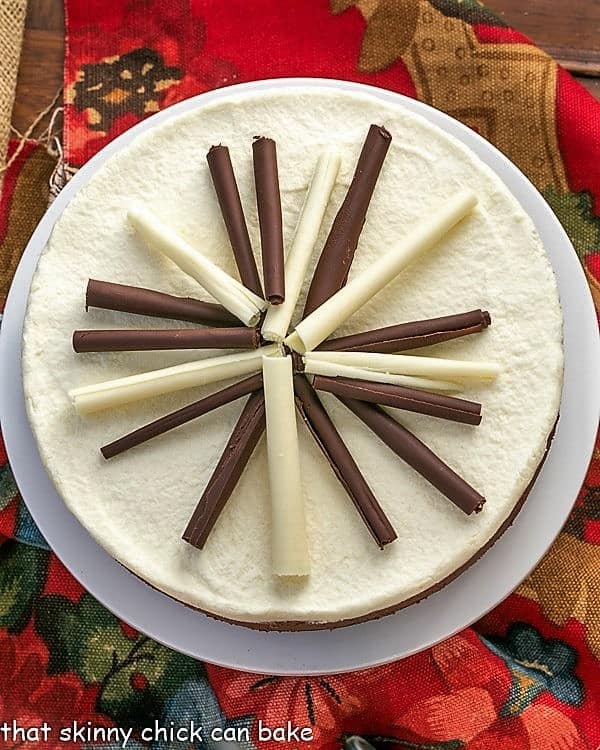 Expert Tips
With a layered dessert, a decent springform pan is crucial. Having removable sides helps reveal the gorgeous layers without having to flip your creation out of a traditional cake pan.
The bottom layer is baked. The eggs happen to be separated and the whites are beaten to make a lighter, cake-like base. Then there are those dreamy chocolate and white chocolate mousse layers. Note that the mousse contains raw eggs and should not be served to small children or anyone with a compromised immune system.
In a previous post, I revealed how to make Chocolate Curls. They're hard to fiddle with on a hot summer's day, but if you crank up the AC for a bit, I think they're doable any time of year! It's worth the effort when making this Layered Mousse Cake.
PRO-Tip: When beating egg whites, like for the bottom chocolate souffle cake, the bowl and beaters must be free of all grease or they will not whip properly. If some egg yolk happens to get into your whites, you must toss the eggs as the fat in the yolks will prevent the whites from achieving the proper consistency.
PRO-Tip: To avoid contaminating your egg whites with a speck of yolk, separate your yolk into one clean bowl and then the white into another. For the next egg, separate the egg white into a third bowl and transfer that white to the other bowl of whites only if it does not have any yolk in it. The yolk can go into the yolk bowl. Repeat using the empty whites bowl for your initial separation as long as no drops of yolk have been introduced. It's a bit of extra work, but once you've accidentally gotten a bit of yolk into a bowl of 6 egg whites, you'll understand that it's worth the effort. I've done that….more than once!
Do not overwhip the cream or your mousse may be grainy.
Gently fold in the whipped cream when making the mousse. The goal is not to deflate the cream so the mousse is light and airy.
Always chill your mousse or mousse cake before serving to allow it to firm up.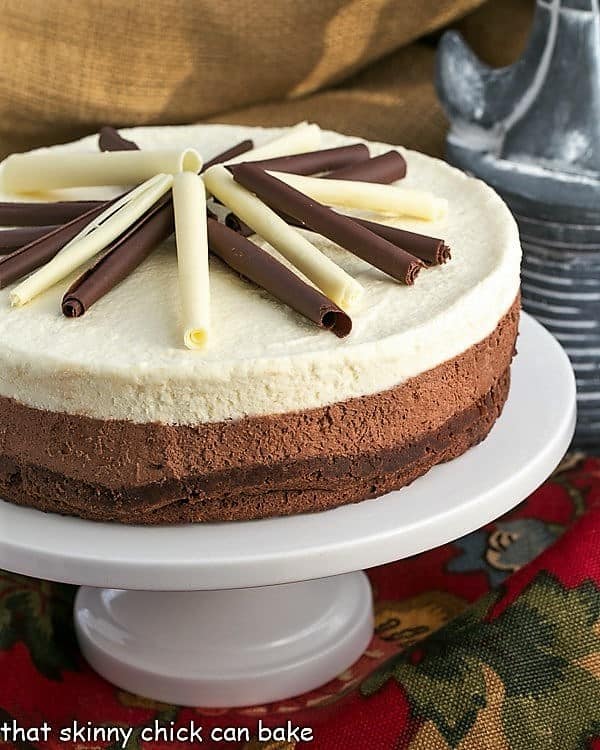 Frequently Asked Questions
What is Mousse?
Mousse is a sweet or savory dish made of stiffly whipped egg whites or another aerator and base (like a fruit puree or melted chocolate). The texture of mousse is typically light and airy.
What are the Four Components of Mousse?
Most mousse recipes will have an Aerator like whole eggs, egg whites or whipped cream, providing the classic light fluffy texture. A Thickener like gelatin is optional depending on the recipe. The Base is the flavoring, for example, melted chocolate or fruit puree. And the Sweetener is often mixed in with aerator, frequently in the form of meringue.
How Do You Make Chocolate Curls?
Making chocolate curls is a simple 2-ingredient recipe. Here is the basic process:
Melt chocolate with shortening.
Spread thinly on the back of a smooth baking sheet.
Place in the freezer.
After just 2-3 minutes, remove the pan from the freezer. The chocolate needs to be firm enough to make curls, but not so firm that it cracks. When you press the chocolate with your finger, you should see a slight mark, but if it's too soft, you'll see a deep indentation. Put it back in the freezer for a minute if it's too soft.
Use a bench scraper or metal spatula and start scraping from the bottom of the pan to form curls. Repeat until the chocolate gets too warm to make curls, then place the pan back into the freezer for a minute or so.
Place the curls in a single layer and keep them cold until ready to use. You may also store these in the freezer in an airtight container with parchment between layers.
Note that white chocolate is softer than semisweet and may need a higher ratio of chocolate to shortening.
You May Also Like:
If your family is full of chocoholics like mine, you're always searching for a new chocolate dessert. I have a few tried and true recipes that are perfect for entertaining or holidays. Only a sliver is needed to get your chocolate fix!
Stay in touch through social media @ Instagram, Facebook, and Pinterest. Don't forget to tag me when you try one of my recipes! And if you love the results, please give it a 5-star rating in the recipe card. Note: As an Amazon Associate, I earn from qualifying purchases. Visit my Amazon Store for my favorite products.
The Recipe:
Layered Mousse Cake Recipe
Prep Time 40 minutes
Cook Time 18 minutes
Total Time 58 minutes
Yield 12 servings
A decadent, 3 layer chocolate mousse cake that will thrill the chocoholics in your life!
Ingredients
Bottom layer:
6 tablespoons butter, cut into pieces (plus extra for greasing the pan)
7 ounces semisweet chocolate, finely chopped
¾ teaspoon instant espresso powder
1½ teaspoons vanilla extract
4 eggs, separated
Pinch of salt
1/3 cup brown sugar
Chocolate Mousse Layer:
2 tablespoons Dutch-processed cocoa powder
5 tablespoons. hot water
7 ounces semisweet chocolate, finely chopped
1½ cups heavy cream
1 tablespoon granulated sugar
Pinch of salt
White Chocolate Mousse:
¾ teaspoon powdered gelatin (I use Knox)
1 tablespoon water
6 ounces white chocolate, finely chopped
1½ cups heavy cream
For garnish:
Instructions
To make the bottom layer, butter the bottom and sides of a 9-inch spring-form pan. Center a rack in the oven and preheat to 325º.
Combine the butter, chocolate, and espresso powder in a large heatproof bowl set over simmering water. Stir occasionally until the mixture is smooth.
Remove from the heat and let cool slightly, about 5 minutes. Whisk in the vanilla and egg yolks. Set aside.
In a stand mixer, beat the egg whites and salt on medium speed until foamy. Crumble the brown sugar into the egg whites and mix to incorporate.
Continue to beat on high speed until stiff peaks form, a minute or two longer. Using a whisk, mix about a third of the beaten egg whites into the chocolate mixture to lighten it.
Fold in the remaining egg whites gently with a rubber spatula until no streaks remain. Pour the batter into the prepared spring-form pan and smooth the top with a spatula.
Bake until the center of the cake has just set but is still soft (should spring back after pressing gently with a finger), about 14-18 minutes. Cool completely on a wire rack.
To make the second layer, whisk together the cocoa powder and hot water in a small bowl; set aside.
Melt the chocolate in a heatproof bowl set over simmering water, stirring occasionally until smooth. Once melted, remove from the heat and let cool slightly, 2-5 minutes.
In the clean bowl of a stand mixer fitted with the whisk attachment, whip the cream, sugar, and salt on medium speed until the mixture begins to thicken, about 30 seconds. Increase the speed to high and whip until soft peaks form when the whisk is lifted, 30-60 seconds.
Whisk in the cocoa powder mixture until smooth. Using a whisk, mix one-third of the whipped cream to the chocolate mixture to lighten it. Fold in the remaining whipped cream gently with a rubber spatula until no streaks remain.
Pour the mousse into the spring-form pan over the cooled cake and tap gently on the counter a few times to remove the air bubbles. Smooth the top with a spatula.
Wipe off any mousse that has dripped on the interior of the pan. Refrigerate while preparing the top layer.
Sprinkle the gelatin over the water in a small bowl and let stand at least 5 minutes to soften.
Place the white chocolate in a medium bowl. Bring ½ cup of the cream to a boil in a small saucepan. Remove the pan from the heat, add the gelatin mixture and stir until dissolved.
Pour the hot cream mixture over the white chocolate and let stand for about 1 minute. Whisk until the mixture is smooth. Cool to room temperature, stirring occasionally.
Whip the remaining 1 cup of cream until it begins to thicken. Increase the speed to high and whip until soft peaks form.
Using a whisk, mix one-third of the whipped cream to the white chocolate mixture to lighten it. Fold in the remaining whipped cream gently with a rubber spatula until no streaks remain.
Spoon the white chocolate mousse into the pan over the middle layer. Smooth the top with an offset spatula.
Return the cake to the refrigerator and chill until set, at least 2½ hours.
Garnish with chocolate curls if desired.
Notes
Total time does not include chilling time.
To make chocolate curls, melt 3 ounces of semisweet chocolate with 1 tablespoon of Crisco (vegetable shortening).
Cake recipe is adapted slightly from Cook's Illustrated.
Recommended Products
As an Amazon Associate and member of other affiliate programs, I earn from qualifying purchases.
Nutrition Information:
Yield:
12
Serving Size:
1 slice
Amount Per Serving:
Calories: 544
Total Fat: 44g
Saturated Fat: 27g
Trans Fat: 1g
Unsaturated Fat: 14g
Cholesterol: 148mg
Sodium: 126mg
Carbohydrates: 38g
Fiber: 2g
Sugar: 34g
Protein: 6g
Note: This post may contain affiliate links; view
my Disclosure Policy
for details. I earn a small percentage from any purchase you make by clicking on these links at no extra cost to you.