Individual Chocolate Soufflés
These Individual Chocolate Soufflés are a decadent dessert that will impress your guests! These always do the trick. They're easier to make than you might think!!
Learn How to Make a Souffle where the magic of whipped egg whites mixed with rich melted chocolate happens with a short stint in the oven. It's a restaurant-worthy dessert you can make in your own kitchen. Be prepared for applause!!!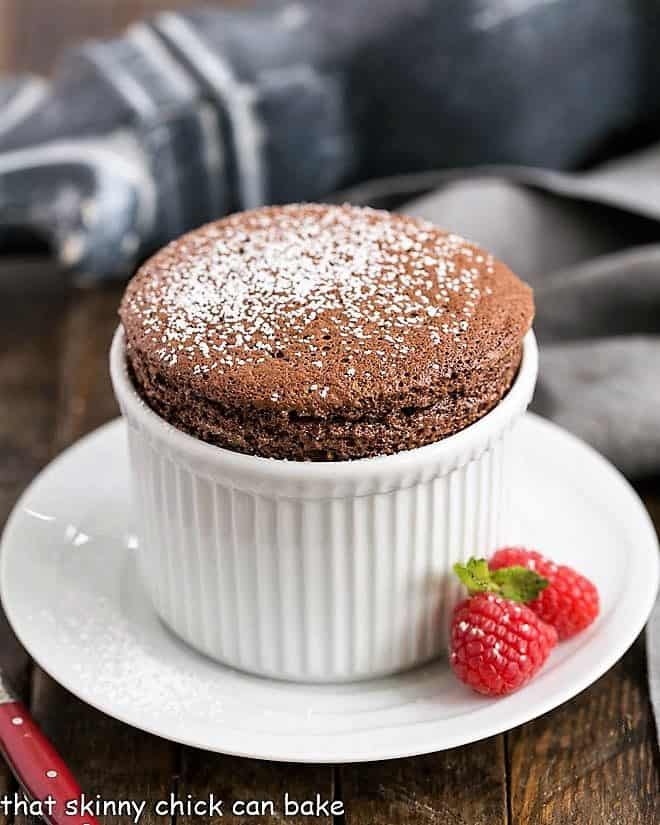 Why You Must Make these Soufflés
They have a deep chocolate intensity. Sometimes souffles are more fluff than flavor. The key is to have at least an ounce of chocolate per serving.
A soufflé is such a light and airy dessert and extremely impressive as it puffs up in the oven.
This recipe for Individual Chocolate Soufflés gives an option to freeze. So you can pop these in the oven as you're finishing up dinner, since it's not really practical for the dinner host or hostess to have to whip up the dessert while the guests wait.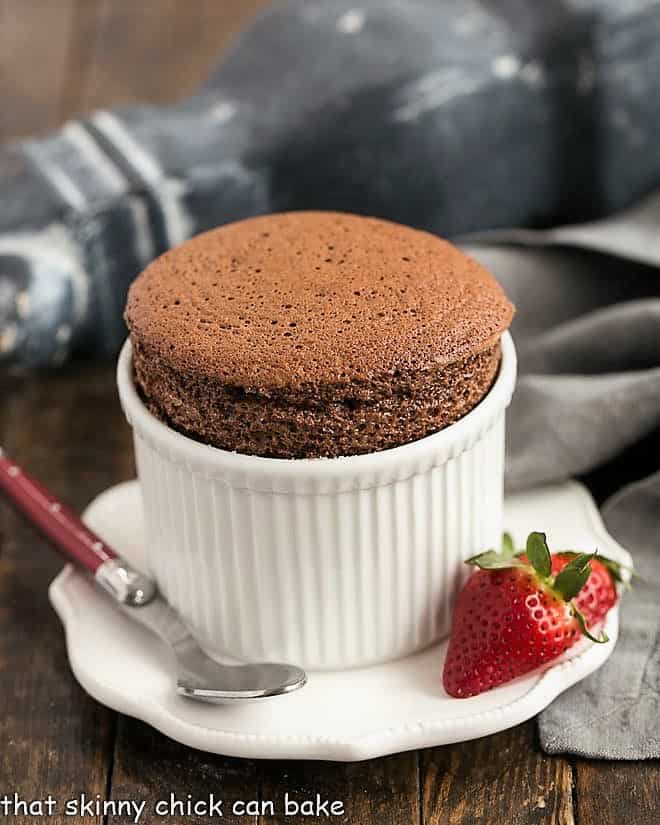 Frequently Asked Questions
What is Soufflé?
The popularity of the soufflé (pronounced so͞oʹflā) is credited to Marie-Antoine Carême, the father of French haute cuisine. He published his recipe in "Le Pâtissier Royal Parisien" in 1815, though the first recipe can be traced back to 1742.
Soufflé comes from the French word souffler, meaning to breathe or to puff, and is composed of both a base and egg whites. The base can be savory, like a cheese soufflé, or sweet like a raspberry souffle, lemon soufflé, or this chocolate souffle. The egg whites give the puff and the base adds the flavor.
Can You Make a Soufflé Ahead of Time?
Yes! Scroll down to the recipe to see how to freeze your soufflés and bake them later.
How Do You Know When a Soufflé is Done?
When a soufflé is done, the top will be puffed and the center will only shake slightly when jiggled. If you're still unsure, take two spoons and break open the center of one soufflé and check out the consistency of the middle. If you prefer a softer center, bake for a shorter time or if you want a firmer soufflé, add a couple more minutes.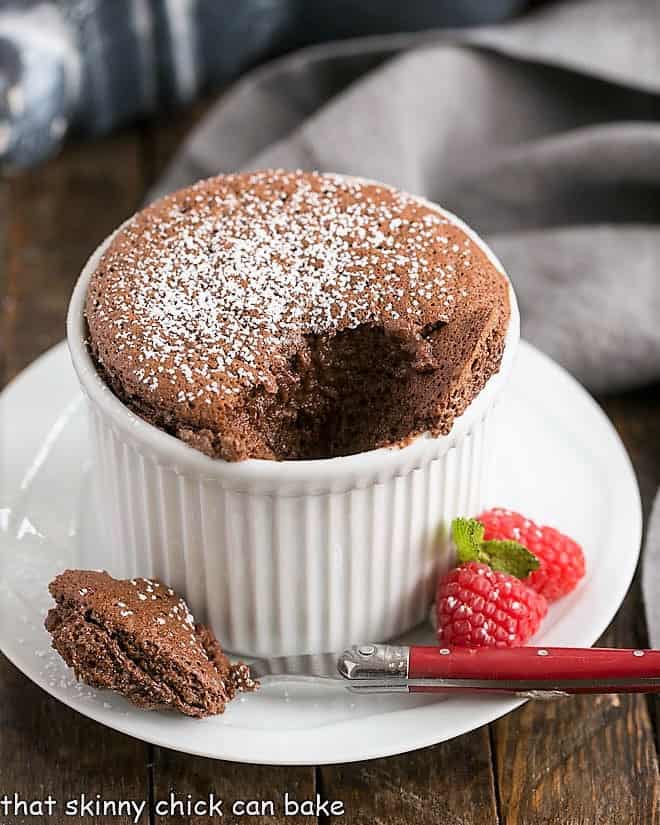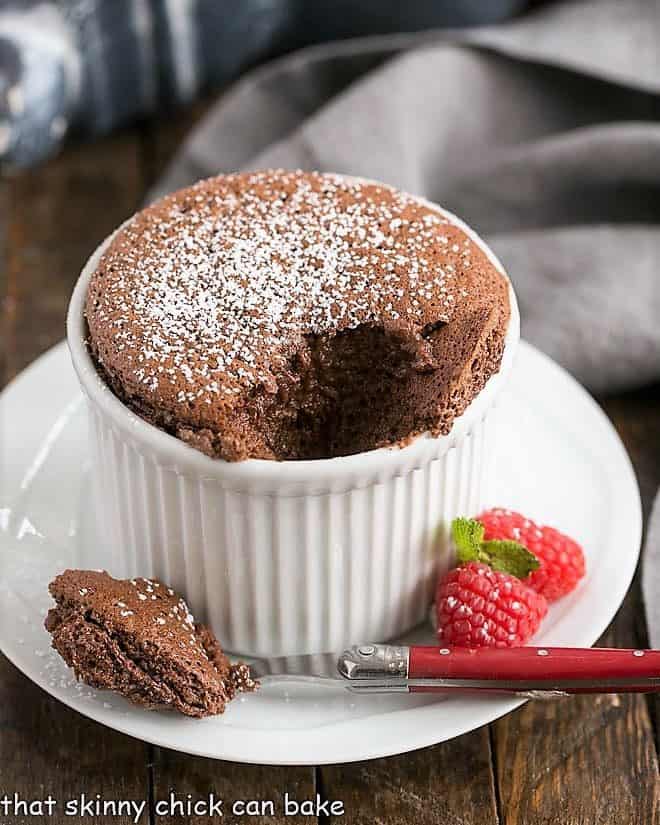 Tips for How to Make Perfect Soufflés
Nick, a true clone of his chocoholic dad, declared these good but not chocolaty enough when I served these first back in 2011. I, on the other hand, found these individual chocolate soufflés intensely rich and delectable. But he was over for a Sunday night dinner recently where these gems were the grand finale to our menu. There was not a single syllable of criticism. I'd been redeemed…or more likely, his palate had matured!
If you're new to making soufflés, here are a few pointers to help you through the process.
PRO-Tip: First, it's imperative you know that a soufflé will start deflating as soon as it comes out of the oven. So you can either do the final mixing and baking right before dessert is served or make early, freeze, and bake slightly longer (see recipe card below for freezing details).
Prepping your ramekins will ensure a perfect rise. The butter helps the sugar adhere. The sugar helps the soufflé have something to hold onto as it rises.
Using a collar of parchment helps keep the soufflé higher than the ramekin, staying in line and not falling out of the dish.
PRO-Tip: When whipping egg whites, your bowl and beaters must be scrupulously clean. Any grease on either (which also includes egg yolk contamination) will prevent your whites from beating to stiff peaks.
The whipped whites allow for the expansion of your soufflés, so if your whites don't whip properly, toss them and begin again.
I had a couple of uncollared soufflés. One rose and split like a flower….another looked like it exploded! I'd recommend less batter in the ramekins (make 8 instead of 6 soufflés if not using the collars).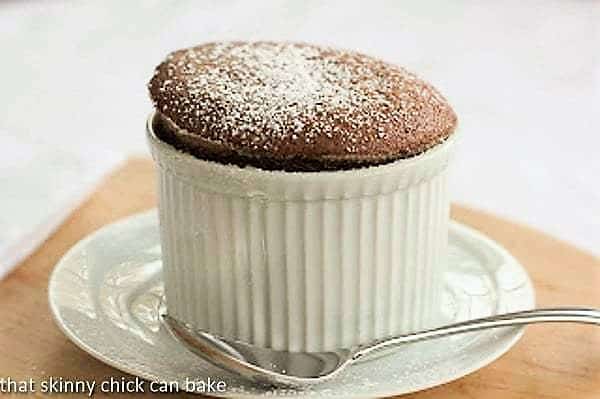 This chocolate souffle recipe was originally posted in 2011. The photos and text were updated in 2019.
More Egg Recipes for Your Menu
Breakfast
Appetizer
Bread
Main Courses
Side Dishes
Desserts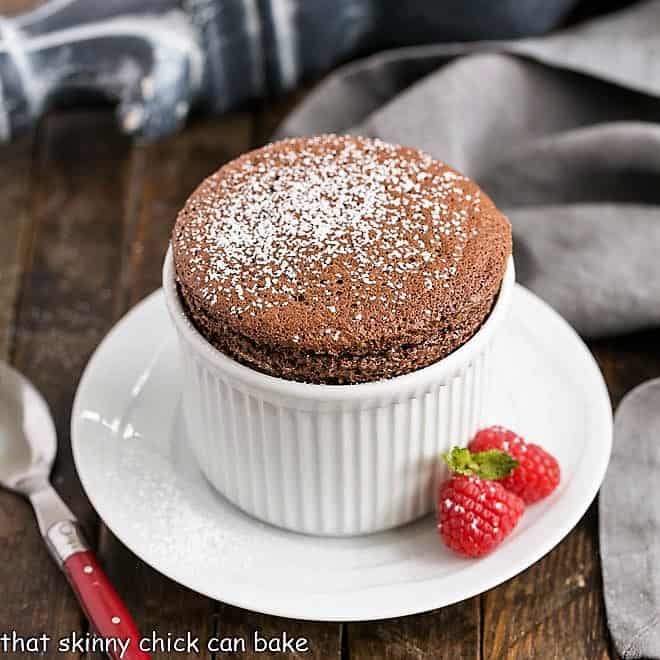 The Recipe:
Individual Chocolate Soufflés
Prep Time 30 minutes
Cook Time 30 minutes
Total Time 1 hour
Yield 6-8 servings
An elegant impressive dessert for entertaining, holidays or any special dinner!
Ingredients
4 tablespoons butter (cut into pieces, plus more for coating ramekins)
8 ounces good quality semi-sweet chocolate (chopped)
1/2 teaspoon vanilla
1 tablespoon liqueur of choice (I used Frangelico...Grand Marnier was recommended)
6 egg yolks
8 egg whites (at room temperature)
1/3 cup sugar plus more for coating ramekins
1/4 teaspoon cream of tartar
2 tablespoons powdered sugar (plus more for garnish)
Instructions
Coat 6-8 one cup ramekins with butter, then dust with sugar. Refrigerate till batter is made.
Melt butter and chocolate gently in microwave, till melted (I zap for 30 seconds, stir, then repeat till melted). Stir in vanilla, liqueur and set aside.
Bring the 1/3 cup of sugar plus 2 tablespoons of water to boil in small pan. Simmer till sugar is dissolved. In mixer with whisk attachment, mix egg yolks, then slowly add sugar syrup. Beat for about 3 minutes, till yolks triple in bulk. Fold into chocolate mixture and set aside. Wash mixer bowl and attachment well...both must be totally free of any oils in order for the whites to whip properly.
Beat egg whites on medium speed till frothy, a minute or so. Add cream of tartar and increase speed to medium high. Beat to soft peaks, then add powdered sugar. Continue beating till stiff peaks form, about 2-4 more minutes. Whites should be firm enough to support a spatula, but not dry.
Beat a quarter of the egg whites into chocolate by hand with a whisk. Then fold the chocolate mixture into the egg whites, folding gently with a large spatula, till just incorporated.
Fill each ramekin almost to rim, wiping excess off of lip, if needed, using damp paper towel. Add foil "collar" coated with cooking spray extending about 2 inches above ramekin...this will allow for higher rise, but is not necessary.
You may also freeze at this point. Wrap ramekins well with plastic, then foil. Freeze at least 3 hours and up to one month.
When ready to bake, preheat oven to 400 degrees. Unwrap frozen ramekins and place on a baking sheet. Bake until fully risen, about 20-25 minutes. If baking without freezing, reduce baking time to 12-15 minutes. Soufflés are done when fragrant and fully risen. Use two spoons to pull open the top of one souffle and peek inside. If not yet done, place back in oven for a couple more minutes Serve immediately.
Serve immediately with a sprinkle of powdered sugar.
Notes
Adapted from Cook's Illustrated
Calories are based on making 6 souffles.
Nutrition Information:
Yield:
8
Serving Size:
1
Amount Per Serving:
Calories: 291
Total Fat: 18g
Saturated Fat: 10g
Trans Fat: 0g
Unsaturated Fat: 7g
Cholesterol: 154mg
Sodium: 110mg
Carbohydrates: 29g
Fiber: 2g
Sugar: 26g
Protein: 7g
Note: This post may contain affiliate links; view
my Disclosure Policy
for details. I earn a small percentage from any purchase you make by clicking on these links at no extra cost to you.