Classic Prime Rib Roast
This Classic Prime Rib Roast is a popular holiday dinner request. This prime rib roast recipe is foolproof and cooks perfectly every time!
My easy tried and true recipe results in a tender prime rib that will have your family or dinner guests swooning. Cooking Prime Rib is not difficult, so give it a try!!
Why You Must Make

Tips for Cooking Prime Rib
How to Cook
The low and slow method of cooking prime rib ensures a nice rare middle and very little grayish perimeter that comes from higher heat. A short broiling time at the end of the roasting time takes care of crisping and browning the top layer of fat.
PRO-Tip: For the best flavor, dry brine your roast 1-3 days ahead of when you plan to serve it.
Dry brining involves seasoning your roast with kosher salt and leaving it open to the air in the refrigerator. The salt will penetrate and flavor the beef by osmosis while tenderizing by breaking down some of the proteins. A super easy process that takes only minutes to do!
If your fat cap is thick, score the fat, by cutting a shallow crosshatch pattern into the fat. Do not cut into the meat, but just the fat.
Before roasting, sear the exterior in hot oil to bring some color to the exterior. No one wants a gray roast!
Start your roast at 200º and cook for 3-4 hours until a meat thermometer registers 110º.
After the roast reaches 110º, turn off the oven and let the roast slowly come up to 120º for rare.
PRO-Tip: Use a (affiliate link) meat thermometer to monitor the internal temperature.
Then remove the roast from the oven, cover it with foil and let the juices redistribute for about 30 minutes.
Then turn on the broiler and give your roast some time, watching carefully, to brown.
PRO-Tip: Never leave the roast unattended under the broiler as you don't want this expensive cut of beef to burn.
Once again, the family gave their seal of approval to this spectacular holiday entree. Try this Prime Rib Roast Recipe for your next special occasion!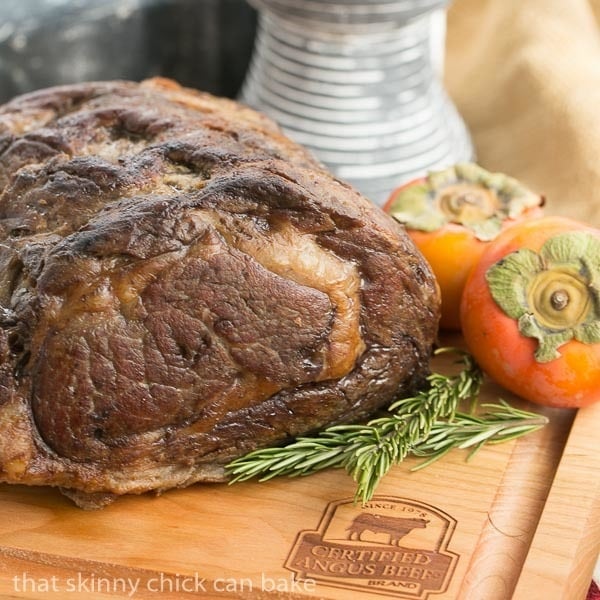 Expert Tips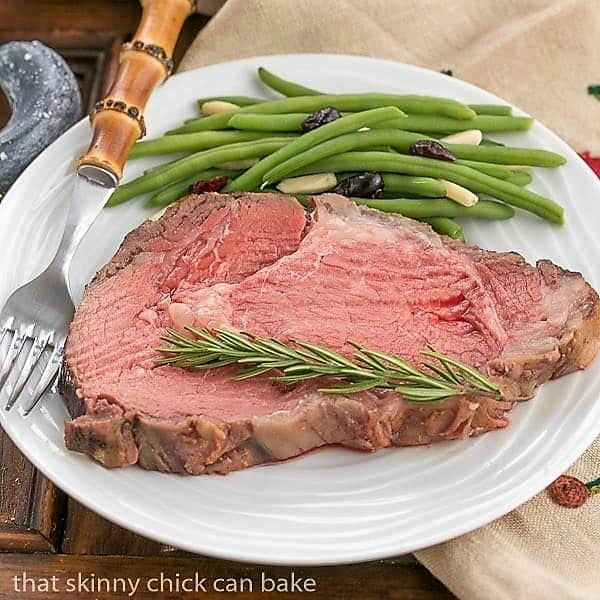 Frequently Asked Questions
What Is Prime Rib?
Prime rib or standing rib roast is where rib-eye steaks originate. The ribeye steak is cut, then cooked whereas a prime rib roast is cooked whole. They both come from the same primal cut of beef.
How to Select a Prime Rib
When you purchase a prime rib, you may select the number of ribs you'd like or the weight of your roast. The size can range from 2 to 7 ribs. Generally, purchase one pound per person (remember part of the weight is bone).
Though the name of this cut suggests the beef is "prime" or the highest quality of beef, this isn't so. If you want a prime cut of prime rib, it will be the top of the line. Note that it also will be very expensive, so you may need to reserve a prime prime rib for very special occasions, like Christmas.
A 3-rib prime rib cut from the loin end, also called the small end or first cut, is the best of the best. According to Cook's Illustrated, this cut contains  the "large, single rib-eye muscle, which is uniform and tender." This is from ribs 10-12.
How to Reheat Prime Rib
The last thing you should do is microwave your perfectly rare leftover prime rib. You're certain to overcook it! Instead, preheat your oven to 250 degrees, place slices of prime rib in a baking pan along with a little broth, cover with foil, and let the beef warm for about 10 minutes.
You May Also Like:
Stay in touch through social media @ Instagram, Facebook, and Pinterest. Don't forget to tag me when you try one of my recipes! And if you love the results, please give it a 5-star rating in the recipe card. Note: As an Amazon Associate, I earn from qualifying purchases. Visit my Amazon Store for my favorite products.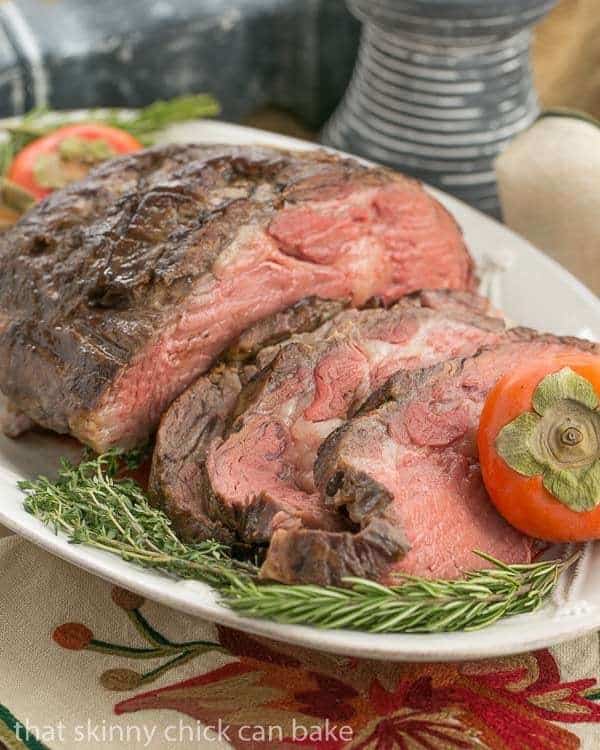 The Recipe:
Classic Prime Rib
Prep Time 10 minutes
Cook Time 4 hours
Total Time 4 hours 10 minutes
Yield 8
A simple yet, outstanding recipe for prime rib adapted from Cook's Illustrated
Ingredients
6-pound Certified Angus Beef® Brand prime rib roast (ribs removed)
2 tablespoons kosher salt
Freshly ground black pepper
Oil, to sear roast
Instructions
One to 3 days before serving, cut slits into fat on top of the roast in a crosshatch pattern. Rub salt all over the roast, and refrigerate uncovered.
On serving day, preheat the oven to 200º F.
Sear roast in a roaster in a small amount of oil, a couple of minutes on each side.
Place rack into the roaster, and set beef on a rack. Place in the oven and insert a meat thermometer into the center of the roast.
Cook for 3-4 hours till the meat thermometer registers 110º.
Turn the oven off and let rest for about 30 minutes without opening the oven door. Remove when internal temperature reaches about 120º for rare.
Cover roast with foil and wait at least 10 and up to 30 minutes to let juices redistribute.
Uncover, and place under broiler and broil till top is browned and crispy, watching carefully to prevent burning.
To serve, cut meat into slices. Season with additional salt if necessary.
Notes
Feel free to cut some slits in the top of the roast and insert some slices of garlic before roasting. Or sprinkle with garlic powder.
Note that total time does not include dry brining time.
Nutrition Information:
Yield:
8
Serving Size:
1
Amount Per Serving:
Calories: 1074
Total Fat: 74g
Saturated Fat: 29g
Trans Fat: 0g
Unsaturated Fat: 35g
Cholesterol: 318mg
Sodium: 1813mg
Carbohydrates: 0g
Fiber: 0g
Sugar: 0g
Protein: 96g
Calories include all visible fat.
Note: This post may contain affiliate links; view
my Disclosure Policy
for details. I earn a small percentage from any purchase you make by clicking on these links at no extra cost to you.