Beef Tenderloin with Gorgonzola sauce is worthy of any celebration. Beef is a given for our Christmas dinner, and this beef roast recipe is a winner for any holiday dinner or special celebration.
Disclosure: This post is sponsored by The Beef Checkoff. All opinions are my own.

Beef Tenderloin with Gorgonzola Sauce
The guys in this family are definitely carnivores. No matter what size slab of beef is placed on their plates, it will be devoured. And having beef on Christmas and birthdays is a must. But the recipe doesn't need to be complicated to be delicious.
In this roast beef recipe, the beef tenderloin is simply seasoned, wrapped in bacon and roasted at high heat. In the summer, definitely use your grill for smoky nuances that only come from charcoal and high heat. For an even more amazing entree, I will take a few extra minutes to cook a red wine sauce or a rich Gorgonzola sauce for the wow factor. It is the holiday season after all.
My family definitely swoons when I serve this extraordinary beef entree. Even the picky hubby foregoes his standard dousing of ketchup and smothers his beef with this creamy, ambrosial Gorgonzola sauce.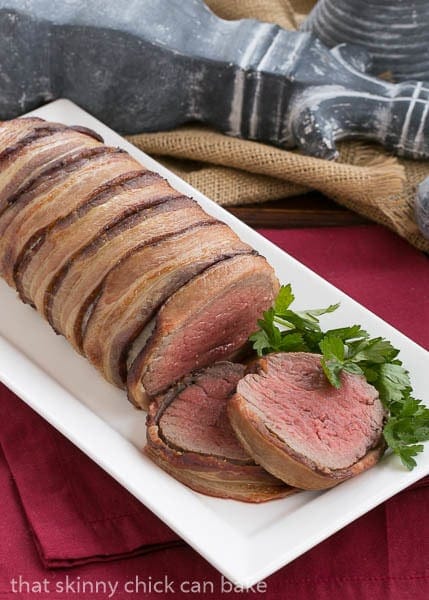 The Versatility of Beef
We splurge on a prime rib roast or beef tenderloin each Christmas, but so many amazing cuts of beef can be utilized for a holiday entree. Transform chunks of chuck roast and some wine into a Boeuf Bourguignon. Pound a flank steak, top with a spinach stuffing and roll to create delectable pinwheels when cooked and sliced. Or make this exquisite Beef Tenderloin with Gorgonzola Sauce.
My go-to beef is Certified Angus Beef brand®. I can find it locally at Market District and Meijer.  The quality cannot be surpassed! Make sure to browse through all the Sunday Supper beef recipes this week along with the Sunday Supper Beef Pinterest Board for scads of terrific holiday dishes.
Things to Help You Make an Extraordinary Beef Tenderloin:
Cuisinart Chef's Classic Stainless 16-Inch Rectangular Roasting Pan with Rack
Digital Instant Read Meat Thermometer
Print
Beef Tenderloin with Gorgonzola Sauce
This beef tenderloin recipe is worthy of any celebration
Author:
Prep Time: 15 mins
Cook Time: 30 mins
Total Time: 45 minutes
Yield: 6 servings
Category: Entee, Beef
Method: Roasting
Cuisine: American
Ingredients
3-pound center cut beef tenderloin, I used Certified Angus Beef® brand (you can also use a whole beef tenderloin if desired)
Kosher salt
Freshly ground black pepper
1 pound bacon
Gorgonzola Sauce:
1 tablespoon butter
1 tablespoon minced shallots
1/4 dry white wine
1 cup heavy cream
4 ounces dolce Gorgonzola
1-2 tablespoons green peppercorns in brine (may add brine to sauce)
Instructions
The night before serving, season beef tenderloin well with kosher salt and freshly ground black pepper. Line up strips of bacon the length of the beef. Place beef over bacon and wrap bacon over tenderloin. Use toothpicks to hold bacon in place where the ends meet. Place beef, toothpick side down, on a baking sheet and cover with plastic wrap. Let rest overnight in refrigerator.
An hour before roasting, bring remove beef from the refrigerator to take the chill off.
Preheat oven to 450º. Place beef in roasting pan and roast for approximately 20-30 minutes for rare. Use meat thermometer to verify temperature for your desired doneness. Let rest, covered with foil for 10 minutes before serving.
Towards the end of roasting time, make sauce.
Place butter in a saute pan over medium heat. Add shallots and cook till softened. Increase heat and add white wine to deglaze pan. Reduce wine by half. Add cream and bring to simmer, allowing to reduce and thicken slightly. Break apart Gorgonzola and add to sauce. Cook till melted, Add peppercorns (and brine if desired). Serve hot over beef.
Nutrition
Calories: 865kcal
Sugar: 2g
Sodium: 928mg
Fat: 63g
Saturated Fat: 28g
Trans Fat: 1g
Carbohydrates: 6g
Fiber: 1g
Protein: 64g
Cholesterol: 266mg
Check out and follow the Sunday Supper Beef Pinterest Board for more inspiration!
Please visit The Beef Checkoff social media sites:
Website – Twitter – Facebook – Pinterest

To get more great Sunday Supper Recipes, visit our website or check out our Pinterest board.
Easy Holiday Entertaining with Beef
The Sunday Supper crew is celebrating the holidays with easy beef recipes!
Appetizers
Brunch or Breakfast for a Crowd
Main Dish
Potluck Style
Note: This post may contain affiliate links; view
my Disclosure Policy
for details. I earn a small percentage from any purchase you make by clicking on these links at no extra cost to you.