Pecan Sandies Cookie Recipe
Pecan Sandies are a popular shortbread cookie, made by the Keebler company. Homemade Pecan Sandies are a copycat of my childhood favorite! Knowing my sister ate 3 for breakfast makes me think I hit the mark!
These Pecan Cookies are buttery, delicious, and not too sweet. They're perfect to eat with a hot cup of coffee or tea.
Why You Must Make
If you have fond memories of eating Keebler's Pecan Sandies, you'll like my copycat version even more!
Unlike most store-bought cookies, these have real butter as an ingredient. That makes them taste even better!
Not overly sweet, they're just perfect for your cookie cravings without making you feel like a glutton.
I remember those rare occasions when my mom would give in and buy some store-bought Keebler Pecan Sandies from our nearby Hy-Vee grocery store. They were rectangular, crumbly, and made my mouth water just by picking up the package. Of course, I used to eat cherry pie filling from the can and other not-so-gourmet treats, so I bet those sandies cookies from my past were not as noteworthy as I recalled.
Expert Tips
Most pecan sandies recipes are made with all shortening, which does not provide one iota of flavor. I substituted half butter but left half shortening for the softer, more tender texture it provides. Butter-flavored shortening tastes way too artificial, so I prefer not to use it.
Toast and cool your pecans before chopping. Toasting nuts brings out their natural oils which will accentuate their flavor. It also helps crisp up your pecans.
PRO-Tip: Whether you toast your pecans in the oven or in a skillet, watch them carefully. It only takes an extra minute to go from toasted to burned!
Chill your dough so it doesn't spread too much.
Use a medium cookie scoop to dish out your dough. You'll want round mounds so that when you flatten them with your palm, they're circular. Alternatively, just scoop out consistent-sized dough balls and roll them between your palms until they're nice and round.
Rave Reviews from my Sisters
I packed up a box of caramels, truffles, and these nutty shortbread cookies to share with my three sisters who were gathering in Denver for a pre-Christmas visit with my parents. For the first time in ages, I had to sit on my suitcase to get it to zip.
Darn fashion sense, I just had to pack those cute boots. Thank goodness, no cookies or candies were hurt in the process. I figured the candies would disappear first, but Maddy, our hostess, and youngest sister popped a pecan sandies cookie in her mouth, then another. Then Mary joined in.
Katie, the clean eater of my siblings, was more into doing yoga adjustments on my sore back than munching on cookies, so she was forgiven for being fit and muscular and immune to sweets. I'd say these were a hit. If you're a pecan lover, I hope you'll give this homemade version a try.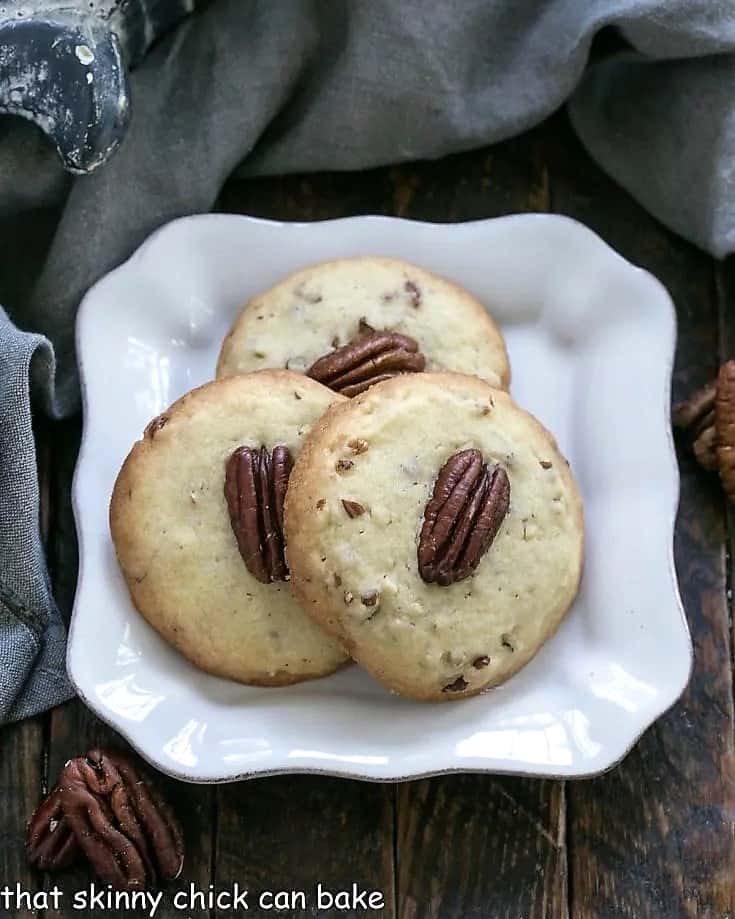 Frequently Asked Questions
What Are Pecan Sandies?
Pecan Sandies are shortbread cookies loaded with toasted pecans. They're a bit sweeter and chewier than ordinary shortbread. Though they may have an Arabic origin, in the US these cookies were made famous by the Keebler Company which has been selling their "Sandies Pecan Shortbread Cookies" for decades.
Can Pecan Sandies Be Frozen?
Yes, they freeze well. If you freeze them in an airtight container, they'll be good for 3 months or even longer. They can also be kept at room temperature for 3-4 days.
Do you have a favorite treat from your childhood?
You May Also Like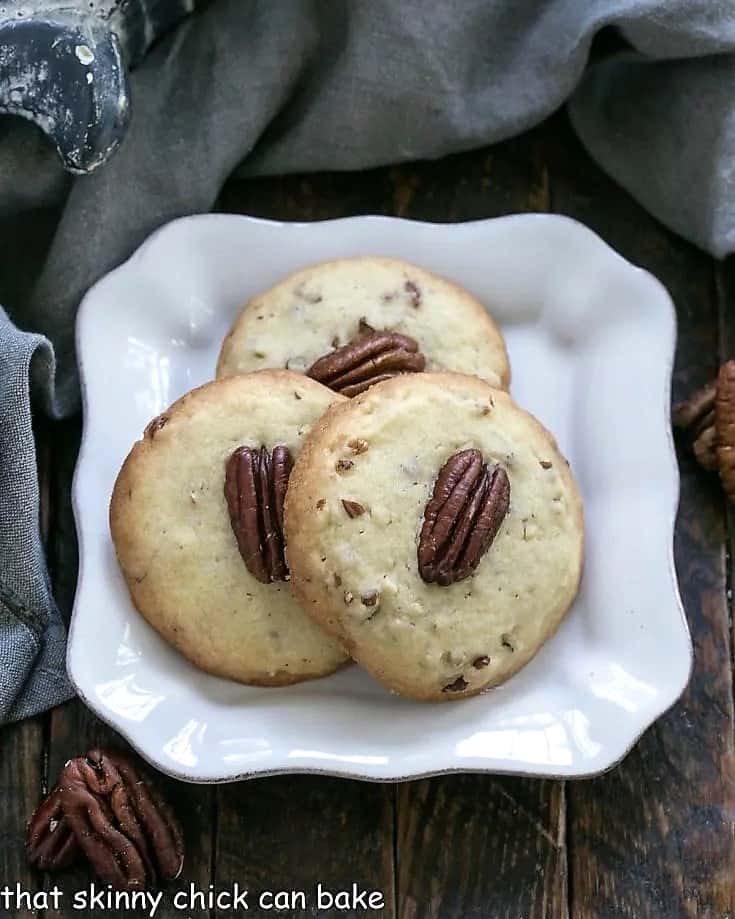 The Recipe:
Pecan Sandies
Prep Time 30 minutes
Cook Time 20 minutes
Total Time 50 minutes
Yield 24 cookies
A homemade version of Keebler's pecan-packed cookies from my childhood.
Ingredients
1 1/2 cups flour
1/2 teaspoon salt
1/8 teaspoon baking soda
1/2 cup butter, at room temperature
1/4 cup shortening
1/2 cup sugar
1 large egg
1 1/2 teaspoons vanilla
1 tablespoon water
1/4 teaspoon vanilla
1/8 teaspoon lemon juice
1/2 cups pecans, toasted and chopped to pieces the size of rice grains
Pecan halves, for garnish (optional)
Instructions
Preheat the oven to 325°. Line baking sheets with parchment
In a medium bowl, whisk together the flour, salt, and baking soda. Set aside.
In a large bowl with a hand mixer, cream together the butter, shortening, and sugar on medium speed.
Add the egg and beat well.
Slowly mix in the dry ingredients, then the water, vanilla, and lemon juice.
Finely chop the pecans until they're about the size of grains of rice. Mix them into the dough on low speed.
Cover and chill the dough for at least an hour.
Scoop out tablespoons of dough and place them on the baking sheets. Flatten them with the palm of your hand and top with a pecan half, if desired.
Bake for 20-25 minutes, until the edges are golden
Cool on baking sheets for a few minutes, then transfer to a wire rack to finish cooling.
Notes
Adapted from Top Secret Recipes.
Recommended Products
As an Amazon Associate and member of other affiliate programs, I earn from qualifying purchases.
Nutrition Information:
Yield:
24
Serving Size:
1 cookie
Amount Per Serving:
Calories: 195
Total Fat: 13g
Saturated Fat: 5g
Trans Fat: 0g
Unsaturated Fat: 7g
Cholesterol: 31mg
Sodium: 103mg
Carbohydrates: 17g
Fiber: 1g
Sugar: 6g
Protein: 3g
The Recipe:
Pecan Sandies (First Version)
Ingredients
2 cups flour
¼ teaspoon salt
⅛ teaspoon baking soda
12 tablespoons butter, at room temperature
½ cup sugar
1 egg, at room temperature
1 ½ teaspoons vanilla extract
1 ½ teaspoons water
1 ¼ cups pecans, toasted and coarsly chopped
Instructions
Line baking sheets with parchment and set aside.
Preheat the oven to 325°.
Whisk together the flour, salt, and soda. Set aside.
In another bowl, beat the butter and sugar until creamy and fluffy.
Add the eggs, vanilla, and water and mix until combined.
Slowly add the dry ingredients, then when combined mix in the pecans.
Chill dough if needed.
Roll in 1-inch balls, flatten with the palm of your hand, and press a pecan half in the center.
Notes
One of my readers makes snowballs from this recipe except she omits the egg. She shapes the dough into 1-inch balls, bakes for about 20 minutes, cools them on a rack then rolls the cookies in powdered sugar. They are rolled in powdered sugar a second time before storing.
Note: This post may contain affiliate links; view
my Disclosure Policy
for details. I earn a small percentage from any purchase you make by clicking on these links at no extra cost to you.