Almond Raspberry Tartlets
Almond raspberry tartlets are a delicious and gorgeous holiday dessert. Rich cream cheese butter crust surrounds a raspberry jam and almond paste filling. These raspberry tarts make a delicious individual dessert for the holidays!
This raspberry tart recipe makes a delicious individual dessert for the holidays!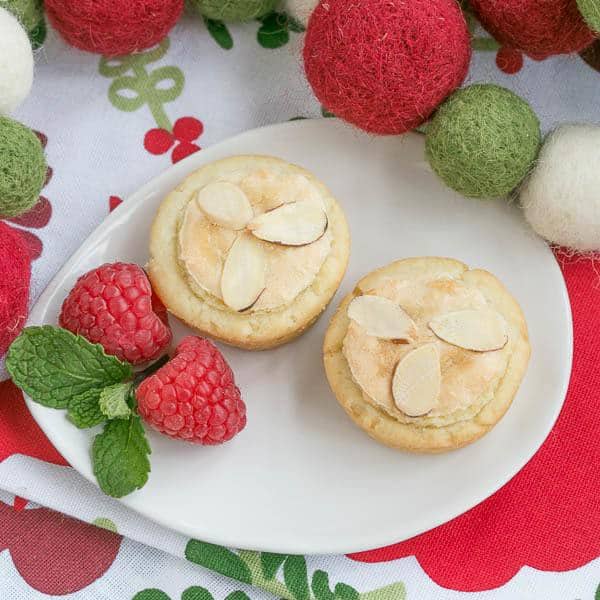 Recipe Exchange for French Fridays with Dorie
I was one of the lame members who didn't send a recipe with my Christmas cards. But I received so many terrific new dessert ideas with every mail delivery. I was set not to participate this week as we're leaving town tomorrow. If you saw my kitchen over the weekend while I was completing a massive holiday cookie marathon, you'd understand why I didn't need one more sweet in my house. Gingersnaps, butterscotch cookies, peanut butter blossoms, cherry chocolate chunk cookies, snowballs, peppermint bark, fudge, and English toffee all left trace evidence on my countertops and floors. But I got my second wind. Or maybe it was my third wind.
But I took a deep breath, looked through the cards and picked out a recipe that I could make in less than an hour. I found a winner with the almond raspberry tartlets recipe.
Kathy's Almond Raspberry Tartlets
Kathy is one of the original French Fridays participants. We met last year at the International Food Bloggers' Conference and we clicked immediately. A fabulous home baker, I knew her recipe would be top-notch. A cream cheese dough was pressed into a mini muffin tin, then filled with raspberry jam and topped with an almond paste mixed with some sugar and an egg. I have a wooden tassie tamper which made quick work of forming the crusts. These babies were amazing–tender with the heavenly flavors of raspberry jam and almond paste! Kathy and many other FFwD members are also sharing holiday recipes today, so make sure to pop over and check the LYL post on the French Fridays with Dorie website.
A Couple of Things You May Need: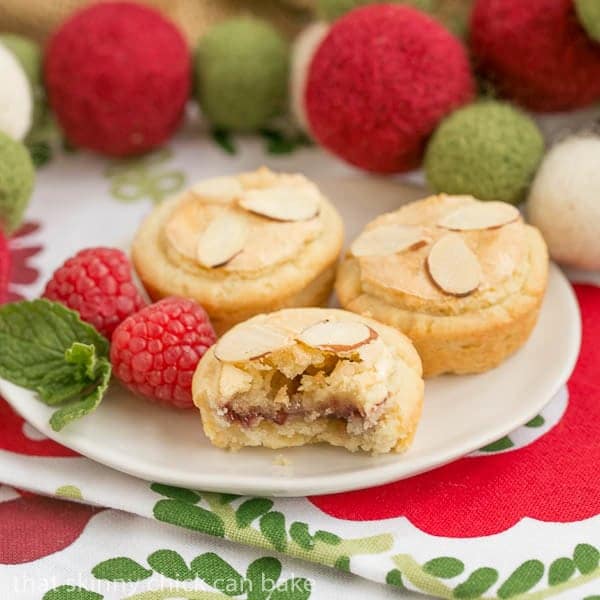 The Recipe:
Almond Raspberry Tartlets
Prep Time 30 minutes
Cook Time 30 minutes
Total Time 1 hour
Yield 20-24
Ingredients
Crust
1/2 cup butter, at room temperature
2 ounces cream cheese, at room temperature
1 cup flour
Filling
1/4 cup raspberry jam
1 egg
1/2 cup sugar
1/2 cup almond paste, crumbled
Sliced almonds
Instructions
Beat together butter and cream cheese. Mix in flour. Cover and chill one hour.
Preheat oven to 325º.
Roll into 1 inch balls. Tamp into the bottom and up sides of an ungreased mini-muffin tin.
Spoon a 1/2 teaspoon of jam into each pastry crust.
Beat together egg, sugar and almond paste. Spoon one level teaspoon over jam. Using finger or offset spatula, smooth tops. Garnish with sliced almonds.
Bake for 25-30 minutes. Cool on wire rack before removing.
Notes
You will need a mini muffin tin to make these tarts.
Nutrition Information:
Yield:
12
Serving Size:
2 tartlets
Amount Per Serving:
Calories: 267
Total Fat: 16g
Saturated Fat: 7g
Trans Fat: 0g
Unsaturated Fat: 9g
Cholesterol: 41mg
Sodium: 85mg
Carbohydrates: 27g
Fiber: 2g
Sugar: 16g
Protein: 4g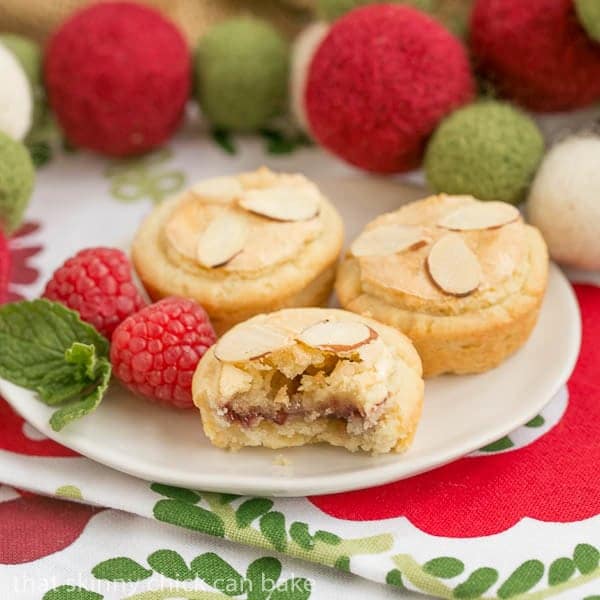 Note: This post may contain affiliate links; view
my Disclosure Policy
for details. I earn a small percentage from any purchase you make by clicking on these links at no extra cost to you.