Double Chocolate Tarts
These elegant Double Chocolate Tarts are perfect for dessert or teatime and will dazzle everyone who's lucky enough to get a bite!
Tarts are often easier than pies as they have no top crust, and this Chocolate Ganache Tart recipe has a no-bake filling.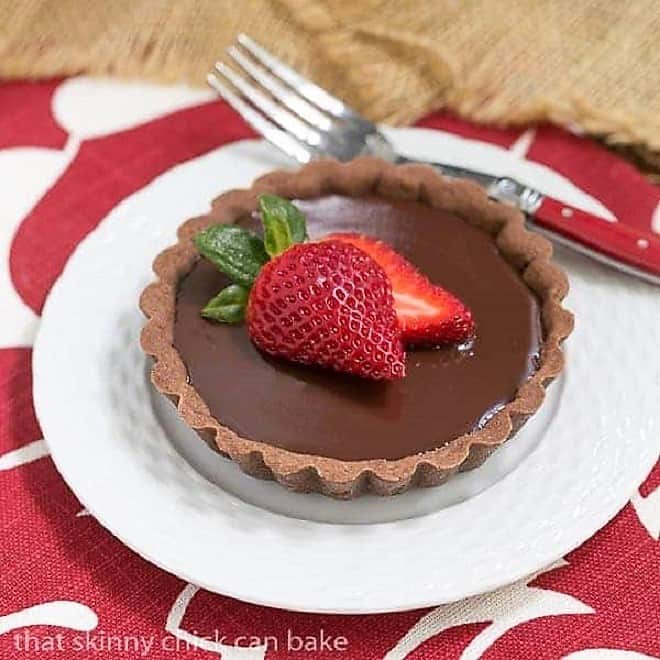 Why You Should Make this Chocolate Ganache Tart Recipe
First, because it's a chocolate pastry shell filled with chocolate ganache! Yes, this is one exquisite treat.
The crust is made with an egg which makes it more pliable and less fussy than your typical pastry. And the ganache filling is just heavenly.
Everyone will get their own personal dessert!! Who doesn't love that?
This recipe for double chocolate tarts comes from my good friend, Jill Colonna, who has written two cookbooks, Mad About Macarons and Teatime in Paris.
She's the one who taught me how to make those iconic French cookies. Between caring for her two lovely daughters and French husband, Jill also leads tours in Paris highlighting chocolate and macarons in St Germain-des-Prés. My family and I were lucky enough to meet up with her for a mini-tour along with a sampling of blissful macarons, French pastries, and hot chocolate. She was truly as delightful as I imagined, and she's one amazing baker!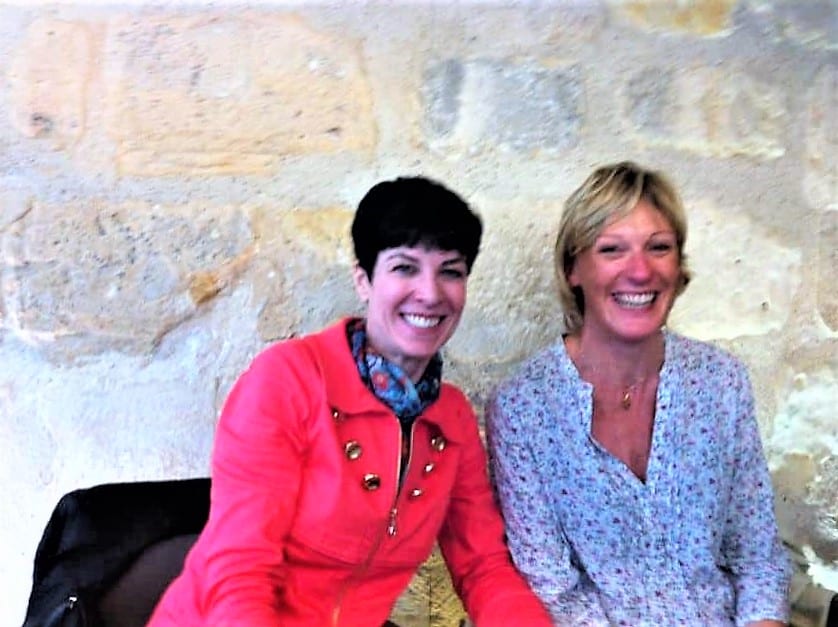 With Jill at Un Dimanche à Paris, a delicious respite during a downpour!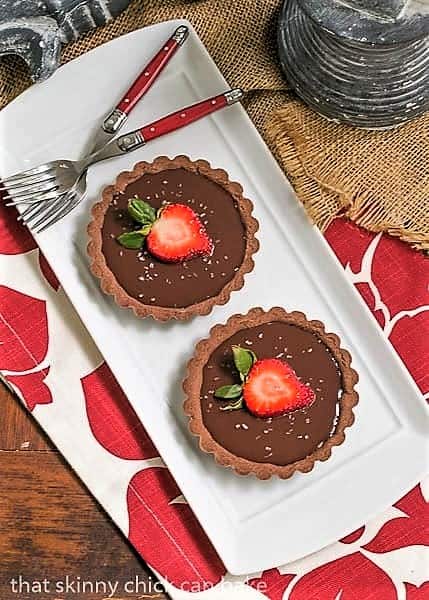 How to Make a Tart
There are typically two main components in a tart recipe, the crust and the filling. The crust can be no-bake or baked, as can the filling.
First, make sure you have the proper sized pan or pans for the tart recipe. I used 4-inch tart pans with removable bottoms for this chocolate tart recipe.
Make the tart dough, chill if needed, then roll out the dough or just press it into the pan, depending on your recipe. PRO-Tip: Run the rolling pin across the tops of the tart pans to remove any excess dough and to create a clean level rim.
Bake or chill as directed by your recipe.
Make the filling while the crust cools unless the crust and filling or toppings are baked together.
Fill the tart or tartlet crusts with the filling. Bake or chill as needed.
Garnish with berries, cream, candies, or leave unadorned. Then, dig in!!
How to Decorate Chocolate Tarts
It's easy to add some berries and a sprig of mint to individual chocolate tarts. Any plump, ripe berries will do. When making a full-sized tart, I prefer garnishing each slice as I serve it. A dollop of lightly sweetened whipped cream and berries or chocolate curls or shavings are my go-to adornments.
If you'd like, mound whipped cream into the middle of a full-sized tart, leaving some of the surface exposed around the perimeter, then top the cream with berries, etc. It will be more difficult to slice, but impressive as you bring it to the table! Even a simple sprinkling of powdered sugar or cocoa powder is nice.
Tips for Making a Chocolate Tart Recipe
Use quality ingredients. Real butter, good quality cocoa powder, and premium chocolate bars instead of chocolate chips (though the latter can be used in a pinch) will make for a tastier tart.
Have your butter at room temperature, not cold or melted, for the best tart crust. This can vary depending on your recipe.
If your tart pan or pans have removable bottoms, place them on a baking sheet to easily transfer them in and out of the oven. The baking sheet will also catch any drips which on rare occasions can occur while baking.
Jill is quite familiar with my family's love affair with chocolate. When we were both new bloggers, she'd tease me about the number of chocolate posts listed in my old blog's sidebar. Chocolate desserts were always in the double digits!
These chocolate tarts would have fit in perfectly with the rest of the sweets at Un Dimanche. My family was elated when they spied this dessert in our fridge, and I was thrilled when Jill and Waverly Publishers agreed to let me share the recipe with you all.
Mad About Macarons' Chocolate Tarts
Jill has a wicked sense of humor which is evident in her wonderful blog. Her posts across social media make me giggle, so I know you'll enjoy following her. And if you love French sweets as much as I do, please check out both of her amazing cookbooks, Teatime in Paris and Mad About Macarons. You'll never regret your purchase! And you'll have this Chocolate Tarts recipe at your fingertips whenever you get a craving.
Check out Jill on her website – Facebook – Pinterest – Instagram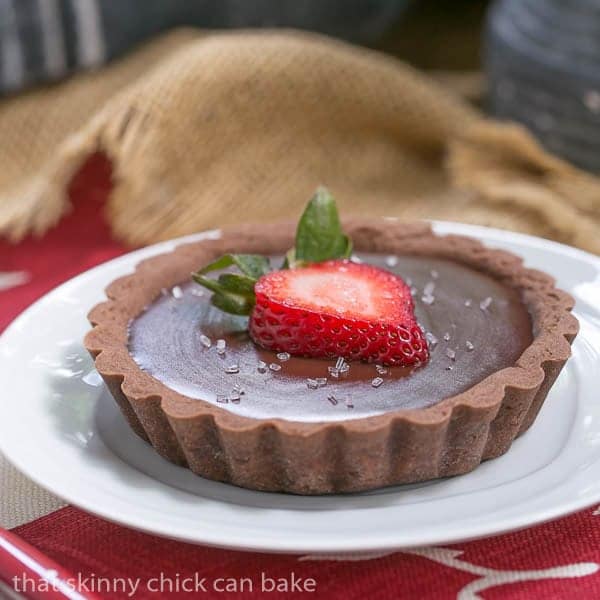 Ingredient Notes:
Pantry Staples – Table Salt, All-purpose Flour, Eggs
Butter – Use European butter if possible or at least a name brand instead of a store brand for the best results (store brands often have more water in their butter)
Powdered Sugar – Sift if lumpy
Pure Vanilla Extract – Never use imitation vanilla.
Unsweetened Cocoa Powder – Ghirardelli and Penzey's are both good brands
Dark Chocolate (at least 60% solids) – Semisweet or bittersweet Ghirardelli Bars work well and are easily found in major grocery stores
Single Cream – I substitute 2 parts heavy cream and one part milk
More Double Chocolate Recipes:
This recipe was first shared in June 2015. The text was updated in 2021.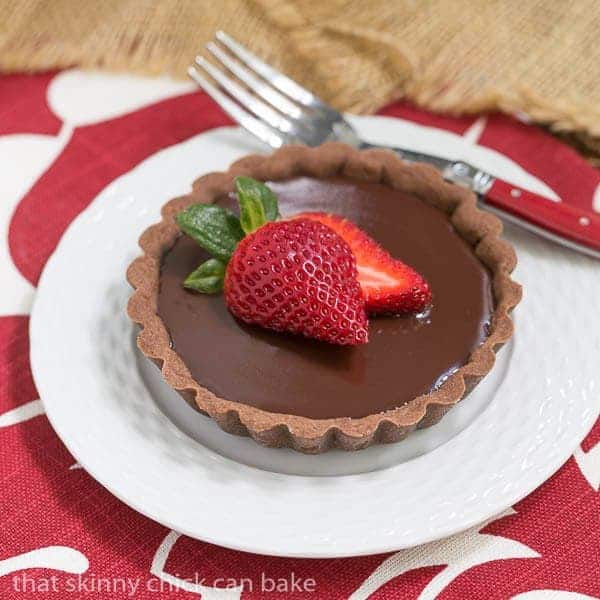 The Recipe:
Double Chocolate Tarts
Prep Time 30 minutes
Cook Time 15 minutes
Total Time 45 minutes
Yield 8 servings
Sublime chocolate pastry shells filled with silky chocolate ganache!
Ingredients
Chocolate pastry shells:
125g butter, at room temperature
75g icing sugar (confectioners or powdered sugar)
½ teaspoon salt
1 egg
½ teaspoon vanilla extract (optional)
240g plain flour (all-purpose), sifted
20g unsweetened cocoa powder
Ganache filling:
160g dark chocolate (at least 60% solids)
80g milk chocolate
230g single cream (or use 2 parts heavy cream and one part milk)
1 teaspoon vanilla extract
Instructions
Using a stand mixer with a paddle beater, slowly mix the butter, sugar, and salt until pale and creamy. Gradually add the other ingredients until the dough is well mixed, then stop.
Form a ball, wrap in plastic wrap, and chill in the fridge for at least an hour. Cut out eight tartlet shells.
Roll out the tartlet dough about an inch bigger than each tart pan, about 1/8-1/16-inch thick and fit into pans, trimming off excess.
Bake the tartlets for 10–15 minutes at 160°C/320°F fan (Gas 4). Allow to cool, and remove from their molds.
To make the ganache filling, break the chocolate into chunks in a bowl.
Heat the cream with the vanilla extract in a saucepan until nearly boiling. Pour over half of the hot cream directly into the bowl of chocolate.
Stir using a wooden spoon and combine until the ganache is smooth. Top with the rest of the hot cream and stir until completely melted and silky.
Pour the hot ganache into each tartlet and top with a cherry, berries, or keep plain.
Leave to chill in the fridge for at least an hour to set. Take the tartlets out of the fridge 30 minutes before eating.
Notes
You will need a kitchen scale for this recipe. It's worth purchasing if you love to bake or else borrow one!
You will need eight 4-inch tart pans.
Take into account the chilling time when calculating the total time for this recipe.
Nutrition Information:
Yield:
8
Serving Size:
1 tartlet
Amount Per Serving:
Calories: 540
Total Fat: 33g
Saturated Fat: 20g
Trans Fat: 1g
Unsaturated Fat: 10g
Cholesterol: 93mg
Sodium: 276mg
Carbohydrates: 53g
Fiber: 3g
Sugar: 25g
Protein: 7g
Note: This post may contain affiliate links; view
my Disclosure Policy
for details. I earn a small percentage from any purchase you make by clicking on these links at no extra cost to you.