Double Chocolate Chunk Cookies
Double Chocolate Chunk Cookies will thrill the chocoholics in your life. The trio of cocoa powder, melted chocolate, and chocolate chunks is irresistible!
I make a lot of Chocolate Cookies, but after a taste testing of this recipe with my girlfriends, there were immediate requests for the recipe. Plus my husband had me hide them in the freezer as he's trying to watch what he eats. That will last a day or two, then he'll be scrounging for frozen cookies for his bedtime snack! They're soft, chewy with a trio of delicious chocolate elements.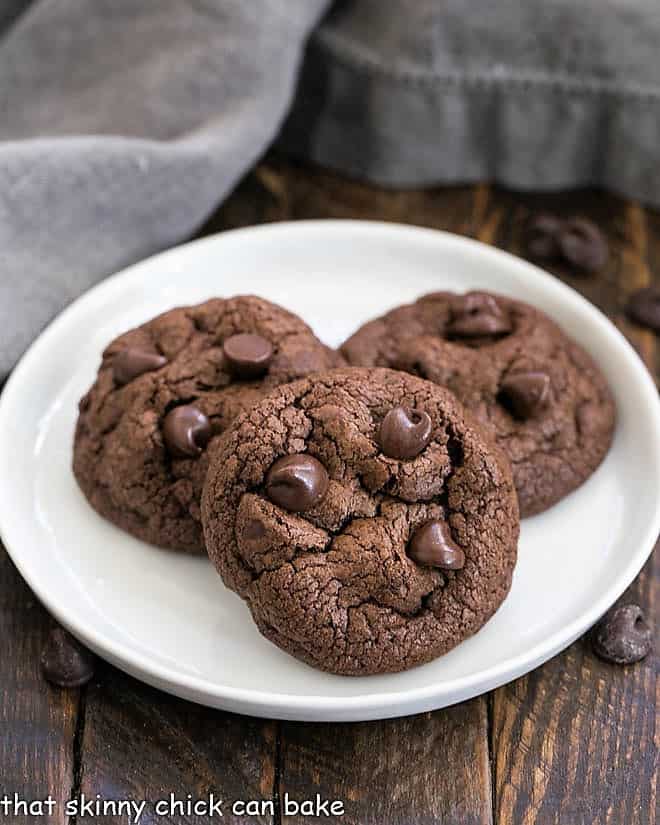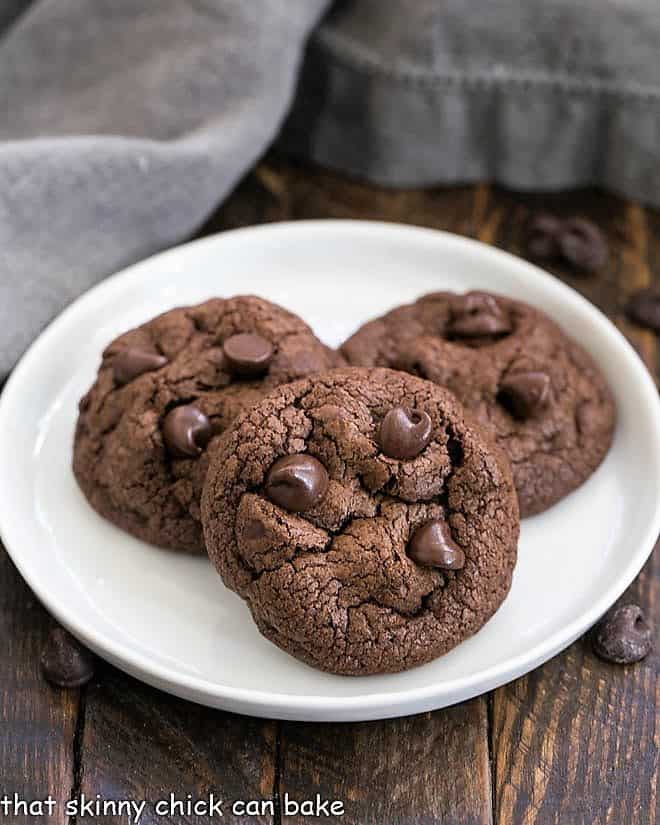 Double Chocolate Chunk Cookies
The first time I made these Soft Chocolate Chocolate Chip Cookies, it was after the hubby was caught foraging in the Oreo canister after dinner. The food blogger wife had failed again. No homemade treats to be found in our kitchen.
I quickly located a Donna Hay recipe for these Double Chocolate Chunk Cookies. Sampling cookie dough is my guilty pleasure, and from one taste, I knew these were going to be outstanding. A sure sign of a top-notch cookie is an irresistible dough This batter passed the test. So did the cookies.
PSA: Much as I talk about my love for cookie dough, please be fully aware that young children, the elderly, and the immune-suppressed should not indulge due to the chance of food-borne illnesses like salmonella. Remember the risk if you decide to sample.

Tips for Making This Chocolate Cookie Recipe
Cocoa and chocolate in the batter make these "double" chocolate cookies. Perfect for chocolate lovers.
I used semi-sweet chocolate in the batter, but if you like an even deeper, more intense chocolate flavor, feel free to use your favorite bitter-sweet chocolate in the dough instead.
Add chocolate chips or chocolate chunks. Vary by trying bittersweet or even white chocolate. I found chocolate chips made the dough easier to roll than chocolate chunks. Both are very tasty!
This recipe is best made in a stand mixer due to the long beating times. 8 minutes for the butter and sugar, then 3 minutes when the egg and vanilla are added.
The dry ingredients are folded in rather than mixed with the beaters. This helps to prevent any deflating of the batter.
The dough is a bit sticky, especially when you need to roll it into balls.
PRO-Tip: I found that damp palms helped minimize the sticking issue when rolling. Just repeat the dampening process as needed.
PRO-Tip: If you're making these soft chocolate chip cookies for company or to give away, reserve some of the chocolate chips and press a few into the top of each cookie as they come out of the oven. This must be done while the cookies are still very warm.
If your cookies are misshapen after they're baked, you can use a spatula to tap them into rounds. Do this while the cookies are still hot and pliable.
If you're a fan of chocolate chunks, these Chocolate Chunk Potato Chip Cookies are superb!
More Chocolate Cookies You'll Love: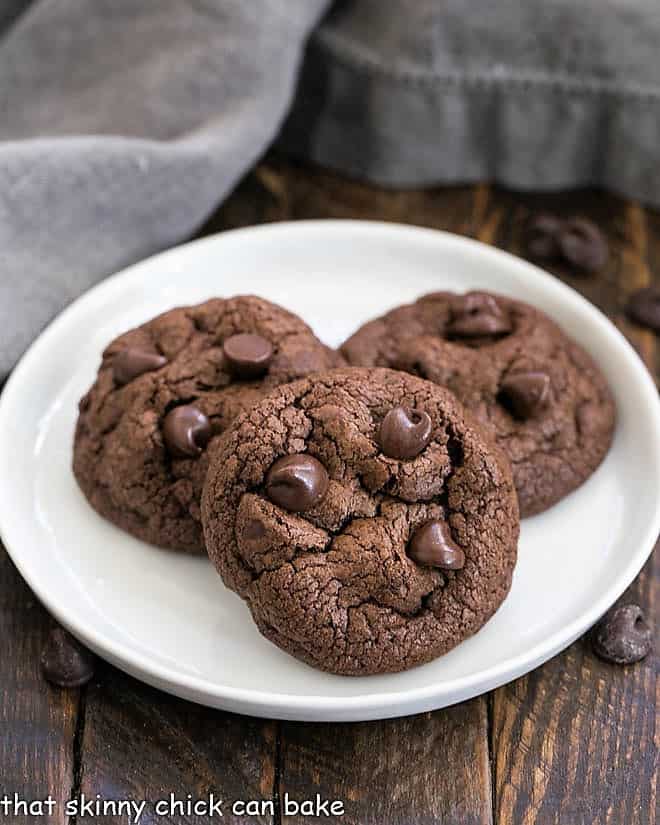 The Recipe:
Double Chocolate Chunk Cookies
Prep Time 20 minutes
Cook Time 12 minutes
Total Time 32 minutes
Yield 16 cookies
A double dose of chocolate make these cookies extra enticing!
Ingredients
4 ounces semi-sweet chocolate, chopped
1 stick (4 ounces) butter, at room temperature
3/4 cup brown sugar
1 egg
1 teaspoon vanilla
1 cup flour, sifted
1/4 cup cocoa, sifted
1 teaspoon baking soda
1/4 teaspoon salt
8 ounces semi or bittersweet chocolate, chopped (or you may use chocolate chips)
Instructions
Preheat the oven to 325°. Line baking sheets with parchment and set aside.
Place the chocolate in a heatproof bowl and microwave at 30 second increments, stopping and stirring till smooth and melted Set aside. Place the butter and sugar in the bowl of an electric mixer and beat for about 8 minutes or until light and creamy. Add the egg and vanilla and beat for an additional 3 minutes. Stir through the flour, cocoa, baking soda, salt and melted chocolate. Add the extra chopped chocolate and stir to combine.
Using slightly damp palms, roll tablespoons of dough into balls. Place on baking sheets, leaving about 2 inches between dough balls. Bake for 10-12 minutes or until slight cracks form across the tops. Cool on baking sheets for a few minutes, then remove to wire racks to finish cooling.
Notes
Recipe adapted from Donna Hay.
Nutrition Information:
Yield:
16
Serving Size:
1
Amount Per Serving:
Calories: 196
Total Fat: 10g
Saturated Fat: 6g
Trans Fat: 0g
Unsaturated Fat: 3g
Cholesterol: 12mg
Sodium: 123mg
Carbohydrates: 24g
Fiber: 3g
Sugar: 12g
Protein: 4g
Note: This post may contain affiliate links; view
my Disclosure Policy
for details. I earn a small percentage from any purchase you make by clicking on these links at no extra cost to you.