Rustic Apple Galette
This scrumptious Rustic Apple Galette is a gorgeous, impressive dessert. Plus it's so much easier than making an apple pie!
With just one crust and cinnamon-spiced apples, this easy Apple Tart Recipe is simple enough for a weeknight dessert, yet tasty and beautiful enough for special company. One of our dinner guests mentioned that it was unusual to find a "crust as delicious as the filling." He was smitten as much as we were!
Why You Must Make
We love celebrating the holidays with 5 other couples we've gotten to know through a volunteer organization. I offered to host this year's gathering and promised to have most of it catered to take the pressure off. But I knew I'd have to add a few dishes of my own.
This rustic apple tart was a delicious way to end the meal. And much easier to make than a double crust apple pie.
Once you make your first galette, you'll want to try so many other versions.
It makes a beautiful presentation. Just take an extra few minutes to arrange your apple slices and everyone will want to know how you made this beautiful apple tart!
A French Apple Tart
Bill fired up the Big Green Egg and we served beef tenderloin wrapped in bacon, a few side dishes, and this scrumptious apple galette. Served with vanilla ice cream, it was sampled by everyone despite our sated appetites. This French pastry is a dreamy fall dessert, but with apples available year-round, a fruit galette is perfect any time!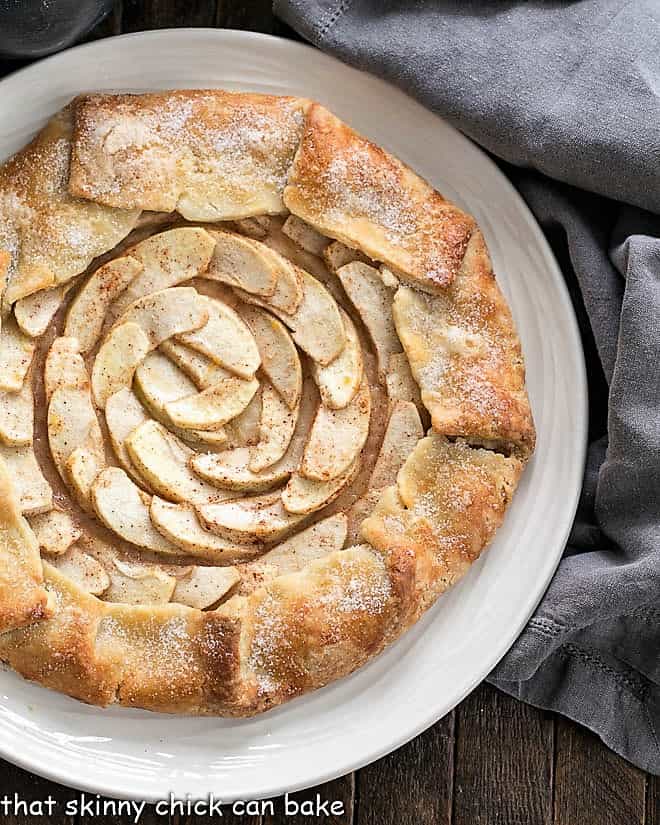 Expert Tips
Select your favorite baking apples. I like using more than one kind for a better depth of flavor. This time I used Honeycrisp and Granny Smith apples.
Use cold butter, cold cream cheese, and ice-cold water to make the galette crust. It will be much flakier when these ingredients are well chilled.
PRO-Tip: I like using a large mixing bowl to guide cutting a 15-inch round of the dough. Once I have that round cut, I like to make a few superficial marks 3 inches from the edge of the pastry to mark how far out to layer the apples.
I use fewer apples than in the Cook's Illustrated recipe as I like making neat concentric circles of apples. But feel free to add an extra apple if you'd like to up the filling-to-pastry ratio.
As the finishing touch, it's lovely to brush the exposed crust with egg, then generously sprinkle with sugar. It tastes great, too!
PRO-Tip: Not in the original recipe, but after the galette is baked, you can brush the apples with a little apricot jelly or jam as a simple glaze. This gives a beautiful sheen to the fruit.
Frequently Asked Questions
What Is A Galette?
Galette is a French term that refers to a dessert, similar to a tart, with a pastry crust folded over a fruit filling before baking. Though, less common there are savory variations as well. One of the most well-known galettes is a Galette des Rois, which has a puff pastry crust filled with frangipane, which is made for Epiphany.

I've made a Peach Raspberry Galette as well as a Peach Blueberry Galette, but this Apple Galette is my favorite! For another easy apple dessert, check out this Boozy Apple Crisp from Creative Culinary.

How Do You Pronounce Galette?
If you look in an English dictionary, you'll find the pronunciation is this: /ɡælˈet/. But to make it easy, in case you don't remember "æ" from your school days, this is how I say this culinary term: GUL' et.
Can a Galette Be Made Ahead of Time?
It sure can. I've served the apple galette at room temperature, but if you'd like, pop it in a 350-degree oven for 5 minutes or so to warm it up. Then top each slice with a scoop of vanilla ice cream to serve.
How Do You Store a Galette?
A galette can be stored at room temperature for a day or two. In the summer, when it's warm and humid, it's best to keep it in the refrigerator after that, bringing it back to room temperature before serving.

A galette can also be frozen for 2-3 months. First, freeze it uncovered on a baking sheet for an hour or two, until it's firm. Then place it on a cardboard round, wrap well, and keep for 2-3 months. Defrost overnight in the refrigerator and gently warm to serve.
More Recipes You'll Love:
Stay in touch through social media @ Instagram, Facebook, and Pinterest. Don't forget to tag me when you try one of my recipes! And if you love the results, please give it a 5-star rating in the recipe card. Note: As an Amazon Associate, I earn from qualifying purchases. Visit my Amazon Store for my favorite products.
The Recipe:
Apple Galette
Prep Time 30 minutes
Cook Time 1 hour
Total Time 1 hour 30 minutes
Yield 8 servings
A scrumptious rustic apple dessert with a tender, easy to roll out crust and a spiral of cinnamon-spiced apples!
Ingredients
Dough:
1 1/4 cups flour
2 tablespoons sugar
1/4 teaspoon salt
8 tablespoons cold butter (1 stick), cut into 1/2 inch pieces
4 ounces cold cream cheese, cut into 1/2 inch pieces
2 teaspoons lemon juice
1-2 tablespoons ice water (I used closer to 2 tablespoons)
Filling:
4 medium apples (about 2 1/2 pounds), peeled, cored and cut into 1/4 inch slices (I used 3 Granny Smith and 3 Golden Delicious)
2 tablespoons lemon juice
1/4 cup sugar
1/4 teaspoon cinnamon
Glaze:
1 egg white, lightly beaten
2 tablespoons sugar
Apricot jelly or jam, optional, to glaze the fruit
Instructions
In a food processor, pulse flour, sugar, and salt. Add butter and cream cheese and pulse till the mixture looks like coarse cornmeal, about 10 pulses. Sprinkle with lemon juice and 1 tablespoon of water and pulse a few times till liquid is dispersed. Pinch a bit of the dough to see if it holds together; if not, sprinkle with the remaining water and pulse to combine.
Turn dough out onto the countertop and gently press into a ball. Flatten into a 6-inch disk, wrap with plastic wrap and refrigerate at least 30 minutes.
Preheat oven to 375º. Remove dough from the refrigerator. Roll into a 15-inch circle between two sheets of parchment paper. Remove top parchment.
Toss apples with the sugar and cinnamon; and arrange apples overlapping in semicircles, starting about 3 inches in from the edge of the dough, placing the thicker sides of the apples facing out. Fold the outer dough border up over the apple filling, pleating as needed, then use cupped hands to press dough the sides of the dough so it adheres to the apples.
Bake for 30 minutes, then brush exposed crust with egg white and sprinkle the remaining sugar over the whole tart. Bake until crust is golden and apples are tender about 30 more minutes. Cool 10 minutes, then slide tart and parchment onto a cooling rack.
If you'd like, brush some apricot jelly or jam over the apples to give them a slight sheen.
Use a large spatula to remove the tart from parchment onto a serving plate. Serve slices with vanilla ice cream or whipped cream.
Notes
Adapted from Cook's Illustrated.
Recommended Products
As an Amazon Associate and member of other affiliate programs, I earn from qualifying purchases.
Nutrition Information:
Yield:
8
Serving Size:
1 slice
Amount Per Serving:
Calories: 321
Total Fat: 17g
Saturated Fat: 10g
Trans Fat: 0g
Unsaturated Fat: 5g
Cholesterol: 45mg
Sodium: 212mg
Carbohydrates: 41g
Fiber: 3g
Sugar: 23g
Protein: 4g
Note: This post may contain affiliate links; view
my Disclosure Policy
for details. I earn a small percentage from any purchase you make by clicking on these links at no extra cost to you.