Peach Blueberry Galette
My husband adores pies, but I have a love-hate relationship with pie crust. This scrumptious Peach Blueberry Galette has all the marvelous flavors of a pie without all the work!!
This Rustic Peach Tart is dotted with fresh blueberries for an exquisite, stress-free dessert!
Why You Must Make
I have endlessly droned on about my quest to find the perfect pie crust. Meaning a crust that tastes amazing and is a cinch to flute, weave or any other maneuver that I happen to dream up! Making a galette instead of a pie is a much less stressful alternative.
But when it's a muggy summer day and time is tight, I just forget the prospect of a double-crust pie and turn to a trusty galette. You get all the flavors of a pie but without all the work.
The options are endless! I've used all berries, apples, peaches, peaches with raspberries, this one with peaches and blueberries, and even this savory cheese and tomato galette.
It's perfect for a summer dessert when ripe seasonal fruit is plentiful and you don't want to spend a lot of time in the kitchen.
Reader Endorsements:
From Melisa: I tried it! It came out…absolutely perfect!!! Best tasting crust that I have ever made and so easy to put together. I served it with vanilla bean ice cream. All gone no leftovers.
From Debi: This was an easy recipe and so delicious! The crust was perfect and flaky. Better than pie crust. Love it with vanilla ice cream as well!
From Pinterest: Everyone's ravings about this recipe and especially the crust? True, true, true!! Excellent! Followed to a T and received lots of compliments. I usually make my own crusts, but so glad I didn't on this. Delicious!

Expert Tips
I go crazy for fresh, juicy summer peaches. We get imports from Georgia and South Carolina in early July. So peach desserts are often on the menu from July through early September. An easy peach blueberry galette is always a good choice.
Look for local produce. It is picked at its prime and doesn't need to be transported from state to state.
I buy Indiana Red Haven peaches when they're available in July.
If you dare make a homemade crust, this pastry recipe is easy to roll into a nice round. A store-bought crust is always an easy shortcut.
Lightly flour your rolling pin and work surface. Roll the pin over the round of dough, then rotate the dough, and repeat. Keep rotating about 45º each time until your dough is a 12-inch round.
How to Make a Galette
PRO-Tip: If you'd like your crust to be perfectly round, use a large, 12-inch diameter mixing bowl as a template. Place it over the dough round. Trim around the edge of the bowl and discard the scraps.
Arrange the peach slices on the circle of dough,from the inside out, stopping about 1 to 1 1/2-inches from the edge.
Sprinkle the blueberries across the peaches.
Fold the edge over fruit, pleating as necessary, to contain the juices, so do not place the fruit all the way across the dough's surface.
Brush the exposed crust with egg white, then sprinkle both the crust and filling with sugar if desired.
Bake as directed and serve slices warm or at room temperature, topped with sweetened whipped cream or ice cream!
There are more fragrant, and oh, so juicy peaches sitting on my counter! This peach blueberry galette took only 3 peaches and a half cup of blueberries. And the crust is a breeze to roll out. Bill went back for seconds after dinner. Yup, it's that tasty!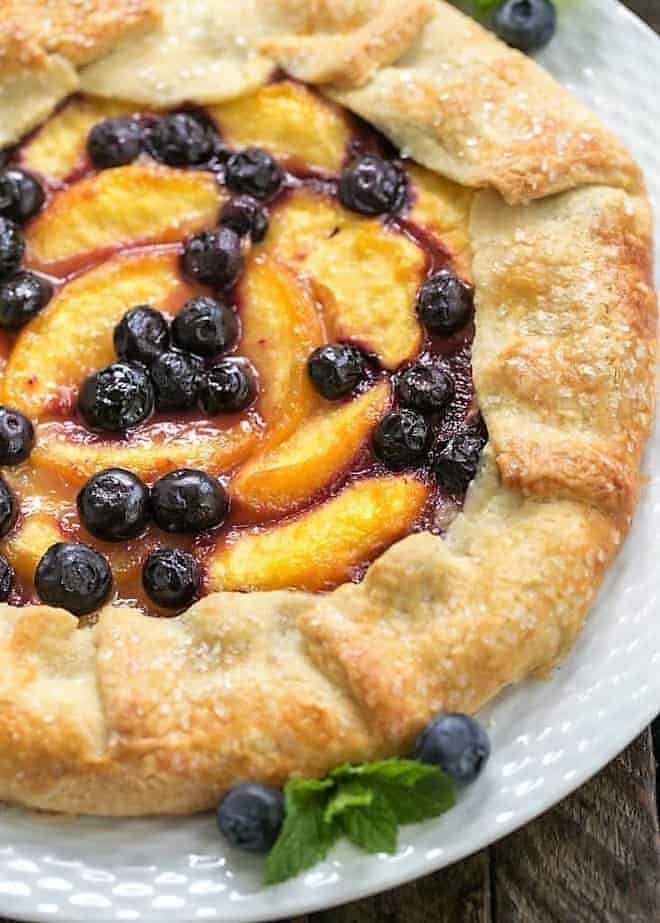 Frequently Asked Questions
What is a galette?
 It is a rustic, one-crust tart where the edge of a pastry round is partially folded over the filling. The Food Lover's Companion calls a galette a " round, rather flat cake make of flaky-pastry dough, yeast dough or sometimes unleavened dough." The galette originated in France with different versions in different regions. They can be sweet or savory.
What is the Difference Between a Galette and a Crostata?
Galette is the French term and Crostata is the same dessert in Italian.
How Do You Shape a Galette?
Fruit or other fillings like jam, nuts, meat, or cheese are placed in the center of the round crust. The filling should not be piled high, just a shallow layer will do. Then the outer edge of the crust is folded over the filling while leaving the center open. This will contain the juices as it bakes. Take a 2-3-inch section of the plain crust and fold it over the fruit, then repeat with the next section, etc. all the way around the tart.
What Can You Do to Prevent a Galette from Getting Soggy?
If you'd like, you can sprinkle the center of the crust with bread crumbs or semolina flour to absorb some of the juices while it bakes. Otherwise, just eat it within a day or two!
How Do You Serve a Galette?
It's best served warm fresh out of the oven, but it also can be served at room temperature. A galette will keep at room temperature for about 2 days unless the filling contains meat or other ingredients that could spoil. Cut into wedges and offer vanilla ice cream with dessert galettes if desired.
Can You Freeze a Galette?
Yes, bake, cool, wrap well to make it airtight and freeze for up to 3 months. To serve, defrost overnight in the refrigerator, and gently reheat in the oven.
You May Also Like:
Stay in touch through social media @ Instagram, Facebook, and Pinterest. Don't forget to tag me when you try one of my recipes! And if you love the results, please give it a 5-star rating in the recipe card. Note: As an Amazon Associate, I earn from qualifying purchases. Visit my Amazon Store for my favorite products.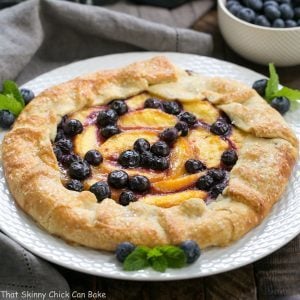 The Recipe:
Peach Blueberry Galette
Prep Time 30 minutes
Cook Time 50 minutes
Total Time 1 hour 20 minutes
Yield 6 servings
A scrumptious dessert featuring peaches and blueberries and a buttery pastry crust!
Ingredients
Crust:
1 ½ cups flour, plus more for rolling
1 tablespoon sugar
¼ teaspoon salt
11 tablespoons cold butter, cut into ½ tablespoon pieces, I used Land o' Lakes
1 egg yolk (reserved white to glaze dough)
3 tablespoons milk
Filling:
2 cups peeled and sliced fresh peaches (about 1 pound)
½ cup fresh blueberries
¼ cup sugar
2 tablespoons flour
Pinch of salt
1 egg white, beaten
2 tablespoons sugar (coarse sugar preferred but granulated is fine)
Instructions
To make the dough, combine the flour, sugar, and salt in a food processor and pulse to combine. Add the butter to the flour and pulse till the butter is broken into small pieces and the mixture resembles cornmeal.
Mix together the egg yolk and milk and add to the dough. Pulse till the dough comes together. Pour onto a piece of plastic wrap and press into a flat disk. Wrap and chill for 30 minutes.
Preheat the oven to 350°F. Line a rimmed baking sheet with parchment paper and set aside.
Carefully toss the peaches and blueberries with the sugar, flour, and salt.
Roll out the dough to a 12-inch round on a lightly floured surface. Carefully move the dough to the baking sheet. Arrange the fruit in the center of the dough, leaving about an inch of the perimeter uncovered.
Fold the outside edge of the dough over the fruit, pleating as needed. Brush egg white over the exposed crust. Sprinkle the coarse sugar over the dough and fruit.
Bake the galette until the crust turns a light brown and the filling bubbles, about 50 minutes. Let cool for 10 minutes then cut and serve warm with whipped cream or vanilla ice cream, if desired.
Notes
Use raspberries instead of blueberries or nectarines instead of peaches.
Nutrition Information:
Yield:
6
Serving Size:
1 slice
Amount Per Serving:
Calories: 409
Total Fat: 23g
Saturated Fat: 14g
Trans Fat: 1g
Unsaturated Fat: 7g
Cholesterol: 87mg
Sodium: 293mg
Carbohydrates: 48g
Fiber: 2g
Sugar: 20g
Protein: 6g
Note: This post may contain affiliate links; view
my Disclosure Policy
for details. I earn a small percentage from any purchase you make by clicking on these links at no extra cost to you.