Cheese and Tomato Galette
A Cheese and Tomato Galette is a gorgeous, delicious way to showcase ripe summer tomatoes. One bite of a Tomato Pie Recipe and you'll be hooked!
A variety of heirloom tomatoes makes a beautiful presentation, but even store-bought Roma tomatoes created an easy, tasty Tomato Tart! The family inhaled every single crumb!
Why You Must Make
This is a delicious recipe to use up some of your sweet, juicy garden tomatoes!
This tomato pie recipe can be used as a simple lunch, side dish, or even appetizer.
Making a galette is much less difficult than making a two-crust pie!
If you've never made a galette, this is your chance!
I've been cranking out and photographing recipes after being out of town for a week and with another upcoming break in a couple of days. Bill is wondering why there are 3 desserts on the counter and no dinner. Does he not remember he's married to a food blogger?? Well, I'll take you back a few years.
Bill and the kids were walking Lambeau through the neighborhood one afternoon. A woman, who they didn't know, greeted them with, " I love your wife's blog." He kindly thanked her, then asked our oldest, "What's a blog?" By now he has no excuse. Anyway, I was happy to see this savory Cheese and Tomato Galette on our Tuesdays with Dorie schedule.
Expert Tips
PRO-Tip: If you want a magazine-worthy presentation, use a large mixing bowl as a template for cutting out a circle of dough.
Roma tomatoes are great, as are any garden or heirloom tomatoes. Just make sure they have a nice tomato aroma so you know they're flavorful.
Layer on the cheese first, which helps make a barrier that prevents the crust from getting soggy.
Monterey Jack and Mozzarella are tasty, melty choices, but Cheddar, Gouda, and other favorites will also work well.
PRO-Tip: Let your tomato slices sit on paper towels after you cut them so excess moisture is absorbed. This minimizes the chance of a soggy crust.
If using small tomato slices, layer them, overlapping to fill the center of the tart. Leave the outer edge free to fold over onto the filling to create a crust. A single layer works better if using different sizes of tomatoes.
Chill the dough before using. Resting the dough allows the gluten to rest and makes a more tender dough (as does the addition of acidic ingredients like sour cream).
How to Make
I wish we were a little deeper into the summer….when the local tomatoes are at their peak. But the Romas looked riper than their winter counterparts, so I bought a few along with some fresh mozzarella and Monterey Jack.
Make the dough, wrap well and chill.
Roll one disk into a circle, using a large bowl as a guide if you'd like if you have one that's about 11-12 inches in diameter.
Top with the grated cheeses mixed with a chiffonade of basil, leaving a 2-3 inch border.
Arrange the tomato slices in concentric circles, slightly overlapping the last. Or if not using consistently sized Roma tomatoes, arrange the slices to cover as much surface as possible.
Fold the uncovered dough over the filling, letting the dough pleat as you work your way around the tart.
Bake in a hot oven until the crust is golden and the tomatoes are tender.
Serve warm or at room temperature.
Nick and Bill were all over this easy tomato pie, both going back for seconds. It made for a spectacular presentation and garnered a "Boy that tomato stuff is great." I cannot convince the family to beef up their comments with some descriptive vocabulary, so I'm sharing my real life with you all.
I will have to drop the term "galette" a few times this week…or Bill is sure to think it's some sort of fish or mushroom when I mention the dessert galette I'm making soon.
Frequently Asked Questions
What is a Galette?
A galette is a round, flat French cake usually made of pastry dough. It is also a term for sweet and savory tarts with many variations. The most famous version is the Galette des Rois, which is made with puff pastry and frangipane, and served on the Epiphany.
Is a Galette a Tart?
Yes, a galette can be a tart (like with this recipe), but there are also cake-like galettes made with filo, yeast dough, or even unleavened dough.
What Are the Three Types of galettes?
Besides the Galette des Rois, there is also the Galette Comtoise and Galette Complete. A galette comtoise is made with choux pastry which is also known as cream puff dough. And a galette complete is made with a buckwheat crepe and is filled with savory ingredients, like meats, cheese, and vegetables.
You May Also Like:
The Recipe:
Cheese and Tomato Galette Recipe
Prep Time 20 minutes
Cook Time 40 minutes
Total Time 1 hour
Yield 4 servings
A savory, summer galette with beautiful ripe tomatoes and cheese
Ingredients
Crust
1½ tablespoons sour cream (or yogurt or buttermilk)
2½ tablespoons plus ½ teaspoon (approximately) ice water
½ cup all-purpose flour
2 tablespoons yellow cornmeal
½ teaspoon sugar
¼ teaspoon kosher salt
3½ tablespoons cold unsalted butter, cut into 6 or 8 pieces
Filling
2 ounces Monterey Jack cheese, shredded
2 ounces mozzarella, preferably fresh, shredded
¼ cup fresh basil leaves, cut into a chiffonade or torn
2 to 3 ripe plum tomatoes, cut into ¼ inch thick slices
Basil leaves for garnish
Instructions
Combine the sour cream (or yogurt or buttermilk) with the ice water, and set aside. To make the dough by hand, whisk together the flour, cornmeal, sugar, and salt.
Cut in the butter to the flour mixture with a pastry blender, until the butter is about the size of peas.
Sprinkle the sour cream mixture over the dough, one tablespoon at a time, and toss with a fork to moisten. Add just enough sour cream mixture so the dough will hold together when you press it.
If you are using a food processor, pulse the dry ingredients to combine. Then add your butter, and pulse 8 to 10 times, until the butter is about the size of peas. Add in the sour cream mixture, tablespoon by tablespoon, until the dough forms moist curds and holds together when pressed.
Turn the dough out and bring it into a ball. Divide in half, and flatten each half into a disk. Wrap tightly and refrigerate for at least two hours. The dough will keep in the fridge for 5 days or in the freezer for 2 months.
Position a rack in the bottom third of the oven, and preheat the oven to 400° F. Line a cookie sheet with parchment paper.
To prepare the filling, toss the cheeses and basil together in a small bowl, and slice your tomatoes.
Roll out one of the galette disks into an 11-inch circle that is about 1/8 inch thick. Transfer the dough, by draping it over your rolling pin, to your prepared cookie sheet.
Spread the cheese mixture over the rolled-out dough, leaving a 2 to 3-inch border. Place the tomatoes in concentric circles, slightly overlapping the last. When the cheese is covered, fold the edges of the dough over the tomatoes. It should fold naturally, however, there is no need for perfection. This galette should be a bit rustic.
Bake for 30 to 40 minutes, rotating halfway through until the edges are golden and the cheese mixture is bubbling.
Allow it to rest on the baking sheet for 10 minutes before serving. Serve warm or at room temperature. It is best served on the same day it's baked.
Notes
Use the best-tasting tomatoes available. In the summer, homegrown or farmers' market tomatoes are wonderful. Roma will work in the off-season.
This recipe is adapted from Flo Braker.
Recommended Products
As an Amazon Associate and member of other affiliate programs, I earn from qualifying purchases.
Nutrition Information:
Yield:
4
Serving Size:
1 slice
Amount Per Serving:
Calories: 294
Total Fat: 20g
Saturated Fat: 12g
Trans Fat: 0g
Unsaturated Fat: 7g
Cholesterol: 55mg
Sodium: 299mg
Carbohydrates: 22g
Fiber: 1g
Sugar: 1g
Protein: 7g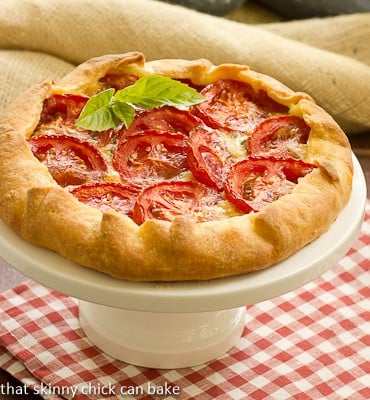 Note: This post may contain affiliate links; view
my Disclosure Policy
for details. I earn a small percentage from any purchase you make by clicking on these links at no extra cost to you.