Cocoa Cupcakes with Ganache Filling and fluffy marshmallow frosting tickled the palates around our house! I hit the major sweet spots including chocolate, cupcakes, ganache and marshmallows. A winning combination in every bite!


Note: This post may contain affiliate links; view my Disclosure Policy for details.  I earn a small percentage from any purchase you make by clicking on these links. This helps me keep my kitchen stocked with butter and chocolate!
Cocoa Cupcakes with Ganache Filling
These cocoa cupcakes debuted in 2011 when my blog just had its first birthday. I'm impressed that the old photos are actually in focus with decent white balance. But I won't torture you with those tiny images, since I remade these for an after Easter treat this year.
Filled Cupcakes
Apparently, the first time around, I made these during Lent. Here's what was going on back then (taken from my old post):
Mom, why are you torturing me????  I know that's what Nick will say when he arrives home from school this afternoon and sees the counter lined with cupcakes.
In 2011, he was a junior in high school. His most frequent response was (and still is!), "I'm always hungry," when I inquire if he wants seconds or needs a snack. I'm sure it was torture to be denied these cocoa cupcakes!
It was the arrival of my April Bon Appetit  that lead me astray. I knew I'd have to bake the chocolate cupcakes topped with seven minute AKA marshmallow frosting.
Nick, unfortunately, gave up desserts for Lent that year as he often does. I probably made some gooey cinnamon rolls to make it up to him. He gave up dessert, not breakfast treats!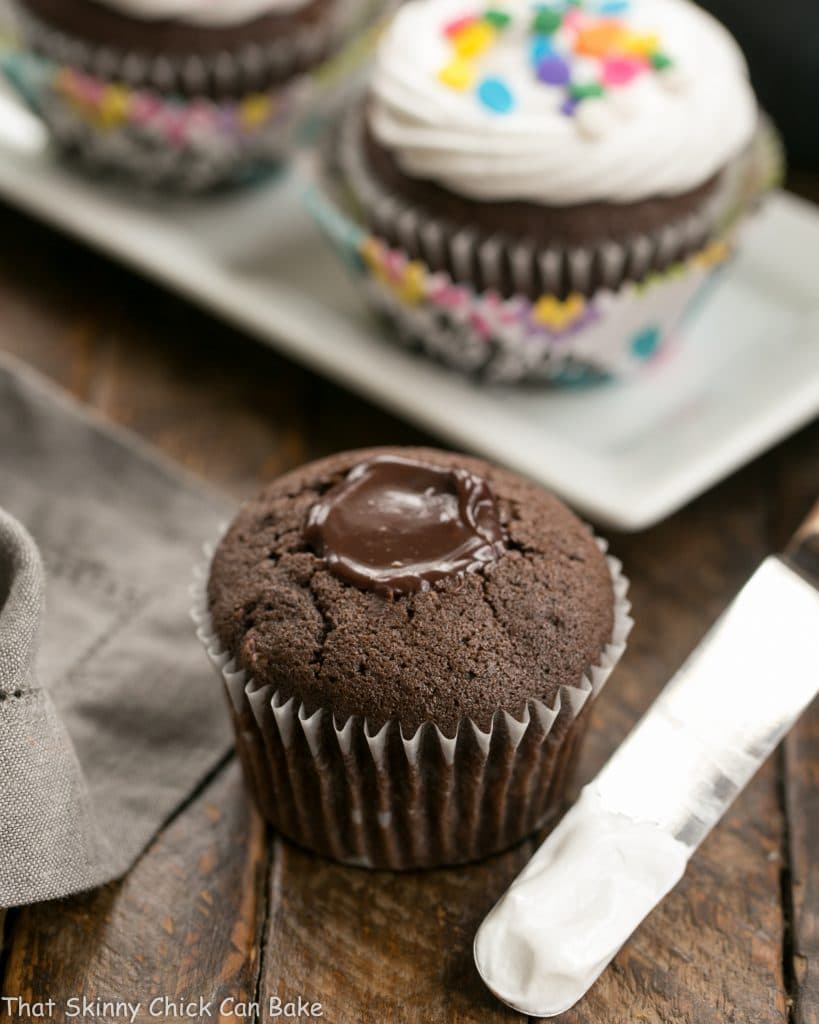 Marshmallow Frosting
I remember my  mom attempting  this seven minute or marshmallow frosting on more than one occasion.  Once to ice a lemon curd filled poppy seed cake.
She didn't realize that all kitchen implements have to be free of grease (including even a speck of egg yolk) or the frosting will never get light, fluffy and spreadable. I think a fifteen minute frosting was attempted a few times!
So heed my warning and make sure your bowl and beaters are scrupulously clean so you don't have to make more than one attempt! It's worth the effort to have a light, fluffy icing to contract the intense double dose of chocolate.
The billowy, marshmallow-like frosting is what makes these especially impressive. These cocoa cupcakes with the surprise ganache filling were perfect for the true chocoholics in the family.
Check out Bon Appetit to see how their fabulous food stylists iced with peaks and swirls.
Photo circa 2011
You Might Like:
More Recipes with Chocolate Ganache:
Have you ever made a filled cupcake? Let me know what flavor combination you used in the comments below.
Print
Cocoa Cupcakes Filled with Chocolate Ganache
Rich Cocoa Cupcakes with chocolate chips and a ganache filling topped with a fluffy marshmallow frosting!
Author:
Prep Time: 30 minutes
Total Time: 30 minutes
Yield: 24
Cuisine: Dessert, Cupcakes
Ingredients
Cupcakes:
1 3/4 cups flour
3/4 cup cocoa powder
3/4 teaspoon baking soda
3/4 teaspoon salt
1 3/4 cups sugar
3/4 cup (1 1/2 sticks) butter, at room temperature
2 eggs
1 teaspoon vanilla
1 cup hot water
1 1/4 cups bittersweet chocolate chips
Filling:
1 cup heavy cream
1 1/2 cups bittersweet or semisweet chocolate chips
Frosting:
1 cup sugar
1/3 cup water
2 egg whites
1/4 teaspoon cream of tartar
Pinch of salt
1 teaspoon vanilla
Instructions
Preheat oven to 350º. Line two 12-cup muffin pans with paper liners.
Sift dry ingredients into a bowl. Set aside. With a mixer, beat sugar and butter till light and fluffy, about 2 minutes. Add eggs, one at a time, beating until well incorporated. Add vanilla and mix.
Add half the dry ingredients, the hot water, then the rest of the dry ingredients, beating just until blended after each addition. Let batter sit for 5 minutes. Stir in chocolate chips, then divide batter into muffin tins.
Bake 22-25 minutes or until a toothpick inserted into the middle of a cupcake comes out with just a few moist crumbs. Cool in tins.
To make filling, place cream in a 4 cup Pyrex measuring cup or microwave safe bowl. Microwave just to boiling. Add chocolate chips. Let stand a minute, then whisk till smooth. Let stand at room temperature until cool and thick, at least 2 hours.

To make icing, whisk 1/3 cup water, sugar, egg whites, cream of tartar and salt in large heatproof bowl. Set over a saucepan of gently simmering water and beat with a mixer until soft peaks form (about 5 minutes). Remove bowl from saucepan and continue mixing till frosting is cool and very fluffy. (about 2 more minutes). Mix in vanilla.
Using your thumb or cupcake corer (I found mine at Target), press down into center of cupcake to form a deep opening. Spoon ganache into each opening.

Frost cupcakes, making generous peaks. May be made a day ahead and stored at room temperature.
Notes
Adapted from Bon Appetit.
Note: This post may contain affiliate links; view my Disclosure Policy for details. I earn a small percentage from any purchase you make by clicking on these links at no extra cost to you.